Get All Rigid Audio Libraries for an Insane Exclusive Deep Discount
Rigid Audio is a sound design company that creates premium Kontakt instruments. They are based in Berlin, and for a few days only, you can get all of their libraries at an exclusive deep discount. This is a rare opportunity to get their products at such a low price. If you're interested in sound design, or you just want some high-quality instruments for your Kontakt library, then don't miss this sale!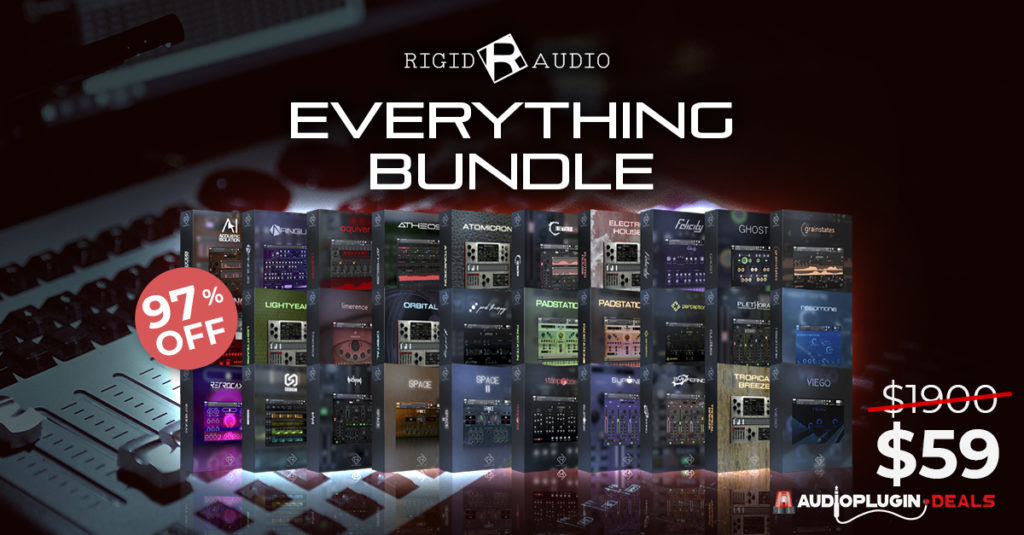 This Rigid Audio bundle includes:
Acoustic Isolation
Acoustic Isolation provides 200 ready-to-rock kits that include a wide selection of pianos, strings, guitars, and synth loops. It has around 800 distinct loops that may be played simultaneously across three layers: Groove, Percussion, and Melody. You can also create your own WAV sound using the fourth user layer by dragging and dropping it on the interface.
Angus
800 instruments across 15 categories in a full-featured wavetable-based synthesizer. It features 2x 128 wavetables split into two oscillators, a comprehensive effects section as well as an arpeggiator, a chord player, two-step modulators, and intelligent musical patch randomization.a
Aquiver
Aquiver is jam-packed with rich, deep, and soaring granular sounds. Aquiver is ideal for movie scoring, underscore, and futuristic sound design. It features real-time recording of knob movements, an effect engine with bread-and-butter effects, and a unique lock switch. It comes with more than 1200 presets!
Atheos
Lush, lush soundscapes and otherworldly textures come standard on this enormous and feature-rich time-stretching soundscape machine, which also contains over 250 soundscapes.
Atomicron
75 raw and gritty synthesizer instruments are included in this Kontakt instrument for the "dark-pop" style.
Cinematrix
Cinematrix has unique and innovative sounds right out of the box. It's a cutting-edge loop module for Kontakt that includes 350 distinct kits that may be played in sequence across four categories. These kits are based on the supplied 1,300 (unencrypted) 24-bit WAV files.
Electro House
With 87 electronic synthesizer sounds, this Kontakt instrument is perfect for producing "electro house."
Felicity
300 wavetable-based soundscapes, atmospheres, and textures are included in this bundle. Various hybrid sounds, acoustic and mixed waveforms, sizzling and sparkling pads, as well as analog-sounding leads are all included.
Ghost
Ghost is a bundle of three exquisite looped WAV textures, all of which are contained inside 128 presets for easy integration into your compositions. The sounds range from detuned raw synthetic waveforms to blended acoustic distractions and textures. All 128 waveforms may be accessed by any instrument with the turn of a single knob.
Grainstates
Grainstates is available in a two-part bundle. It includes 128 soundscapes, 4x 64 source WAV sounds, 4 engines, 2x 64-step modulation tables, state-sequencer with 8 steps and morphing, as well as using audio file import via drag and drop.
Hypernode
A truly one-of-a-kind and innovative Kontakt multi-modular musical arranger. Drums, Leads, Bass, Harmony, and other sounds are all editable and divided into parts for each module.
Lightyears
The Kontakt instrument Progressive Trance has 65 electronic instruments and presets. It's equipped with onboard effects such as reverb, delay, and convolution reverb. It also has a Triquencer sequence-generating feature that is distinct and powerful.
Limerence
The most significant difference between these two materials is the higher density of structures, which means there are more layers in each "high density" organic texture. Presets are divided into four areas: organic, bright, complex, drone, and evolving. With a single knob, you may modify the density of each setting.
Orbital
This is a 70-pad sound Kontakt instrument that's spacey and electronic. It has a library of pads that are designed for ambient, film scoring, and sound design.
Pad Therapy
Kontakt 6.4.2 application with 128 morphing pads and textures called Kontakt Therapy. Sounds like these are best utilized in music production, film composition, and video gaming. Pad Therapy features nine sample-playback engines with 64 source waveforms each. You may import your own WAV files by dragging them into Kontakt.
Padstation
Padstation has everything you need to fulfill all of your pad requirements! With 200 multi-sampled pad sounds, various onboard effects, and a twin-layer architecture that includes blending, randomization, and a variety of onboard effects, it's no wonder Padstation delivers.
Padstation II
PadStation has been replaced by Padstation 2. More variety, more features, and a complete collection of 200 multi-sampled pad sounds.
Perception
With 128 cinematic soundscapes, you may add a sense of drama to your videos. It has three sample playback engines with 64 source waveforms each. With the three XY pads, you can adjust various settings like volume, filters, and effects. Each XY pad contains pre-defined motions that are unique to each setting. You may also record your own pad motions with this software. You can even make your own sequences by combining these movements.
Plethora
The new version of DMS features 350 presets that are completely unique. They were created by combining the greatest sounds from Cinematrix, Sore, Synferno, and Supine (1300). Plethora is a cutting-edge cinematic loop module with 350 distinct kits that may be played across four categories (bass, melody, ambiance, and groove).
Resomonia
Resomonia is made up of 128 "high-resonance" textures and soundscapes. Resomonia improves upon the sound of a filter by adjusting its cutoff frequency to be played melodically. Resomonia comes with multisample soundsets, onboard effects such as revert, and a so-called "chime" function, as well as unique interference and fluctuation effects.
Retrocade
The Retrocade is designed to evoke the famous sounds of the 1980s and 1990s.. Analog recordings were faithfully reproduced in today's time, with the convenience of it all. From catchy leads to soothing pads, Retrocade has it all!
Sodium
Sodium is a Kontakt 6.2.2-compatible creative drum and beat sequencer with a twist: the audio you create using it appears to be pre-programmed! There are currently over 200 contemporary factory kits available, all of which are created to assist you in creating a beautiful, modern house. It also comes with 100 drum sounds so you can get started immediately. You can also import your own WAV samples via drag and drop!
Sore
Sore may be used to make truly one-of-a-kind, unique music right out of the box. It's a state-of-the-art cinematic loop module for Kontakt that includes 350 distinct kits that may be played simultaneously across four categories (bass, melody, ambience, and groove).
Space
The loops of 100 WAV textures and drones were created for film scoring. A 1-knob multi-effector feeds audio into one of five different real-time effects, a filter envelope with flutter and simple volume attack, decay, and release controls.
Space II
The second, "Space," is a collection of 100 looped WAV sounds and drones intended for film scoring. The Space II features a single knob multi-effector that feeds audio into one of five distinct real-time effects, as well as a filter envelope with flutter and minimal volume attack, decay, and release controls. The combination of two sources is possible in Space II.
Stompbox
The sound of the project is essentially cinematic, with deep and organic cinematic kits. The kit contains nine parts, each of which is velocity-sensitive and based on 850 24-bit WAV files. Stompbox has five separate parts that may be activated and combined separately. In addition, there are onboard effects such as reverb, distortion, and compression.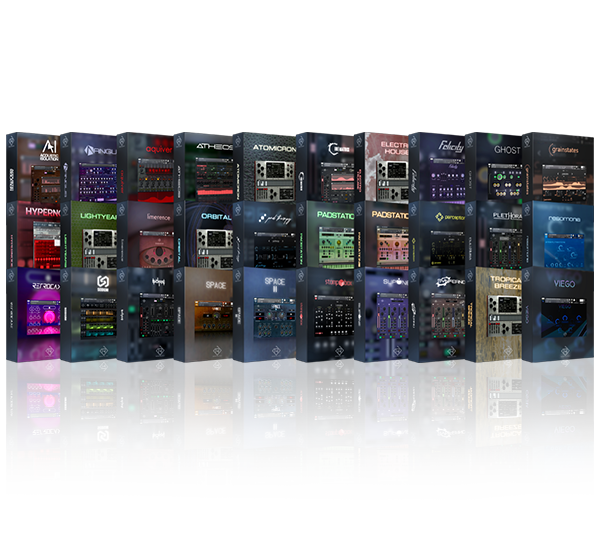 Supine
Supine's presets are already very beautiful and warm. It is an ambient loop and multisample instrument module for Kontakt containing 350 different kits that can be played in tandem across four categories (pad, synth 1, synth 2, and FX)
Synferno
Synferno is a cinematic loop and sound module with 300 distinct kits that may be played in sequence across four musical categories: bass, synth, ambient, and groove.
Tropical Breeze
The "summer/tropical house" style is represented with 86 gorgeous multi-sampled sounds by this Kontakt instrument.
Viego
Viego is a sound library with 256 huge cinematic pads and soundscapes. Each instrument is made up of samples from real waveforms and wavetable synthesis.

The Rigid Audio bundle contains a variety of instruments and sound libraries that are perfect for creating modern cinematic music. The libraries are well-programmed, and the sounds are top-quality and contemporary. This is a rare opportunity to get all Rigid Audio libraries at an insane exclusive deep discount.