Magic Switch and Magic Dice by Baby Audio: Free AUv3 Plugins for iOS / iPadOS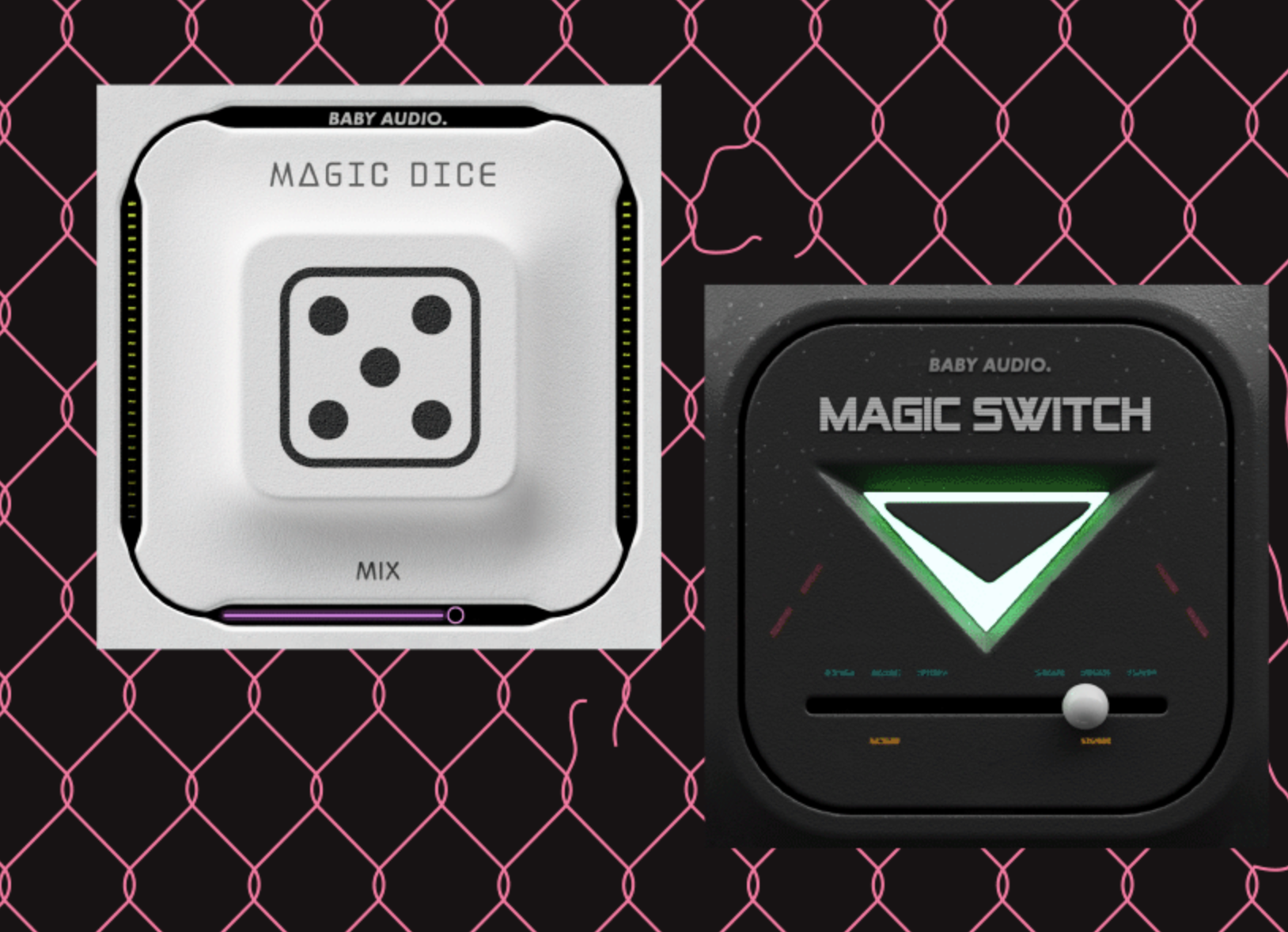 iOS / iPadOS users rejoice! Baby Audio has just released their two popular free plugins, Magic Switch and Magic Dice, as AUv3 plugins. This means that they can now be used with all AUv3-compatible DAWs on iOS and iPadOS devices. These handy little plugins are perfect for anyone who wants to add a bit of magic to their music.
Magic Switch is a powerful tool for creating instant variations in your sound. With just a few clicks, you can add echo, reverb, modulation, and more to your audio. Magic Dice is perfect for adding randomization to your sounds. Simply roll the dice and see what happens!
Both plugins are available for free download on the App Store. So what are you waiting for? Go and grab them now! And if you like what you hear, be sure to check out Baby Audio's other products. They're sure to take your music making to the next level!
Magic Dice
The BABY Audio award-winning Spaced Out plugin is used to generate the dice. It is a complimentary echo/delay, reverb, and modulation plugin. It's completely random with every new click and creates strange and dreamy wet-FX textures, so you'll never hear the same effect twice. Using it to to muddle alien modulation effects, hazy space echoes, and lush reverbs into the final sound is a great way to add personality.
Every time you click, Magic Dice creates new and unique random echo/delay, reverb, and modulation settings. More than 50 distinct effects are built into the engine, providing an infinite number of possibilities. Pristine and modern-sounding algorithm – powered by BABY Audio's Spaced Out plugin
Magic Switch
The Vintage Junos of the 1980s had a one-button chorus effect that was modeled after the classic Juno "one-button" chorus effects. Dark and out of tune, excellent for creating dimension, color, and depth to digital songs. To adjust the color, use the mix slider. The technology inside BABY Audio's Super VHS 80s retro color plugin is utilized.
The Juno-chorus isn't a complete copy of the original, but rather our own vision of the ideal one-button chorus for today's DAW world, where clean sounds are simple to come by yet genuine color is difficult to achieve. The BABY Audio Super VHS plugin was used as a source for the Beautifully Detuned, Rich and Moody Filter in the Vintage Modulation section of the Viola presets. It's gone farther than the Juno chorus in terms of vintage modulation.
BABY Audio is pleased to provide its items to the mobile music-making community. In 2021 alone, the downloads for Magic Switch and Magic Dice in their original desktop form numbered in the hundreds of thousands. Because of the high rate of popularity in comparison to other Baby Audio plug-ins, this distinction has made them the most utilized baby audio plugins ever.
You can find both plugins in the App Store:
Nembrini Audio Release Audio Unit AUv3 MRH810 Lead Series and Delay3000
Nembrini Audio Release Audio Unit AUv3 MRH810 Lead Series and Delay3000
Nembrini Audio Release Audio Unit AUv3: MRH810 Lead Series and Delay3000 Vintage Modern
Pricing and Availability
MRH810 Lead Series intro price just $9.99 (regular $19.99)
Delay3000 Vintage Modern intro price just $4.99 (regular $9.99)
Rotary Mod emulation of classic Leslie speaker for iPhone and iPad
Eventide Audio releases Rotary Mod for iOS devices
Rotary Mod for iOS, introducing the legendary sound effect produced from an authentic emulation based on the liquid and lush Leslie cabinet — used on thousands of recordings, most notably by The Beatles, Beach Boys, Cream, and Pink Floyd, and many more — to iPhone- and iPad-based mobile music-makers as an AUv3 plug-in and Standalone app.
Just like the original sound derived from the uber-famous Hammond organ's Leslie speaker cabinet, musicians and sound designers alike are able to achieve the coveted rotating tremolo cabinet effect heard on numerous recordings with Eventide's Rotary Mod for iOS. This iconic emulation brings that classic '60s whirling modulation bliss into the 21st century and the palm of your hand.
Rotary Mod Features
Ability to change the speed of the ROTOR and HORN independently, and adjust the mix of the two to produce pulsing effects and special vibratos.
Option to add frequency modulation to the ROTOR and HORN speed using secondary LFO (Low-Frequency Oscillator) with selectable modulation SOURCE.
Ability to choose cabinet size — STD (standard) or GIANT — to alter the sweetness of the tone.
Included HICUT control for precise sound design.
TAP TEMPO feature to SYNC effect to the BPM (beats per minute) of the song.
Incredibly easy to use with included Factory Presets.
Innovative 'Ribbon' control allows for changing any combination of parameters simultaneously.
MIX lock control to scroll through the Factory Presets while keeping the wet-dry MIX constant.
Compatible as an Audio Units AUv3 plug-in, Inter-App Audio, and Standalone app for iPhone and iPad. 
Eventide test their iOS plugins in AudioBus, AUM, Auria Pro, Cubasis, GarageBand, and NanoStudio. However, our plugins should work with any compatible host.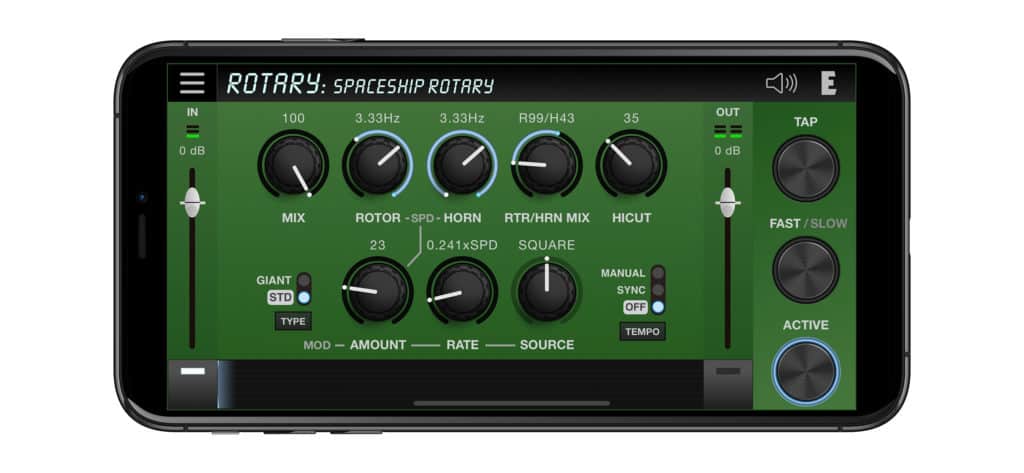 Rotary Mod produces a pulse-like vibrato effect depending on the speed of rotation. Rotary Mod makes available precise control to dial in the exact amount of movement needed to create pulsating, lush effects used to 'liquify' instrument sounds and create dramatic musical gestures. The classic, swirly effect of Rotary Mod for iOS can be utilized to drastically transform guitars, bass, synths, strings, vocals, and more.
Availability and Pricing
Eventide's Rotary Mod is now available for download as an Audio Units AUv3 plug-in, Inter-App Audio, and Standalone app for iPhone and iPad from the App Store for $7.99 USD.
As an affiliate, we may earn a commission from qualifying purchases. We get commissions for purchases made through links on this website from Amazon and other third parties.
StrongMocha is a magazine for music producers, audio engineers, and sound designers. StrongMocha Magazine provides the latest industry news, reviews of gear and software, tutorials on recording techniques, and tips for mixing.