This Toothbrush is a Synthesizer! (also: FREE SAMPLE LIBRARY)
Toothbrush is a Synthesizer
A variety of effects are used to give a Sonic Toothbrush a synthetic, clear sound. Decent Sampler format is available.
The sound of a Sonic Toothbrush captured through a guitar pickup, as clear and synth-like as possible. This library works with the free Decent Sampler player plugin. Download it here.
Magical Musical Thing: A vintage analog synthesizer for kids
In this video, I explore the strange toy that is the Magical Musical Thing (Mattel 1979). I speak to Franklin Eventoff, the toy's inventor, and learn about the other instruments he created as well. I also learn the secret to tuning these darn things.
You can download the sample library of the Magical Musical Thing here.
The raw analog waveforms of a vintage Magical Musical Thing children's synthesizer.
This library works with the free Decent Sampler player plugin. Download for free right here.
The Magical Musical Thing was produced by Mattel, and invented by Franklin Eventoff, inventor of the Force-Sensing Resistor. Franklin now runs a company called Sensitronics that produces sensors. The oscillator contained within the MMT is based on a 4049 CMOS hex inverter chip.
Soviet PIF Synth: A Cute Analog Synthesizer for Children
Do you remember the good old days of Soviet Russia? If you're a fan of analog synthesizers, then you'll love the new Soviet PIF Synth! This adorable little synth is perfect for children, and it comes with a FREE sample library that will give you hours of fun!
Soviet PIF Synth
These colorful little synths were clearly designed with children in mind. They are small and lightweight, making them easy to carry around. The controls are large and brightly colored, making them easy to use. And the sound quality is surprisingly good for such a small and inexpensive instrument.
The Pif was produced from roughly 1989-1993 in a city called Ромны in Ukraine. The factory that produced them, Роменский завод АТС, specialized in industrial telephone equipment, but also made several consumer products including this synthesizer.
Despite their child-friendly design, the Pif synths are capable of producing a wide range of sounds, from energetic dance beats to atmospheric pads to serene melodies. Thanks to their affordability and portability, the Pif synths remain popular among musicians of all ages.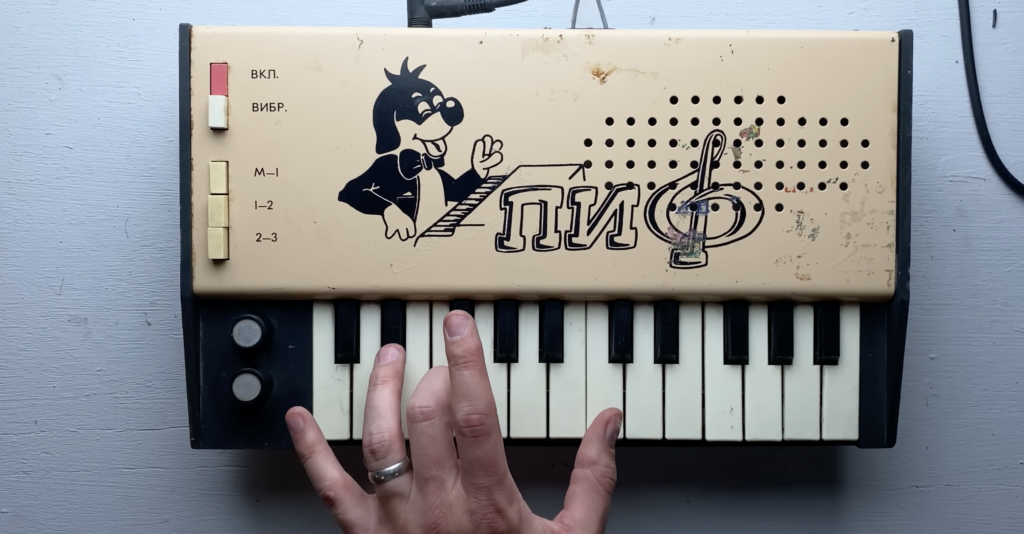 A Cute Analog Synthesizer for Children
The Soviet PIF Synth is a unique and powerful tool for anyone looking to create original and arresting sounds. The synth uses raw analog waveforms to generate its sound, resulting in a harsh and industrial sound that is perfect for any aggressive or dark production.
In addition, the synth comes with a wide variety of modulation options, making it possible to create complex and evolving soundscapes. The Soviet PIF Synth is a must-have for any serious producer looking to add some edge to their productions.
USSR Synths – The Best Soviet Synthesizers of All Time
The Soviet Union was a powerhouse when it came to synthesizers. Many of the best synths of all time were developed in the USSR, and they remain popular to this day. In this blog post, we will take a look at some of the best Soviet synthesizers ever made. We will discuss their features and how they have influenced music over the years. If you are interested in learning more about Soviet synths, this blog post is for you!
The first synth on our list is the Polivoks. This synth was developed in the early 1980s and it quickly became one of the most popular synths in the USSR. The Polivoks is known for its unique sound, which has been used by many famous musicians over the years. The Polivoks is also notable for its durability; many of these synths are still in use today, more than 30 years after they were first created.
Next on our list is the Formanta EMS-01. This synth was developed in the late 1970s and it was one of the first affordable synthesizers available to Soviet musicians. The Formanta EMS-01 is a simple yet powerful synth that can create a wide variety of sounds. This synth is still used by many musicians today, and it remains a popular choice for those looking for an affordable and versatile synth.
Free Soviet PIF Synth Sample Library
This sample library performs with the FREE DecentSampler plug-in. You can download the Decent Library here.
I found this vintage reel to reel recorder at a thrift store and made a FREE DECENT SAMPLER LIBRARY
I was browsing through a thrift store when I came across a vintage reel-to-reel tape recorder. I was curious to try it out, so I bought it and took it home. When I plugged it in, I was surprised to find that it still worked! I decided to use it to make a "tape piano" sample library. First, I recorded myself playing some simple melodies on the piano.
Then, I transferred the recordings to my computer and edited them into individual samples. Finally, I created a free website where people can download the samples. I'm really happy with the results, and I hope other people will enjoy using the library too!
Reel to Reel Tape Piano [Decent Sampler]
The melancholic sound of a piano filtered through a portable reel-to-reel tape recorder from the 60s is truly unforgettable. The Decent Sampler format allows you to enjoy this fantastic sound at its very best. The deep, full tones of the piano are perfectly captured by the reel-to-reel tape recorder, giving you a rich and emotive experience.
This wonderful sound is perfect for any occasion, whether you're relaxing at home or entertaining guests. If you're looking for something truly unique and special, then the melancholic sound of a piano filtered through a portable reel-to-reel tape recorder from the 60s is sure to impress.
The Reel to Reel Tape Piano is a truly unique instrument. Unlike a traditional piano, it uses tape instead of strings to produce sound. This allows for a wide range of sounds and textures, from the classic piano sound to more experimental and modern sonic possibilities. The Warble knob allows you to select between two takes, adding an element of chance to your performance.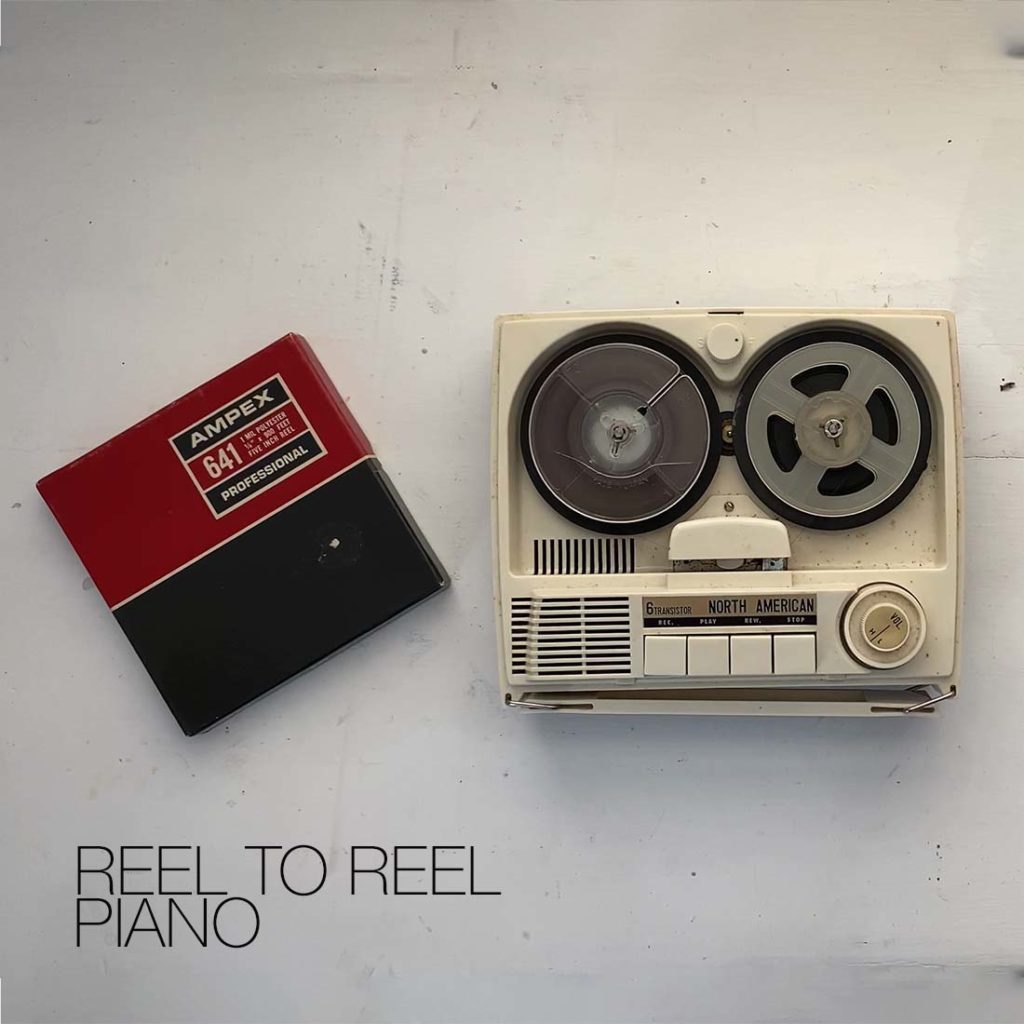 The Adjustable tape hiss layer adds an authentic vintage touch, while the Adjustable shimmer layer creates a sense of otherworldly beauty. The Tone knob allows you to adjust the overall tone of the instrument, while the Chorus effect adds depth and richness. Finally, the Reverb effect creates a sense of space and atmosphere. With so many options, the Reel to Reel Tape Piano is an instrument that any musician would be proud to own.
This library works with the free Decent Sampler player plugin. Download it for free here.
As an affiliate, we may earn a commission from qualifying purchases. We get commissions for purchases made through links on this website from Amazon and other third parties.
StrongMocha is a magazine for music producers, audio engineers, and sound designers. StrongMocha Magazine provides the latest industry news, reviews of gear and software, tutorials on recording techniques, and tips for mixing.