If you never produced music and wonder if you should head in this direction you need besides a pack like this one a DAW. For your first DAW, an Ableton demo would work to prevent spending money for a DAW license, we also cover free DAWs in another article.
A digital audio workstation (DAW) is a powerful tool that can help you to produce music more effectively. By using a DAW, you can record and edit audio, add effects and automation, and mix multiple tracks together.
Best of all, you can use a DAW to produce music from start to finish, without ever having to leave your computer. If you're new to music production, then starting out with a DAW can seem daunting. However, there are plenty of resources available to help you get started.
Online tutorials, YouTube videos, and even dedicated DAW courses can teach you the basics. Once you've learned the ropes, you'll be able to produce professional-sounding music in no time. So what are you waiting for? Start using a DAW today and take your music production to the next level.
In a DAW you also have access to perform on a Synth or analog polysynth as plugin VST.
Vintage Sampled Synths, Hip-hop Beats, and More
The world of hip-hop is always evolving, and Synth-Hop is at the forefront of this evolution. By exploring the wide range of sounds and textures that hip-hop has to offer, Synth-Hop is able to create new and exciting soundscapes.
Willingness to Experiment and Try New Things
Since its beginnings in the mid-1990s, trip-hop has been a genre defined by innovation and experimentation. Emerging out of the gritty beats and samples of early hip hop, trip-hop quickly grew to incorporate influences from a wide range of genres, including reggae, jazz, UK jungle, and even ambient electronica.
The artists who pioneered this dazzling new sound have gone on to inspire countless others over the years. Whether it's Wagon Christ's haunting soundscapes or DJ Shadow's legendary cut-up style, these trailblazing producers have shaped the contours of modern trip-hop in countless ways.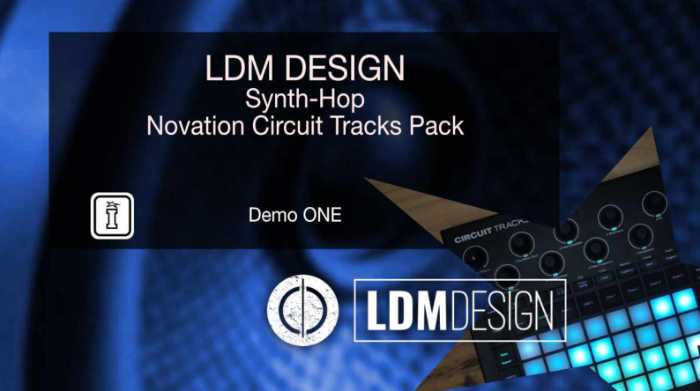 And yet at its heart, trip-hop has always remained deeply rooted in its UK origins. From Massive Attack's downtempo grooves to Portishead's dark psychedelia, much of what we think of as "trip-hop" today can be traced back to the British Isles.
This rich musical heritage is reflected in the vibrant scene that exists there today–a scene that is pulsing with creativity and excitement at every turn. Whether you're into heavy electronica or dreamy psychedelic ambiance, there is sure to be something for you in today's flourishing UK hip-hop and leftfield electronic music scene.
SYNTH-HOP by LDM Design
From the classic funk of P Funk to the lofi keys of west coast G Funk, Synth-Hop covers all bases. And with the inclusion of the Circuit Tracks and OG, you can be sure that your music will always be on the cutting edge. So if you're looking for the freshest sound in hip-hop, look no further than Synth-Hop.
Synth-hop is a type of music that uses hip-hop as a source of inspiration. This type of music can be made with different types of synths, including classic funk synths and more modern digital sounds. The Synth-Hop pack is compatible with the Circuit Tracks and OG.
Beats by Dre
Beats by Dre is one of the most popular audio equipment brands on the market today. Founded by music producer and entrepreneur Dr. Dre, Beats has become synonymous with high-quality audio products that offer deep, rich sound. As always you can get somewhere else beats by dre customize it and running with it, here you have the option to use-inspired beats by dre beats, while those are of course not beats by dre.
But what really sets Beats apart from other audio brands is its ability to customize every aspect of its products to suit the individual needs and preferences of its customers. Whether you want to add your own logo to a pair of headphones or tweak the color scheme of your speakers, Beats makes it easy and affordable to get exactly what you need.
So if you're looking for top-notch audio gear that lets you express your unique style and tastes, look no further than Beats by Dre. With its impressive customization options and world-renowned quality, Beats is simply the best there is.
The Beats by Dre brand has come to embody high-quality, stylish headphones for both music lovers and athletes. Beats by Dre headphones have become a staple in the music industry and are frequently used by award-winning artists and producers.
Synths an Integral Part of Hip-Hop
Synths have always been an integral part of hip-hop, from the early days of sampling to the modern LA beat scene. Dr. Dre and Snoop Dogg popularized the west coast sound with their use of synth-based samples, drawing from the sounds of P Funk. Today, many hip-hop artists have fully incorporated synths into their sound, inspired by electronica as much as classic hip-hop.
Flying Lotus, MNDSGN, and Nosaj Thing are all prominent members of the LA beat scene, and their use of synths has helped to shape the sound of contemporary hip-hop. Synths are a versatile tool that can be used to create a wide range of sounds, and hip-hop artists have always been at the forefront of utilizing them in innovative ways.
Funky Basses, Dusty Keys, Woozy Synths, Glitchy Leads, and Tinkling Percussion
64 patches may seem like a lot, but with the right soundbank, you can easily create a masterpiece. The funk synth basses are perfect for adding depth and dimension to your music, while the lofi dusty keys provide a unique flavor that is perfect for glitching out.
The woozy synths add an element of mystery, while the glitchy leads add an element of fun. Finally, the tinkling percussion adds an element of innocence and playfulness. When used together, these patches create an incredibly powerful soundscape that is sure to engage and inspire your audience.
16 Demo Projects/Sessions
I am thrilled to have the opportunity to share these demo projects and sessions with you. Each one represents a unique combination of sounds and effects, drawing on a wide range of source material for inspiration.
Whether you're looking for new ways to manipulate your own sound recordings, or simply want to explore some interesting sonic landscapes, this collection is sure to have something that will spark your creativity and get those creative gears turning. So don't just sit back and let these amazing sounds wash over you – dive right in, and start experimenting! Who knows what wonderful patch creations might emerge from these incredible demo projects? I can't wait to see what you come up with!
Conclusion
Synth-hop is a genre that draws upon the diverse array of sounds that make up modern hip-hop music. Whether it's the classic funk grooves and drumbeats of yesteryear, the booming basslines and 808s of modern trap, or the abstract textures and digital sounds of experimental electronica, synth-hop incorporates all of these elements into a cohesive whole. This makes it a truly unique and innovative genre that embraces both old and new influences alike.
Whether you're working on a track in the cutting-edge LA beat scene, creating your own lofi hip-hop beats, or pumping out G Funk bangers like they used to do back in the day, synth-hop has something for everyone. And thanks to its versatility and wide range of sounds and patches, it's perfect for both live performances and studio recording alike. So if you're looking to explore the cutting edge of hip-hop music, don't miss out on this exciting new genre – explore the world of synth-hop today!