Do you need some serious low-end power in your life? If so, then you need to check out Boom Library's Enforcer! This easy-to-use bass plug-in adds an irresistible punch, powerful body, and a rigorous low-end bass impulse to your samples.
Boom Library's Enforcer Sale: Your All-Sub-Bass Power House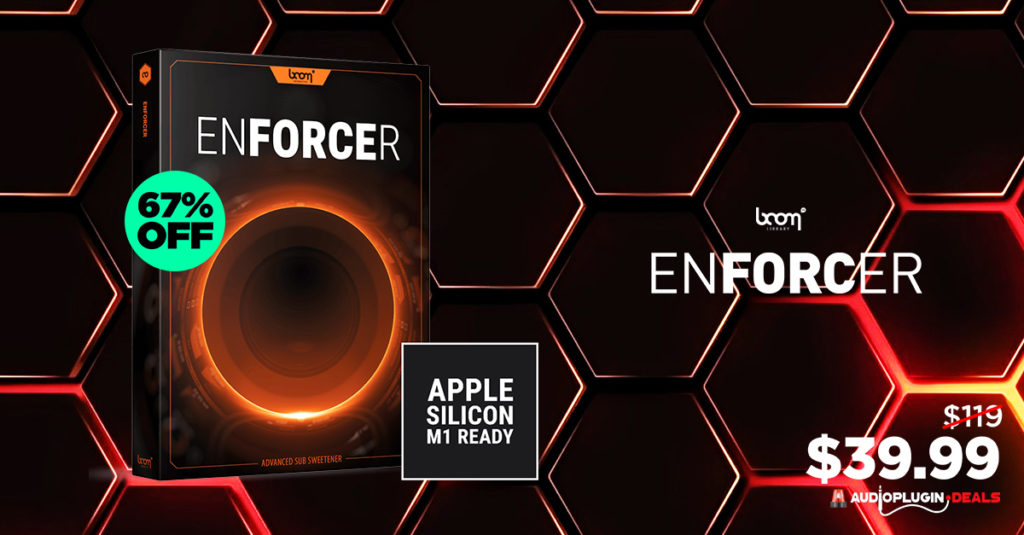 You can heavily beef up sounds or add only a hint of weight. You can use it as a kick-drum synth, exchange kick drum tails and tune them easily using semitones or you can completely exchange given source sounds. If you are a musician or a mixing engineer and, in particular, a sound designer you will love this product!
ENFORCER is a powerful and versatile audio tool that can be used to enhance any sound source. It offers unmatched precision and control, allowing you to add sub-bass, low end, or punch to any sound.
Whether you're layering a kick drum or enhancing live drums, Enforcer can help you achieve the perfect sound. It's also great for adding weight to footsteps or any other percussive sound. With its versatile controls and high-quality sound, Enforcer is the perfect tool for any audio engineer or music producer.
Enforcer to Enforce
ENFORCER is the perfect tool for anyone who wants to add power and punch to their audio. Whether you're looking to add low-end to a kick drum or enhance live drums with well-defined punch, ENFORCER has you covered. With its wide range of controllable and tunable parameters, ENFORCER is the Swiss Army Knife for punch, low-end, sub power, kick… you name it.
So if you're looking for a way to add steady weight to every single footstep or layer a kick drum with controllable and tunable low-end, look no further than ENFORCER.
"BOOM Library is manifesting with ENFORCER a new generation plugin to push those subs, make sound effects bigger, create something new and in your face or create low-end sub sound shaking the audience."