Are you looking for an authentic reggae experience? Look no further than AudioThing's Alborosie Dub Station! This plugin recreates the vintage sounds of King Tubby himself and is perfect for adding that classic dub vibe to your music. Whether you're a seasoned producer or just getting started, this plugin will surely add some serious flavor to your tracks.
AudioThing's Alborosie Dub Station
AudioThing's Alborosie Dub Station is a new plug-in that uses three effects to produce vintage-style dub recordings. It's based on the hardware that the legendary Jamaican dub producer King Tubby used to record his songs. Inspired by his personal collection of vintage recording equipment, this plug-in reproduces the sound and feel of King Tubby's music.
Audiothing's Alborosie Dub Station is a new plug-in that emulates the sounds of vintage reggae studios with the help of three new effects: echo, spring reverb, and filter. Inspired by the legendary Jamaican dub producer King Tubby, the Alborosie Dub Station re-creates his signature sound. With three hardware effects and an in-depth model of his original gear, the Alborosie Dub Station aims to be an all-in-one dub-production tool.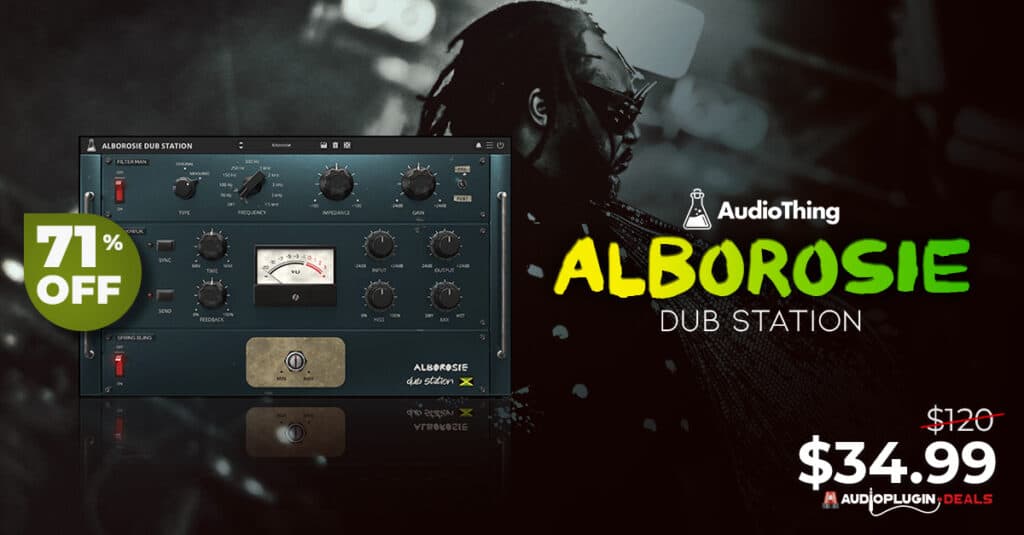 A Breakdown of Alborosie Dub Station by AudioThing
For anyone fan of dub reggae, the name King Tubby should need no introduction. For those unfamiliar, King Tubby was a producer, studio engineer, and pioneer of dub reggae from the golden era of the 70s. His work has influenced countless other artists and his legend continues to grow.
Now, audio company AudioThing has released a new plugin called Alborosie Dub Station, which aims to recreate the sounds that made King Tubby's work so iconic. This blog post will look closely at what this plugin offers and see if it lives up to the hype.
Alborosie Dub Station Overview
Alborosie Dub Station is a software plugin that recreates the original filter, echos, and spring reverb used by King Tubby. The plugin is based on Alborosie's vintage gear collection and was created using samples analyzed and carefully recreated by AudioThing.
The plugin includes an adjustable filter section with cutoff and resonance controls, two separate echo sections with feedback, delay time, and mix controls, and a spring reverb section with wet/dry mix and pre-delay controls.
The plugin also comes with a selection of presets created by Alborosie, which can be further customized using the controls as mentioned earlier. In terms of sound quality, the presets do an excellent job of capturing that classic dub reggae sound.
ECHOWUK
The MCI 2-track tape was used for recording in federal studios and King Tubby studio in Waterhouse Kingston. This echo effect created most of the classic and popular reggae overall and Tubby's instrumental dub mixes.
SPRING BLING
The Fairchild Spring Reverb was modified and used by King Tubby himself in most of the records he produced in his studio in Waterhouse Kingston.
FILTER MAN
FILTER MAN was inspired by Tubby's "Big Knob", a passive high-pass filter with eleven frequency steps from 70Hz to 7.5KHz. This filter helped shape the sound of Jamaican music in the early days.
Ease of Use
Alborosie Dub Station is straightforward to use thanks to its clear interface. All the controls are clearly labeled and easy to understand, making creating your own presets a breeze.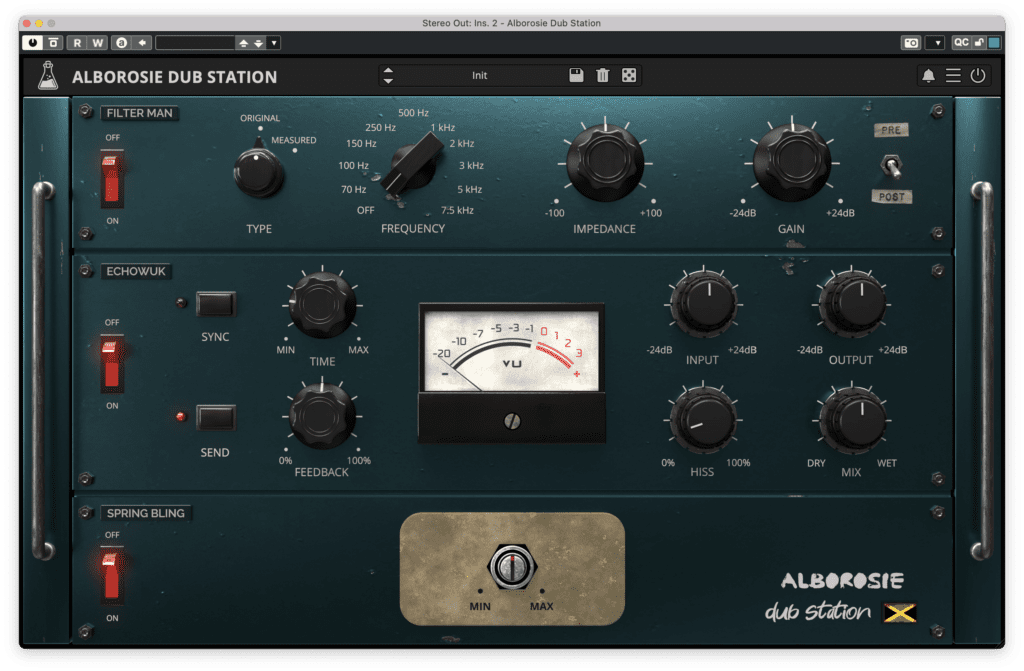 About Alborosie
His real name is Alberto D'Ascola, and he was born in Marsala, Sicily, Italy. He founded the Reggae National Tickets and led them on several national and international tours throughout the mid-to-late 1990s. Alborosie was immediately charmed by Jamaica when the Tickets performed there on the eve of the new millennium. He then took a job as an engineer at Gee Jam studios in Port Antonio, which is a secluded paradise on Jamaica's north coast that Amy Winehouse, No Doubt, and many other foreign and local celebrities love to record in.
Alborosie Dub Station is a powerful tool for blending sounds and features two distinct frequency modes. The original mode features slightly different bands of frequencies, while the measured mode provides smoother highs. You can also adjust Impedance to change the overall resonance of the filter. The instrument also works with onboard effects.
Alberto D'Ascola was born in Marsala, Sicily, in 1977. His interest in reggae music began when he was just fifteen years old. He toured Europe with Reggae National Tickets, and later moved to Jamaica to be near the genre. During his time in Jamaica, he worked at Gee Jam Studios, a tropical recording studio where many stars like Amy Winehouse and No Doubt recorded. His talent led to numerous awards and accolades, including the 2011 MOBO for Best Reggae Act.
Alborosie Dub Station was designed with the help of Lloyd James, an internationally known dub producer. The plug-in emulates King Tubby's style of production. It also features filters, reverb, and echos. These three effects will help you recreate the unique sound of dub music.
Alborosie has been touring internationally and has released numerous albums. He has collaborated with many international artists, including Beenie Man, Lutan Fya, and Dean Frazer. He also produced The Singerz album, featuring the talent of up-and-coming Jamaican artists.
In 2011, Alborosie made history as the first white artist to win the M.O.B.O. (Music of Black Origin) Awards in the Best Reggae Act category
Conclusion
If you're looking for a plugin to help you recreate the classic sounds of dub reggae, then Alborosie Dub Station is worth checking out. The presets do an excellent job of capturing that classic sound, and the interface is user-friendly. It is highly recommended for any fan of dub reggae.