EMINENCE | Trailer Sound Effects – Create Immersive Audio Experiences With Signature Sounds
Create immersive audio experiences with ready-to-go samples: Signature Sounds, Hits, Booms, Whooshes, Whoosh Hits, Braaams, Pings, Downers, Drones, Risers, Pulses, and more.
Eminence is a collection of royalty-free trailer sound effects by AVA Music Group. The product is inspired by the sounds of the biggest blockbusters of 2019 and 2020. The repertoire includes 7 Kontakt Instruments with different categories of sounds, each of which is available in several variations. The product can be used for trailer-related projects, including video games and films.
Trailer Sound Effects
Trailer sound effects are one of the most important aspects of a trailer. They set the tone and atmosphere for the trailer and can make or break it. A good trailer will have various sound effects to create an immersive experience. These sound effects include footsteps, background ambiance, and character dialogue.
On the other hand, bad trailers often have sound effects that are either poorly done or entirely out of place. This can ruin the trailer and leave viewers disappointed or angry.
Trailer sound effects are the perfect way to add a little excitement to your movie trailer, video production, or presentation. Trailer sound effects are high quality and professionally recorded. They're also royalty-free, so you can use them in any project without worrying about paying extra fees.
When done right, trailer sound effects can be truly impactful and add a lot to the experience. So if you're working on a trailer, put some thought into the sound design!
EMINENCE is a Virtual Kontakt Instrument
EMINENCE is a virtual instrument for the modern movie composer. Create your own aggressive and assertive audio productions with unique signature sounds.
With EMINENCE, you can create your signature sound by combining various sounds from dozens of customizable multi-sampled instruments. You can even use your samples to create new sounds!
Get that aggressive sound that makes your audience sit up and listen.
Supercharge your Trailer Productions
Professional trailer sound effects can still grab your audience's attention in a world where the average attention span is equivalent to a 10-year-old high on sugar. Trailers are essential to marketing and advertising in a competitive industry where every decision is focus-tested to make the most money.
Trailer sound effects are unique because they must be creative while still relatable. These sound effects capture the audience's interest and help them get excited about what they will see.
Trailer sound effects are often used in movies, TV shows, commercials, and other media that need to draw people in quickly. The right kind of trailer sound effects can help create an emotional connection with your audience before they even see what it is you're selling or promoting.
250+ Modern Trailer Sounds
You're not a real trailer editor until you have the right sound.
EMINENCE got 250+ modern trailer sounds, ready to be used in your next project. From signature sounds, hits, booms, and whooshes to drones, booms, rolls, and pings downers, drones, and drum kits—you name it—AVA MUSIC GROUP got you covered. And that's just the beginning! The library also includes riffs, pulses, and drum loops to get creative with your custom soundtracks.
With 250+ modern trailer sounds at your fingertips, there's no limit to what you can do!
Effective User Interface
When you want to be heard, you need to be heard. EMINENCE features advanced audio functions that let you transform your sounds in seconds.
AVA MUSIC GROUP knows how important it is to have an interface that's easy to use and understand, so they made sure EMINENCE is simple and intuitive. Just turn the big knob to hear the power of our algorithm shape your sounds. The advanced audio functions let you transform your sounds in seconds—you'll feel like a sound-shaping pro after just one session!
Only the Essentials
You only need the essentials, and that's what AVA MUSIC GROUP is here for.
AVA MUSIC GROUP specializes in making unique signature sounds designed by industry-leading sound designers. They focus on quality vs. quantity so you can differentiate your productions with sounds that are truly unique to your brand.
EMINENCE | Trailer Sound Effects
Eminence is the most potent sound library to date. It features 250+ samples, including signature sounds, hits, booms, whooshes, whoosh hits, braaams, pings, downers, and more. The 7 Kontakt instruments and four stereo loop banks give you thousands of ways to make your music stand out!
Powerful tools like the "Big Knob" let you take control over all aspects of your sounds so that you can make them sound just right with the audio algorithm included. With recordings at 48kHz | 24bit and full royalty-free rights, Eminence is your go-to library when creating dramatic sci-fi soundscapes or any genre for that matter!
Eminence Trailer Sound Effects requires the full version of Kontakt 5.8.1 or higher.
Conclusion
Trailer sound effects are one of the most important aspects of a trailer. They can set the trailer's mood and tone and help create a sense of suspense or drama. They can also be used to develop a sense of humor or light-heartedness.
Various sound effects can be used in trailers, which will depend on the type of trailer being made. For example, suspenseful trailers may use spooky music and sound effects, while comedy trailers may use more light-hearted and whimsical sounds.
No matter what type of trailer you're making, choosing the proper sound effects is essential to creating an effective and impactful trailer. With the help of a skilled sound designer, you can craft a trailer that will stay with viewers long after they've seen it.
EMINENCE has been designed to make your life easier by getting excellent and professional sounds right out of the box. Just load the library into your favorite sampler, tweak the Custom Controls, and you'll be amazed at how fast you can achieve the right sound you've been looking for. Our producers are proud of what they put together and trust you'll have fun with it too.
PRISM | Modern Pop Drums by AVA Music Group
Transform Your Music with Cutting-Edge Pop Drum Sounds
INSTANTLY ELEVATE YOUR PRODUCTION QUALITY
PRISM Modern Pop Drums by AVA Music Group – the ultimate solution for music producers looking to elevate their sound with cutting-edge electronic percussion. PRISM offers a revolutionary interface that empowers musicians to access an endless array of drum options, making finding the perfect sound for your next hit easier.
Key Features:
High-quality percussive sounds designed for modern pop production
Drum kits crafted for perfect mix placement without extensive audio processing
Used in tracks with over 100 million views, including the Shazam and LEGO 2 trailers
Revolutionary interface for easy access to a vast range of drum options
Ideal for ambitious music producers seeking quick, hard-hitting, and modern-sounding drums
CREATE MUSIC FASTER AND MORE EFFICIENTLY
With PRISM, music producers can concentrate on crafting high-quality tracks without the hassle of searching for the right drum sound. The revolutionary interface offers easy access to many options, allowing you to focus on making the most of your music.
EXCEPTIONAL DRUM KITS FOR PERFECT MIX PLACEMENT
PRISM Modern Pop Drums provides the highest quality percussive sounds for your next production. Each drum kit is designed to sit perfectly in a mix without spending time on audio processing. This makes it the perfect library for ambitious music producers who want quick, hard-hitting, and modern-sounding drums.
IMPRESSIVE TRACK RECORD
The samples in PRISM have been used in tracks that have cumulated over 100 million views, featuring mostly pop records and notable trailers for Shazam and LEGO 2. This speaks to the incredible quality and versatility of PRISM Modern Pop Drums.
UNLEASH YOUR CREATIVITY
Unlock your full potential as a music producer with PRISM Modern Pop Drums by AVA Music Group. Experience the power of incredible electronic percussion and instantly elevate your production quality. Embrace the future of pop music with PRISM, and bring your musical vision to life.
Drums in Trailer Music: The Impactful Sound of Cinematic Percussion
Creating Epic and Memorable Sonic Landscapes
THE ROLE OF DRUMS IN TRAILER MUSIC
Trailer music has become essential to the film industry, providing audiences with a thrilling and emotional introduction to upcoming movies. Drums are crucial in creating powerful, impactful soundscapes that define trailer music, evoking anticipation, tension, and excitement.
EPIC PERCUSSION FOR INTENSE EMOTIONS
Using epic percussion in trailer music is key to building the intensity and emotion that make these previews unforgettable. Drums such as taikos, toms, and timpani, along with other percussive elements like cymbals, shakers, and tambourines, create a rhythmic foundation that drives the music forward and supports the cinematic narrative.
The choice of drum sounds, their arrangement, and their mixing all contribute to the unique sonic identity of trailer music. These elements combine to create a sense of urgency, drama, and scale that is essential in capturing the audience's attention and imagination.
HYBRID DRUMS FOR A MODERN SOUND
Traditional acoustic drums are often combined with electronic and processed percussion in modern trailer music to create a unique and contemporary sound. This hybrid approach allows composers and producers to experiment with innovative textures and rhythms, pushing the boundaries of trailer music and enhancing the overall impact of the score.
Synthesized drums, sound design elements, and advanced audio processing techniques are frequently used to create cutting-edge percussive sounds that blend seamlessly with orchestral arrangements, resulting in a rich and diverse sonic landscape.
DRUMS AS A STORYTELLING TOOL
Beyond providing rhythm and energy, drums in trailer music also serve as a storytelling tool, helping to establish the mood and pacing of the narrative. By varying the drum arrangements' intensity, tempo, and complexity, composers can evoke a wide range of emotions, from suspense and tension to triumph and release.
For example, a slow, pounding rhythm might be used to create a sense of impending doom, while a rapid, driving beat might accompany an action-packed sequence. These choices help shape the trailer's overall arc, guiding the audience through an emotional journey that leaves them eager to see the full film.
CONCLUSION
PRISM Modern Pop Drums by AVA Music Group is a cutting-edge electronic percussion library designed to elevate music production's sound quality and efficiency. With its high-quality percussive sounds and revolutionary interface, PRISM is ideal for creating modern pop tracks and adding impact and energy to film scores and trailer music.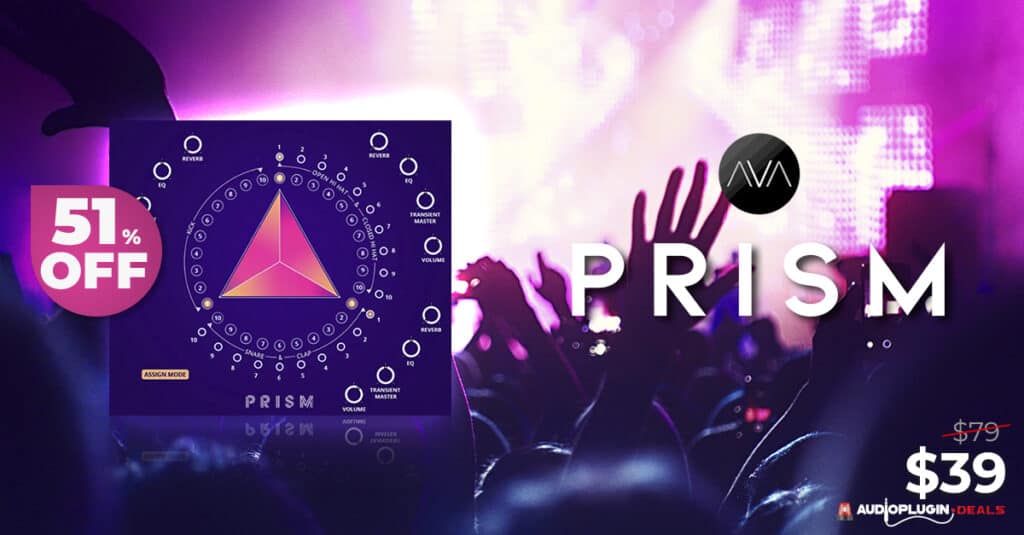 The carefully crafted drum kits ensure a perfect mix placement without extensive audio processing, making PRISM an excellent choice for ambitious music producers in various genres. Having been used in tracks with over 100 million views, including the Shazam and LEGO 2 trailers, PRISM Modern Pop Drums proves its versatility and ability to create powerful, memorable, and engaging soundscapes.
PRISM Review – Modern Pop Drums by AVA MUSIC GROUP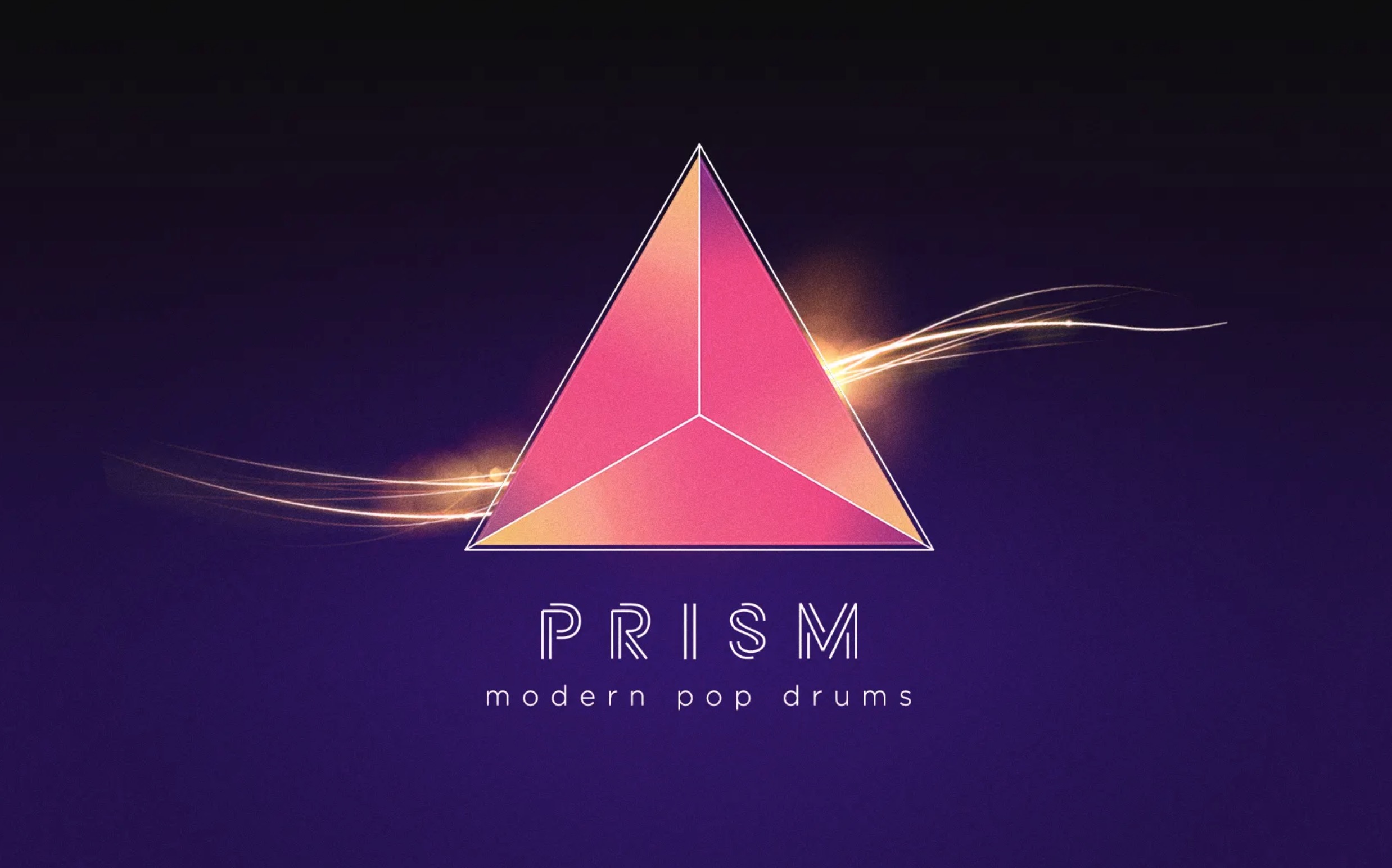 PRISM by AVA MUSIC GROUP Review
With PRISM AVA is concentrating on the highest quality percussive sounds for your next score. The included sounds aim to sit well in a mix. This library wants to be your perfect drum sound collection.
The percussive sounds were used in tracks cumulating over 100 millions of views. (mostly pop records and notably the Shazam and LEGO 2 trailer). AVA MUSIC GROUP did send a review copy with no strings attached. We did take a look at Instinct also by AVA MUSIC GROUP here: Instinct by AVA MUSIC GROUP Review.
The company is a music licensing and managing the business. AVA MUSIC provides excellent hand-picked music for advertising agencies, producers, and filmmakers as a company sound design from AVA Music has been used in trailers for Pan, San Andreas, Pixel, Ghost Buster, Power Rangers, Fantastic Beats, Justice League, and Spider-Man Homecoming.
Installation
You download and unpack the library. PRISM runs in the Full (and paid) Kontakt Version 5.7.1 or higher. You can also use the samples independently as wave files in your DAW. There are many additional WAV files included, take a look at them as they are not available in the Kontakt Interface.
Sound
With PRISM you have access to an endless array of drum options to get to the meat of your score faster. Curated by professional sound engineers and leading producers, PRISM's sound library aims to include only the most significant electronic percussion sounds. All percussive sounds have been recorded and processed at 48kHz in 24bit.
The producer has handpicked every sound, in the next step skillful mixed and produced. PRISM wants to enable producers and performers at every experience level tools to create studio-quality music instantly.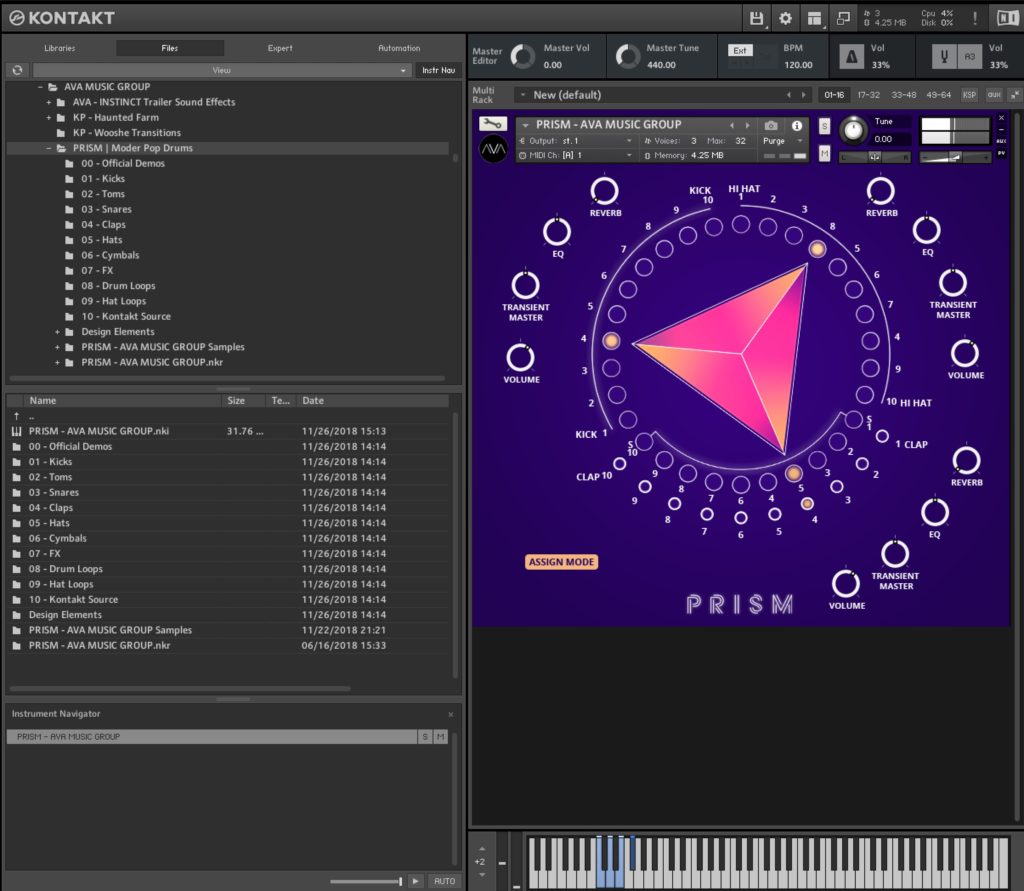 When the project was started, the library had 400+ sounds included. As the aim was to deliver the best quality and tones that work great together initially, they reduce the included samples to a set of high-quality percussion and drum sounds.
There are more instruments and sounds available as you can use through Kontakt. The Kontakt library focuses on the percussive sounds that work together in your next score.
PRISM's concept is a splendid idea to present the drums song-ready for a composer that score to picture or produce modern music. You can start with your drum stems quickly and focus on the rest to write your next score or song.
The drums sit very well in your mix; the producing company has made sure that the drum tracks sit and work well in a mix.
Overall in Kontakt and counting the singles WAV files you receive:
11 Official Demos
20 Kicks
8 Toms
27 Snares
16 Claps
35 Hi-Hats
38 Drum Loops
15 Hi-Hat Loops
3 Cymbals
16 FX
The sound of this library offers high value for money spent and comes with percussion that fit into a mix and sounds good.
The developer has listened to feedback provided by other composer and is looking into some future enhancements:
Open hi-hat one-shots
Switch snare and clap position
Add tom row in the UI
2nd hi-hat row in the UI
Bonus toolkit samples
Ava Music Group is working on those enhancements mentioned above and will keep their customer posted when a first update is released. That is a company listening to their customers and is eager to address customer needs where possible.
User interface & Usability
PRISM's User Interface allows composer and music producers to find and perform the percussion sound you need quickly. You have access to Kick, Hi-Hat, Clap, and Snare
If you use at the big "knob" in the middle you Hi-Hat switch between different sounds, this is not a sound shaping knob that you may know from other libraries. The big middle triangle is a straightforward way to select the different percussion set.
Rating:  Five out of five stars
PRISM comes with an excellent percussion sound set and has the modern sound and vibe. This package of current drums sounds fantastic. Clément Ducasse, Karel Psota and the team from the AVA MUSIC GROUP have taken their personal library used in recent productions and made them available for your next score.
Many other percussion libraries sell on their files numbers and footprint on the hard disk, PRISM is all about quality percussive sound and PRISM is leading in its space.
Instinct by AVA MUSIC GROUP Review
Instinct by AVA MUSIC GROUP Review
Instinct developed by Ava Music Group. The company is a music licensing and managing the business. AVA MUSIC provides excellent hand-picked music for advertising agencies, producers, and filmmakers. As a company sound design from AVA Music has been used in trailers for Pan, San Andreas, Pixel, Ghost Buster, Power Rangers, Fantastic Beats, Justice League and Spider-Man Homecoming. Ava Music Group did send a review copy with no strings attached.
Instinct adds to your armory of sounds effects. There are many similar libraries available. With Instinct, you get some additional cinematic sound effects to the never-ending need for Big Hits, Braams, Drones, Phrases, Risers, Sub Drops, Sub Hits,  Pings,  Loops,  Whoosh-Bangs, and Whooshes. This library launches into an overcrowded market where the choices are many and similar libraries are added each month.
Installation

Purchase and download, do a batch re-save in Kontakt. This library requires the full version of Kontakt.
Sound

Many of the included sounds are ready for use in Trailer or as effects when you score to picture. More melodic patches got included motion that differs them from the rest of similar libraries.
The number of content included is compared to other libraries at the low to medium end. I would see this as a boutique library with high-quality content. Overall you get 100 recorded sounds.
User interface & Usability

For me, this kind of content should have a different interface. The used Photosynthesis is excellent, and many great libraries have been released with it. I did see recently many libraries that need a UI to deliver the content and preferable that UI should be offering some effects. While Photosynthesis is delivery of this elements Instinct is not leveraging the possibility of Photosynthesis.
Yes, Photosynthesis is kind of easy to use and in the case of Instinct to apply single patches, but just imagine what this content could do in a library that would blend many sources and would use included effects, offer presets that mangle the sounds, while still using the same high raw content.
Rating:  Three out of five stars

Instinct is a library with quality, character and a small footprint when it comes to overall content. The Interface used and amount of included material would need to be enhanced to get to a higher rating. This could be four/five stars if there would be more content included and a different Interface that integrates would be used.
You can download 20 Free Samples here on Facebook
As an affiliate, we may earn a commission from qualifying purchases. We get commissions for purchases made through links on this website from Amazon and other third parties.
StrongMocha is a magazine for music producers, audio engineers, and sound designers. StrongMocha Magazine provides the latest industry news, reviews of gear and software, tutorials on recording techniques, and tips for mixing.