If you plan to add the current bundle of high-quality libraries and tools from EPIC Soundlab you have less than 48 hours left. There are many Kontakt instruments included and if you do have Reaktor you can use the included Reaktor Ensembles. You can grab for less than 48 hours the EPIC Soundlab Everything Bundle for  $99 (Affiliate Link)
There are five products included:
The Forge (Kontakt)
A sample library aimed at Film, TV and Games composers. Includes Drones, Drums (Acoustic, Designed, Synthetic), Impacts, Melodic, Rhythmic and Warped Loops, Melodic Instruments, Risers Downers, SFX, Sweeps, Synth Arp, Synth Basic, Synth Bass, Synth Pads, Synth Poly, and Tuned Percussions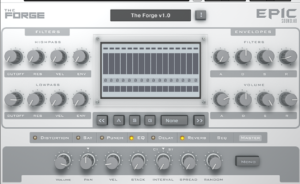 Maliki (Kontakt)
A collection of epic drum loops arranged in 20 themes
Octamorph (Reaktor 5/6)
A 4 way spectral crossmorphing tool for Reaktor
Octacontrol (Reaktor 5/6)
A 8 points MIDI Transmuter sound design tool made to control hardware and software MIDI devices.
Quadrimorph (Kontakt)
A tool for building complex soundscapes, morphing drones, shapeshifting risers and more. It contains Complex Risers, Morphing Drones, Fly-Bys, Rhythmic Morphing Drones, Rhythmic Risers, and Simple Risers