Q Up Arts 5-in-1 Bundle Deal for just $99 (until July 26th, 2017)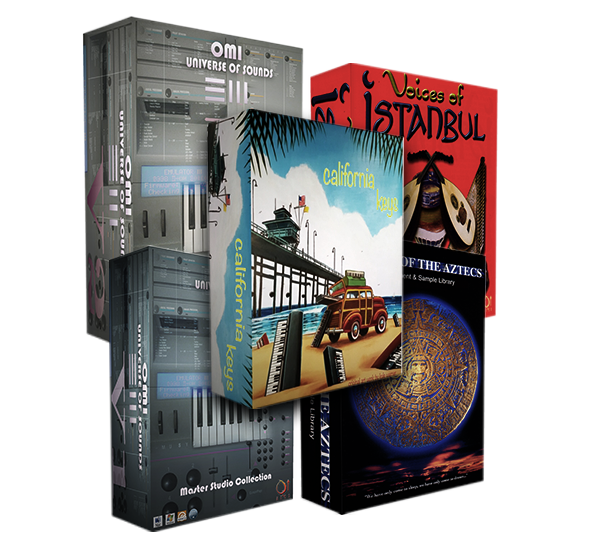 Q Up Arts have been developing world class sound collections for companies, professional music producers, Film/TV composers and recording artists for over 20 years.  This amazing deal is available only until July 26th, 2017. If you interested in those unique sounds and the California Keys library you can buy the bundle here (Affiliate Link).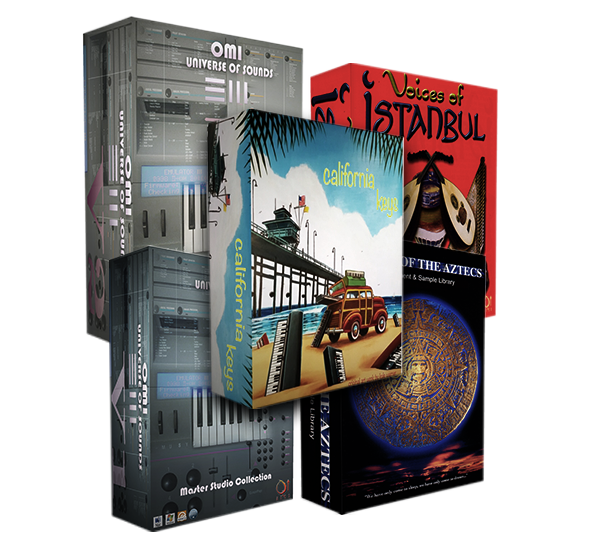 Included in the bundle are:
California Keys for Kontakt Player


A Fazioli 10ft very deeply recorded with many options when it comes to change the sound and feeling. There are also set of vintage keyboards (Rhodes, Wurlitzer, Vox

organ

, Farfisa organ, and Hammond organ) included.

According to Doug from Q Up Arts one of the unique feature and value add "is how the piano was recorded. It's recorded in true surround. Matched stereo pairs of room mics were placed in front of and behind the player. U87 was placed under the piano, a classic ORTF config was to the right of the player with close mics directly above the hammers as well. In Kontakt, these mics can be sent to the surround matrix for 5.1 and 7.1 and beyond. The surround capability is very flexible for many configurations. Everything was recorded with utmost care @192khz 24bit." (Douglas MortonPRESIDENT & FOUNDER of Q UP ARTS)

 

Master Studio Collection V1

Master Studio Collection V2


Both libraries are originally created for the Emu EIII, this library features a diverse collection of pianos, guitars, percussion, world instruments and more.  "We originally created this for the Emulator III/X and moved it into Akai S1000 and several other platforms." (Douglas MortonPRESIDENT & FOUNDER of Q UP ARTS) 

Voices of Istanbul




A compilation including

ramadan

drum, Ney, tambour,

kudum

, clarinet,

kemence

,

ud

, kanun

halile

, def, darbuka,

cura

, string section motifs and more.

Voices of the Aztecs




A compilation of Aztec instruments, loops, and vocals. 
I did spend some time with Doug and you can learn more about his thoughts and insights here:
AN INTERVIEW WITH DOUGLAS MORTON (PRESIDENT & FOUNDER) OF Q UP ARTS
by Thorsten Meyer
Pricing 99 USD and you can buy the bundle here (Affiliate Link) until July 26th, 2017.
Q Up Arts Making a difference Pledging to GlobalGiving's California Wildfire Relief Fund
GlobalGiving's California Wildfire Relief Fund
Q Up Arts positively pledges 50% of California Keys™ sample instrument sales to GlobalGiving's California Wildfire Relief Fund
Q Up Arts is proud to continue trying to make a positive difference during the turbulent year that is 2020 by pledging 50% of the sales of California KeysTM — making musical waves upon release as a cutting-edge KONTAKT PLAYER sample instrument for professional keyboardists and composers, centered around a Fazioli 10- foot grand piano presented in stereo and surround — to GlobalGiving's California Wildfire Relief Fund.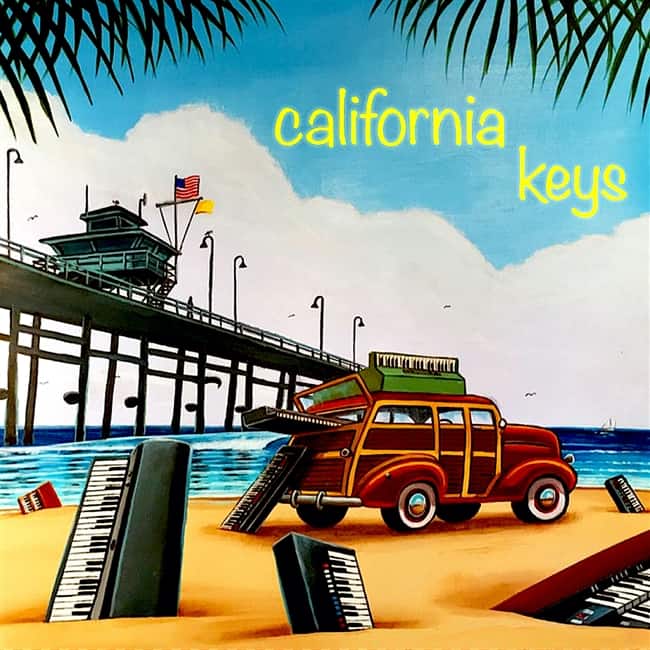 Such sadness is all the more appreciable as the iconic Californian music tech brand co-founder grew up in Cupertino, and still lives in California. Sadly, some of the verdant parks Douglas Morton visited as a child are now a pile of ash. Meanwhile, many of his dear friends are displaced from their homes — some have lost their homes altogether. As a true musician, Douglas Morton poured his sorrow into his music. Making much use of California Keys' supremely-sampled Fazioli 10-foot grand piano presented in stereo and surround, scripted and designed for maximum expressivity and playability to fit every style of playing — perfect for composing sombre tunes with such subtle expression, he hit upon a bright idea to counter today's turbulent times: "Why not make California Keys more affordable for musicians so they can also express their troubles through their music and support organisations responding to the California wildfires with their purchase?"
Anyone taking Q Up Arts up on this open-handed offer will receive a personal thank you card in the form of an e-mail confirmation that Q Up Arts duly donated $75.00 USD to GlobalGiving's California Wildfire Relief Fund in their name. Needless to say, supporting firefighters and providing emergency supplies such as food, water, and medicine to those in need is a given, but the California Wildfire Relief Fund will remain open to provide longterm assistance.
As Q Up Arts' aforesaid California Wildfire Relief Fund-supporting project ends on October 31, 2020, there has never been a better time than now for anyone to add California Keys to their collection of compositional tools, thankful in the knowledge that the resulting donation to GlobalGiving's California Wildfire Relief Fund in their name will exclusively support communities impacted by those wildfires burning across Douglas Morton's beloved California. German giant Native Instruments — creators of the industry-standard KONTAKT platform powering the biggest selection of sampled instruments available — is also California-connected as Native Instruments North America, Inc. operates out of Los Angeles; as such, it is duly donating all serials/licenses for the duration of Q Up Arts' California Wildfire Relief Fund-supporting project.
Musically moved to end on an exceptionally helpful high note, Q Up Arts itself is also allocating a number of free California Keys downloads to those that have experienced the loss of their homes and studios due to the California wildfires; anyone affected as such can contact Q Up Arts directly.
Slashing pricing from $499.00 USD to $150.00 USD, then giving away 50% of the remaining revenue might appear a reckless business decision, but that is exactly what world-class sound collections developer/licensor Q Up Arts is proudly doing with its iconic California Keys software title. This gesture follows hot on the heels of the COVID-19 free sound giveaway generously offered in April of this year. Yet Q Up Arts President Douglas Morton makes his position perfectly clear when reflecting upon this — some might say — surprising move. "Witnessing how fire is consuming California, a state already heroically battling COVID-19 and the economic slowdown, is heartbreaking," he says, somewhat sadly.
California KeysTM can currently be purchased and digitally downloaded as an NKS (Native Kontrol Standard) compatible KONTAKT PLAYER sample instrument at a California Wildfire Relief Fund-supporting project price of $150.00 USD until October 31, 2020 — rising thereafter to $499.00 USD
California Keys by Q Up Arts Review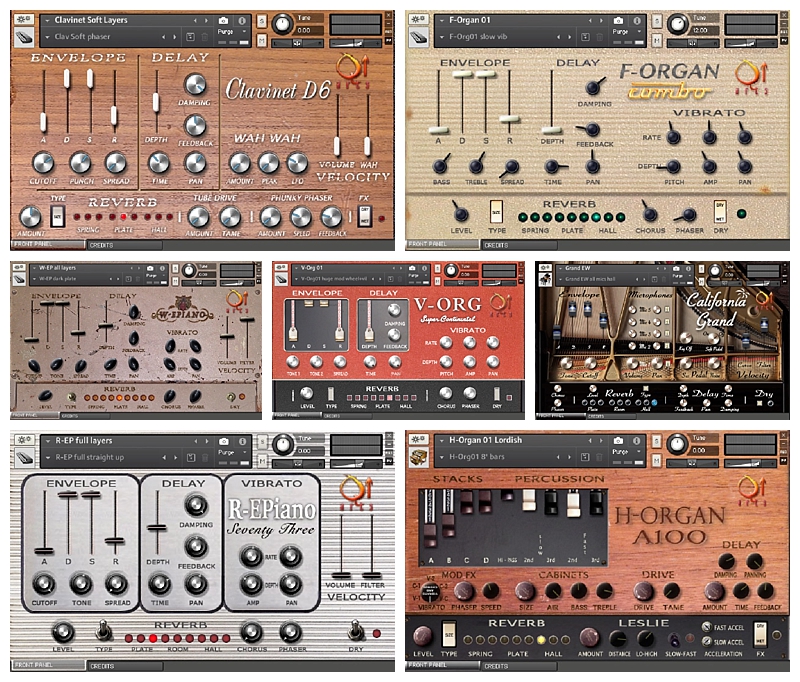 California Keys by Q Up Arts Review
With the multitude of piano and keyboard libraries on offer, it's difficult to make a choice let alone feel like you made the right choice when it comes to buying and playing such libraries – pianos and keys can be a very personal thing for composers (most composers play real pianos and keyboards often after all) so without steering too far one way or another, let's have a neutral look at a keyboard bundle by Q Up Arts – California Keys.
Q Up Arts haven't made a lot of "sample libraries" as we'd call them nowadays, but they've been active and recording loops for quite a long time, back when providers like Spectrasonics and East-West were the main contributors to the slowly growing sample world. California Keys is their flagship keyboard collection, and it ships with a Fazioli Grand, a Wurli and Rhodes, a Clavinet and three organs for covering your pop, soul, rock and ballad music needs. Q Up Arts did send a review copy with no strings attached.
Installation
The library is pretty hefty – around 30 gigs as a download, which depending on your browser or location may take a while to finish. Then it's just a matter of unzipping the first archive to your folder of choice, and registering the library in the Native Access program which can be downloaded at Native Instruments site.
Sound
Let's start off by covering the sound in general that this library sports. While many keyboard libraries like to offer an upfront, polished sound ready for dropping into your tracks, California Keys has a dryness or rawness to its recordings that may sound a little "unkempt" for some. Personally, I find the less-than-sparkling sound to be refreshing when compared to the majority of keyboard libraries I've played. It's a great starting point for mixing or tweaking, rather than having the instrument pre-cooked and polished from the start. With that in mind, let's go through the instruments.
The Clavinet D6 has the bite, as it should, and although there's no control given for release samples to get that chunky key-off sound, the instrument has plenty of dynamics and is even provided with a "soft dynamics" patch, which I think is neat. In fact, all of the instruments are provided with this patch, so hearing the quieter dynamics under the spotlight is a nice thing to have handy, especially for more light-handed players like myself.
The three organs provide three distinct sounds – the Farfisa Organ, which has a nutty vintage sound for that old school synth-pop vibe – the Super Continental organ, which offers a bright and bold tone for rhythm & blues or soul – and the A100, which comes with all the stops (the organ stops) and can be used for a plethora of groovy sounding phrases with clear definition.
Then there's the Vintage W-Piano (Wurli) and the Vintage E-Piano (Rhodes) – the Wurli sounds appropriately woody and charming, while the Rhodes sports that classic dreamy tone, and is one of my more favorite instruments in this package.
The Fazioli 10 foot grand is the main bulk of the sample content in California Keys, coming with a bunch of dynamic layers, sustain resonance samples, key noise and pedal noise samples, and 5 microphone positions to choose from. This piano sounds quite warm and resonant, and while it can handle hard and fast playing, it shines with soft playing and cinematic applications.
User interface & Usability
As a whole, the instruments sound adequately great, so there are no complaints there (keeping in mind some may like or dislike certain sounds depending on their preference for how keys should sound), so the other thing to mention is the GUI.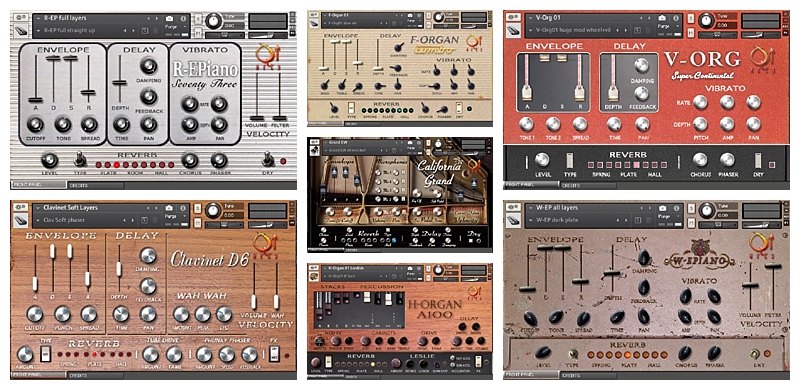 Each instrument has slight variations, for example, the instrument background style and the kinds of controls available (like mic faders for the grand, organ stops for the organ and so on), but for the most part, the patches come with the usual onboard effects and tweaks.
Velocity response, tremolo, wah, distortion, reverb, delay and ADSR faders are all present, allowing the user to take the core instruments and create interesting sounds for different applications – so you can dial in tremolo for the Rhodes, verb for the piano, cab distortion for the organs and so on. Everything you'd need for composing mainstream music with keyboards is there, and it works well. The piano was also recorded with 7.1 surround mixing in mind, so there's that too.
Overall, what California Keys offers is a well-prepared collection of deep-sampled keyboards rather than the composer having to pick and choose from a variety of single-instrument libraries that eventually cost so much more on their own.
A varied keyboard and piano package isn't all too common, with one of the few alternatives being something like Spectrasonics' Keyscape for example (which is phenomenal if you can afford it of course) so California Keys is a well-rounded alternative that covers a lot of ground for mainstream composing.
Rating:  Four out of five stars
As I said earlier, keyboards and pianos can be a really personal (sometimes annoyingly personal) thing for composers and sample collectors like myself, so I can't logically swerve you one way or the other about California Keys. Perhaps watching the video I've provided will give you more of an insight as to the sounds themselves. In the end, California Keys does what it needs to and does it well – and I can definitely see loop producers and hip-hop artists getting some well-deserved use out of this colorful collection.
A  piano improvisation from Ronald Ng Yuan Chang recorded especially for you to allow you to compare different pianos.  There is also a Soft, Felt, Emotional Piano Library Comparison.
8Dio
Arturia
AUDIO IMPERIA
http://https://www.youtube.com/watch?v=ZNicCPxGTKc&
Audiority
Bengt Nilsson
bigcat instruments
Cinematic Studio Series
Cinesamples
Chocolate Audio
Echo Sound Works
Galaxy Instruments
 Ivy Audio
Kirk Hunter Studios
 Q Up Arts
SampleTekk
Soniccouture
Spectrasonics
Spitfire Audio
SoundIron
Toontrack
VI Labs
Voices Improvisation
Waves
As an affiliate, we may earn a commission from qualifying purchases. We get commissions for purchases made through links on this website from Amazon and other third parties.
StrongMocha is a magazine for music producers, audio engineers, and sound designers. StrongMocha Magazine provides the latest industry news, reviews of gear and software, tutorials on recording techniques, and tips for mixing.