Auto-Tune 8.1 by Antares Review
Antares did develop the market around pitch-correction solutions and have been very successful in harvesting it with the different Auto-Tune solutions. Auto-Tune is widely used and has become a must-have tool for vocals and to some degree for varying instruments. The application of Auto-Tune on so many professional projects shows the full acceptance of this useful tool in the professional music industry.
Overtime Auto-Tune has evolved from a tool to polish up a vocal, to a must-have tool to issues addressed in vocal recordings and instrument performances. You can also change a vocal in a crazy way where you get a new vocal instrument, sometimes referred to the Cher effect. While you may think that this kind of tools do absorb out the energy from a performance I believe that the opposite is the case when Auto-Tune is used carefully.
Auto-Tune is overlooked by many as a great tool to correct instruments like a guitar where it can help to move the notes played more smoothly, some other instruments and of course vocals. Auto-Tune is not the only plugin that is available that can do pitch-correction. With Auto-Tune your singer or instrument can stay in tune. Antares did send a review copy with no strings attached.
Sound

Auto-Tune can run in an automatic mode. If you want to dive deeper Auto-Tune offers many settings to do so. To truly fine-tune the effect to transform the vocal without that is obvious. You can also emulate the well known Cher effect on vocals, with very few applications these days. One possible not a well-known use of Auto-Tune is to apply it to instruments. Bass, Guitars and many other instruments can be pushed to the next level, compensating for the player's not such an excellent performance.
The automatic tune functions can produce in natural-sounding tracks, to get to outcomes that do not sound tuned you may have to spend time in the so-called Graph Mode to fine-tune your results.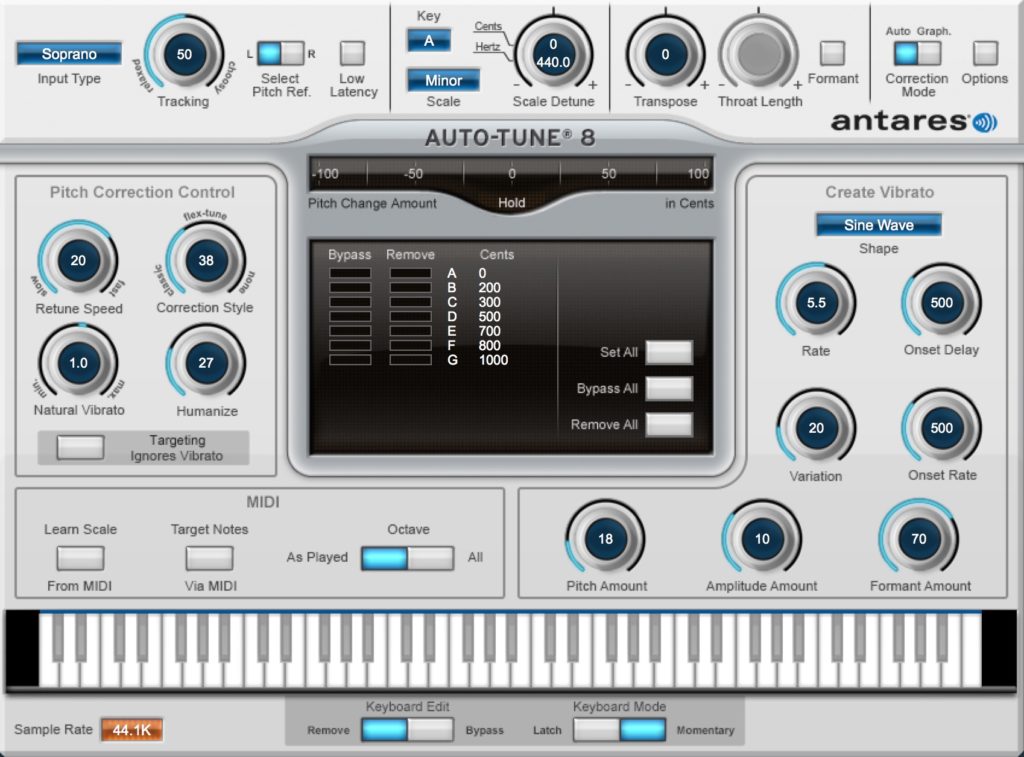 You have the choice between Automatic and Graph. The automatic mode sounds like a mode where you are working hands off, while the truth is that you have access to a large number of parameters to do corrections. Over the years, additional features have been developed to make sure that the outcome of an auto-tuned voice still sounds believable: Flex-tune is a solution which helps to assure while working with more passionate vocals the result is left in an impressive range. Auto-Tune can be an effect you hear. Most singers want to shine with their voice so the little helping hand of Auto-Tune should be not audible.
In the Graph Mode, you get all advanced tools you need to work on an audio stream; it is visually shown and offers even numerous pitch correcting tools. This mode is more on the sophisticated side for a beginner. Over time you will feel yourself more and more home in this method. With the very recent announcement of Auto-Tune Pro, we do see now that the UI and end user experience has been improved to help some engineers to get results quicker.
Auto-Tune 8.1 is the most accepted and one of the most potent pitch correction tools in the industry. It can be used on instruments and where it's primary use is on vocals. Audio engineers who are careful with the changes and with the help of Flex-tune will be able to produce results that are sounding great without giving away that the performance was changed. The automatic features get you good sounding results, and you can turn a voice or instrument in the realms of sound design. When Auto-Tune Pro is available, the new version has good chances to take the leading position of the then legacy version.
User interface & Usability

The UI feels old and is not up to the current designs that many other plugins support. It is hard to use, and this was recognized by Antares as we did see the public launch of the new pro version coming in the next week to address the old style UI. With the current and soon legacy version 8 the UI and workflow require you to spend some time than needed to get a result. The tool often requires you to go through many of the available tutorials to get your head around entirely.

Rating:  Four out of five stars

Auto-Tune 8 is the dominant pitch correction tools in the industry, and you can get even as an astonishing beginner result. This is not an easy tool to master or use when you want to dive into, and you may have to spend some time training yourself or wait for the next version which is addressing the usability concerns and makes Auto-Tune easier to use.
Auto-Tune 8.1 is an excellent tool to use on instruments and vocals that can save a recording if something has gone wrong or if the performance needs to be enhanced later. Later added features like Flex Tune made the changed vocal and instruments extra-natural and supposed perfect. When you use Auto-Tune to smooth a vocal and instruments and make it pleasing and blend better into the overall mix, with the announcement of the Pro version and having a first look at it, I would downgrade Auto-Tune 8 rating to four out of five and expect Auto-Tune Pro could rate higher.