Kaleidoscope by 2CAudio Review
A trip that passes every drug test, that is a way to describe Kaleidoscope by 2CAudio. A more technical description would be: A filter that blows your mind and you may never understand how it works – you will love the results.
As a professional that is making your living from designing sound Kaleidoscope is  a fascinating tool. 2CAudio did send a review copy with no strings attached.
Installation
You download the Kaleidoscope installer (MAC or Win) and execute it. Add any delivered or purchases Kaleidoscope library. With the provided authorization code you can generate the serial code that you enter into the tool.
Sound
Kaleidoscope is a brilliant plugin to use, and it could be viewed as a very sophisticated filter that assists you to process sound files into something entirely new. The tool is ideal for custom sound design, generating effects and producing ambient music.
The plugin uses Images and Wav files to shape the sound. We know that Wav audio files can develop a sound. Let's part the feature to form sound by Images for a while and call it that part mindblowing.
A better approach is to feed different sound sources into the effect plugin and use the presets or try out different images and Wav files to see what the outcome is. I would say that the first weeks when you use the plugin everything is just by chance and over time you will learn what does what or remember a specific preset that worked fine on a similar source sound.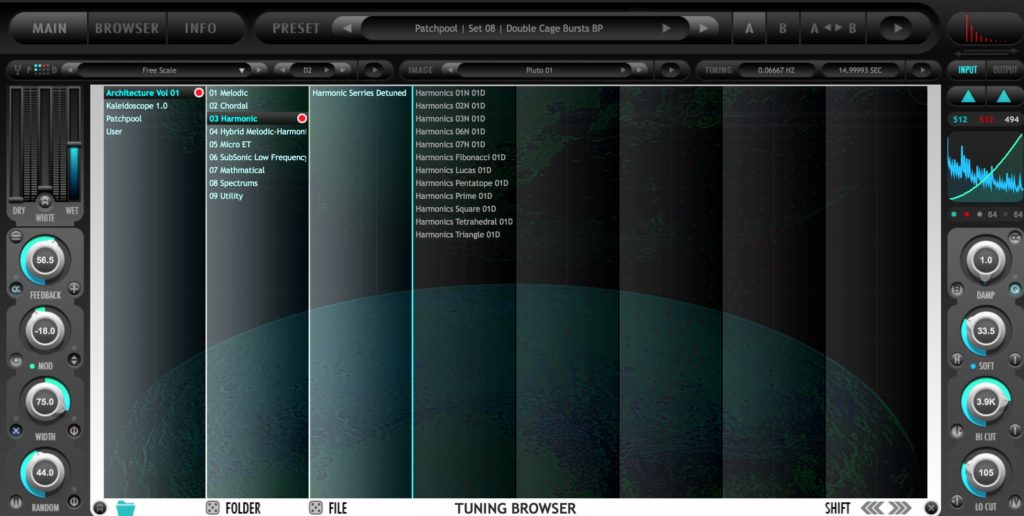 Kaleidoscope is a unique effects processor since launched and in its complexity and what it does to my knowledge unmatched. It is indeed a unique effect and filter tool. Just by playing around with Kaleidoscope or browsing through the different presets you get unique sounds.
The fit for Kaleidoscope is beyond a sound designer in my view an artist who does not care about the sound so much and is more focusing on creating a visual art installation that needs support from unique sounds. Artist can quickly create new soundscapes to support their installations. An electronic music producer will find endless atmospheres and soundscapes for their tracks who knows what you will discover with Kaleidoscope.
User interface & Usability
I was overwhelmed by the complexity of the Interface. Kaleidoscope has a UI that you need to learn and invest time into getting to know how it works. You can use to start a preset of which are many included or can be upgraded by purchasing additional ones.  You will be hypnotized and baffled by its capriciousness, and love the resulting sounds even if you could not explain what you have done.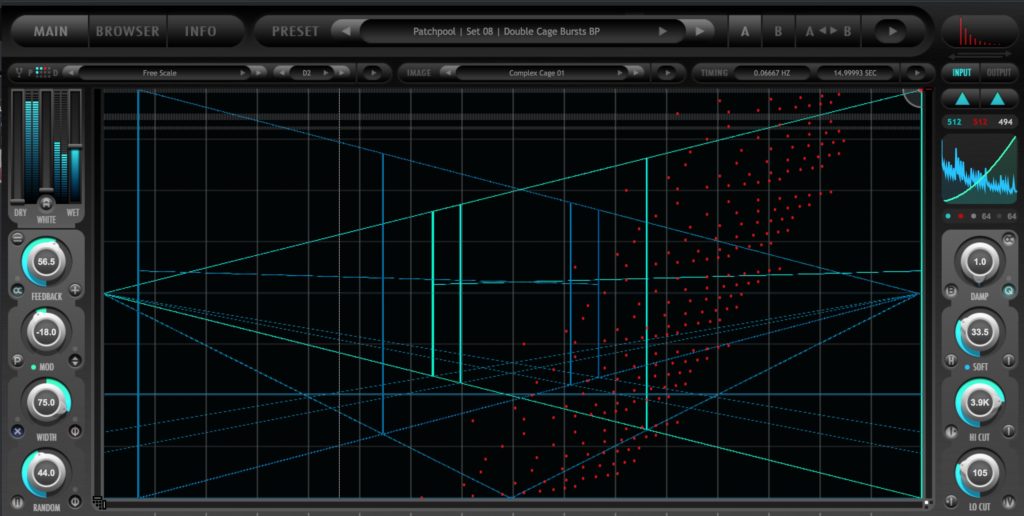 The Interface is complex to use and geared towards sound designers who are used to work on complex stuff. Kaleidoscope is CPU demanding, be prepared to run the tool on a decent machine. I did not run into CPU issues on my iMac 5K Retina.
See for also the documentation as the manual for more details on the whole product, and how it takes you on a trip into sound design.
Simon Stockhausen is offering through Patchpool a Kaleidoscope Subscription to which I subscribe to as well to keep getting new ideas in.
Rating:  Five out of five stars
Kaleidoscope is an excellent sound design tool with leading third-party (for example Simon Stockhausen)  support. You can quickly create new sounds and especially ambiances that flow not reaping and endless into space. The included presets allow you to create stunning, musical soundscapes, dark textures or more. You are not locked into one specific genre or style. In a nutshell, you can convert most boring, dull sounds into remarkably unique and exciting with this tool.
Sound designers that work to picture or on games or as a sound designer generally speaking need that new sounds you should add this tool to your toolbox. After understanding Kaleidoscope and being able to use it, you will love it.