Colour Copy by u-he Public Beta and Introductory Offer available
Colour Copy originates from the Repro-1 delay unit and was further developed into a stand-alone plugin.
Colour Copy by u-he is now available as a Public Beta plugin and if you want to reduce the spent there is an Introductory Offer available.
Colour Copy is a virtual analog effect plugin inspired by classic bucket-brigade delays (BBD) but extended with modern features. U-he We calls the effect "Colour Copy" because it can deliver the kind vibe action people still love in classic BBD units. As this is a plugin you can get a wider variety of colors.
Download Links:
Colour Copy 0.9b7554 Mac (AAX/AU/VST2/VST3)
Colour Copy 0.9b7554 Win (AAX/VST2/VST3)
Note: Linux version tba, NKS FX compatibility will happen for final release
Temporary public beta serial (expires in a few weeks):
username: beta tester
serial: B1UPT-DTNQ-AA9M-5XQ6-VKTA
Introductory Offer: 49€ – click here to buy now –
(final price will be €69 when released as V1.0)
Some key features:
The routing is quite flexible – you can swap input channels or mix them into either channel, and the feedback can be cross-fed, inverted (especially good for flanger effects) or mixed in for subtle phase cancellations. Cool feature: In most delays with cross channel feedback, the first delay appears on the same side as the original signal. In Colour Copy you can set up "double cross" routing so that the very first delay is on the opposite side.

Unlike hardware BBD units, Colour Copy lets you position the left and right tap positions. This lets you move echos independently "forward in time" for e.g. ping-pong or "rushing" delays as well as various stereo chorus or flanger effects.

In the Feedback Colouration section you can blend between five different "colours" ranging from resonating and gritty to very dark and slowly evolving. These characteristics can also be modified further via the Brightness and Saturation controls.

The Modulation section lets you modulate the delay rate, tap positions or delay amplitude to create various animated effects.

The Ducking section lets you automatically suppress the feedback level (the first delay is not affected) according to the dry signal level. This unusual method preserves the spacial effect much better than regular ducking, which removes what the delay was intended to create!

The Freeze button causes the contents of the delay line to play indefinitely – the sound will loop smoothly until you unlatch the button.

The Note Sync button lets you control the delay rate via MIDI note number and pitch bend. As the Colour Copy delay times extend down into the milliseconds range, you can even use this to "play" pitched resonant effects from a keyboard or MIDI track.

Full NKS FX compatibility (in the release version only, not in this beta).
Synthesized Solutions for Film Synth Vault by Tom Wolfe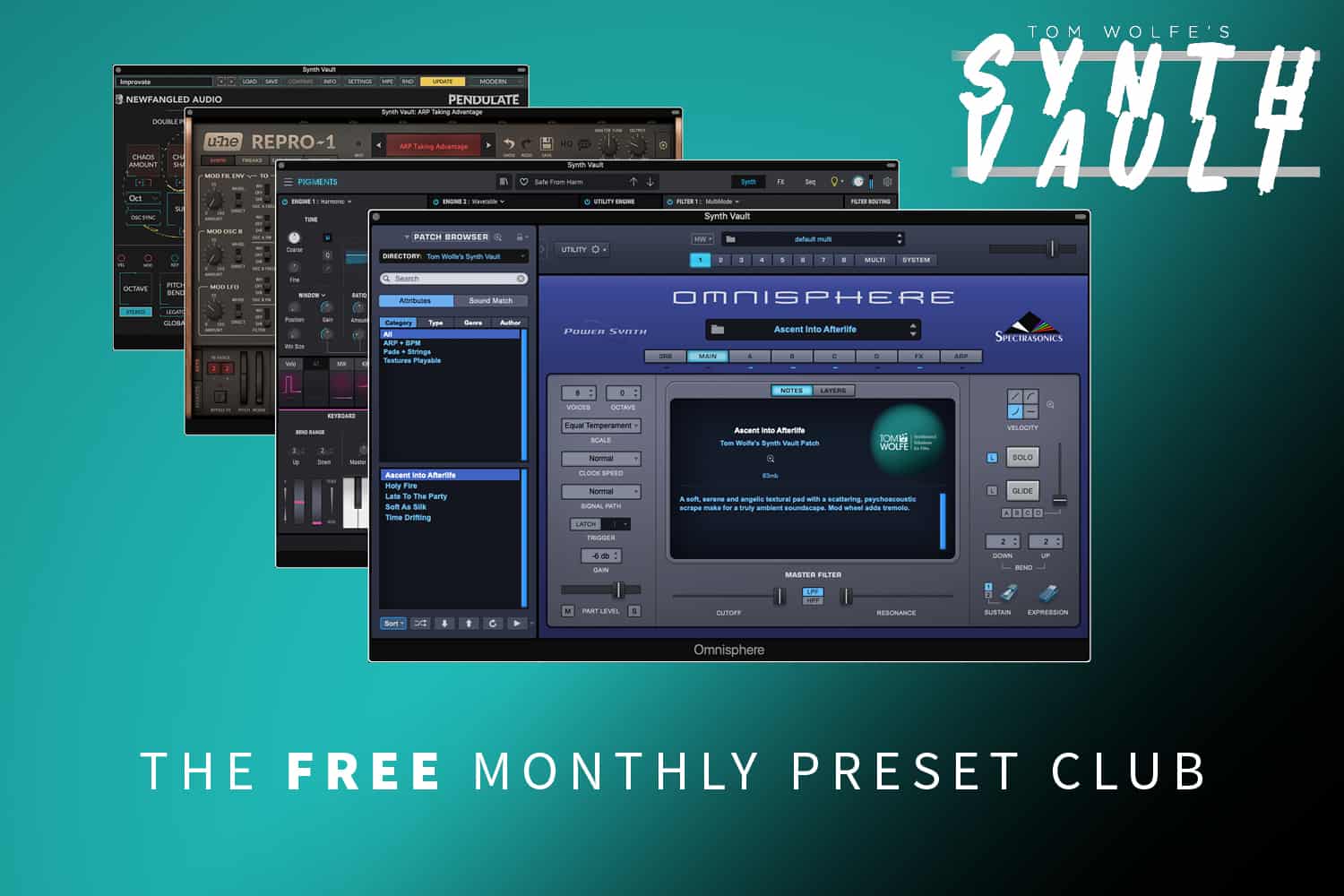 Synth Vault – a Free Monthly Preset Club
Tom Wolfe launches Synth Vault – a free monthly preset club. Sound designer Tom Wolfe has announced the launch of Synth Vault – a free monthly preset club.
With presets available for a range of software synths, members will gain access to the vault where they'll find 20 brand new presets every month – for completely free! Presets will be available for Spectrasonics Omnisphere and Arturia Pigments, as well as a different U-he synth each month.
The Vault will also include presets for a different Wildcard synth each month, with presets planned for a range of free and paid software synths including Pendulate, Vital and Knifonium. On top of this, members will have access to new sound design tutorials each month to help with creating their own presets. With Synth Vault, Tom Wolfe's aim is to provide members with an endless source of inspiration to get their creativity flowing and keep creating music.
What Members Get Each Month
Each month you'll receive 20 brand new presets for some of the biggest and best software synthesizers on the market! Use the presets to improve your sound design skills! Each month Tom Wolfe takes two of the free presets and deconstruct them on video, showing you exactly how they were made!
FREE OMNISPHERE PRESETS
Every month you'll get 5 free Omnisphere presets to use in your tracks. Presets will be in a range of styles and genres, but they'll always be diverse.
FREE PIGMENTS PRESETS
You'll also get 5 brand new presets for Arturia Pigments, each with the macros assigned so that they're easy to tweak and shape to your tracks! You might even get a free sample or wavetable.
FREE U-HE PRESETS
There will also be 5 presets for a different U-he synth each and every month. Whether it's Diva, Zebra, Repro, Hive or Bazille, you'll receive a handful of presets designed to inspire you.
FREE WILDCARD PRESETS
You'll also receive 5 presets for the monthly wildcard synth – this could be any software synth by any company, either free or paid. The only condition is – the synth has to kick some serious ass! Upcoming and past wildcard synths include Pendulate, Vital and Knifonium!
About Tom Wolfe
Tom Wolfe is a British sound designer. Also an award-winning independent film composer, Tom is a prolific voice in the synthesizer reset world and, through tomwolfe.co.uk, has released sound banks for some of the biggest and most popular software synthesizers and effects plugins on the market. With his presets being celebrated for their uniqueness, creativity, and usability by users and critics alike, Tom has worked with a number of industry-leading companies including Arturia, Kilohearts, and GForce Software. His sounds have been used by Oscar-winning film composers, Grammy-winning record producers, and AAA game composers.
Pricing and Availability
To start receiving free presets every month, sign up for the Synth Vault now at Synth Vault.
Dark Zebra 2.9.2 NKS-ready & macOS 10.16 "Big Sur" Compatible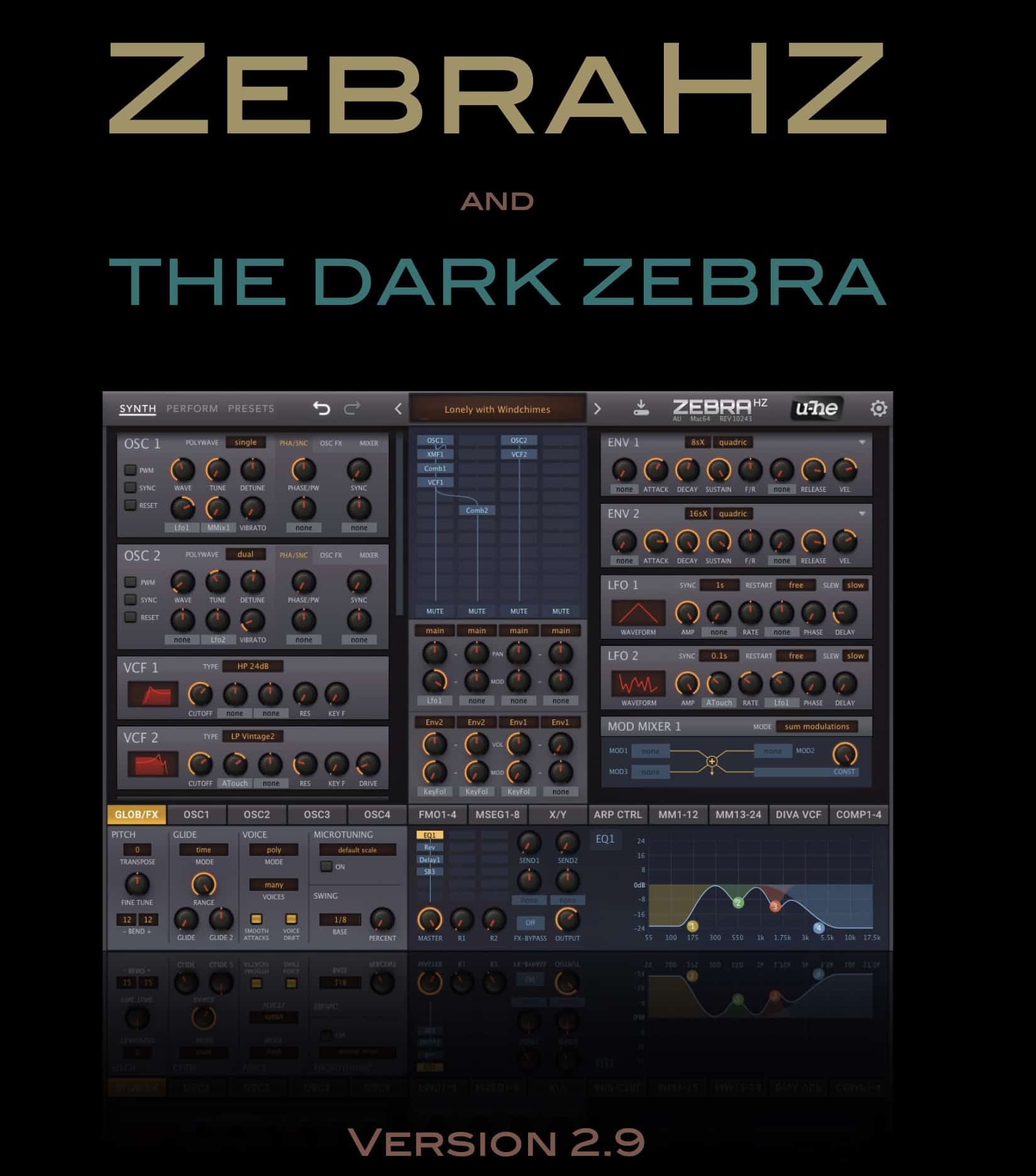 Dark Zebra 2.9.2
All 400 Dark Zebra presets have been tagged, and each one now has complete X/Y pad control. The presets sound pretty much like they always did – until you start using the pads!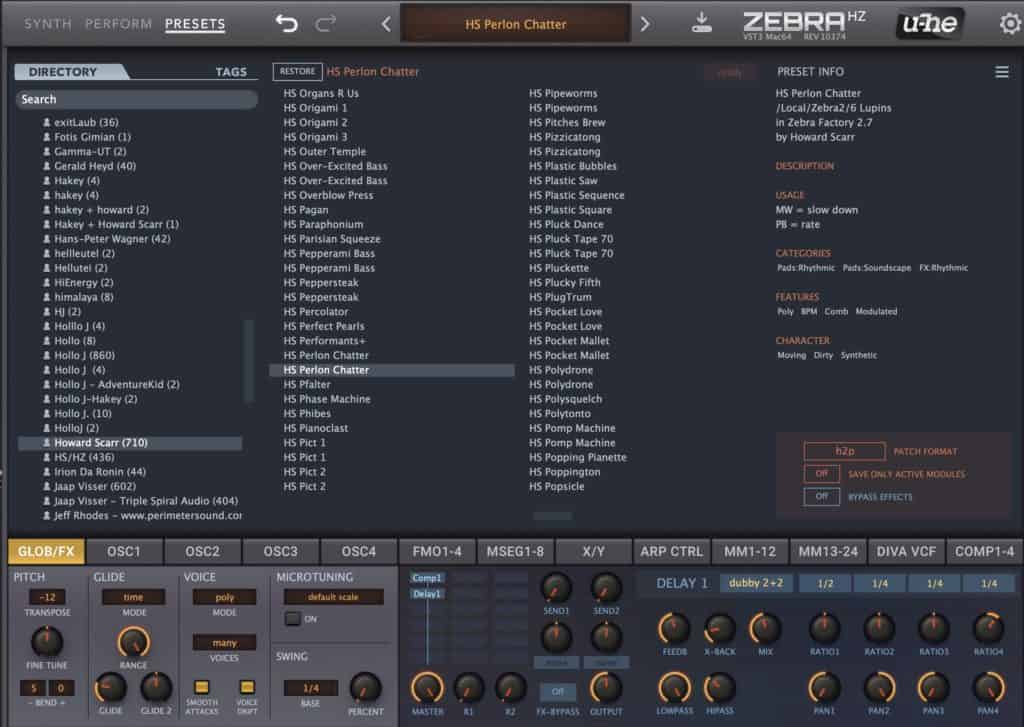 While tweaking those extra dimensions, Howard took the opportunity to use the extra modules added for Hans since the initial release.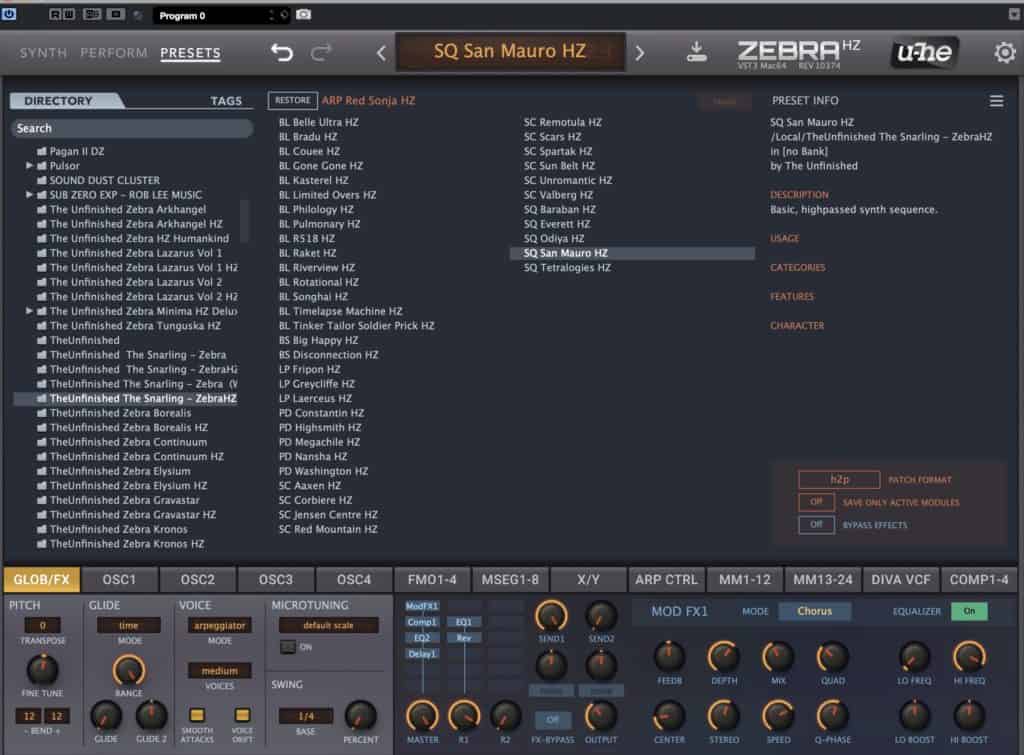 If you already own The Dark Zebra, just request an e-mail on the My Licenses page to receive a download link for the updated installer.
The regular Zebra2 is now also macOS 10.16 "Big Sur" compatible. u-he improved the preset browsing experience, added support for bank names, and implemented various minor tweaks. You can read the full list of changes in the release notes.
To update Zebra2 from an older version, download the installer from the product page and follow the installation instructions in the included user guide.
u-he gave their freeware synth Zebralette a completely new look, so she can proudly proclaim her Zebra2 heritage. Head over to the product page for visuals! As always, she installs together with the Zebra2 demo – which of course is our ploy to get you to check out Zebra2, and hopefully upgrade one day…
Please note: the updates are currently only available for macOS and Windows. Linux versions will follow soon.
Zebra 2.9.2 (revision 10374)
Improvements:
Big Sur compatibility
Soundset installer support
Browser: Bank name feature added
Browser: Alternative search method using wildcards
Reveal in Finder/Explorer behaviour improved
Full-size editors: Grid background graphics are back
Fixed Bugs:
Browser: Numerous fixes and improvements
Loading presets during scan: Issue fixed (Windows only)
Minor GUI fixes/tweaks
Known Issues:
MSEG fill gradient graphics glitch (Windows only)
Context menus need plugin focus to work (macOS issue)
Crash when trying to load script presets (e.g. Randomizer)
u-he Enters Eurorack with CVilization a 4 x 4 Matrix Mixer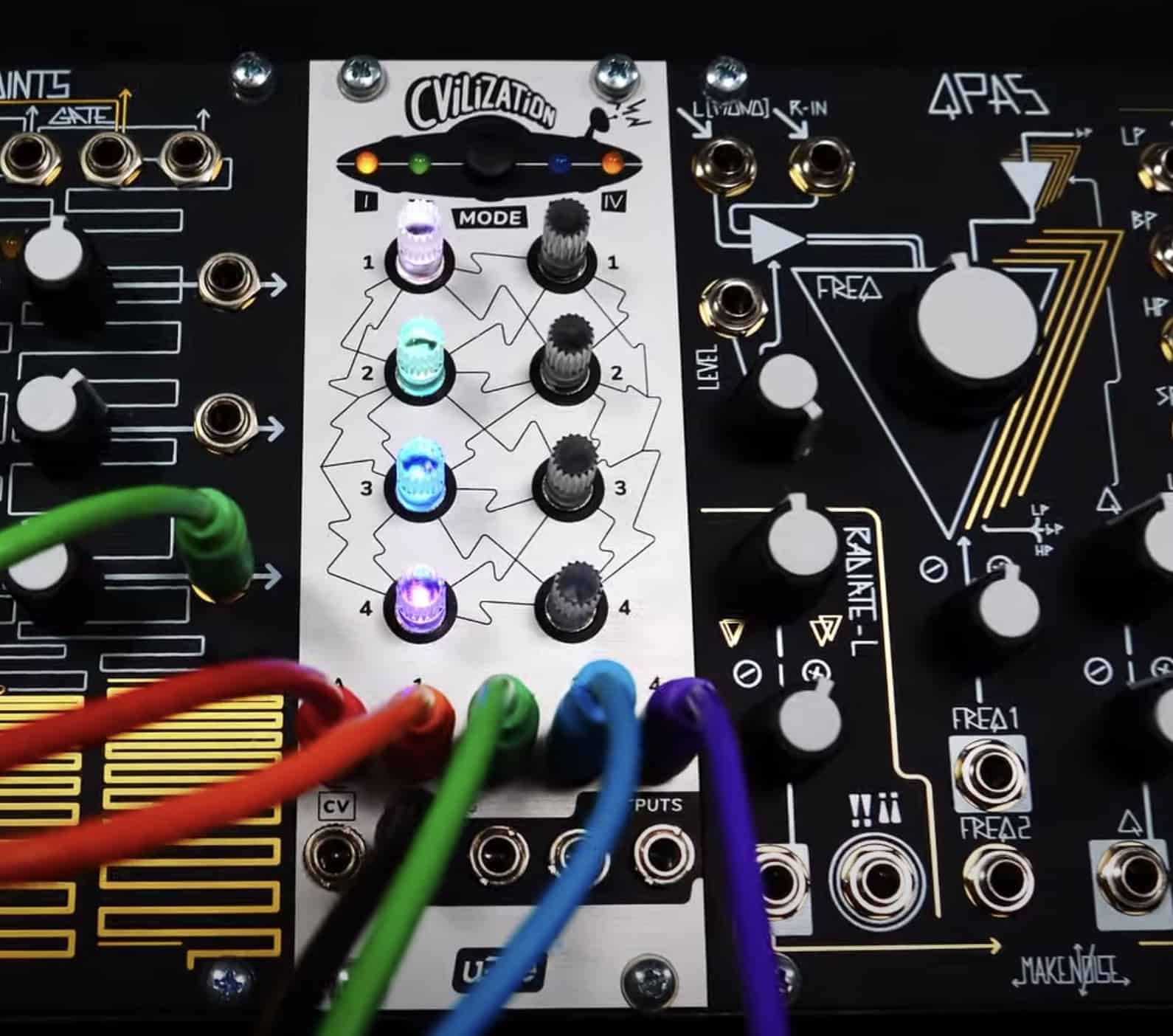 CVilization Eurorack 4 x 4 Matrix Mixer
u-he proudly presents CVilization, a unique multi-mode utility module for your Eurorack system. This first video offers you a general overview of what it's all about.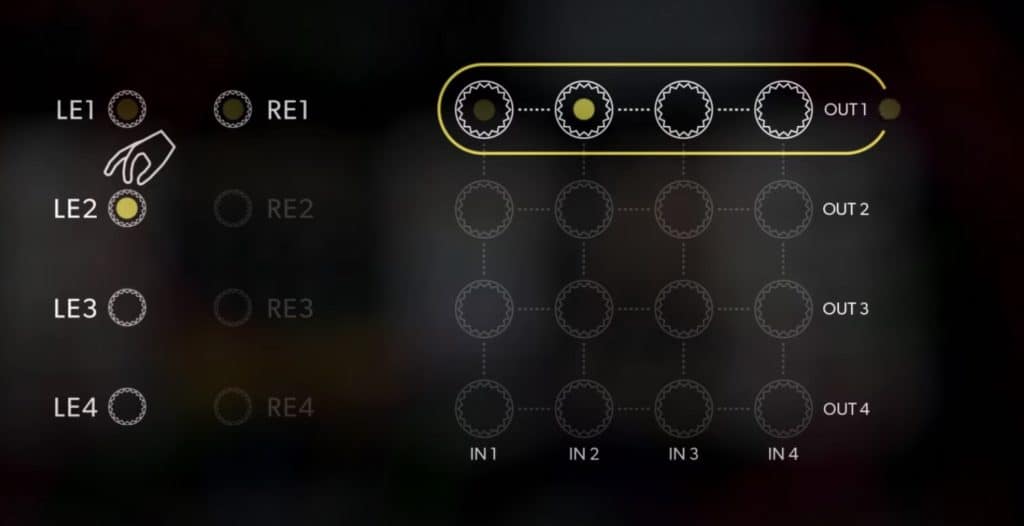 You can use it for audio and CV signals, making it a versatile tool for your modular system! More videos for Modes II, III and IV coming up, along with tutorials with more advanced tricks and practical examples.
As an affiliate, we may earn a commission from qualifying purchases. We get commissions for purchases made through links on this website from Amazon and other third parties.
StrongMocha is a magazine for music producers, audio engineers, and sound designers. StrongMocha Magazine provides the latest industry news, reviews of gear and software, tutorials on recording techniques, and tips for mixing.