Drum Designer by UVI Review
Drum Designer is a software-based drum computer or drum machine. The Falcon (or UVI Workstation based) Drum engine produces dedicated Kick, Snare, Clap, and Cymbal instruments with a compelling sequencer. The software can also be run as a plugin within a DAW (Digital Audio Workstation) such as Logic, Cubase, or ProTools.
Drum Designer is not an emulation of any specific hardware drum machine but rather a new take on what a drum machine could be. The result is something that sounds unique and fresh while still being familiar and easy to use.
The drum instruments are where you select the sounds for each of the drums in your kit. You can choose from a wide range of preset kits or create your own custom kits. There are also a number of different ways to trigger the drums, including MIDI notes, pads, and a step sequencers.
Drum Designer is a new kind of drum machine that offers the best of both worlds: the flexibility of synthesis with the power of samples. It works by breaking down each drum hit into its component parts, allowing users to mix and match sounds with ease.
This makes it possible to create custom drum kits that are tailored to any style of music. In addition, the software comes with a library of high-quality drum samples that can be used to add realism and impact to your tracks. Whether you're a seasoned producer or just starting out, Drum Designer is a powerful tool that can help you take your music to the next level.
UVI positions the Drum Library as a Dum Workshop "created for producers and sound designers of any genre, Drum Designer provides innovative tools allowing you to shape, pitch, and tweak drum sounds in ways that would have been previously impossible or prohibitively time-consuming. UVI did send a review copy with no strings attached.
Installation
You register your product with UVI and download the Drum Designer from your user account. I did download one archive file which I unpacked in my UVI instrument library. To run it you can use the free UVI Workstation or the paid Falcon also from UVI.
The footprint is 1.73 GB which equals to 5,736 Samples, 2,040 Presets, 316 Kits, 424 Kicks, 399 Snares, 325 Claps, 446 Cymbals, 112 Sequences. The library runs in UVI Workstation version 3.0.2+, and Falcon version 1.5.6+
Drum Designer – Sound
The concept is simple enough. It's a drum machine builder that consists of kick, snare, clap, and cymbal designers with a sequencer and selection of effects for each instrument and the mix bus. Each instrument can be loaded as an individual plugin or you create your kit in the sequencer by combining one kick, two snares, one clap, and four cymbals.
You can then add swing, quantize, reverb, delay, and other effects to each instrument before finally printing your drum track as a stems file for use in your DAW. The beauty of it all is that you don't need to be a drummer or have any sort of drumming experience to get great results. Just load up the sounds you want, tweak the settings to taste, and let the beat manager do its thing.
Drum Designer allows you to craft your own drum sounds using an excellent, easy-to-use, and if needed an advanced drum synthesis and sample-based engine. Just in time after the summer vacation!
The Kick, The Bass Drum
The bass drum is the foundation of most beats, the part that gets you in the chest, shakes your speakers, and drags you onto the dance floor. The Drum Designer's kick section has three main tabs; global, edit, and FX.
The global tab has controls for the overall pitch, decay, color, and loudness as well as an extra gate envelope and velocity/key tracking switches. The edit tab gives you access to parameters such as attack, release, click and snap while the FX tab lets you add effects like reverb, delay, and modulation.
The Edit tab is where you can really start to get creative with your kicks. You have the option to add a sample and a tone, which gives you a lot of flexibility in terms of shaping the sound of your kick. The sample adds body and character, while the tone defines the pitch and subs.
There is a large selection of body samples available, grouped by type, but unfortunately, you cannot load on your own. This is a bit of a shame, as it would be nice to be able to customize the sound even further. Nevertheless, the Edit tab is still a great place to experiment and come up with some really unique kick sounds.
With these powerful tools at your disposal, you can create any kick sound you can imagine.
The Snare
As any drummer knows, the snare is one of the most important parts of the kit. Not only does it provide a backbeat for the rest of the band, but it also helps to define the overall sound of the drumming. As such, it is essential to get the snare sound just right.
Moving onto the snare section, we find that it has the same overarching controls as the kick, with body and tone layers. However, there are also two additional noise layers, which can be used to add more frequency ranges to the snare. These come with their own envelope controls, allowing the drummer to fine-tune the sound of the snare.
As such, this section provides a powerful tool for shaping the sound of the entire drum kit.
The Clap
The clap is an essential part of the drumkit, and we know the drill by now. We have the same main controls as the other parts, and this time the edit tab comes with four layers: shot 1, shot 2, shot 3, and noise.
There are also some interesting new sub-tabs. If you've ever attempted to make clap samples sound anything like real clapping, you know that it's no simple task.
If you've ever attempted to make clap samples sound anything like real clapping then you'll know that it's no simple task.
However, with careful sound design and a bit of creativity, it is possible to create convincing clap sounds that will add energy and excitement to your tracks. So don't be afraid to experiment and see what
The Cymbal
A cymbal is a percussion instrument that consists of a metal disk with a raised edge that is struck with a stick or beater to produce a ringing sound.
Cymbals are used in a variety of musical genres, including classical, jazz, rock, and pop. The most common type of cymbal is the hi-hat, which is used in conjunction with other drums and percussion instruments to create rhythms and fills.
Cymbals come in a variety of sizes, shapes, and weights, and can be made from a variety of materials, including brass, bronze, steel, copper, and aluminum. Cymbals are an essential part of any drum kit, and their tone and sustain can greatly affect the overall sound of drum performance.
Cymbals are also often used as solo instruments in orchestral and concert band music.
Drum Designer is a powerful drum computer and percussive instrument with a Sequencer that gives you 8 engines (1x Kick, 2x Snare, 1x Clap and 4x Cymbal) with Volume, Pan and Pitch sequencers up to 8 bars long at resolutions up to 1/64t.
Drum Designer is programmed in a way to emulate individual artists performing the progression. It comes with a very large collection of 5,700+ samples, 2,000+ meticulously created drum presets, 316 kits, and more.
You start with one of the included presets that fits your need and use the available controls to customize the shape and vibe of each drum sound. The 'vinyl' section covers 17 popular drum beats.
Working with the included presets, the available parameter to shape the sounds and the perfect sequencer I can report that UVI created the ultimate drum designing tool.
Thousands of sounds, samples, and kits for eternal possibilities all based on a comprehensive engine, sequencer, and excellent sounding presets. Any of Drum Designer's four instruments part of the Drum Engine is a mighty instrument that enables you to control every element of the drum sound.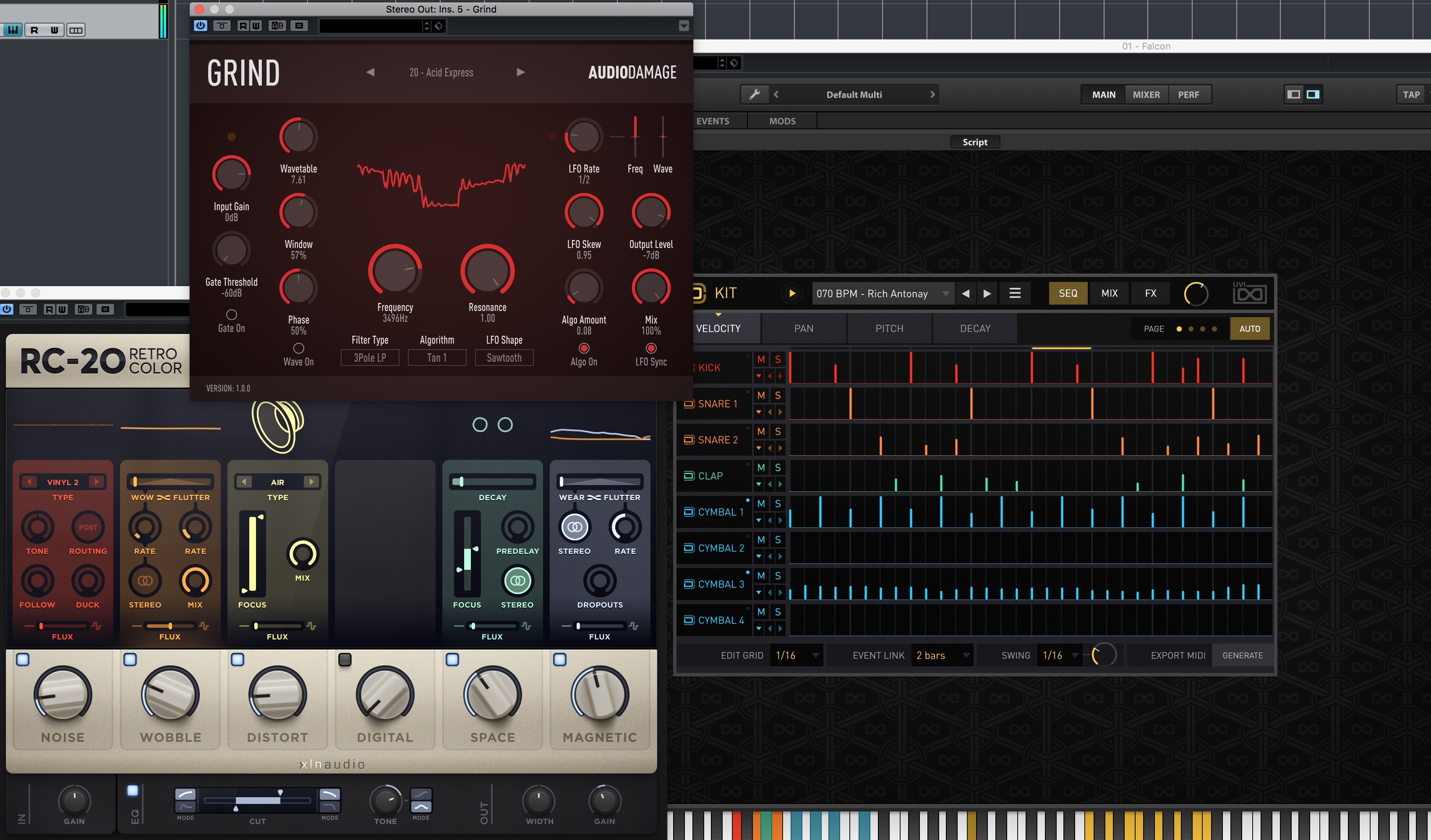 UVI Drum Designer offers a family of extensive sound-shaping tools. The four instruments kick, snare, clap, and cymbal form the foundation that can later be combined into complete drum kits.
There are editors for each segment and a global editor as well as an effects page that includes the very much needed Transient Designer, and as well Soft Clip, Stereo Width, EQ, and Convolver modules.
User interface & Usability
UVI is a great designer when it comes to their Interface for the recent virtual instrument libraries. Drum Designer is in line with the simple and easy-to-use UI design.
The first thing you'll notice about Drum Designer is the interface. The entire plugin is laid out in a single window with all the controls readily available. The design is clean and uncluttered, which makes it very easy to use. There are four main sections: the drum instruments, the sequencer, the mixer, and the effects.
In the UI you manage Time, Gain, Pan, Pitch, and sends for each engine, and finalize the sound with bus effects including a Compressor, EQ, Delay, and Reverb.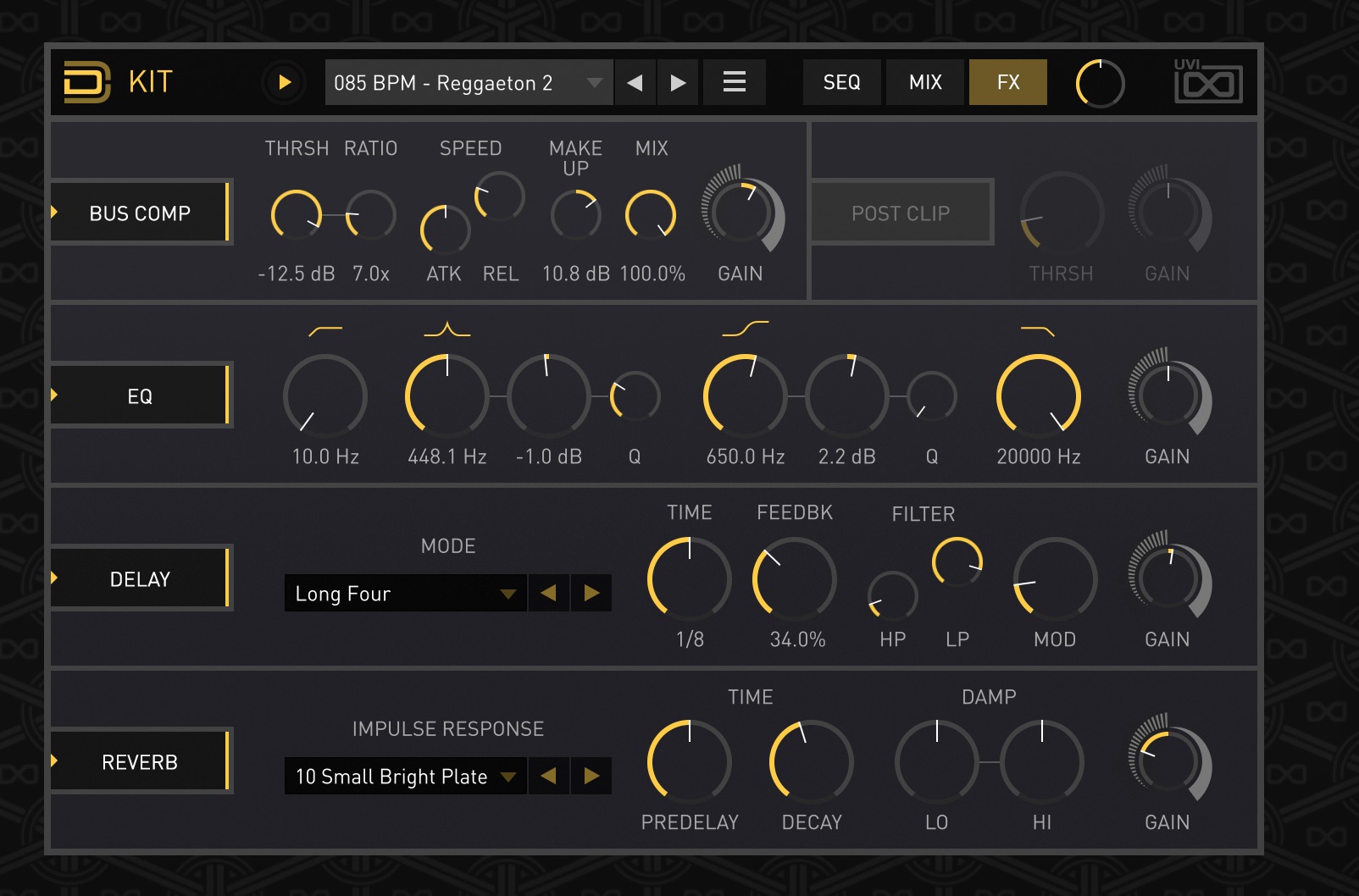 When you are done composing a sequence in the tool you can drag the sequences to copy them as MIDI to your desktop or DAW. That is a very useful feature if you want to reuse the sequence or just some beats in a different drum library or any other fitting instrument.
Kick Designer lets you select individual sounds for each component, adjust their pitch, gain, pan, key tracking, and LP and HP filters independently.
Utilize the Tone Amp editor to pick your own pattern and then smooth it to the vibe you need.
Overall the developing team Louis Couka, Rémy Muller, and Olivier Tristan have designed a very usable and excellent-looking Interface that has the right features included and looks compelling.
Conclusion
UVI's new Drum Designer 2 is a powerful and versatile tool for creating custom drum sounds. The package includes a wide range of drum sounds, from classic to modern, and a set of tools for shaping the sound of each drum. With its easy-to-use interface and intuitive controls, Drum Designer 2 makes it simple to create custom drum kits that suit your specific needs.
And with its huge potential for programming, you can create virtually any kind of drum sound you can imagine. Whether you're looking for a simple way to add some extra punch to your drums, or you're looking to create a completely new and original sound, Drum Designer 2 is the perfect tool for the job.
Drum Designer by UVI is an excellent tool for designing drums. It comes with a large collection of presets, and the user interface is clean and easy to use. The Sequencer is powerful and allows you to create custom drum beats. The effects are also well-designed and add a great deal of flexibility to the overall sound.
Rating: Five out of five stars
The Drum Designer is a powerful new drum synthesizer that gives you microscopic levels of detail and an extraordinary range of base samples and tones.
With its fully functional sequencer and quality onboard effects, the Drum Designer is perfect for creating great-sounding drums. Best of all, it's light on the CPU so it won't slow down your system.
Drum Designer sounds excellent, supports you with a large variety of presets, and if you do want to experiment it is a lot of fun to play with it. Drum Designer as a new star on the software-based drum machine is worth the investment.
What I hope for in the next release is the support of third-party samples, it would be so good to load some of my lofi drum kits into this drum machine. As you do expect from UVI the Interface supports you in your journey when layering percussive sounds together. The possibilities of fine-tuning the sounds are decent.
UVI's Drum Designer is perhaps the most comprehensive drum programming tool on the market. It offers a ton of flexibility and control, allowing users to design their own unique kits from scratch.
The interface is intuitive and easy to use, and the sound quality is top-notch. In terms of features, Drum Designer includes everything you could possibly need to create professional-sounding beats. There are a wide variety of sample libraries to choose from, and the built-in sequencer makes it easy to lay down your ideas.
Overall, UVI has done an excellent job in creating a powerful and user-friendly drum design tool.
Drum Designer FAQ
What is Drum Designer?
Drum Designer is a powerful new drum synthesizer that gives you microscopic levels of detail and an extraordinary range of base samples and tones.
What are the main features of Drum Designer?
The main features of Drum Designer include a fully functional sequencer, quality onboard effects, and a wide variety of presets.
Is Drum Designer easy to use?
Yes, Drum Designer is easy to use. The interface is intuitive and the controls are easy to understand.
What kind of sounds can I create with Drum Designer?
You can create any kind of drum sound you can imagine with Drum Designer. Whether you're looking for a simple way to add some extra punch to your drums, or you're looking to create a completely new and original sound, Drum Designer is the perfect tool for the job.
Is Drum Designer compatible with my computer?
Drum Designer is compatible with both Mac and PC.