Taiko Creator by IN SESSION AUDIO Review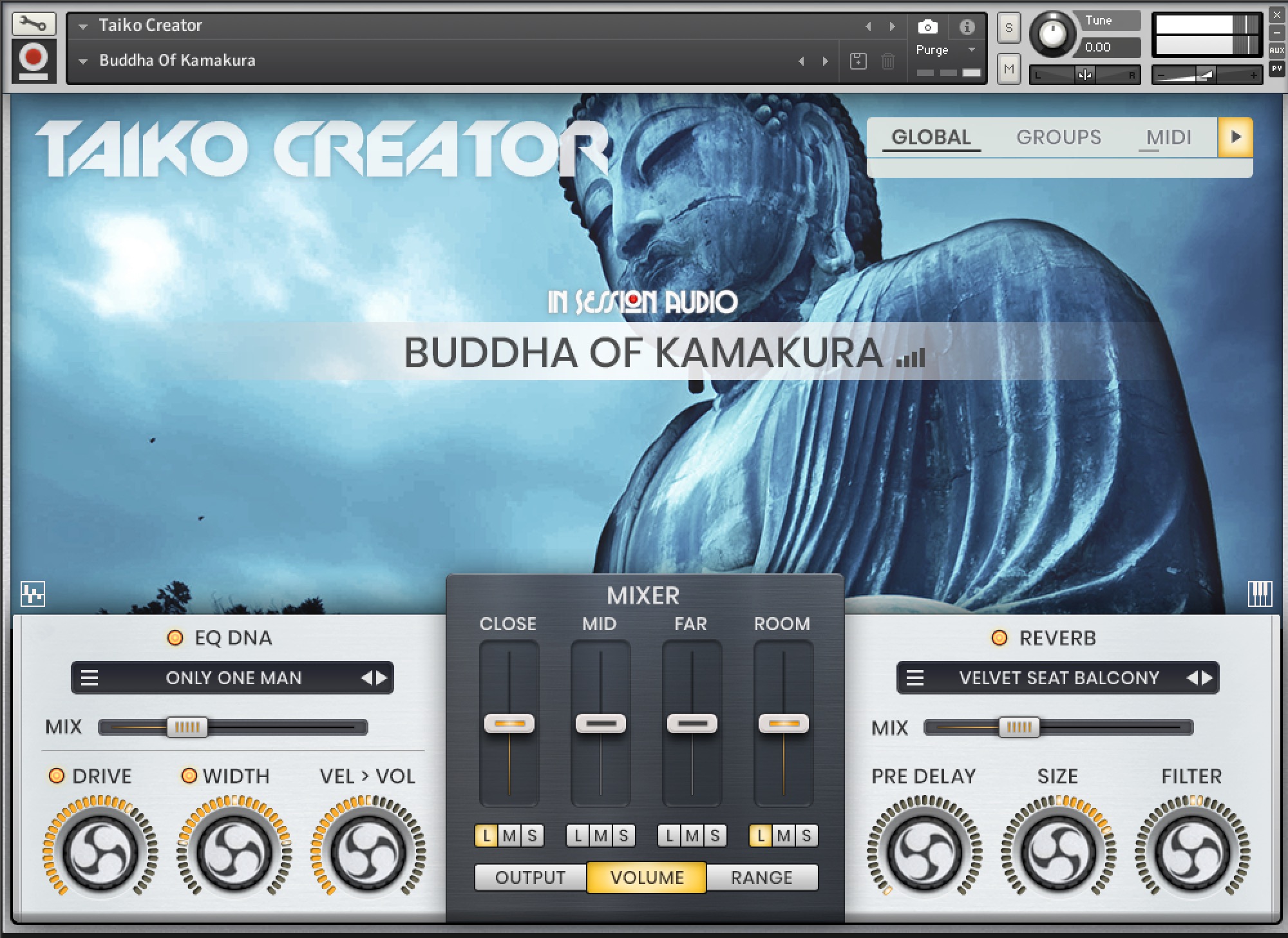 Taiko Creator – Create, control & generate your own Taiko sound
There seems to be no end to percussion libraries, and Taiko percussion libraries are a mainstay in cinematic music. Every Taiko library has its own charm and its own strengths, but few can deliver a sound or use-ability that can cover almost any application. Enter Taiko Creator from In Session Audio.
In Session Audio have been around for a while providing sturdy libraries like Fluid Harmonics and Fluid Strike, and the wonderful Shimmer Shake Strike which we reviewed in an earlier article. Taiko Creator is their first foray into multi-mic percussion sampling.
Installation
The library itself is provided as a surprisingly small download, and after extracting the zip files to your chosen location, you can register the library in the downloadable Native Access program using the serial number provided after purchasing the library. Simple.
Sound
The sound of the library is straight up clarity. Compared to other heavier or "duller" sounding samples, these Taikos really bang and crackle, and that's a great thing. This clear and punctuated sound comes from each of the drums being recorded solo – there is a very generous selection of large, medium and small Taikos from the Odaiko and Nagado to the Okedo and Shime, and more than one of each kind was recorded.
The reason for so many solo drums is to provide the foundation for a plethora of custom ensembles that you can customise to a deep level. But mixing solo instruments to get an ensemble sound isn't really an effective trick, is it?
It is in Taiko Creator, because a nifty "Unity" knob intelligently separates the timing for each instrument to create a truly stunning and totally life-like ensemble sound, but with the added bonus of being clear and precise. I've played with many Taiko libraries, but few have managed to provide a defined and customisable ensemble sound like Taiko Creator.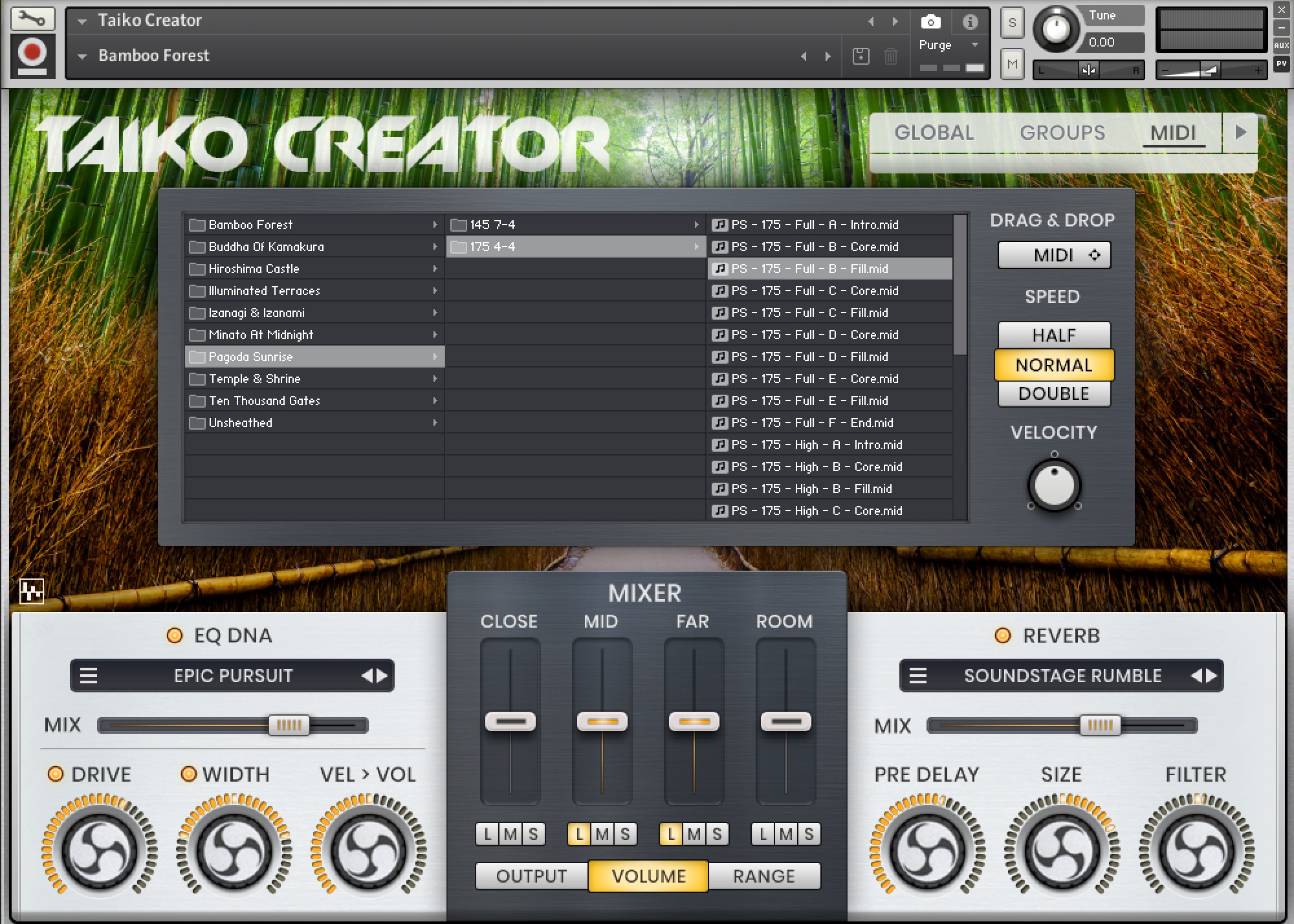 The close, mid, far and room mics are perfectly balanced and, if you can't get the sound or mix you're looking for with this library, you're clearly doing something wrong. Don't think you won't be spoiled for choice either – there are enough drums, clicks, clacks, metals, cymbals, hits, swipes and player shouts provided that you'll wonder how they managed to cram it all into a package that's smaller than most standard Taiko libraries!
User interface & Usability
The sound, of course, is backed up by expert scripting and a logical, colorful interface that gives you all the control you'll ever need. From a subtle "Drive" knob for punch, to a parallel EQ selection that can place the drums in most mixes, to a genius selection of reverbs that enhance the Taiko sound rather than wash it away, this library was built for the severe working composer to rely on.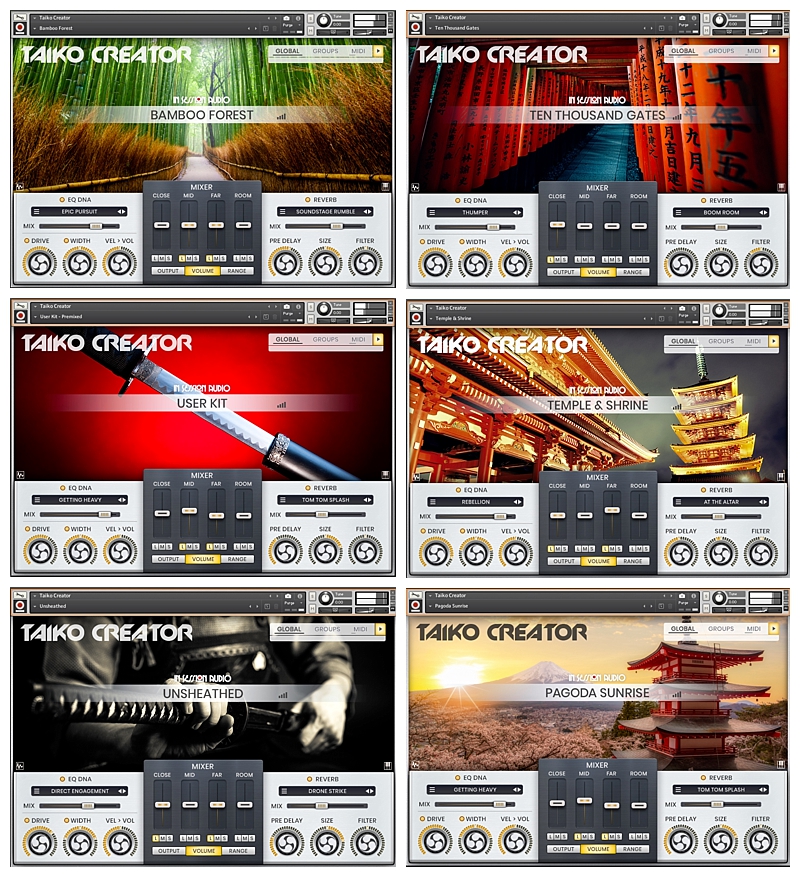 What you want, where you want it and how you want it to sound are just a few clicks away, and the provided snapshots really show off the capabilities of the library's flexibility. It's a joy to work with and it's just addictive to play.
Rating:  Five out of five stars
I really did try to find something to complain about with Taiko Creator, but I was left without a reason not to love this package. The only negative thing I can say is that it makes all of In Session Audio's previous libraries look weak in comparison.
It's affordable, it's unlike any other Taiko library available and it really does close the gap between free jamming and serious arranging. If you like Taikos or percussion, you'd be a fool not to pick this one up
DRUM FURY Review – APOCALYPTIC DRUMS by Sample Logic
DRUM FURY – APOCALYPTIC DRUMS by Sample Logic Review
Sample Logic opens 2019 with a bang… quite literally. DRUM FURY(Affiliate Link) is an extensive 11 GB collection of over 100 apocalyptic KONTAKT drum instruments.
Sample Logic did send a review copy with no strings attached.
Sound
 DRUM FURY(Affiliate Link) is an extraordinarily complete and well-mixed library that fits right into your next cinematic composition. This library sounds excellent, exciting, and dangerous out of the Box.
Drum Fury is a cinematic drum and percussion library with an extensive collection of percussive instruments. Overall you receive 113 instruments.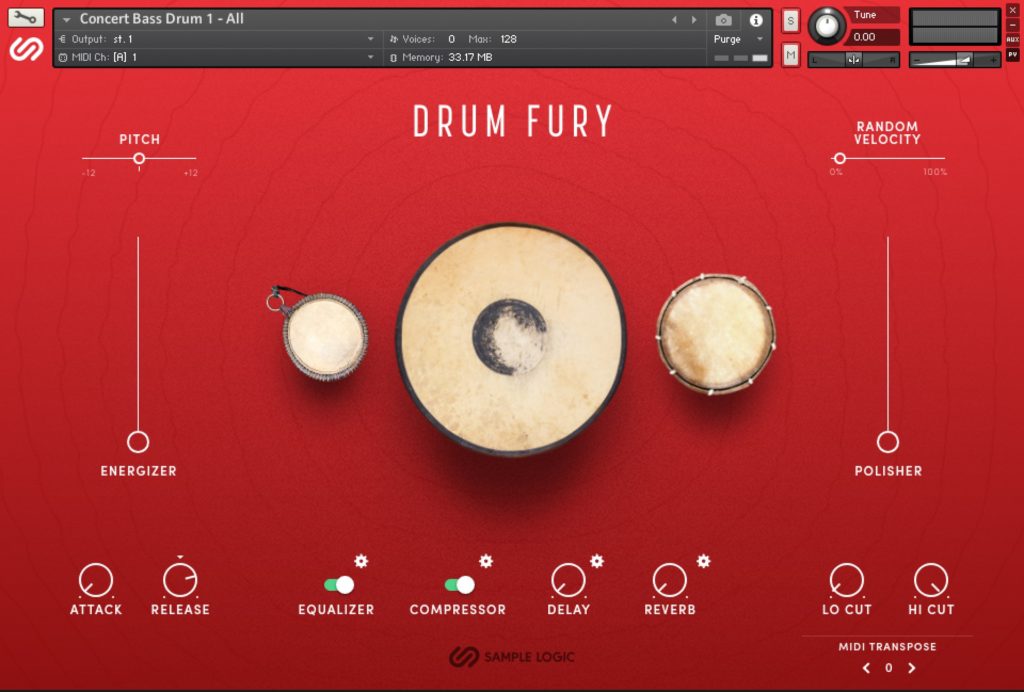 DRUM FURY was recorded at multiple locations; from the legendary scoring stage at Skywalker studios to cavernous spaces including churches and auditoriums.
Drum Fury features:
113 instruments
10.64 GB Sample Content / 35,149 Samples
Powerful Mastering Tools via Energizer and Polisher
Entirely streamlined interface
Built for full Kontakt retail 5.8.1 or higher
The essential parameter controls to shift keymap range to stack multiple instruments and create custom ensembles
SoundCloud Demos
The included instruments range from Impacts to real instruments including not limited to Bass, Snares, Toms, Taiko, Udu and more. See detailed list below for a complete overview on what is included.
Concert Bass Drum (Multiple Sticks)
Cymbals (Multiple Sizes, Strikes, Swipes & Scrapes)
Gong (Hits, Rolls & Rubs)
Marching Drums (Multiple Sticks, Solo & Ensembles)
Bass
Cymbals
Snares
Tenors
Taiko (Multiple Sticks, Solo & Ensembles)
Toms (Multiple Sticks, Solo & Ensembles)
Timpani (Multiple Sticks)
World Percussion
Conguita
Darbuka
Djembe
Doumbek
Dununba
Kpanlogo
Sakra
Udu
User interface & Usability
I am loving the simple GUI; it is accessible and straightforward to use. You load different drums and percussive instruments as individual Kontakt patches. There is no digging around for what you need with this remarkable UI which all supports a minimalistic design and workflow.
Rating:  Five out of five stars
 DRUM FURY(Affiliate Link) is a loud, deep resounding tom ensemble, bass drum, taiko and more with some real gravy tone. The percussion variance is significant and above average all packed with an excellent cinematic sound.  DRUM FURY(Affiliate Link) is an extremely versatile percussion library.
Taiko Creator Expansion Pack Released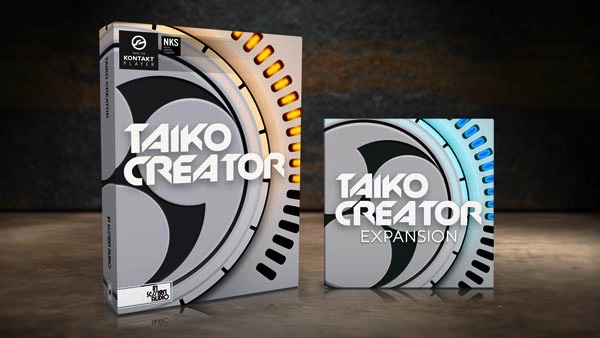 Taiko Creator Expansion Pack
IN SESSION AUDIO did release Taiko Creator Expansion Pack, this expansion pack further increases the Kits and Midi songs included.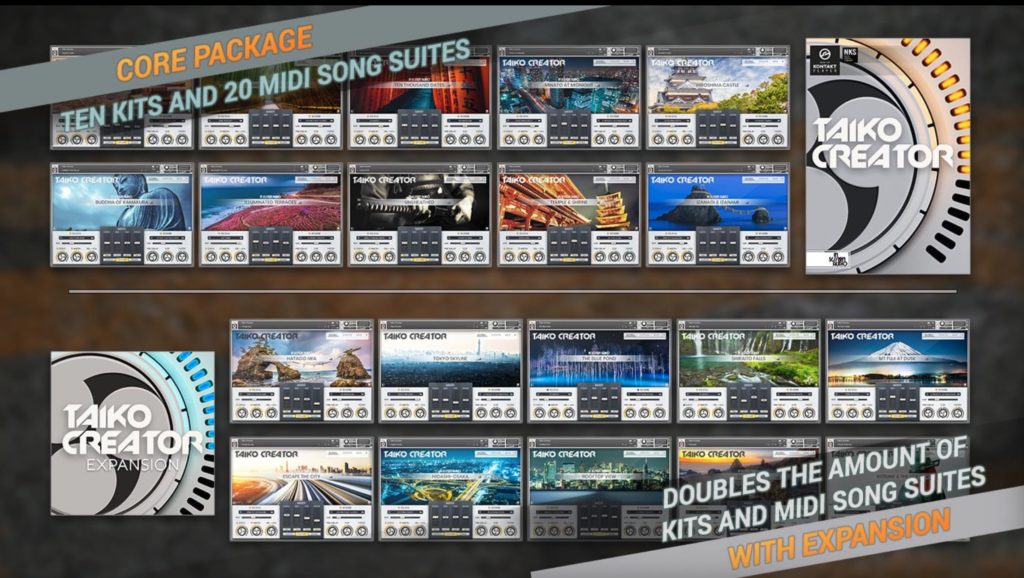 We did review Taiko Creator. Read more about the Taiko library here:  Taiko Creator by IN SESSION AUDIO Review and I can highly recommend it. The Expansion doubles the number of kits (from 10 to 20) and doubles the number of MIDI song suites (from 20 to 40)-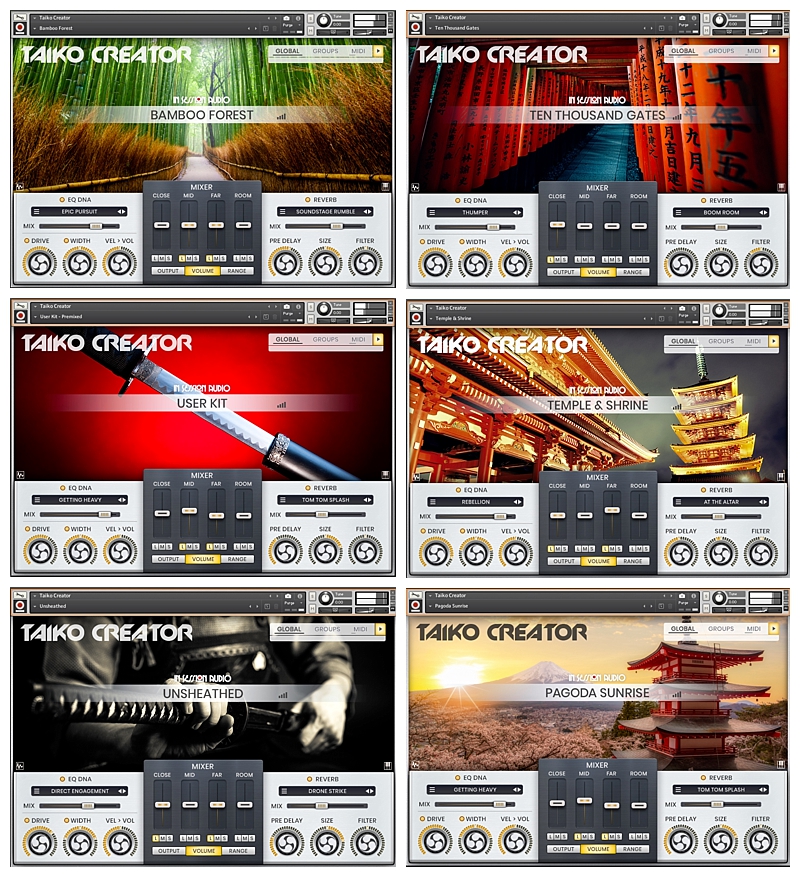 As an affiliate, we may earn a commission from qualifying purchases. We get commissions for purchases made through links on this website from Amazon and other third parties.
StrongMocha is a magazine for music producers, audio engineers, and sound designers. StrongMocha Magazine provides the latest industry news, reviews of gear and software, tutorials on recording techniques, and tips for mixing.