Review of Launchpad X and Launchpad Mini mk3
Review of Launchpad X and Launchpad Mini mk3
Over the last year or two years, I started to perform more and more with Ableton Live. To be honest, in the beginning, it was a struggle to learn Ableton Live mainly as I was used to DAWs like Studio One, Logic, and Cubase. The concept of Live follows a very specific approach and method which can make it harder to get started when you feel at home in a different DAW.
After a while, I got more familiar with Live and started to use it more for live gigs. At that point in time, I did not own any hardware optimized for Ableton Live performance. The only "hardware" that I had was a MIDI keyboard controller. However, for a lot of the stuff that I do in Ableton Live, my laptop and keyboard were good enough. Of course, we can definitely go further by not just using a MIDI controller but also adding something like drum pads to create more dynamic and lively performances.
So one day, I started to think about getting some hardware to use with Ableton Live. However, I did not really know where to start. And then, out of the blue – the good people at Novation sent me two very special pieces of hardware that can really help you with your Ableton Live performances: the Launchpad X and the Launchpad Mini MK3.
A Smallish Launchpad History
The launchpad musical instrument is a great way to get started in the world of music production. It is an affordable, all-in-one solution that gives you everything you need to start making professional-sounding music.
The launchpad comes with a built-in soundcard, so you can plug it directly into your computer and start recording right away. It also includes a wide range of pre-loaded sounds and loops, so you can start making music immediately.
The launchpad is easy to use and comes with a detailed manual that will walk you through the basics of music production. If you are looking for an affordable, all-in-one solution for getting started in music production, the launchpad musical instrument is the perfect choice for you.
The Novation Launchpad is a device that allows users to control music software using an 8×8 grid of pressure-sensitive pads. The original Launchpad (let's call it Launchpad lite) was launched in 2010, and since then, several different versions have been released.
The Launchpad Mini is a smaller, more portable version of the original launchpad, while the Launchpad Pro is a higher-end model that offers more pads and other features. The launchpad can be used to trigger sounds, create beats, and control various parameters of music software.
The Launchpad X from Novation is an essential 64-pad MIDI grid controller for Ableton Live. It gives you everything you need to make music, including large, super-sensitive RGB pads, dynamic note and scale modes, and mixer controls.
With the Launchpad X, you can launch, play and perform your sounds, and build your tracks using the pads. The pads are super-sensitive and allow you to create dynamic rhythms and melodies. You can also use the pads to control the mixer, giving you ultimate control over your sound. The Launchpad X is a must-have for any producer or musician who wants to create professional-sounding music.
Launchpad Pro is Novation's most powerful 64-pad MIDI grid controller for producing: both in Ableton Live and with your hardware. It gives you everything you need to create and perform your tracks. With its built-in four-octave velocity-sensitive keyboard, 8×8 velocity-sensitive RGB pad matrix, and two high-resolution RGB rows of square buttons, Launchpad Pro is the ideal tool for launching clips, playing drums, and triggering effects.
Plus, its two assignable faders and buttons let you control virtually any aspect of your music. And with its intuitive Ableton Live integration, you can quickly and easily create dynamic, expressive performances.
Launchpad X
The first one is the new version of their flagship Launchpad, also called "LaunchpadX" which is a more advanced version of the Classic Launchpad. While the original Launchpad was impressive in terms of how it looked and what you could do with it – its successor, the Launchpad X takes all that to a whole new level.
Launchpad Mini MK3
The second product that I received is a smaller version of the original Launchpad. The lanchpad mini or Mini MK3 version. And this one is pretty impressive as well, mainly in terms of how small and powerful it looks.
Build Quality and Overall Feel
Both products share a very similar build quality and feel when you hold them in your hands. They are made out of very sturdy aluminum and they both weight a lot. While this might seem like it is not the best idea ever to have something that heavy in your hands for an extended period of time, I can assure you that after playing with them for just a few minutes, you will quickly forget about the fact that they are soo heavy. There is a good reason why they are made out of such strong materials…
The connections on both devices (both MIDI and USB) as well as the buttons feel very high quality. The Input/Output jacks for each device can be placed in any orientation you like on either device, which is an excellent feature mostly because some people prefer to have them facing up and some people prefer to have them facing down.
The only downside I found about both devices is that they do not feature a standard Midi port like most MIDI controllers (the USB connection does not count here…) and the only way to connect Launchpad X or Mini MK3 would be via USB. This may be an inconvenience for some of you, especially if you are traveling with it and do not have your laptop with you.
When I first connected the devices to my iMac my chrome browser was assisting me with the setup process. I just had to follow the on-screen instructions and within less than 2 minutes my Launchpad X was ready for action. It is that simple! No drivers, nothing.
Launchpad X is the perfect hardware companion for Ableton Live 11 which you can download here. A couple of months ago I tried this version of the software myself and I could not believe how much better it is compared to the previous versions (especially in terms of looks and feel).
Launchpad Mini MK3 is a bit more advanced than Launchpad X, mainly because it has more physical controls, especially on its bottom side. It also comes with a few extra features such as RGB buttons and eight touch strips.
Both devices are amazing to play with and adjust parameters in Ableton Live. But if I had to choose one of these two, my favorite would have to be the Launchpad X because it is extremely light-weight which makes it easier for me when I travel, the buttons feel very good under your fingers and they do generate a nice clicky feeling when you press them. Like I mentioned before – the RGB buttons are very nice to have as well, especially for extra control over your software.
Price-wise these two pieces of hardware are not cheap at all, but after using it for a few days and knowing how I can improve my workflow using these devices, I can say that they are well worth it.
Also, both Launchpads show as USB storage devices on my MAC. Once you've plugged in your Launchpad you start the online Easy Start tool. Through this process, you can easily register the device. This just involves a few prompts to answer. It also works on Windows and Linux too! Once done, it's off with the USB cable and you can just use a MIDI lead to connect these devices with most DAWs.
When I plug Launchpad X or Launchpad Mini mk3 into my MAC both devices start a fun light show using colors of the rainbow. The Launchpad X has an 8×8 grid of pads and on the side of the device, you can use two rows of parameter/navigation buttons. The Mini also includes an 8×8 grid of pads plus one row on the side.
The grid is fun to play with, but I find the pads are too sensitive. So if you're playing really fast, they can misfire a few times which can be annoying.
Ableton Live Control
After I got my head around the way to use Ableton Live I was looking into the market to understand how I can launch clips and manage the handy grid easier with an external device. I ended up asking Novation to send me a review unit for their new Launchpad X version, and the updated Mini (mk3).
For me, the main use of the Novation Launchpad is to manage with sensual feedback my prepared clips and scenes that I define in the Session View in Ableton Live. Novation Launchpad X and Novation Launchpad Mini Mk3 did become my personal two unique clip starters.  
The volume and pan control was not utilized often, that could be a personal preference on how I work. I do see that in a dark room I would use volume and pan more as it is easier to use when performing live where it is generally speaking dark. we of Launchpad X and Launchpad Mini mk3
For me the LEDs are great to be able to see what is activated. I truly enjoy using Minilab's dedicated filters in Ableton Live, but I have not yet experimented with mixing it in my Korg Volca Keys.
To summarize these two hardware pieces are of Launchpad X and Launchpad Mini mk3 well worth the money, they are easy to set up with Ableton Live. They work well with keyboards. The LEDs are very bright which means you can see how things are currently switched on or off. For me, the only minor issue is that these feel a bit too lightweight to me of Launchpad X and Launchpad Mini mk3
Good for use with keyboards, Clip launch, tweaking synth sounds. Very good build quality, Easy to set up with Ableton Live. The LEDs are very bright which means you can see how things are currently switched on or off. For me, the only minor issue is that these feel a bit too of Launchpad X and Launchpad Mini mk3.
As I am a keyboard player, I tend to use the midi keyboard to play the piano. This is a more traditional way of playing the instrument, and it allows me to be more expressive with my music.
The Launchpad can be used to play an instrument in the desired scale.  You want to play an instrument on a specific scale, but don't know-how. With the Launchpad, you can easily learn how to play your favorite scales on any instrument. The Launchpad's intuitive design makes it easy to follow along with the included lessons, and its bright LEDs make it easy to see which notes are being played.
On the other hand, the Launchpad shines when playing drums. The scale selection is unique to the Launchpad X and not available in the Launchpad mini.
The scale selection is unique to the Launchpad X and not available in the Launchpad mini. On the other hand, the Launchpad shines when playing drums. The pads are velocity-sensitive, so you can create realistic-sounding drum tracks by varying how hard you hit the pads.
Performance with Launchpad
My personal number one use of any Launchpad is that I completely control a composed music track and perform with loops single or in groups in an extremely easy way. When you play with a Launchpad your live performance.
The use to me is fantastic. I can create everything from a simple but sophisticated track to an all-out DJ setup if so desired.
Launchpad's superior resolution allows for very detailed control of sounds and clips. The bright LEDs provide excellent visibility in dark settings, and the smooth pad response makes it feel like you're playing expansion is easily done, whether by the community or through in-house work. I have not seen any other hardware that can be fully customized to this degree!
There are 3 different ways of using the Launchpad to control Ableton Live: Use it in Session Mode where clips are launched when you hit the corresponding pad Use it in Note Modeet Pattern Mode: where you can set up a loop and tweak it like an instrument
Pressure Sensitivity Pads
With the launch of the new version, one of the new features of the Launchpad X is that Novation added velocity and pressure sensitivity to the pads. These enhanced pads turn the Launchpad X into a more meaningful controller for example when performing drums.
As before there are mixer controls that are manageable through the pads. You can mix the different sounds when managing their volume or pan.
The Launchpad X includes 64 Velocity Sensitive Pads with Polyphonic Aftertouch, the mini mk3 comes with 64 Pads which are not Velocity Sensitive.
Launchpad in Other DAWs than Ableton Live
Novation actively supports you when using the Launchpad controller in other DAWs. You get access to excellent video tutorials like the one below.
Launchpad Pro MK3 Alternative
Besides the Launchpad X and Launchpad Mini mk3 Novation also relaunched their Pro Launchpad as an MK3 version. Launchpad Pro MK3 highlights a thinner body, additional MIDI connections, and larger pads. One of the killer features is the step sequencer available in the Launchpad Pro MK3. Using the Pro with AE Modular, Euorack, synths, and semi-modular positions the Pro because of the sequencer as the more desirable launchpad of the three. You can easily pair the Pro with a 1010music Bitbox mk2, Bitbox Micro, Mutant Brain, Hermod, and many other modules in the Eurorack world. When you go full DAWless you can use the Launchpad Pro as the central brain to manage and control your semi-modular, modular, and synths.
Do I need a Launchpad?
To start with the main use (at least for me) the grid-based Session View in Ableton benefits the most from this controller. Changing the launched samples in the grid by Launchpad is controlled by the available arrow keys. You can also combine two Launchpads to launch different rows of clips. When performing the Velocity Sensitive Pads of the X makes all the difference.
Launchpad X vs Push 2 – Which One Is Better?
After testing both devices for a few weeks I would like to compare both devices side by side. The reason why I tested them together is that a lot of people ask me which one they should buy – Launchpad X or Push 2? And to be honest, I would recommend both of them depending on what you are planning to do with them. While the Push 2 is a serious piece of hardware that will help you produce music by allowing you to play melodies, chords etc… the Launchpad X allows you to create more dynamic performances with the use of its color-coded pads.
Even though Push is a great piece of hardware, I feel that this time around Novation has done a better job when it comes to both products. Their design and build quality is in my opinion superior in comparison to Ableton's Push 2 . The closest competitor from Akai would probably be the APC40 mk2 but I feel that it does not even come close to the X and Mini MK3 in terms of design, build quality, and software integration.
The only thing about both devices is that compared to other controllers on the market – launchpad x can be a little more expensive for some people. And if you are not planning on using this type of controller on a regular basis, I am pretty sure that it is not worth the price.
Conclusions About Both Devices
In conclusion, I would say that both devices are fantastic and what you can do with them once you have integrated them into your Live setup is just amazing. Launchpad X allows for more dynamic performances and Push 2 is a great tool for carrying your music production with you and working on the move. They both have a very different approach to what they offer but much like comparing 2 different pieces of software – it all comes down to personal preference. If I had to choose only one device out of those two, I would probably go for Launchpad X as this is a great piece of hardware that can be used for performing as well.
Rating:  Five Out of Five Stars
As I was new to these kinds of controllers for Ableton, I slightly adjusted my personal playing style and used a very flexible and helpful midi controller or let us call it an instrument that can do more than just firing clips.
When do you choose which one and what is the deal with the Launchpad Pro? I will look at the Pro in the coming months. My takeaway on the Mini and X is that the Launchpad Mini Mk 3 is all about the size, it comes with a small footprint and is still usable. When I look at the X and have in mind that it supports 64 Velocity Sensitive Pads with Polyphonic Aftertouch the X is better suited when playing drums or an instrument.
Both devices are excellent for launching new clips. The design of these Launchpad controllers is delightful. They are thinner than the previous generation. The pads are enlarged, the function buttons encompassing the edges are now square. The pads are sensitive, come with useful light action, and the X includes pressure sensitivity and aftertouch.
Techno Foundations Time To Step Up The Game!
Techno Foundations by Techtronix & Yves Big City – Novation Circuit Tracks Pack
Techno Foundations was created to give the modern Techno Producer a great starting point for both drum sounds and patches.  It goes without saying that techno is one of the most important genres of our age with so much spawning from it, it's certainly not going anywhere. The aim of this pack is to keep the Circuit Tracks in line with the modern way. All 72 patches were designed to fit perfectly within the mix, no extra processing is needed!
This pack aims to fill all your Techno needs from slow atmospheric Techno with a focus on complex sounds all the way to dance floor slammers, that leave you wanting more.
This pack contains 72 Complex patches
32 Slamming Bass Sounds
16 Lush pads that will stand out a mile in your productions.
16 Chord stabs or lead patches
8  soaring leads
56 Additional presets carefully selected from the Novation Factory.
19 Sessions with a wide range of sound within the Techno Genre 
64 Highly curated Drum vocal and chord stab sounds, the ultimate starting place
Samples are arranged into columns
Kicks, Claps, HI 'hats, Snares, Fx, Vocal, Chord Stabs.
About Techtronix & Big City
New to the Circuit ecosystem. Techtronix has raised quite a storm. First releasing free packs for the Novation Circuit, along with a series of tips and tricks videos that have quickly gained him a following on his new youtube channel. With over 20 years of experience in sound design and music production, no stone is left unturned. Inspired by artists such as virtual riot, pegboards nerds, gabe miller, and older artists such as calyx and teebee, Techtronix has an acquired taste and a unique style of old and modern techniques. He has a long history of designing software synthesizers on programs such as Reaktor and VCV rack as well as making patches.
PLEASE NOTE: AT RELEASE THIS PACK IS ONLY COMPATIBLE WITH CIRCUIT TRACKS, WE'LL UPDATE THE PRODUCT PAGE AND LET YOU KNOW AS SOON AS THIS CHANGES!
Westlicht Performer + Novation Launchpad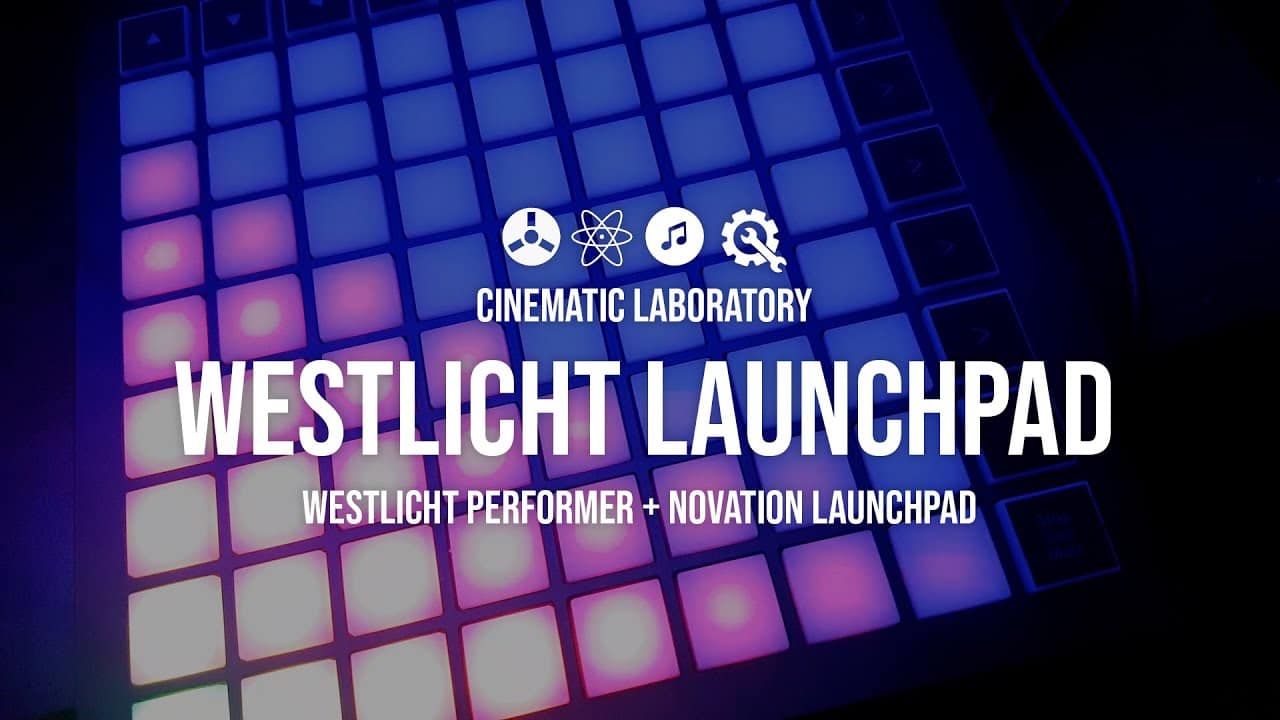 Westlicht Performer
The Westlicht Performer is a great sequencer on its own, but it's taken to the next level of accessibility when you hook up a Launchpad…
New in Novation Circuit Tracks Version 1.1.5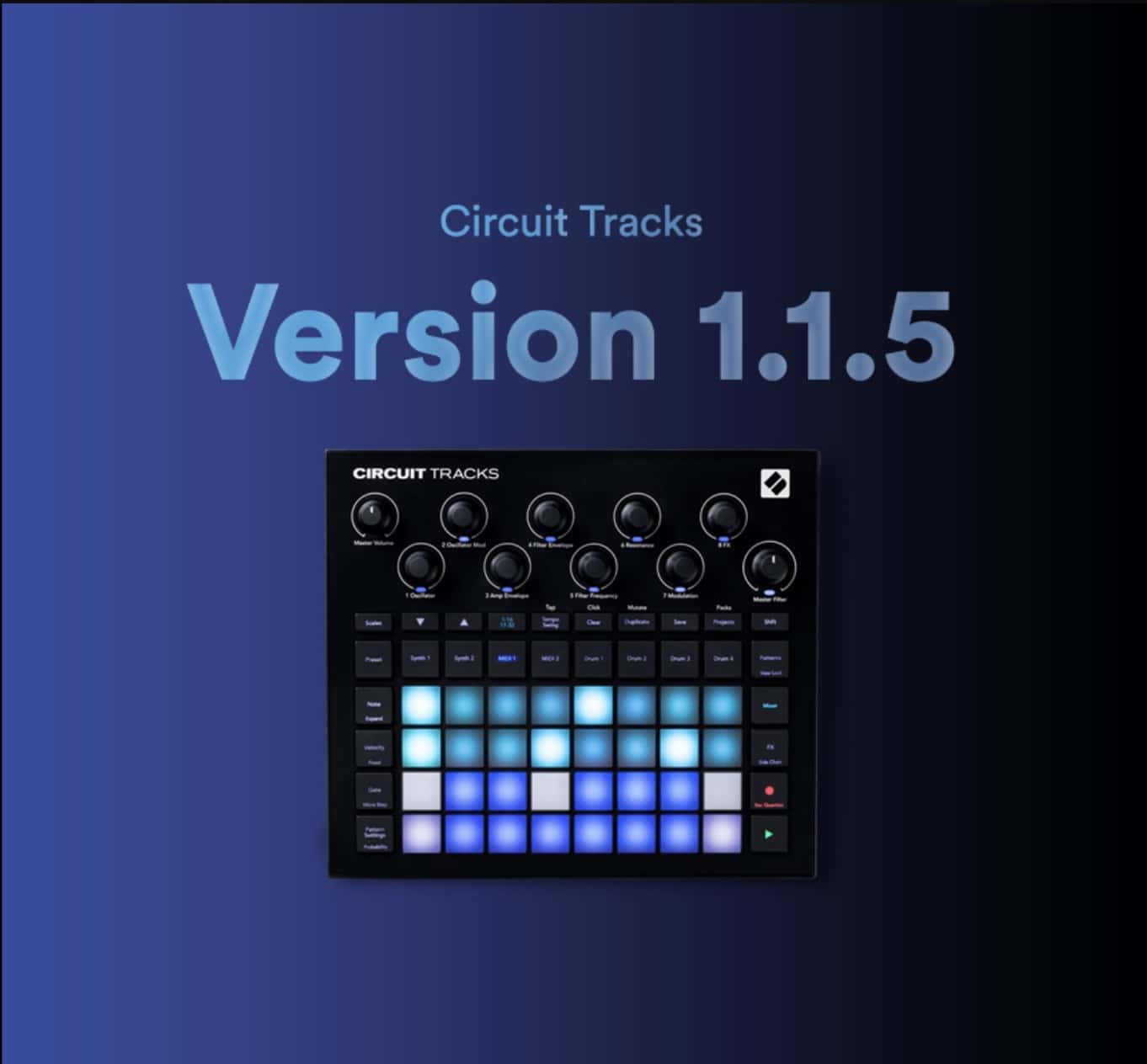 More time to lose yourself with samples with the v1.1.5 update
No need to cut creativity short. The latest addition to our groovebox family now has increased sample time. In the Circuit Tracks v1.1.5 update, instead of just 60 seconds, now you'll have 3 minutes – 196.6 seconds to be exact – worth of sample time with Circuit Tracks, giving you more freedom to find your groove.
For existing Circuit Tracks owners, you'll be able to update your device to the new sample time capabilities through Components. Make the most of your recording sessions with more time to create.
Pricing and Availability
Get the Circuit Tracks Sample Time to update v1.1.5 with Components. Components web works in MIDI-compatible browsers (Chrome and Opera). If this doesn't work for you, or to use Components offline, download Components Standalone via the My Software tab in your account (Download Standalone).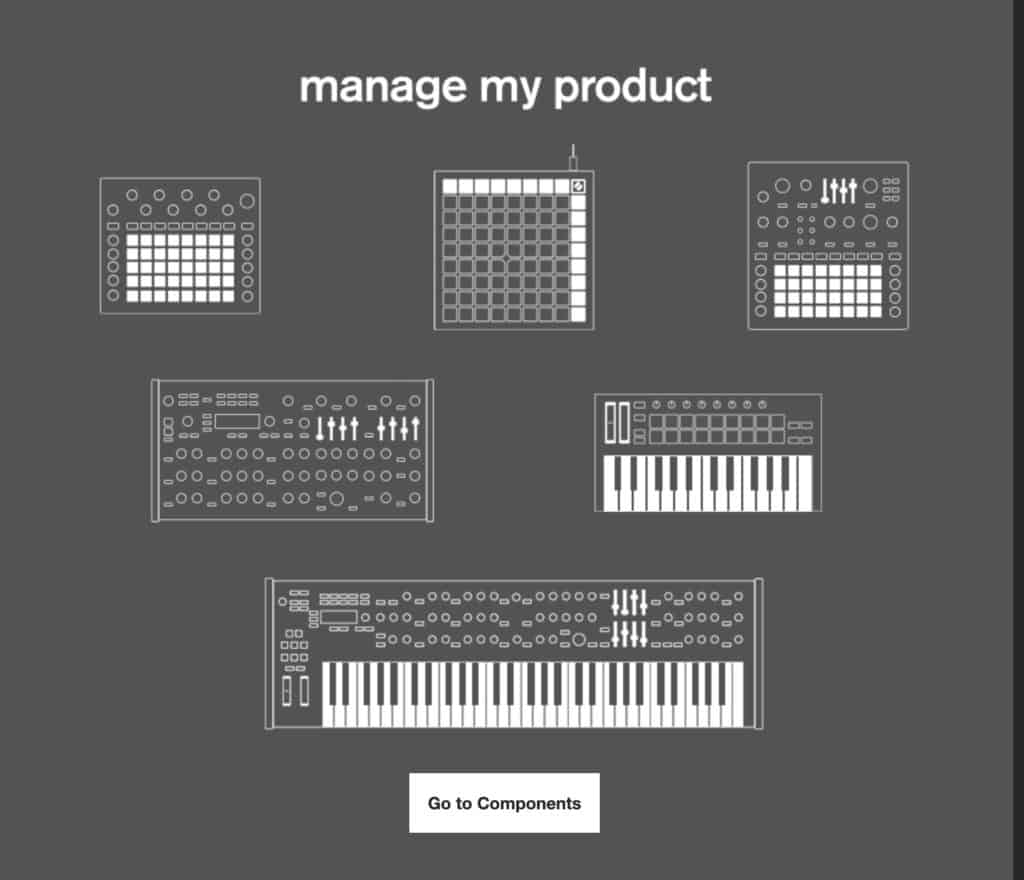 As an affiliate, we may earn a commission from qualifying purchases. We get commissions for purchases made through links on this website from Amazon and other third parties.
StrongMocha is a magazine for music producers, audio engineers, and sound designers. StrongMocha Magazine provides the latest industry news, reviews of gear and software, tutorials on recording techniques, and tips for mixing.