Erica Synths Fusion System II Shipping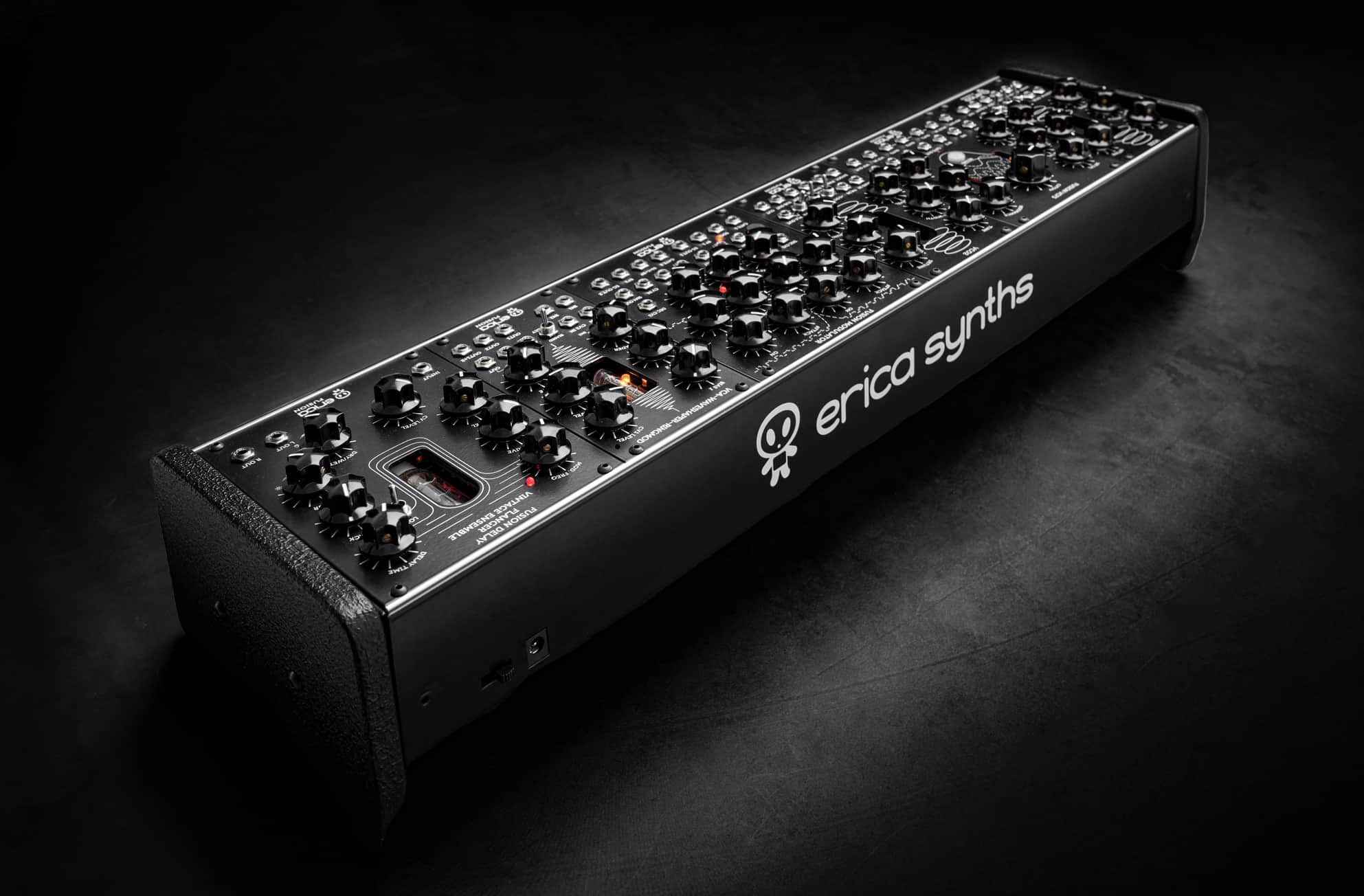 Erica Synths Fusion System II Shipping
Erica Synths is one of the few manufacturers that use vacuum tubes in eurorack modules, and those, who are familiar with tube-based modules, know that tubes can push the sound to extremes or turn it deep, saturated and complete.
They did come up with three new Fusion series modules – Fusion VCF3, Fusion Modulator (already available) and Fusion VCA/Waveshaper/Ringmodulator (available from June 16th, 2020) – to create the Erica Synths Fusion System II – a modular synthesizer for sounds of unprecedented pressure, unconventional modulations, and creativity-inspiring patching. A 104HP system has 63 patch-points for extensive experiments in sound design, all-analog signal, and CV path; it's a system for those, who take sound design seriously.
Fusion System II Includes
Two Fusion VCO2s – fully analogue sound source with three simultaneously available waveforms, transistor-based suboscillator and detune function – two BBD delay lines that make frequency shifter that is mixed back to the principal oscillator in order to emulate two detuned VCOs. Tube crunch – distinct tube overdrive – is added on the top of the mix.
Fusion VCF3 – resonant 24dB/oct lowpass filter of unique design that combines vacuum tubes and vactrols, providing distinct, soft filtering. For more versatility a CV recorder, that records motion of the potentiometer, is incorporated in the module, so you can design advanced modulation patterns.
Fusion Modulator – complex, all analogue CV source that consists of several blocks – two EMS Synthi functionality inspired looping envelope generators with simultaneous unipolar (0V-10V) and bipolar (-5V-+5V), VCA, Noise generator and Sample&Hold.
Fusion VCA/Waveshaper/Ringmodulator – a modulation source based on two miniature pentodes that operates as VCA, waveshaper and ringmodulator. With two CVs applied simultaneously to different stages of the VCA, audio rate modulations, using ringmodulator as a waveshaper it becomes surprisingly versatile sound shaping module.
Fusion Delay/Flanger/Vintage Ensemble – a distinct multifunctional analogue effects module that combines BBD chip based effects with an adjustable tube overdrive in the delay output and a feedback path for extra thickness of the sound.
104HP One Row Skiff case (with or without a lid)
20 patch cables
Pricing and Availability
Erica Synths Fusion System II is available now – RRP: 1950 (VAT excl.) – without case lid
RRP: 2030 (VAT excl.) – with the case lid
Get more out of ring modulation & crossfading – with Erica Synths Black Ring-XFade
Get more out of ring modulation & crossfading
Today we go in-depth with the brand new Erica Synths Black Ring-Fade, a eurorack module with two ring modulators, a build-in crossfader, and VCA. Both the ring modulators as well as the crossfader can be used as independent modules, but the internal routing makes it very suitable for advanced creative sound shaping.
In the video we start with an overview of the Black Ring-Fade, and then we dive into a series of patches in three sections. We look at ring modulation patches, crossfader patches, and finally a few patches utilizing all sections of the Ring-Fade.
Pricing and Availability
Erica Synths Black Dual ASR EG
BLACK DUAL ASR EG
The Black Dual ASR EG is a versatile, full analog looping AD/ASR envelope generator with voltage control over attack and release times, that can also be used as a low-frequency oscillator with a manually and voltage-controlled shape and rate. It has two identical parts, each featuring all typical envelope generator controls and bonus features – the end of the cycle output and bi-polar LFO output. When in loop mode the shortest attack and decay settings turn the module into a voltage-controlled drone oscillator with adjustable waveform (it will not track 1V/oct, though).
Dual voltage controlled envelope generator and LFO
Manual and voltage control over Attack and Decay/Release
Adjustable LFO shape
Manual gate button
Loop/Free running switch
End of the cycle output
Bipolar LFO output
A jumper for the EG/LFO time configuration
Erica Black Series include high-end, unique functionality and superior quality modules. Big knobs are assigned to functions that make difference in sound. Erica Black series consists of a range of modules that are needed to put together the entire synth.
Starter Kits | Episode 04 | Bloom, Pico System III, Desmodus Versio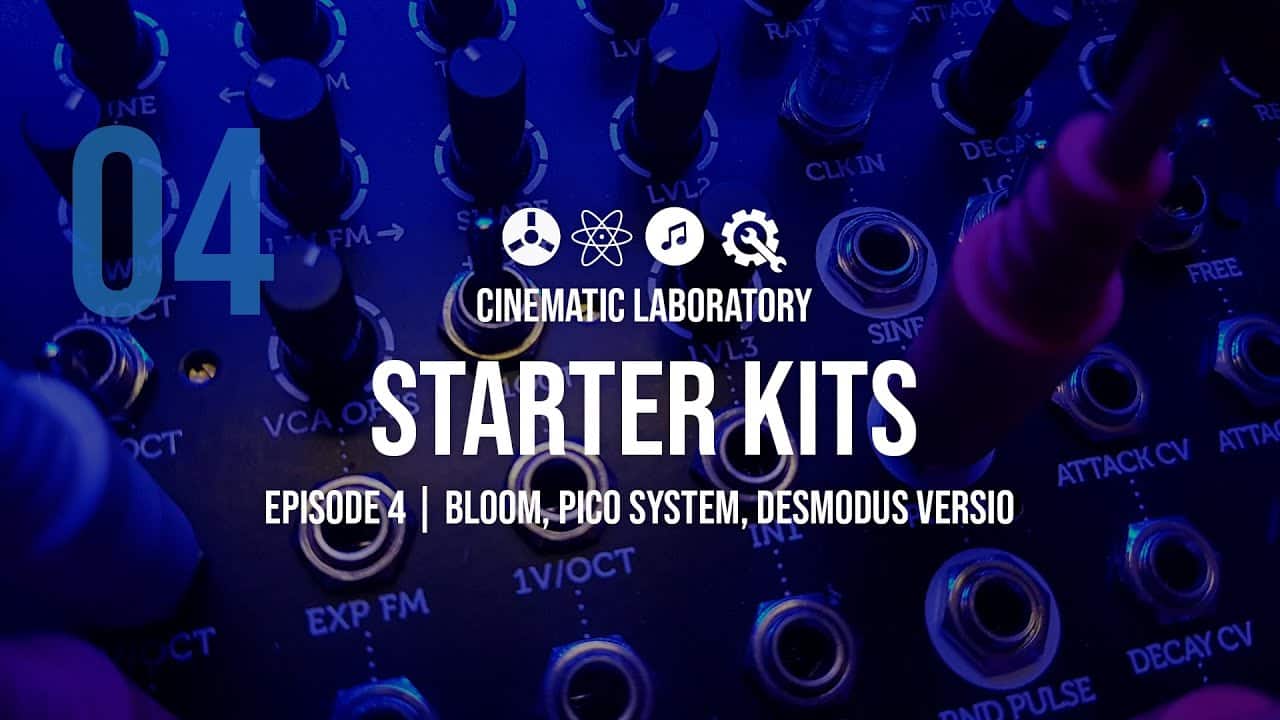 Starter Kits – Episode 04
After three episodes of Plaits, it's time to go analog with the 'Westcoast inspired Erica Synths Pico System III, Qu-Bit Bloom sequencer, and the insane Desmodus Versio reverb. The workflow is completely different and you'll have to make your sounds from scratch. It sounds completely different too! Technically, it's three modules, but Pico System III has 13 'pico' modules stacked away under one faceplate. So it's definitely a mini-modular with huge potential, but you have to discover it yourself!
Cinematic Laboratory on BandCamp
As an affiliate, we may earn a commission from qualifying purchases. We get commissions for purchases made through links on this website from Amazon and other third parties.
StrongMocha is a magazine for music producers, audio engineers, and sound designers. StrongMocha Magazine provides the latest industry news, reviews of gear and software, tutorials on recording techniques, and tips for mixing.