PreSonus Summons Studio Magic 2021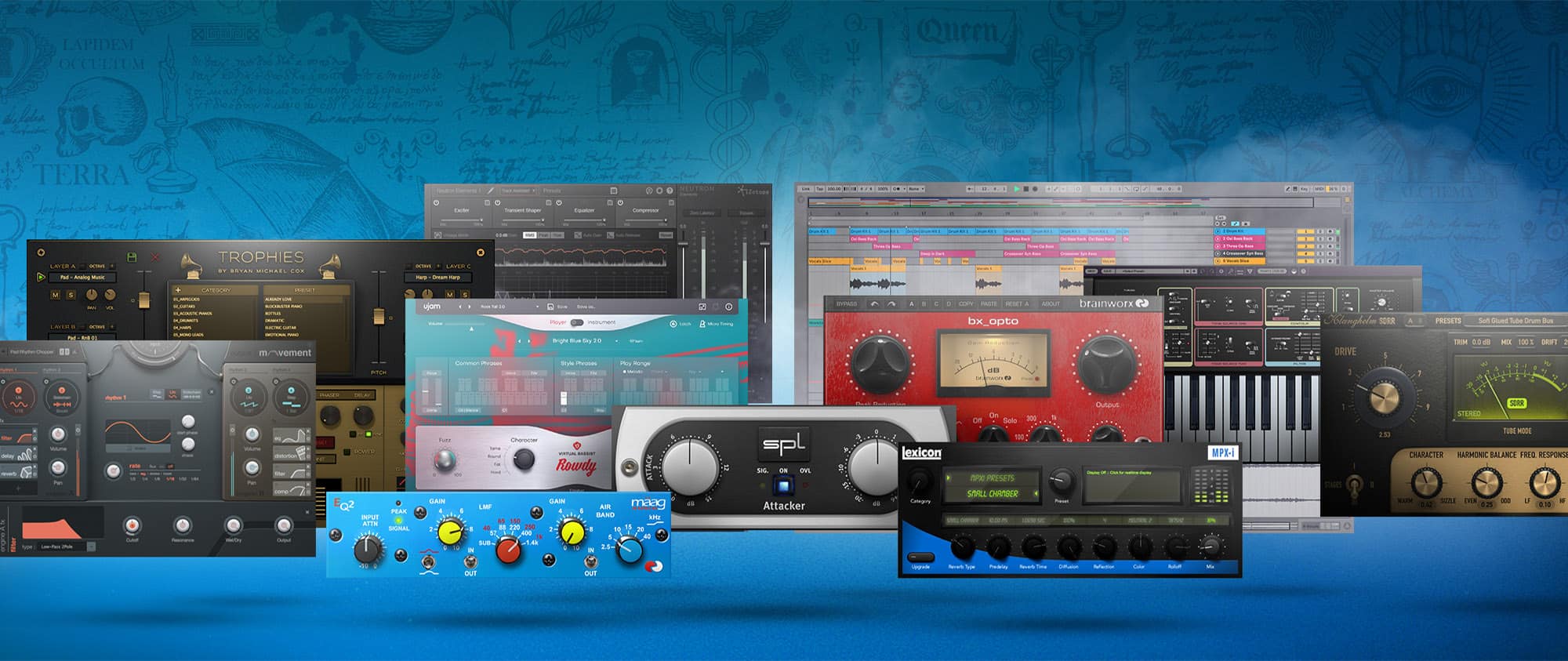 PreSonus Summons Studio Magic 2021
PreSonus® has updated its popular Studio Magic Suite for macOS®and Windows®. An amazing $1,099 value that is provided free to new and existing registered owners of any currently available PreSonus audio interface or mixer, the 2021 Studio Magic Suite software bundle now includes popular standalone applications; plug-in effects and virtual instruments in VST, AU (Mac), and AAX formats; lessons; and more. Arturia Analog Lab Intro replaces Analog Lab Lite 3 in the 2021 edition of PreSonus' Studio Magic Suite.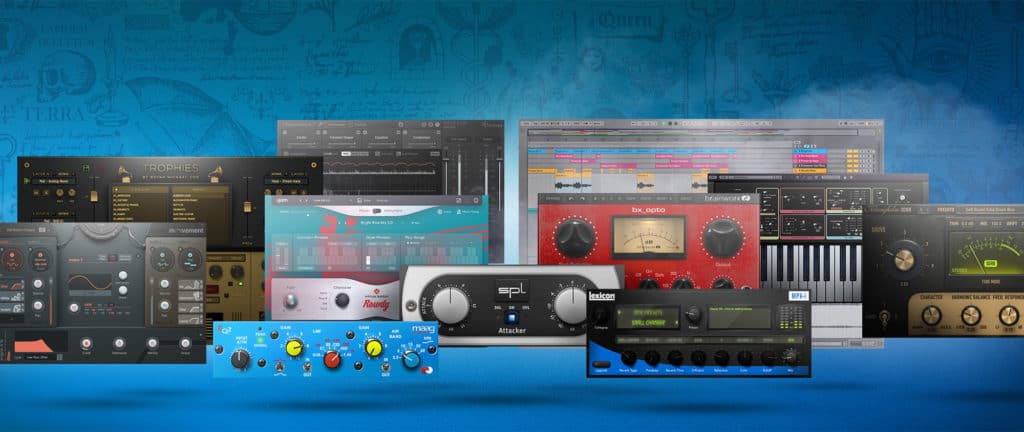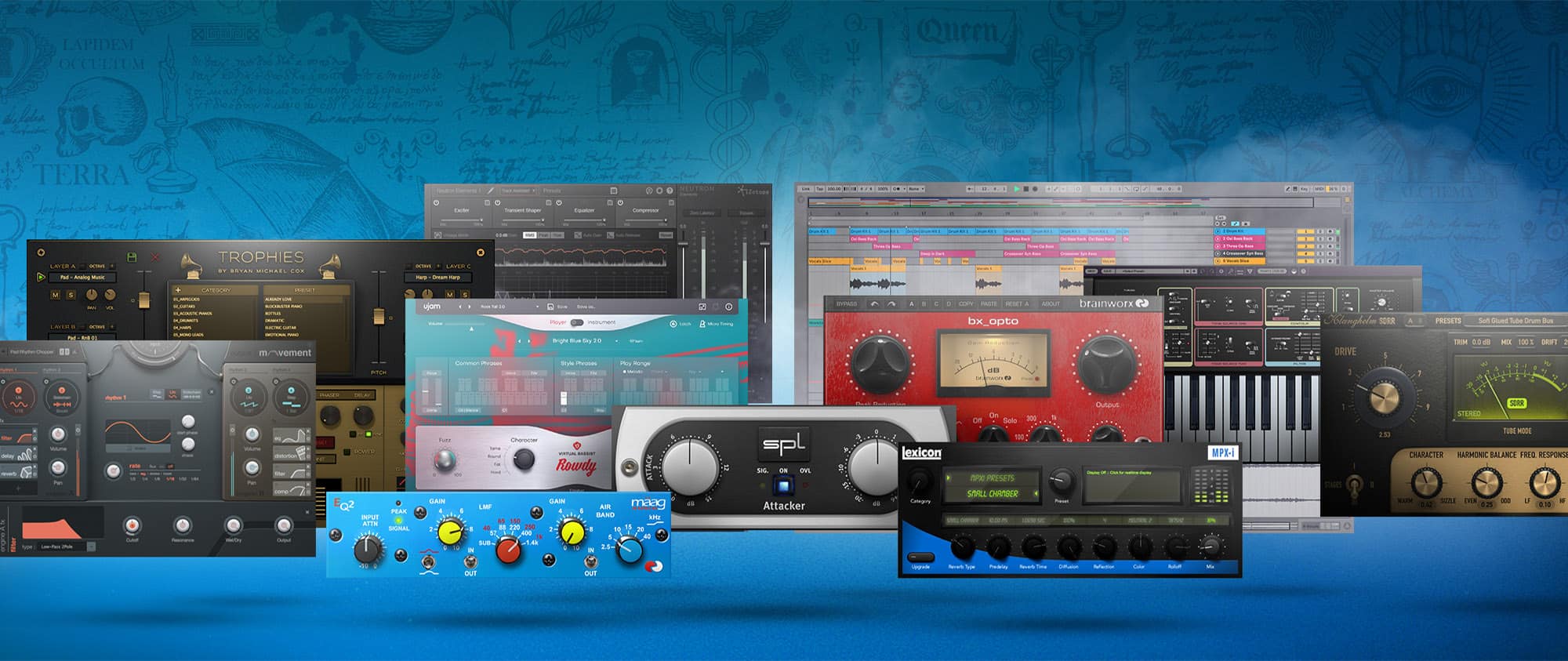 New additions to the 2021 edition include
Arturia Analog Lab Intro delivers some of the most iconic synth and keyboard sounds of all time, taken from Arturia's 28 expertly crafted V Collection instrument emulations. From analog synthesizers to revolutionary digital workstations, these are sounds that made history.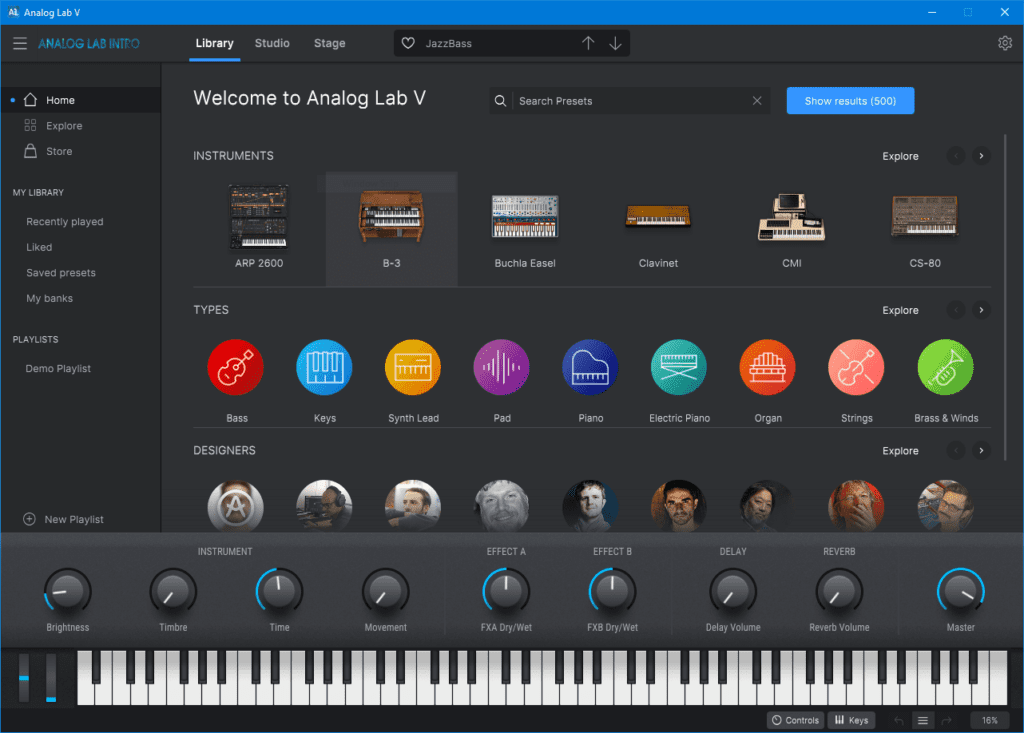 The fun and funky Cherry Audio Surrealistic MG-1 Plus Synthesizer is an authentic re-creation of the Realistic MG-1 synthesizer sold in Radio Shack stores in the 1980s. The Surrealistic MG-1 Plus delivers fat analog tone in spades, along with a unique polyphonic oscillator section, "bell tone" ring modulation, glide, auto-repeat note triggering, oscillator sync, and a number of improvements that tremendously expand its capabilities.
Ghosthack Essential Sounds is the perfect sound pack for music producers and content creators alike, delivering professional one-shots, loops, MIDI files, and full music tracks.
UJAM Virtual Bassist ROWDY is your loudmouthed, high-energy bassist with bite! ROWDY adds picked, overdriven electric bass sounds to your track that are suitable for a variety of styles, from powerful punk to rock and modern metal. If your bass has to cut through heavy drums and a wall of guitars, ROWDY is the solution.
The 2021 edition of Studio Magic Suite also now includes a three-month subscription to Soundsnap, home to over 380,00 high-quality, project-ready sound effects. Soundsnap members include some of the biggest names in film sound, podcasting, game design, and music production.
Of course the 2021 edition of Studio Magic Suite still contains your favorites from the 2020 edition.
Back by popular demand are Ableton Live Lite DAW, Brainworx bx_opto compressor and bx_rockrack guitar-amp modeling plug-in, Cherry Audio Voltage Nucleus modular synthesizer, iZotope Neutron Elements compressor/EQ/exciter/transient shaper, Klanghelm SDRR2tube multi-purpose processor, KV331 Audio Synthmaster Player semi-modular synth, Lexicon MPX-i Reverb, Mäag Audio EQ2 two-band equalizer, Melodics custom piano lessons, Native Instruments Replika delay plug-in, Output Movement rhythm processor, Plugin Alliance SPL Attacker Plus attack-event amplifier, and UVI Model D concert grand piano.
The 2021 edition of the PreSonus Studio Magic Software Suite is included free with the purchase of any current PreSonus audio interface (including Revelator and ioStation 24c), StudioLive Series III and ARc-series mixer, and—new for 2021—all PreSonus FaderPort-series and ATOM-series hardware controllers registered after February 1, 2021. Between March 15 and May 31, 2021, PreSonus studio monitor customers are also eligible to receive the Studio Magic Suite, along with a special version of Studio One® Prime. Studio Magic software will be automatically added to your MyPreSonus account after qualifying product registration. Here is a list of hardware products that include Studio Magic 2021 product licenses with registration.
Powerful New Studio Monitors Introduced: PreSonus R-Series V2 Active AMT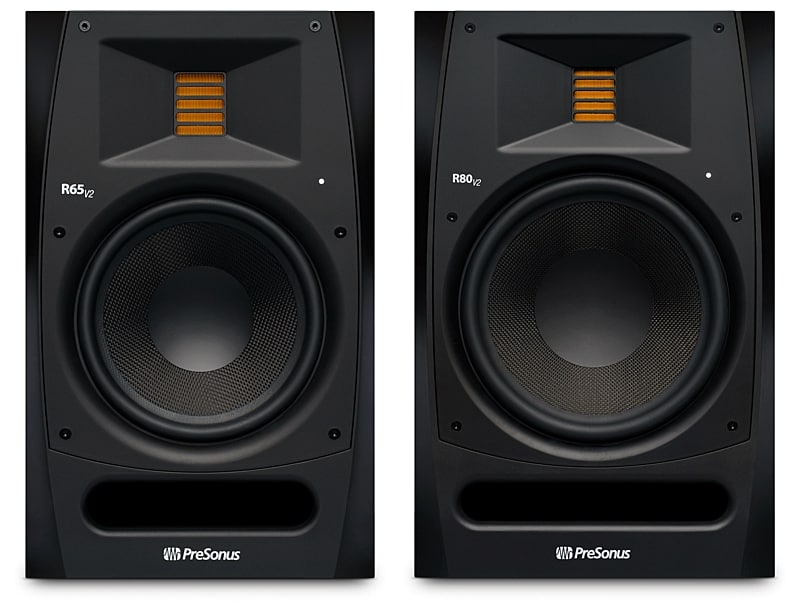 PreSonus has just announced its new R-Series V2 Active AMT Monitors. These monitors have been updated to include three different Acoustic Space settings, which allow you to compensate for the acoustic results of speaker placement against a wall or in a corner. They also come with Low Cutoff, Mid Frequency, and High-Frequency controls, allowing you to make adjustments on your monitor mix as needed.
Second-generation R65 V2 and R80 active AMT studio monitors
PreSonus®, the world leader in recording and mixing equipment, has introduced its second-generation R65 V2 and R80 active AMT studio monitors. The new speakers feature more extensive control than their original counterparts with an improved Acoustic Tuning technology that incorporates analog controls from PreSonus' celebrated Eris® line into these impressive speaker models!
The Acoustic Space Control really lets you take the sound of your speakers in a number of different directions. The Low Cutoff setting allows for thin, shrill tones while High-Frequency Compensation shifts things up with deep bass and treble response to make sure there's no distortion at higher volumes. There are three positions on this switch: Wall/Corner Placement Compensates when placed against walls or corners; Open Air Mode removes room effects by outputting straight into an open area without absorption by objects around it – perfect if playing near windowsills! Finally, 140W Class A/B Amplifier power guarantees smooth playback even at high volumes.

Air Motion Transformer (AMT)
The new R65 and 80 monitors feature a custom-designed 6.8 square inch Air Motion Transformer (AMT) tweeter that responds to the subtlest waveforms and high frequencies, making them an ideal choice for those who want their listening experience ultra-highs with more "air" in the sound field as well as dimensionality when listening close up or far away from speakers on stage
The original series of Yamaha's onstage monitor speaker line has been expanded even further; now there are two different versions: TheR65V2 and the R80 V2.
You've never heard anything like it. The AMT folded Kapton membrane is so thin that it offers wave-cycle accurate transient reproduction, which means you can hear every detail in your music: from gentle breath to subtle finger noise and nuances of brass or woodwinds with exquisite reverb tails gracefully decay – all without any distortion!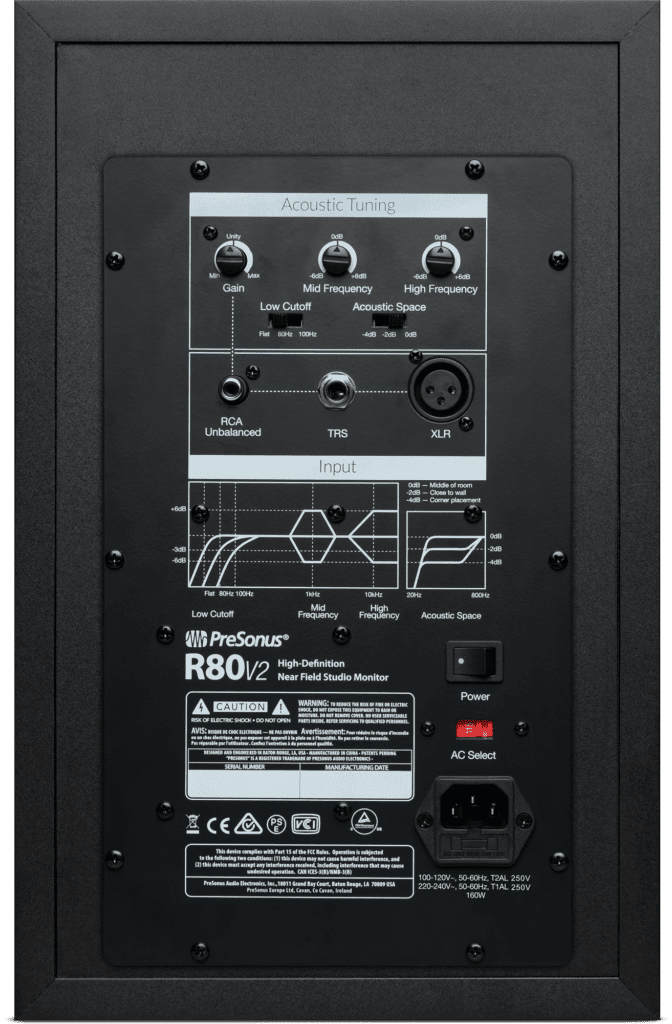 Minimal reflections off your desk or floor
The R-series V2 tweeter enables 8 to 13 times the projectability of more traditional designs, while its housing design confines the projection area in a narrow horizontal plane. This results in an extremely wide "sweet spot" with minimal reflections off your desk or floor that provide consistent sound playback no matter what environment you're listening from!
The R80 V2 features an eight-inch, custom-woven composite woofer that offers consistent low-end dispersion across its frequency range. The smaller 6 1/2″ woofer in the R65 has been designed with a similar design and delivers high-quality sound at lower volume levels for those seeking more intimate listening experiences!
The BXR is a perfect fit for those looking to record their music on the go. Its balanced XLR input connections make hookup quick and easy, while its ¼ inch TRS outputs allow you to connect with any line-level sources that are available in studio or live environments alike. Safety features include RF shielding current limiting over-temperature protection subsonic/ultra low-frequency dampening which helps prevent annoying vibrations if not wound correctly!
Pricing and Availability
PreSonus R65 V2 and R80 V2 studio monitors are available immediately at PreSonus dealers for U.S. street prices of $329.95 and $429.95, respectively. The new R-series V2 monitors replace the original R-series monitors, which have been discontinued. 
New PreSonus Universal Control Update Directly Supports M1 Macs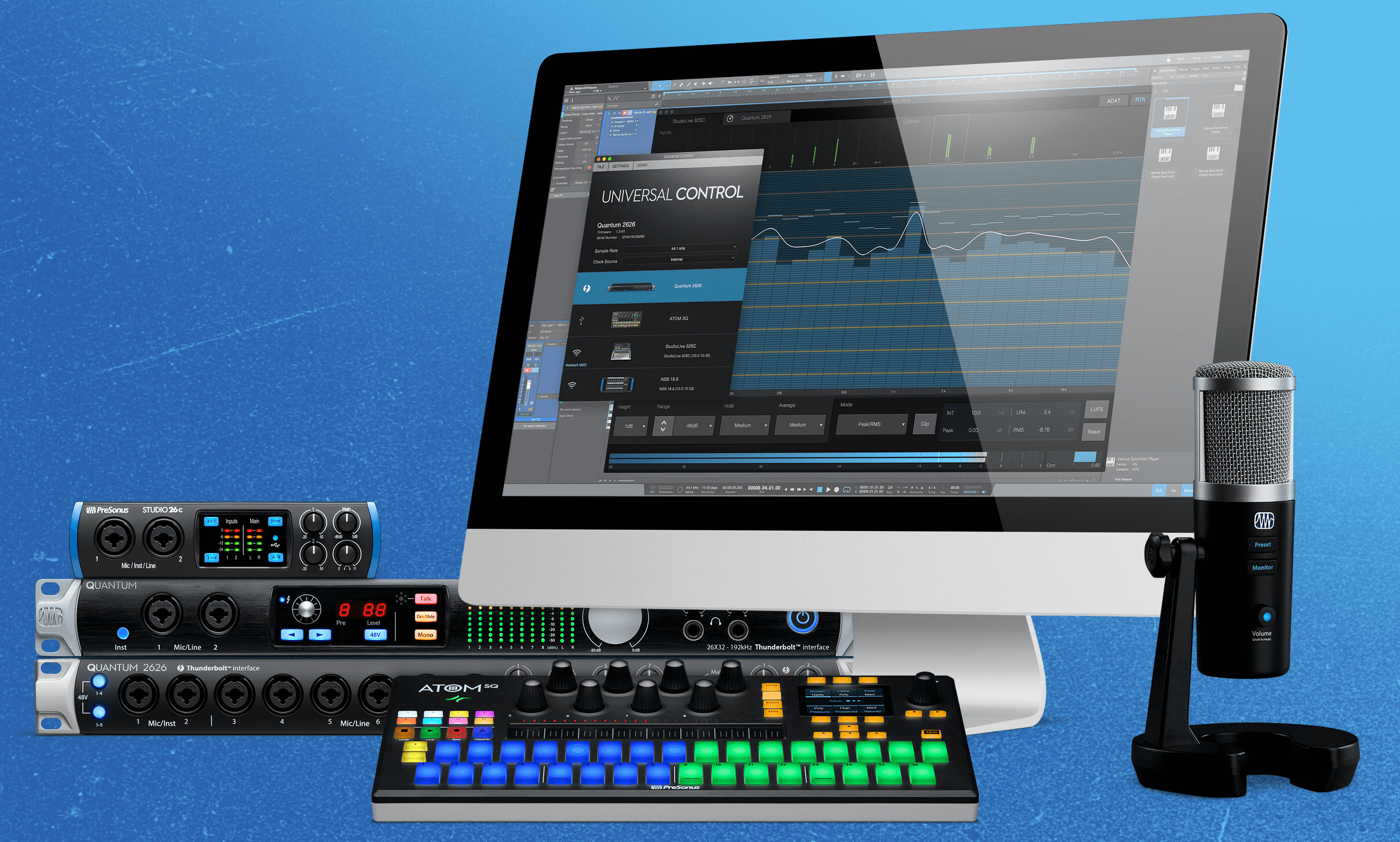 PreSonus® has released Universal Control 3.4.2, a milestone update to its multi-product control and driver software package that includes full support for Apple Silicon M1-based Mac®computers. All currently supported PreSonus hardware—including all USB audio interfaces (AudioBox and Studio series), Quantum-series Thunderbolt interfaces, StudioLive® mixers (16.0.2 USB, AR series, and Series III), ATOM-series pad controllers, and FaderPort®-series control surfaces—now works natively with M1-based Macs.
Universal Control provides the foundation upon which all FireStudio interfaces and Studio Live Mixers operate when connected to your Mac or PC. Universal Control 3.4.2 includes a firmware update for the PreSonus Quantum 4848 interface and for the company's ATOM and ATOM SQ pad controllers. ATOM SQ now connects correctly on macOS® Big Sur 11.2 and later. Connectivity has been improved with some Windows® systems, as well. The update also implements pad performance adjustments for both units.
PreSonus Adds 9.7GB GB of New Sample and Loop Libraries to PreSonus Sphere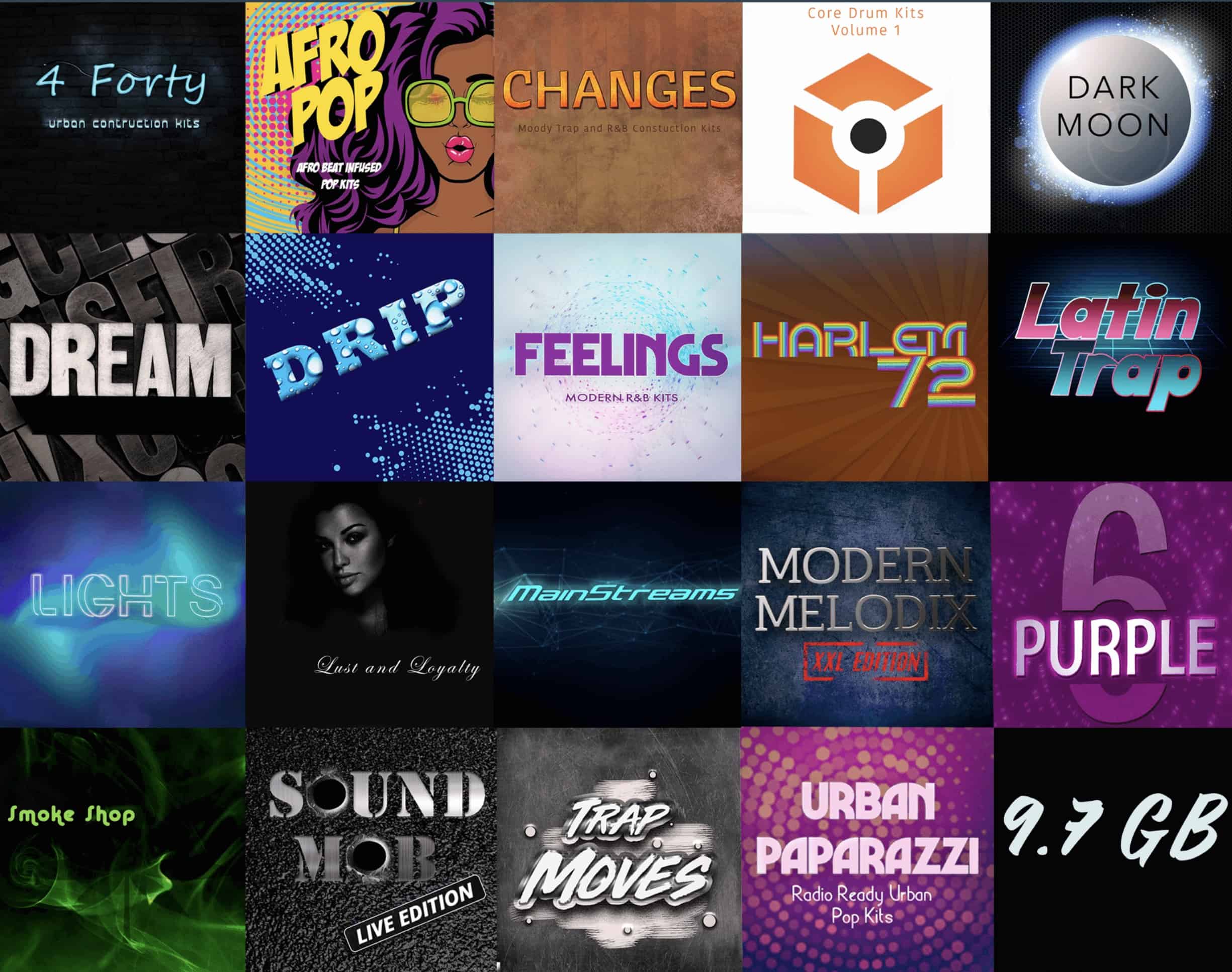 New Sample and Loop Libraries
PreSonus has added 19 new sample and loop libraries to its PreSonus Sphere global online community.
PreSonus® released 19 new sample and loop libraries to PreSonus Sphere. Since its launch, PreSonus has consistently added at least one new library or Studio One® Add-on to PreSonus Sphere every single month; however, the addition of more than 9.7 GB of libraries at once represents by far the largest expansion of PreSonus Sphere content since the global online community was launched in July 2020.
The new libraries are royalty-free. All include Audioloops construction kits, compatible with Studio One Prime, Artist, and Professional version 3.5.5 and higher; and Impact XT kits, which are compatible with Studio One Artist and Professional version 4 and higher.
PreSonus Sphere members can download any and all of these libraries from their PreSonus Sphere accounts:
The 4 Forty library brings an eclectic mix of modern drum sounds, lush synth sounds, dramatic piano riffs, funky basslines, and more, in the styles of Jay-Z, J. Cole, Kendrick Lamar, and other hitmakers.
Afro Pop is equal parts pop sensibility and exotic percussion, mixed with infectious grooves in a Caribbean-inspired cocktail that will put a smile on your face.
Changes is a great choice for lovers of old-school R&B, with 808 kicks, slow synth grooves, and ear-catching beats.
Core Drum Kit construction kits target modern genres with punchy kicks, booming 808s, cracking snares and claps, clean percussion, silky smooth hi-hats and cymbals, and inspiring melodies.
Loaded with moody keys, dope synths, crisp drums, and booming sub-basses, Dark Moon delivers just the right amount of alien textures to make your grooves stand out.
Dream presents today's drama-drenched, Top 40-inspired, uplifting sounds, with bold piano melodies, strings, huge synths, leads, basses, and cracking drums—perfect for collaborations of hip-hop and R&B.
Loaded with slick synth melodies, punchy kicks, theatrical orchestra hits, and more, Drip is perfect for modern productions with the ears of Music Supervisors in mind.
Feelings deliver lush pads, dreamy piano leads, hot drum patterns, and moving basslines all designed to inspire your next creation.
Harlem 72 is loaded with disco beats, funky basslines, and a string section ready for its guest-starring role in Shaft, delivering the authentic sound of the '70s.
Latin Trap combines catchy Latin dance-inspired melodies with hard-hitting trap drums and 808s that will make your walls shake.
Add positive vibes to your high-energy EDM productions with Lights, featuring four-on-the-floor kicks, uplifting arpeggiated synths, driving basslines, drops, sound effects, and more.
Lust and Loyalty will turn up the romance and the heat in your R&B and modern ballad productions, with soft piano melodies, lush strings, silky-smooth basslines, and slow synth leads that will keep you creating all night.
Loaded with radio-ready melodies, hard-hitting drums, lush synth pads, and stabbing leads, Mainstreams provides a flexible mix of loops and samples that will inspire just about any production, from ambient house to pop ballads, EDM to trap.
Great for hip hop, pop, trap, soul, funk, R&B, and more, Modern Melodix XXL captures the diversity of the Los Angeles music scene, with growling basslines, snapping grooves, Afro-pop guitars, rocking B3s, and Latin percussion.
Purple 6 is a collection in the styles of multi-platinum artists such as Drake, Future, Travis Scott, and more, with synth leads, sub-bass lines, punchy strings, and glitchy drums.
Smoke Shop delivers the sounds of the West Coast classics with a modern edge in the style of Kendrick Lamar, SchoolboyQ and YG, with one-shots, riffs, full mixes, and drum and instrument mixes.
Sound Mob Live Edition Vol. 2 is a comprehensive and unique library for modern hip-hop, rap, R&B, and soul productions, including a live one-shot drum kit and drum rolls, live guitar, live bass, keys, strings, and live percussion.
Street-ready and full of grit, Trap Moves is loaded with haunting melodies, rapid-fire drum rolls, and 808's that will make the earth shake beneath your feet.
Packed with unique pop melodies that are a must-have for big songs, Urban Paparazzi includes big keys, synths, basses, and unique drum patterns.
Pricing and Availability
With these new products, PreSonus Sphere members now have access to 73 sample and loop libraries, every PreSonus add-on for Studio One and Notion®, online collaboration tools, and monthly exclusive livestreams and master classes, plus licenses for both Studio One Professional and Notion. PreSonus Sphere memberships are available for $14.95/month or $164.95/year.
ln addition to being available to PreSonus Sphere members, these new libraries can be purchased individually at the PreSonus Shop
As an affiliate, we may earn a commission from qualifying purchases. We get commissions for purchases made through links on this website from Amazon and other third parties.
StrongMocha is a magazine for music producers, audio engineers, and sound designers. StrongMocha Magazine provides the latest industry news, reviews of gear and software, tutorials on recording techniques, and tips for mixing.