IK Multimedia Releases 3 New Plugin Packs: 2 Ways To Gain Access & Huge Savings
IK Multimedia is pleased to announce the release of Total Studio 3.5 MAX and Total VI MAX, which offer 2 new ways for users to gain access to IK's vast catalog of effects processors and virtual instruments, as well as dramatic savings over the purchase of all of the software titles individually.
With Total Studio 3.5 MAX, IK has created a comprehensive and easy-to-use suite for all your music production needs
A synth that will blow you away with its sound complexity as well as interactivity capabilities without ever getting complicated or overwhelming IK's popular software is perfect if you're just starting out but want to take things further than what traditional instruments can offer this latest update includes features such new additive waveforms allowing users more creative freedom when designing their own sounds within categories like jazz bass guitar pianos because there really isn't anything else on the market quite like it.
Introducing the most comprehensive library of virtual instruments ever released. From classic to cutting-edge, Total VI MAX has it all and then some!
Total Studio 3.5 MAX
SampleTron 2 is the newest and most innovative addition to this years' release. True sampling has never sounded so good!
You can now find 8 new SampleTank libraries from Electromagnetic and Cinekinetik. These sound design tools were made for composers, producers, DJs who want to make their compositions stand out in an increasingly competitive industry with these freebies! All 4 virtual X-GEAR pedals for AmpliTube 5 along with 6 new T-RackS modules, including FAME Studio Reverb (coming soon), Comprexxor, and the complete TASCAM Tape Collection.

To commemorate the release of IK's latest and most sought-after music creation software, AmpliTube 5 joined by T-Racks Sunset Sound Studio Reverb. This marks a complete lineup that will have any aspiring guitarist or bassist running back into their room to grab some gear! With a massive 143 products in all, Total Studio 3.5 MAX covers every stage of music production: composing, producing, and designing for pop bands to making hit records with the hottest hip hop acts on earth!
And with over 470 GB of rich, authentic sounds plus 497 ultra-realistic FX, Total Studio 3.5 MAX is the most comprehensive all-in-one solution for creating music in virtually any style.
Total VI MAX
The IK Multimedia Total VI MAX collection is a must-have for musicians who want to create epic tracks. The virtual instruments included in this pack were previously available only through the full version of our award-winning software, but not anymore!
There's a huge variety of virtual instruments in Total Studio 3.5 MAX – from bass and drums to keyboards, orchestral sounds, or even ethnic percussive grooves for your next music production!
The collection packs over 15,500 instruments, including IK's SampleTank 4 MAX with 16 additional libraries, new SampleTron 2, Miroslav Philharmonik 2, and Syntronik Deluxe, which all work equally as standalone applications or as libraries inside SampleTank 4. Plus there's Hammond B-3X, MODO DRUM, and MODO BASS.
MAXtacular savings
To celebrate the release of Total Studio 3.5 MAX and Total VI MAX, IK Multimedia is offering special introductory pricing on both bundles as well as significant savings on other MAX collections. Through November 30, users can save up to 50% on SampleTank 4 MAX, T-RackS 5 MAX, and AmpliTube 5 MAX. Owners of qualifying IK products can log in to their IK user account and add any of the above MAX collections to cart to see an exclusive discount (Exclusive discounts cannot be combined with JamPoints) at check-out.
UNO Synth Pro Black Edition: The Foundation of Any Great Synth Collection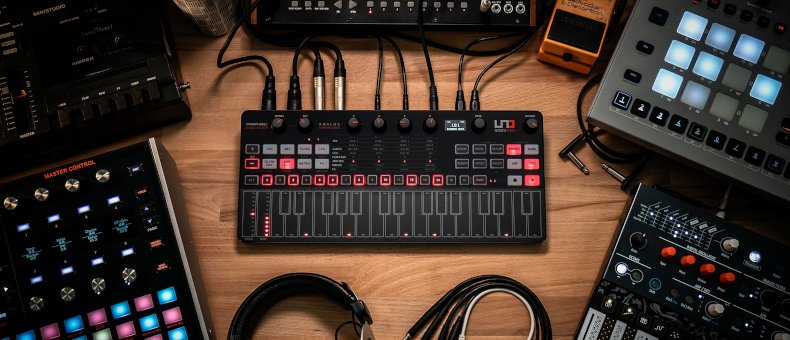 You know that one synth in your collection that you just can't live without? The one that you always turn to for those classic sounds? The UNO Synth Pro Black Edition is that synth. With its true analog sound, incredible flexibility, and inspiring workflow, the UNO Synth Pro Black Edition has become the foundation of any great synth collection.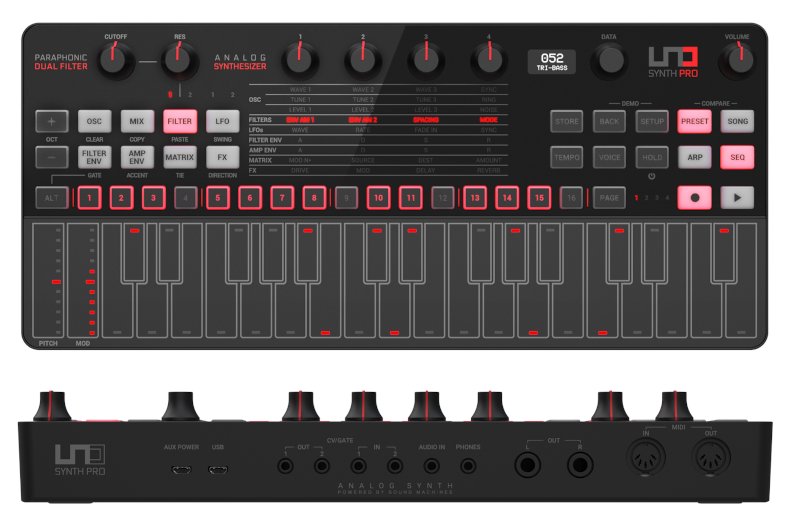 The Foundation of Any Great Synth Collection
Whether you're looking for a synth to take with you on the go or one to keep in your studio, the UNO Synth Pro Black Edition is perfect for every occasion.
The new UNO Synth Pro Black Edition from IK Multimedia is a true analog synthesizer that sports a bold new look. Featuring classic analog sound, incredible flexibility, and complete connectivity, this little black synth is perfect for every occasion.
UNO Synth Pro Black Edition
The UNO Synth Pro Black Edition features two oscillators, a sub-oscillator, and a noise generator for creating rich, full sounds. It also features a low-pass filter with resonance and an envelope generator with gate mode.
With its built-in arpeggiator, sequencer, and four effects modules, the UNO Synth Pro Black Edition is incredibly versatile. And its MIDI I/O and USB connectivity make it easy to integrate into any setup. If you're looking for an award-winning analog synthesizer that packs a punch, the UNO Synth Pro Black Edition is a perfect choice.
In 2021, UNO Synth Pro Black Edition was one of the most popular sound-shaping instruments on the market. We loved its versatile features and sleek design, and users appreciated its ability to produce high-quality sound regardless of genre or workflow.
PC-based or outboard, onstage or in the studio, UNO Synth Pro Black Edition is a versatile tool that helps users look and sound their best. Its black finish makes it a stylish addition to any rig, and its versatile sound shaping capabilities make it a valuable tool for any musician. With UNO Synth Pro Black Edition, users can create the perfect sound for any situation.
Classic Sounds
The UNO Synth Pro Black Edition is a powerful synthesizer that offers classic sounds in a sleek black package. The three discrete oscillators plus a noise generator provide plenty of sound options, and the pulse-width modulation and hard sync allow you to create complex soundscapes.
The continuously variable waveshape gives you even more control over the sound, while the FM and ring modulation add an element of modulation to the mix.
Whether you're looking for classic sounds or modern mashups, the UNO Synth Pro Black Edition is a great choice.
Incredibly Adaptable Synthesizer
The UNO Synth Pro Black Edition is an incredibly adaptable synthesizer that can be used in a variety of ways. Its dual state variable filters offer 24 different modes, and it can be configured in either series or parallel mode. Additionally, its 16-slot modulation matrix provides a vast amount of flexibility for sound design.
And best of all, it comes with a free Mac/PC Editor that makes it easy to integrate with digital audio workstations. Whether you're a beginner or a professional, the UNO Synth Pro Black Edition is a great choice for anyone looking for a versatile and powerful synthesizer.
Conclusion
UNO Synth Pro Black is a professional-grade synthesizer that packs a powerful punch into a compact, stylish package. This synth features eight voices of polyphony, making it perfect for layering rich, thick textures. The onboard effects include modulation, delay, and reverb, allowing you to further customize your sound.
The UNO Synth Pro Black also features an arpeggiator and step sequencer, making it easy to create complex loops and patterns. The built-in USB port allows you to connect the synth directly to your computer, making it easy to integrate into your existing setup.
Whether you're looking for your first synth or an addition to your live rig, the UNO Synth Pro Black is sure to inspire new sounds and fuel your creativity.
AmpliTube MESA/Boogie® 2 Releases: 4 New Amps and 5 Cabs
IK Multimedia today announced the release of AmpliTube MESA/Boogie® 2, the much-anticipated follow-up to IK's first MESA/Boogie offering. The new collection brings 4 new officially certified amps and 5 cabs to AmpliTube 5. Now users can complete their collection of full-throttle gear from the inventors of high-gain tone.
IK has been investing a lot in research and development to make sure that its latest creations meet the same standards as those from decades ago.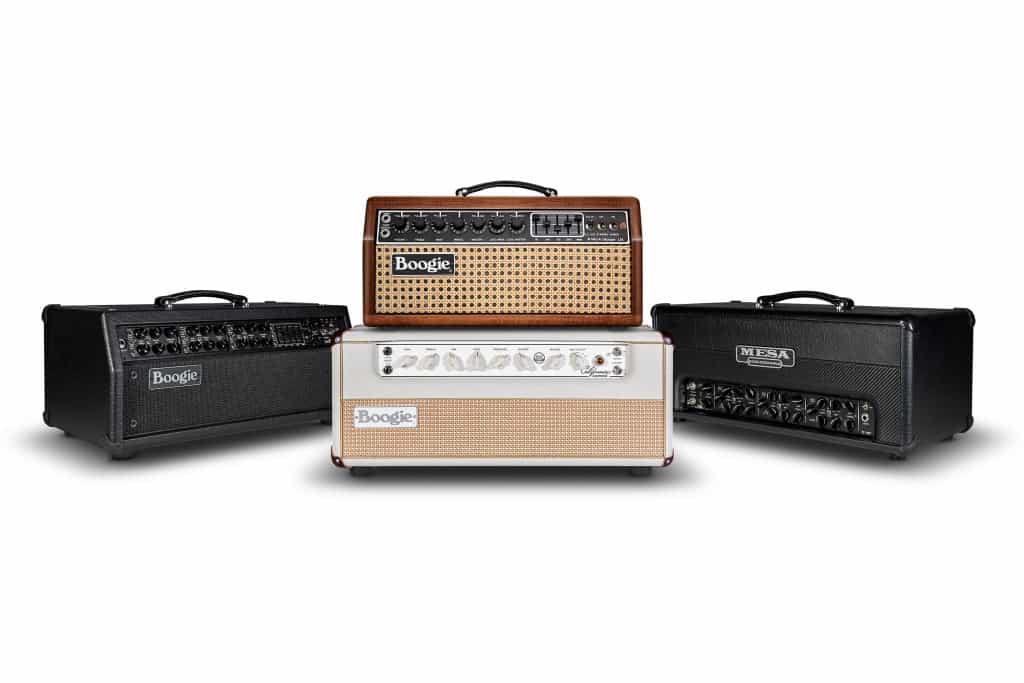 MESA/Boogie 2 models are crafted using IK's newest modeling technologies including DIM™, VIR™, and more so they sound just like classic stages do while looking almost exactly how you would imagine them too! These incredible sounding amps have all passed rigorous tests by MESA Engineering before being approved for sale at great prices with free shipping worldwide
More than mere amplification
How would you like to plug into an amp that's so responsive it feels like the music is being played right next door? One where every detail of sound comes through with crystal clarity and stunning intensity. Well, if this sounds good then IK has something special in store for YOU! They worked hand-in-hand again collaborating on creating these new models which offer ultra-realistic performance thanks to their meticulous recreation from circuit boards all the way upfront.
Gear available in AmpliTube MESA/Boogie 2
The new MESA/Boogie 2 line-up is full of surprises for tone aficionados. The company has put out three groundbreaking amps, one vintage model, and two cabs that are highly desired by collectors!
MESA/Boogie® California Tweed™
The MESA California Tweed Series was 50 years in the making and designed to reinvent the "vintage" tone. This new single-channel, old-school amp aims at all sounds Americana with IK's model equipped with all of its features including Incremental multi watt power amps that provide 5 different watts per channel as well 2 operating classes for versatility so you're not limited when playing across genres or just needs heavier gauge strings due to their dual-class technology!
MESA/Boogie® Triple Crown TC-100™ head
With its broad power options, the TC-100 delivers a punchy tone with incredible depth. Three channels offer a choice of pristine Clean, aggressive Crunch, and massive Gain. Channels 1-3 all have their own voicing switch so you can get just the sound that's right for your needs!
MESA/Boogie® Mark Five™
Amps, pedals, and effects are all in one place.
The MARK V is really a collection of amplifiers – so you're able to get that sweet tone from your guitar with just some pushing on this button or pulling off another one!
From the original MARK I that introduced the world to high-gain with its cascading preamp, to the Mark II – the world's first high-gain, dual-mode channel switching amplifier and its later siblings that introduced Simul-Class power.
From the MARK III that ushered in the era of 3-channel footswitching performance, to the MARK IV that gave all this power individual control, the MARK V is the embodiment of the last 40 years of MESA guitar amp history.
MESA/Boogie® Mark 2C+™
The amp that's been used by many recording artists and one of MESA's most prized models, the Mark IIC+ was last in a series. The new amp has been designed with a more sensitive lead channel. The dual cascading drive stage provides an unprecedented level of detail and clarity, ultimately delivering the perfect tone for any guitarist at any skill level!
The IIC+ also features a pull Deep Bass booster and other enigmatic features that earned the legendary head its "+" rating for sounding so fantastic.
A full-range speaker with excellent bass response, this sleek black box will produce crystal clear vocals in any setting – from classical music to dubstep!
Along with these 4 remarkable amps, users will get 5 officially certified cabs featuring California Tweed and RoadKing models with a range of configurations and a choice of Jensen or Celestion speakers. Also included are two extra speakers from IK's work on the California Tweed, which they can swap into any cab.
Pricing and Availability
AmpliTube MESA/Boogie 2 is available now.
IK Multimedia Releases Firmware for iLoud MTM in Atmos® Systems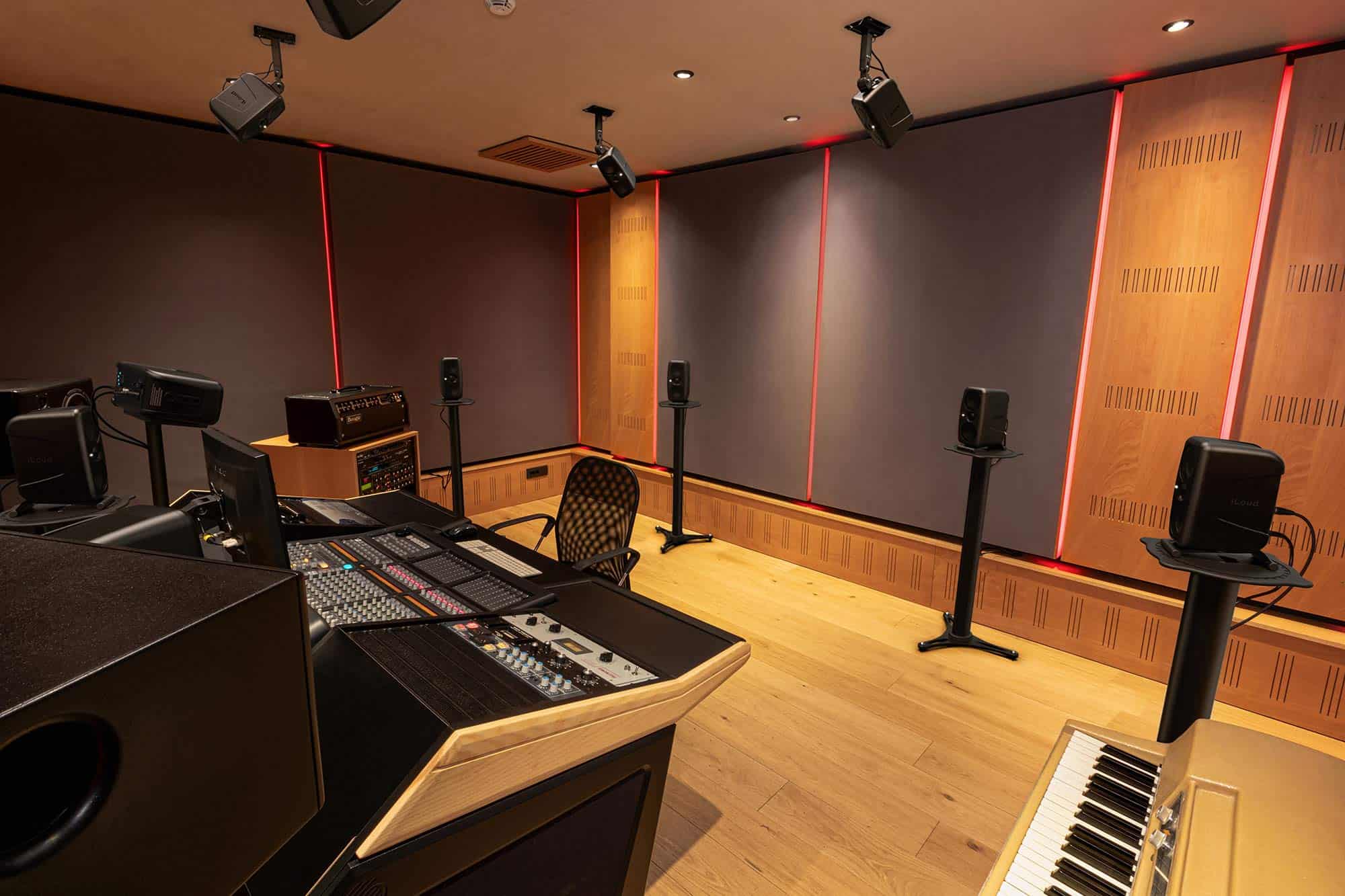 IK Multimedia has announced the release of a firmware update for their popular iLoud MTM monitors that adds an 80 Hz low-frequency cutoff. This is exciting news for Atmos® and other immersive audio setups, as it makes the IK iLoud MTMs become the ideal reference monitors. With this much-anticipated update, you can now enjoy all your favorite movies and TV shows with greater realism than ever before!
What is the most immersive audio?
Dolby Atmos is one of the most popular (and growing) immersive audio formats, and it can be played back using up to 34 speakers! Dolby has worked hard on their platform so all your favorite artists have recorded music in this format. You'll find that an album with surround sound including Dolby Atmos will provide you the ultimate entertainment experience when listening from start-to-finish.
The Atmos® audio system is the most immersive audio system that there is because it has the capability of making sounds appear to be coming from any direction.
What is immersive mixing?
In an immersive music mix, you can position and pan anything anywhere at any time. This endless creative freedom will lead to a more dynamic experience for your listeners! Immersive mixing is the process of positioning sound sources within virtual 3D space. Immersive mixing can be achieved through various tools like Convolution Reverb.
What is an existing format of immersive audio?
Auro-3D, Dolby Atmos, and DTS:X are the three different immersive sound systems.
Dolby Atmos is one of the most popular (and growing) immersive audio formats, and it can be played back using up to 34 speakers! Dolby has worked hard on their platform so all your favorite artists have recorded music in this format.
The Atmos® audio system is the most immersive audio system that there is because it has the capability of making sounds appear to be coming from any direction.
Auro-3D is a next-generation audio format that delivers three-dimensional sound. The new technology can reproduce natural acoustic space and will soon be able to fill your home with an immersive experience like never before!
Immersive audio, anywhere
With the explosion of Atmos® and other immersive audio systems, studios of all sizes need to implement multichannel monitoring. With Atmos® and other immersive audio systems, studios of all sizes need to implement multichannel monitoring. iLoud MTM offers powerful features that make it the ideal partner for any surround sound system as you can use their suite on either Windows or Mac computers with ease in mind; there is no limit when using these tools!
Readily adjusts to any positioning
iLoud's MTM speakers are designed to provide the most accurate, balanced sound from any position. With a built-in ARC self-calibration feature that does all of this automatically in seconds?you won't have to struggle with placement and spacing anymore!
Point-source sound at any distance
The iLoud MTM is an ideal choice for installations that need to cover large distances. It's linear-phase and it has a point source emission, meaning accuracy no matter how far you are from the microphone!
Speaker position and size can cause a lot of problems for surround sound systems. The speaker placement should be behind the listeners so they feel like there's nothing blocking their path, but it also needs to come from all directions at once in order to produce accurate imaging when playing back content on multiple channels or through an immersive setup.
Reduced acoustic interaction
iLoud's MTM design is a step forward in creating loudspeakers that have dramatically more controlled vertical dispersion than typical designs. This minimizes the speakers' interaction with room acoustics (and each other), making them ideal for rooms not custom-tuned for surround audio.
Lighter and smaller
Just as importantly, iLoud MTM monitors make setting up a multichannel rig easy. They're the only one of their kind and will help you mix like an expert without breaking your bank account! At 30 – 50% smaller and lighter than comparable studio monitors, users will find setup a breeze in any size room. You'll find that these speakers are smaller and lighter than your average studio monitor, which means you can set them up in any size room!
As an affiliate, we may earn a commission from qualifying purchases. We get commissions for purchases made through links on this website from Amazon and other third parties.
StrongMocha is a magazine for music producers, audio engineers, and sound designers. StrongMocha Magazine provides the latest industry news, reviews of gear and software, tutorials on recording techniques, and tips for mixing.