Get the Perfect Sounds for Your Music Production with Dragon Sauce by Soundtrack Loops
Making great-sounding music is hard enough as it is, but making it sound perfect can be an even greater challenge. This is where Dragon Sauce by Soundtrack Loops comes in! With over 2200 sounds to choose from, you're sure to find the perfect sounds for your music production.
You might be thinking that making new tracks is too hard, or that it's impossible to make them sound perfect. But with Dragon Sauce by Soundtrack Loops, you can easily overcome these challenges and produce tracks that sound amazing!
Whether you're looking for loops and samples for Hip-Hop, D&B, Dubstep, House or any other genre, this bundle has something for everyone!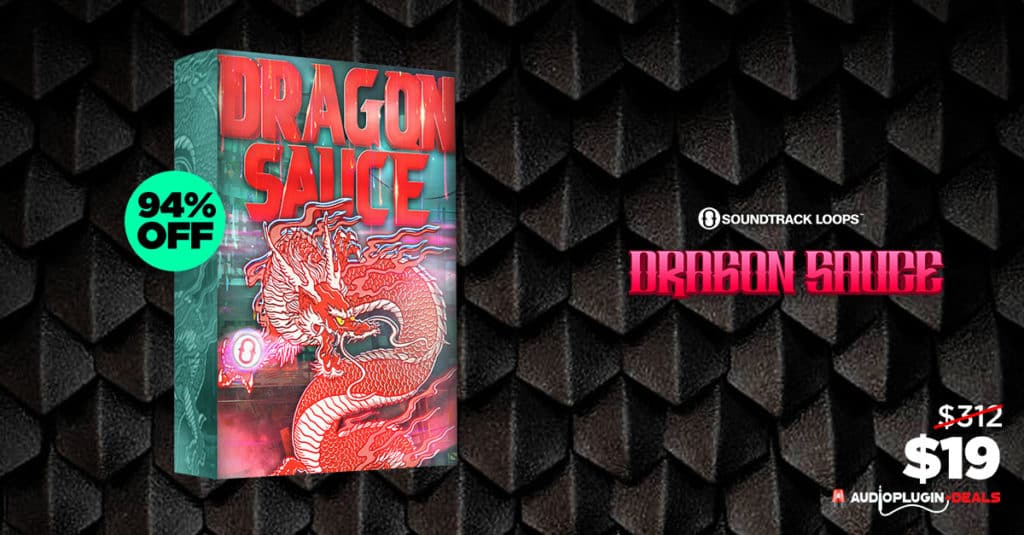 Cosmic Sea
The Cosmic Sea sound is a combination of traditional analog synth sounds that span three categories of music: Melodic Pads (40 files), Atonal Drones (40 files), and Impacts & Blasts (20 effects).
The pads are highly textured and move gracefully and inconspicuously. The drones are organic, full-spectrum, highly detailed, and strongly emotive. The impact sounds range from rich sub-bass thuds to powerful rips and is similar in nature.
Galaxy Gunslinger III – The Final Battle
69 loops are included in the six instrument folders (drums, strings, horns, woodwinds, synths, and effects), and as usual, a one-shots folder with a focus on impact sounds and attention-grabbing zingers is included.
The Belibat vibe is exceedingly rare—it demonstrates a natural artistic ability to blend 20th-century music structures and remix them at contemporary levels, producing an end result that makes you genuinely happy.
Industrial Complex – Foley and Sound Effects
If you make industrial, electronic/experimental music, global pop, hip-hop, sound design, or any other type of soundtrack loops, this is a must. Is anything missing?
Yes—Foley! Industrial Complex has 120 rhythm and noise loops (85, 135, and 200 BPM), 70 one shots, and 120 bonus REX files.
Global Beats
The hybrid approach is a combination of standard drum kit rhythms, huge toms, and world percussion played with sticks and mallets.
There are passionate seduction songs, energetic jungle tracks, and enough musical intrigue to make you think the cops are on your trail. Critical for scoring mystery, nature-forward material, and beachy montage.
Deep Minimal Techno
You may quickly produce long-form deep listening music, background music that's unobtrusive, and music with gradually increasing complexity that never loses continuity using Deep Minimal Techno.
For when you need something fast, there are 15 full groove loops, but if you're not in a rush, dig into the 45 included MIDI files to add more sounds.
The Minimal Techno soundset is a concentrated collection of 165 expert sounds for fast success in making an intensely focused and engaging form of music.
Tough Break Cyberpunk
This one is for the dancers. The title says it all—real no-holds-barred pounding on the dance floor. More than 163 loops, including 33 Drum One Shots and 65 midi files (drum beats, synth riffs, and bass lines).
There are no mixed beat loops in this pack. Instead, you'll get a separate drum stem for each instrument, such as kicks, snares, percussion, hi hats, and cymbals. To make your own beats, combine the stems. Riffs and bass lines are also included.

Future Soul Vibes
Soundtrack Loops, like its siblings, has a comprehensive construction kit that includes drums (in the Cyborgs style), bass, lush synth melodies and effects, and sung vocal samples imprinted with the hot, sharp, and infinitely spacious Cyborgs sound.
These new loops, one shots, and MIDI files introduce a much wider variety of neo-soul building blocks to Cyborgs' current arsenal of cutting-edge neo-soul construction elements.
Deep Melodic Dubstep
The Deep Melodic Dubstep Construction Kits are a set of eight construction kits ideal for adding a lighter, more melodic side of EDM to your Dubstep mixes.
You'll get kicks, snares, melodies, sub-basses, pads, arpeggiators, high hats, SFX, risers, cymbals, and leads. There are a total of 122 loops. Any Dubstep producer will benefit from this excellent pack.
Melodic EDM MIDI
Melodic EDM MIDI is a collection of deep melodic pieces and intense transitions. You'll get both loops and MIDI files to customize and modify. It's perfect for creating Trance, Chillout, Dubstep, and even film scores.
Pianos, strings, guitars, brass, pads, drums, percussion, SFX, buildUps, risers, and more are just a few of the sounds that may be found in this collection. It's both melodic and emotional. 24 bit 44.1 kHz Stereo. 210 loops and 65 midi files are included.
Clubland Build Ups
165 Build Up effects are included, and each one is meticulously cut to the beat. There are a total of 165 Build Up effects, but that's not all. 100 pristine drum one-shots, 38 midi files, and 60 Electro House construction kit loops are included in this bundle. Synths, Basses, Kicks, Snares, FX, Cymbals
Everything you'll need to make a great remix is waiting for you in this bundle. There are 365 files, each with 24-bit 44.1 kHz stereo audio.
Hybrid Cinematics
Hybrid Cinematics uses high-contrast building blocks as a fundamental component and includes contrast in all elements, ambient, rhythmic, melodic, and percussive.
Over 70 loops and 27 percussion one-shots are included for calibrating distance and atmosphere. Hybrid Cinematics is a flexible kit composed of 76 loops and 27 percussion one-shots that can be used to produce odd songs with straining anxiety and strangeness, as well as more calm tracks with warmer textures and simpler emotions.
Industrial Underscore
This bundle contains samples from an old-school style of Industrial music. Front 242, Front Line Assembly, Wax Trax Records, Skinny Puppy, and other bands are among the artists represented.
Create a suspenseful tension bed with a deep pulsating Industrial groove or combine them for an intriguing clash. Drums, impacts, sound effects, throbbing basses, distended leads, guitar, and harsh synths are all included. There are 53 sounds in all recorded in pristine 24-bit 44.1kHz stereo wav files.
Modular Cinematics
Modular Cinematics is a new sample library by Quincas Moreira, who is a sound designer and composer that collaborates with some of the music industry's most well-known artists.
Sometimes, the thought of creating your own sound design is daunting. However, with a little know-how and patience, you'll be well on your way to creating your own wild sounds in no time at all. There's a Modular Cinematics forum dedicated to sharing sounds created from modular synths as well as teaching users about its possibilities. It
Cinematic Tension
Cinematic Tension looped soundscapes are the ideal addition to any film, TV show, commercial or radio soundtrack. Because each sound repeats naturally, you'll have complete control over how long your score lasts.
Orchestral strings, mallets, bells, piano, and guitars are all examples of sound effects. Wild West, Horror, Sci-Fi, Action-Adventure, Crime Scene, Classics, and Drama are some of the most popular cinematic genres. With Cinematic Tension, you may produce your next musical score.
Every last song (or track) has a Key and Tempo in the file name and in the Meta data. Tempos range from 70 to 100 beats per minute.
If you are looking for new sounds to use in your next production, Dragon Sauce by Soundtrack Loops is the perfect option. This pack has everything from industrial sound effects to cinematic loops that can be used with any genre of music.
The best part? You'll find all the key information about each loop or file on its corresponding page so you know exactly what it contains before making a purchase decision.
As an affiliate, we may earn a commission from qualifying purchases. We get commissions for purchases made through links on this website from Amazon and other third parties.
StrongMocha is a magazine for music producers, audio engineers, and sound designers. StrongMocha Magazine provides the latest industry news, reviews of gear and software, tutorials on recording techniques, and tips for mixing.