Generate Noire: The Unfinished's 170 Filthy Patches for Newfangled Audio's Generate Synth
Matt Bowdler (aka The Unfinished)
Growing up influenced by the '80s, Matt Bowdler was always fascinated by electronics, tinkering with any old gadgets and gizmos that he could get his hands on.
One of Matt's all-time favorite synths was an old analog synth: a massive silver monolith of whirring dials and knobs, with flashing lights and interchangeable nobs for creating weird, haunting soundscapes.
With its hauntingly beautiful melodies and lush textures, Generate Noire presets for the Newfangled Audio's Generate  synth are unlike any other synth soundset out there. Its raw sound embodies everything that's exciting about analog synths, from the unpredictable side-chaining and earth-shaking bassline to the glitchy bleeps and bloops that will leave you mesmerized.
Whether you're composing dark cinematic scores or creating pulsing electronic music, this unique synthesizer has all the tools you need to take your compositions to new heights.
Newfangled Audio's GENERATE – Chaotic Polysynth Extraordinaire
In order to explore the potential applications of chaos in music, Newfangled Audio decided to pursue a project "Generate" that would use this chaotic system as an oscillator. In conventional analog synthesizers, stable oscillators are represented by differential equations, wherein values and parameters are fed through a mathematical algorithm to produce predictable sawtooth or pulse waves.
However, unlike these conventional systems which are inherently stable and repetitive, chaos can be used as an oscillator to create complex and ever-changing timbres.
By harnessing the unpredictability of chaotic systems, we can gain new creative possibilities in our musical compositions. Indeed, with chaos at its core, we can start exploring the exciting possibilities for musical expression that lay beyond traditional synthesis methods.
Ultimately, then, it is clear that the idea of exploring chaos as an oscillator is one well worth pursuing in order to continue pushing the boundaries of music further and further into the uncharted sonic territory.
The chaotic generators in Generate are similarly represented by a set of differential equations, but these ones create an unstable system, which allows you to navigate the area between simple sine-like shapes at one extreme, and gritty noise at the other.
Because the system doesn't have a single stable mode of operation, you can get a wide variety of sounds with just a few parameters. That's the key behind Generate. The chaotic generators are constantly creating new sounds, but they're also constantly changing.
So, if you want to create a sound that's similar to what you started with, you have to keep adjusting the parameters. It's like painting with light: you have to constantly move the light source around to get the effect you want. But the results can be very impressive.
With its advanced features and powerful sound engine, Generate is the ultimate tool for creating complex and chaotic sounds. Whether you're a seasoned synth enthusiast or a newcomer to the world of synthesis, this versatile polysynth has everything you need to take your music to the next level.
Whether you're looking to create rich, atmospheric pads, growling basses, stunning sequenced melodies, or otherworldly textures, Generate gives you all the tools you need to create complex sounds that truly stand out. So if you're looking to unleash your inner sonic creativity and take your sound design skills to the next level, look no further than Generate!
A novel chaotic oscillator was recently discovered that has 5 types: Double Pendulum, Vortex, Pulsar, Discharge, and Turbine. Wavefolders based on the Buchla 259 Complex Waveform Generator, Fractals, and a special Animated Equation create the different types of chaos. Low Pass Gate based on the Buchla 292 adds controls for POLES and RESONANCE.
Consequently, this Low Pass Gate increases the types of chaos that can be generated. This new chaotic oscillator has the potential to revolutionize our understanding of chaos and its role in nature.
GENERATE – Create the Chaos
When one looks at a Generate patch, it might appear random at first glance. But upon closer inspection, one can see the underlying patterns that give shape to the seemingly chaotic patch.
These patterns are generated by a set of chaotic generators, which create oscillators that can smoothly fade from a sine wave to total chaos. In between these extremes lies a vast territory of musical textures, including distortion, harmonics, grunge, static, and noise.
All of these sounds can be predictably or unpredictably modulated, giving the user a wide range of sonic possibilities to explore. Thus, what initially appears to be randomness actually contains a great deal of order and structure. By harnessing the power of chaos, Generate can create a wide variety of sounds that are both intriguing and musically useful.
Generate Noire a 170-Patch Library
Introducing Generate Noire – the ultimate dark synthesizer sounds library! With 170 patches, 28 basses, 38 basslines, 10 keys, 15 leads, 22 pads, 25 sequences, 11 SFX, and 16 soundscapes, this library is perfect for producers of all skill levels looking to create dark and moody atmospheres in their music.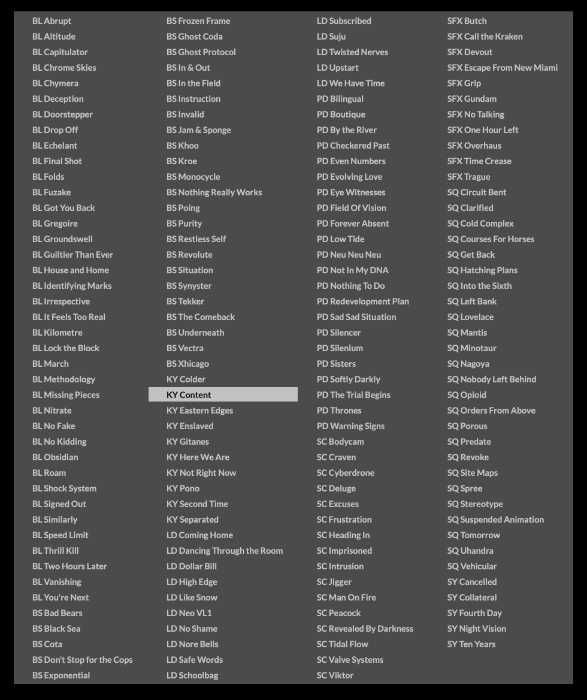 If you're in the market for some new and exciting sounds to add to your music production arsenal, look no further than Generate Noire. This 170-patch library by The Unfinished is perfect for adding an edge of darkness and chaos to your tracks.
Whether you're scoring a film or creating an album, these sounds will give your music the extra punch it needs to stand out from the crowd. So if you're looking to add some gritty synths, animated soundscapes, and filthy basslines to your music, don't miss out on Generate Noire!
Generate Noire is an exploration of the chaotic energy at the heart of Generate. This collection of sounds embodies all that is wild, raw, and unbridled about this musical movement.
From the darkly elegant to the decadently brutal and everything in between, Generate Noire captures the spirit of contemporary music with a palette full of rich, pulsing sounds imbued with traces of decay and destruction.
Conclusion
When it comes to creating rich, dynamic soundscapes that bring immersive energy and excitement to any film score or musical project, nothing beats the power of filthy bass, punchy sequences, and gritty synths.
With these essential elements at its core, this library is packed full of sounds that are inspired by some of the most iconic artists in modern music, from Cliff Martinez and Trent Reznor to Aphex Twin and Raffertie. Whether you're looking for addictively melodic synth lines, driving drum beats, or pounding basslines that will rattle your speakers and set your music ablaze with energy, this library has everything you need to create unforgettable soundtracks for all your creative projects.
Generate Noire – the perfect synth patch library for black-tie affairs and other formal events. Whether you're looking to create dark, brooding sounds or atmospheres, or just add a touch of class to your music, Generate Noire has everything you need.
With 170 unique patches, this library is bursting with character and personality. From soaring pads and sequences to deep basslines and SFX, it's all here. Generate Noire has everything you need for blistering beats or lush soundscapes to capture and express your own unique chaotic energy.
Pendulate – A Chaotic Monosynth by Newfangled Audio
Pendulate (Free) A Chaotic Monosynth by Newfangled Audio
For those bored of the same old synth sounds, Newfangled Audio's Pendulate offers something truly new. Most synthesizers sound similar because they're based on the same technologies. Pendulate is refreshingly different – a chaotic monosynth that uses a brand-new oscillator technique to create previously unheard sounds – biting basses, searing leads.
Pendulate is based on the physics of a double pendulum. What initially looks like randomness contains underlying patterns, interconnectedness, constant feedback loops, repetition, self-similarity, fractals, and self-organization. The result is an oscillator that can smoothly fade from a sine wave to total chaos, with an expanse of territory to explore in between.
Pendulate Features
Novel chaotic oscillator based on the double pendulum makes sounds you've never heard before, but will want to hear again
Wavefolder based on the one in the Buchla 259 Complex Waveform Generator, adding MIX and CUTOFF
Low Pass Gate based on the Buchla 292 adds controls for POLES and RESONANCE
Innovative modulation UI allows modulation over every control from the main page, allowing up to 169 simultaneous modulation routings
MPE support allows amazing control from innovative new controllers
Envelope and LFO each have multiple outputs generated at once, like a modular synth should
Modulation! Every mod output to every control means up to 221 modulation points in an intuitive single pane
Animations! The Double Pendulum, Wavefolder, and Low Pass Gate modules each have animations to show how each module responds to your input, and to modulation
Three unique color schemes to customize your look
136 Presets including artist presets from Matt Lange and Matthew Wang
Pricing and Availability
Pendulate is currently a Free Download
As an affiliate, we may earn a commission from qualifying purchases. We get commissions for purchases made through links on this website from Amazon and other third parties.
StrongMocha is a magazine for music producers, audio engineers, and sound designers. StrongMocha Magazine provides the latest industry news, reviews of gear and software, tutorials on recording techniques, and tips for mixing.