Like most business owners, you are always on the lookout for ways to increase your Google visibility. It can be difficult to find the right SEO technique or tool for your business. SEOcrawl is here to help.
SEOcrawl can help you find your company on Google Search, increase website traffic and gain insight into Google Analytics.
SEOCrawl Dashboard
The advanced features of our SEO Dashboard will allow you to get the most from your project. You can keep track of performance statistics, measure year-on-year and month-on-month growth, forecast traffic for the current month, and store unlimited amounts of data all in one dashboard.
High-Quality SEO Forecast
SEOCrawl offers a Quality SEO Forecast feature that allows businesses to see the SEO performance for a specific month, regardless of when it occurs. This feature allows companies to see any day of the year if their SEO performance is better or worse than the previous month's.
Actionable SEO Recommendations report
SEOCrawl provides actionable SEO tips to businesses so they don't need to spend hours researching which SEO opportunities and priorities are most important. The system analyzes the data and provides users with the best keywords, URLs and visibility indexes to increase website traffic.
Manage SEO Cannibalization
Many projects might not consider keyword cannibalization when preparing their SEO strategy. It is important to recognize the problem quickly and respond promptly. This article will show you how to identify keyword cannibalization using SEOcrawl quickly.
Search engine results can be either beneficial or harmful, depending on their circumstances. Positive cannibalization is when multiple URLs are included in a search result for a query and all have positive conversion metrics. Negative cannibalization occurs when a URL has poor conversion metrics ranks higher than one with better metrics.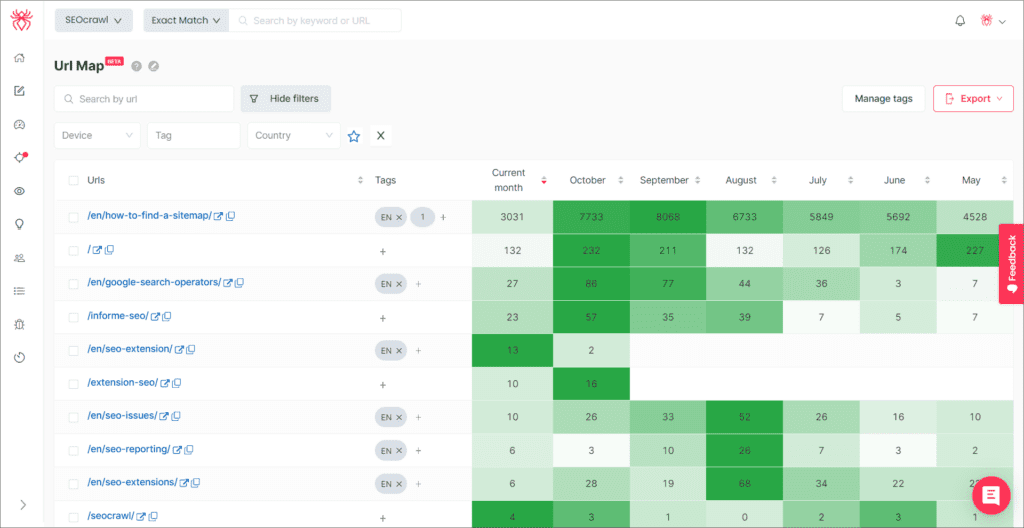 URLs Map
It can be difficult to work in the SEO industry. There are a lot of things to watch out for, and not enough resources or time to do it all.
What if you could have superpowers? URLs Map gives you an all-encompassing, superhero-like view into URL performance across multiple platforms. With a quick glance at the heatmap, you can quickly see how clicks have changed over time. This will make your life easier and help improve your SEO performance.
Google Search – Get your business found
Like most business owners, you want your website to rank high in Google searches. Ranking high in Google searches is not easy. It takes hard work and dedication. Seocrawl is the solution. Seocrawl can improve your website's Google search ranking. Seocrawl provides detailed and personalized reports that will show you exactly what you should do to improve your website's ranking.
Seocrawl offers many features such as analyzing websites, keyword research, and backlink analysis. These features are essential for professional and business owners if they wish to become more visible online. Seocrawl, for example, can analyze your website's SEO performance and help you identify areas that need improvement.
SEOCrawl also offers keyword research that can help you identify the best keywords to improve your website's rank. Seocrawl also analyzes your backlinks (links to other websites) and can help you determine which websites promote your content positively. Seocrawl can be used by any professional or business that wants to increase their online visibility.
Performance
It used to be difficult to see our short-term performance, but it is now easy! This handy graph makes life so much easier. The graph shows the performance of the previous few days in an easy-to-understand and visual way. Don't waste your time looking at monthly view charts. Give us these easy-to-understand graphics!
Top Folders
The joys of modern life – tons of paperwork and folders galore! This can cause real headaches, especially if you have to find what you need in a long list of subfolders. Don't worry, our top folders widget is here to help.
This clever little tool allows you to view all the information in a neat and organized manner. It is easy to use and only takes a few clicks.
Clicks on Top Growth Based on Average Position
No matter what search marketing mantra you follow, one rule remains constant: Clicks are King.
We are thrilled to announce the addition of "clicks on top growth by average position" in our "Top Changes" section.
It's now easier than ever to find out which keywords and URLs are growing the most in rankings. If someone asks Jack or Jill whether they went up the hill, you can give them an exact answer and show them how much traffic it brought in.
Improved SEO can help you get more customers
Do you struggle to get more customers using your current SEO strategy? Perhaps your website is not optimized or you aren't ranking high in Google. Seocrawl is a powerful SEO tool that can help you overcome these hurdles and gain more customers. Seocrawl, a powerful SEO tool, can help improve the rankings of your website and optimize it for better user experiences. Seocrawl can help you save money and get better results.
Seocrawl allows you to test the service for free before you commit. Seocrawl offers a free trial to see if it is right for your needs. There are no hidden fees or long-term contracts. It's easy to use and affordable. What are you waiting to do? Register today to start reaping the benefits of Seocrawl for more customers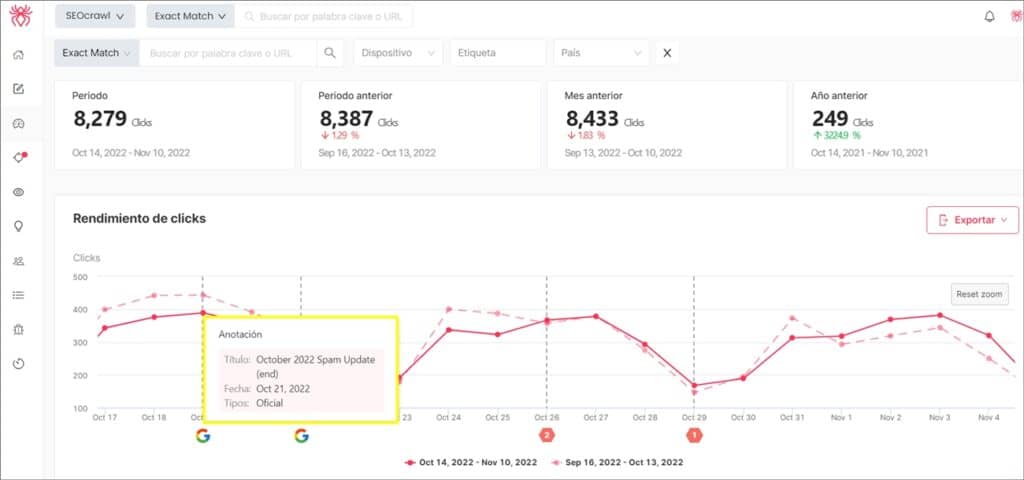 Get insights on what's working with Google Analytics
Google Analytics is an excellent tool that can help improve your website's ranking, traffic, and conversions. It can be hard to get insights into what is working. Seocrawl is here to help. Seocrawl offers data and insights about your website's performance using Google Analytics.
Seocrawl offers detailed reports to help you analyze your website's ranking, traffic, conversions, and other metrics. This information can be used to make informed decisions about your business' growth. Seocrawl makes it easy to make changes and receives instant feedback.

David Kaufmann, founder of SEOCrawl
David Kaufmann is 28 years old and hails from Spain. His focus is on providing efficient and comprehensive SEO services. His SEO Software helps to cut down on time and cost, increase results, and improve data management.
The SEOCrawl suite offers a variety of tools that allow users to optimize their SEO management abilities. SEOCrawl will enable users to store as many SEO data as they wish, obtain good SEO forecasts and receive reports that include actionable SEO recommendations.
In Short
You miss out if you don't use Google to grow your business! To stay ahead of your competitors, make sure you are using all of the tools available – Search and Analytics.