Vulf Compressor by Goodhertz Review
Vulf is an energetic compressor with tonal choices to add the mojo vibe and dirty your mix in the direction of lofi and includes some wow inspired timbres.
Yes, you can even buy a t-Shirt. Goodhertz did send a review copy with no strings attached – no t-shirt was included.
Installation
You install the plugins from Goodhertz on your MAC or Windows machine from here. You'll need to register for a Goodhertz account to use the plugins.
Sound
I started to dive recently into Goodhertz products, see also our Wow Control by Goodhertz Review. After spending time with Vulf, I found that this is a great compressor plugin with character. Vulf does do its magic without making the resulting sound harsh.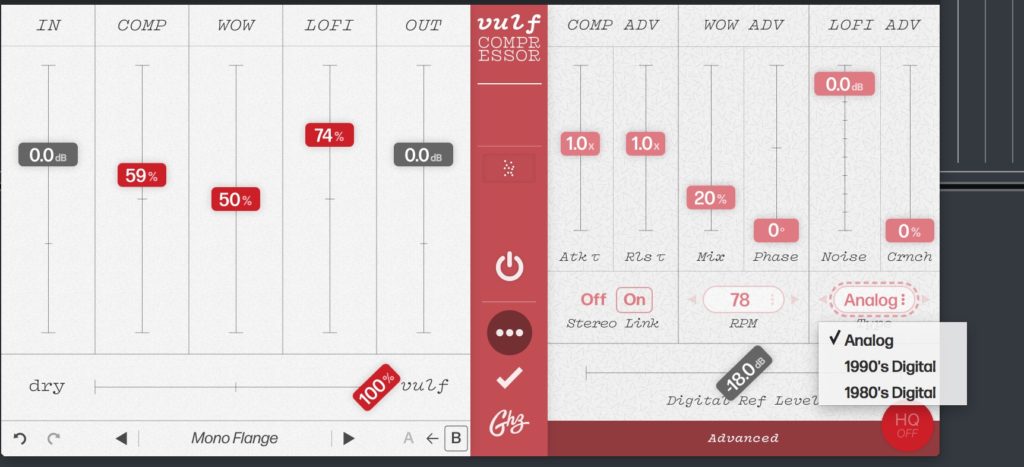 The Vulf Compressor produces compelling, and real sounding results to which you can add timbre choices and lofi effects. The lofi parameter adds rich harmonics with some lush smut or can be changed to a digital converter with aliasing.
As much as I enjoy a reliable, neutral EQ, sometimes I have to make a track shine. A coloring EQ that adds vibe is used on the stereo mix bus, master bus, and single instruments tracks.  Such coloring EQ needs to be adding harmonics and change the tone in a charming, musical direction. Good coloring EQ adds that vibe and keeps noise, harshness, and distortion at low levels. Vulf Compressor adds that color without the side effects.
Vulf Compressor includes some interesting presets, I really like the "Sad Wurli – So sad" one. Take your time to go through them – there are not many. I am sure when this preset would get its name these days I would not be such close to a twitter tweet.
There are many instruments were or the mix bus where you can attach an old retro vibe. For lofi lovers it works wonders on vocals and as a compressor add that nowadays analog vibe from the past days. Apply Vulf on percussion to have them striking through the mix. Vulf Compressor adds force and vibe to even the weakest sound.
User interface & Usability
This company found a very stylish design for all their plugins and keep the end user experience at the highest level when it comes to ease of use and to get to results fast.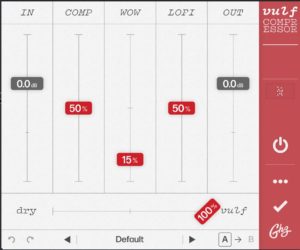 Rating:  Five out of five stars
The excellent Vulf Compressor adds an immediate lofi 80s sampler vibe. This software plugin is in combination with Wow and alternative for a retro sample like the Roland SP303 or SP404.