Sound Particles Review – a Particle System to Create Soundscapes by Nuno Fonseca
Sound Particles by Nuno Fonseca Review
With the Sound Particles application, you can create soundscapes with a particle system. It is a bit hard to understand what this excellent tool is all about. I will dumb it down in my review to allow most of you to understand what Sound Particles is easily.
Skywalker, Warner Bros, Universal, Technicolor, Sony, Fox, Formosa, Pinewood, Park Road Post, and others are using it or looking into using the tool. The list of movies where Sound Particles was used is already impressive.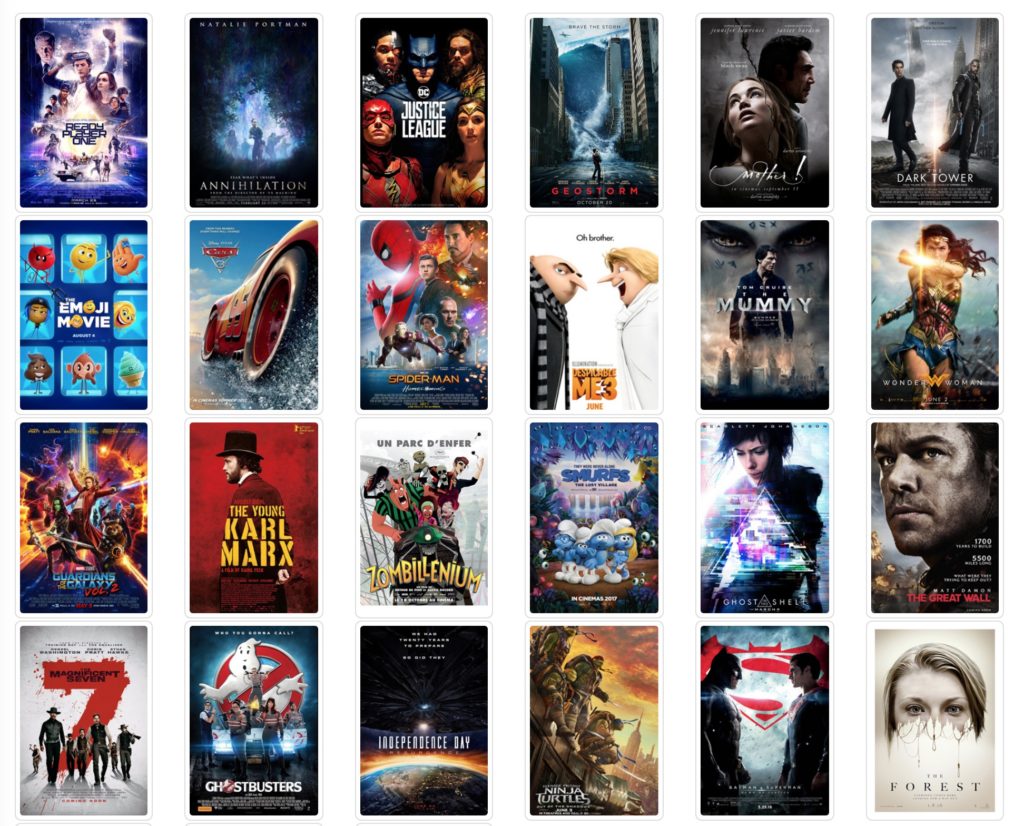 Video Games as Assassin's Creed: Origins (2017) and TV shows like Lost in Space have been enhancing the sound experience with this tool.

Overall the tool is accepted and used already in big productions around the world.
Nuno loves Cinema and everything regarding Sound, Image and Technology. He is a Portuguese college professor, with a Ph.D. on computer audio, and the creator of "Sound Particles" software (concept, code, design, etc.). After noticing that the most exciting VFX shots used particle systems, a CGI technique created initially been by LucasFilms for a StarTrek movie (yes, not Star Wars), he decided to create a particle system software but for audio applications. Nuno Fonseca did send a review copy with no strings attached.
Installation
Currently, this tool is available for MAC only, a windows version is planned for the 2.0 Release – Release 2 is planned to Q3 2018. As a standalone application, you do not run it in a DAW. There is development ongoing to release Sound Particles to AAX plug-in architecture (ProTools), first as a Native AAX plug-in (CPU) and later as a DSP plug-in. Other plug-in support may follow.
Sound
To describe this tool, you can imagine a battlefield where thousands of sounds are happening and hitting the talent in a scene. All those sound around you need to be placed. Sound Particles is doing this (and more) by creating particles around you; those particles can be moved and change in position. You would then assign sound effects (audio files) to that particles and render based on rule how the particles move a soundscape.
Sound Particles generates believable sound setup which you cannot create when it comes to massive scenes with thousands of possible sounds (think 500 soldiers, 100 Tanks, 50 stationary devices, 10 Planes)  need to be placed in a scene (in surround) to suck the audience into the movie.
IMAX support is planned to be added with Version 2; today Sound Particles supports mono or stereo, to 5.1 and Dolby Atmos 9.1 (bed), Auro 11.1/13.1, NHK 22.2, or  Ambisonics (including High-Order Ambisonics(HOA) up to 6th order). You can create custom speaker setups to cover the rest.
For good old music, scoring to picture you find some excellent tools and presets to create a pad and underscore that have moved. A great generator to produce a 10 minutes bed that is musical. This is my secret tool to create long pads that are moving and interesting.
The sound is essential and looks to most of us complicated VR, VR is supported and benefits significantly from this tool to manage and sculpt the sound.
Future
Sound Particle version 2.0 is in development; when you would obtain the tool now you get a free upgrade to version 2.0 (April 2018)
Expected 2.0 Features are:
Cross-platform support for both Mac and Windows
3D headphone monitoring
IMAX compatibility
Ability to import multichannel / ambisonics recordings
Multichannel templates
Mobile VR client support
User interface & Usability
You need to learn the UI first and then you can generate convincing soundscapes with ease for your next professional project. To have worked with particles in a 3D world application like Maxon Cinema 4D, Autodesk Maya/3DS, SideFX Houdini FX or Blender will help you to understand the concept of particles. I would recommend to fresh up your skills on particles to have the necessary understanding.
The support of GPU would benefit the program render times, like GPU accelerate the rending in tools like Maxon Cinema4D dramatically. If you like myself come from a 3D program background you did see the huge performance boost when rendering a GPU can provide, I did use particle systems in Cinema4D that thanks to the GOU run instead of crawl. Let's hope GPU support will be made available in the future.
Rating:  Five out of five stars
Sound Particles is a must have if you work as a professional sound designer in the movie, TV and game industries. This tool makes it so ridiculously easy to position sound around the audience and is unmatched in this industry. The heavy use in many current TV Shows and Movies talk about the value it provides.
With Sound Particles, I produce immersive soundscapes that would have been challenging without this tool. The support of industry-leading Immersive Sound Systems and the upcoming addition of new ones in Version 2 shows the value of this tool and the commitment of the developer.
Dolby Atmos Compatibility Releases for Sound Particles Space Controller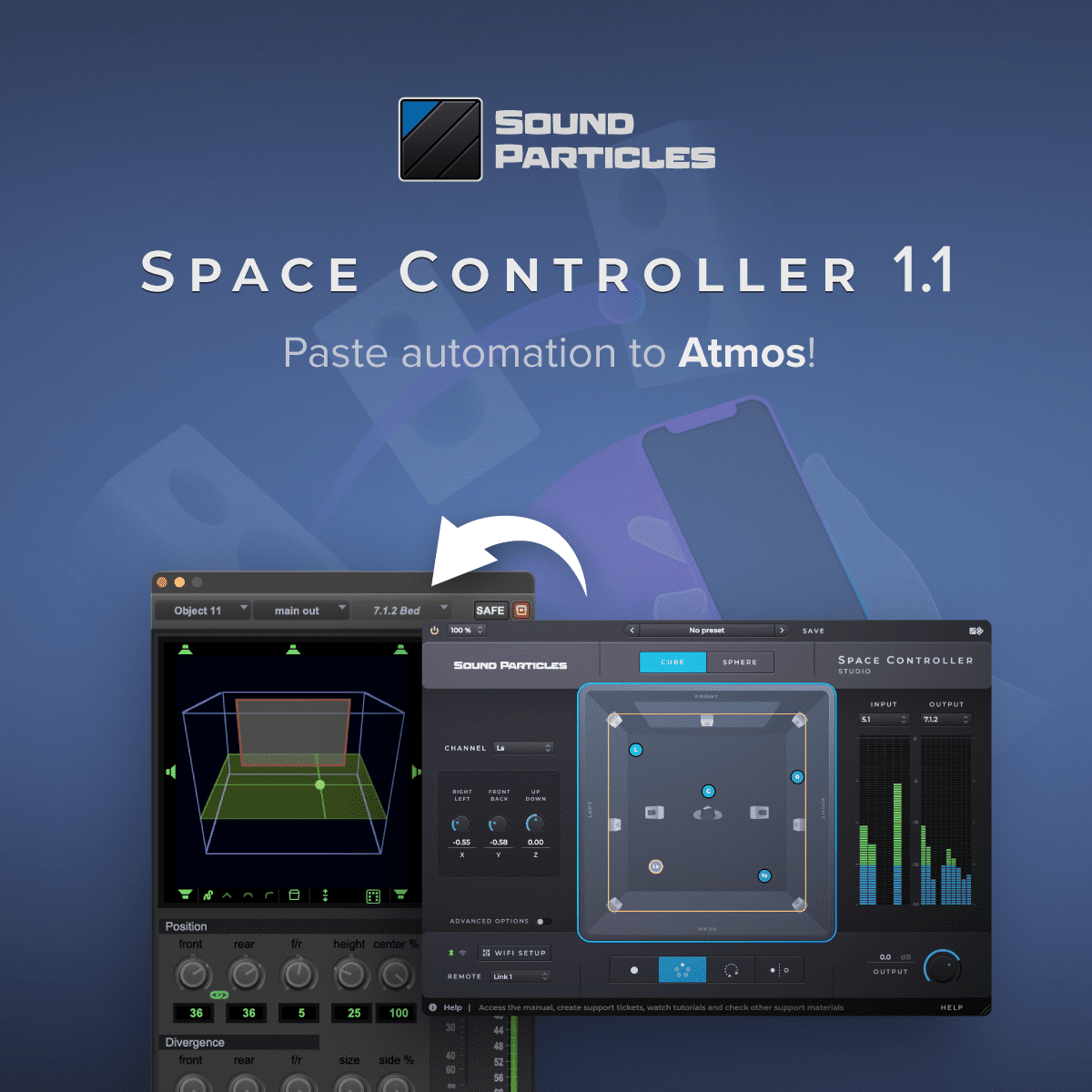 Sound Particles has been changing the paradigm of 3D audio software since its inception. The company's newest release, Dolby Atmos compatibility for Space Controller – a plugin that allows you to control where you want your sound to be by simply pointing your phone in the desired direction – is just another step in their evolution. This revolutionary technology will allow musicians and producers alike to create immersive soundscapes with unmatched precision and creativity.
With Space Controller 1.1, you can now copy automation from one track and paste it on another!
Space Controller is an innovative new tool that will help you to get the most out of your animation. Rather than having one big space for each object, users can do a pass with Space Controller and then copy automation over to their tracks – this way they'll end up with better detail in every area while still maintaining resolution- so there are no missed spots!
New features
Dolby Atmos – Create automation data with Space Controller and apply it to a Dolby Atmos-compatible panner 
LFE Control – It is now possible to control the level of the LFE channel 
Input/Output Layouts – New speaker layouts are now available 
Haptic feedback – the phone will vibrate to inform the user of certain special positions (e.g., center, left, left surround, etc.) 
New Links – The plugin and the app can now communicate using 128 link channels instead of 4. 
"This automation compatibility was requested by many users, which want to use Space Controller to control Dolby Atmos objects", says Nuno Fonseca, founder and CEO of Sound Particles. "Although we cannot control object directly yet, due to the limitations of current plugin architectures, we will continue to work with most DAW companies to find a solution in the near future" 
Dolby Atmos demands new experiences
Panning with knobs in stereo is perfectly fine. However, when working on the surround or 3D sound it can be much more difficult to get the results we're looking for and Space Controller is here as an easy plugin that lets you pan from one format all of those immersive formats such as home studio mixing stage!
Space Controller is the best way to pan sounds in surround and immersive. Simply connect your mobile device, use it as an audience member with a DAW (or any other program), point towards where you want sound effects coming from while listening through headphones – voila!
 About Sound Particles Company With a vision to use the power of computer graphics applied to sound, Sound Particles creates unique software used by top videogame companies and all major Hollywood studios in productions such as Game of Thrones, Frozen II, or Star Wars 9. 
Space Controller 1.1 is available starting November 19th through the Sound Particles store and authorized resellers for a discounted price of $49.5 for standard edition (up to 5.1) and $199.5 for studio edition (for immersive formats), plus applicable taxes, until December 6th, and supports AAX (native), VST, VST3, AU, AUv3. Full system requirements and additional product information can be found here.
Sound Particles Releases Brightness Panner Sound Design Plugin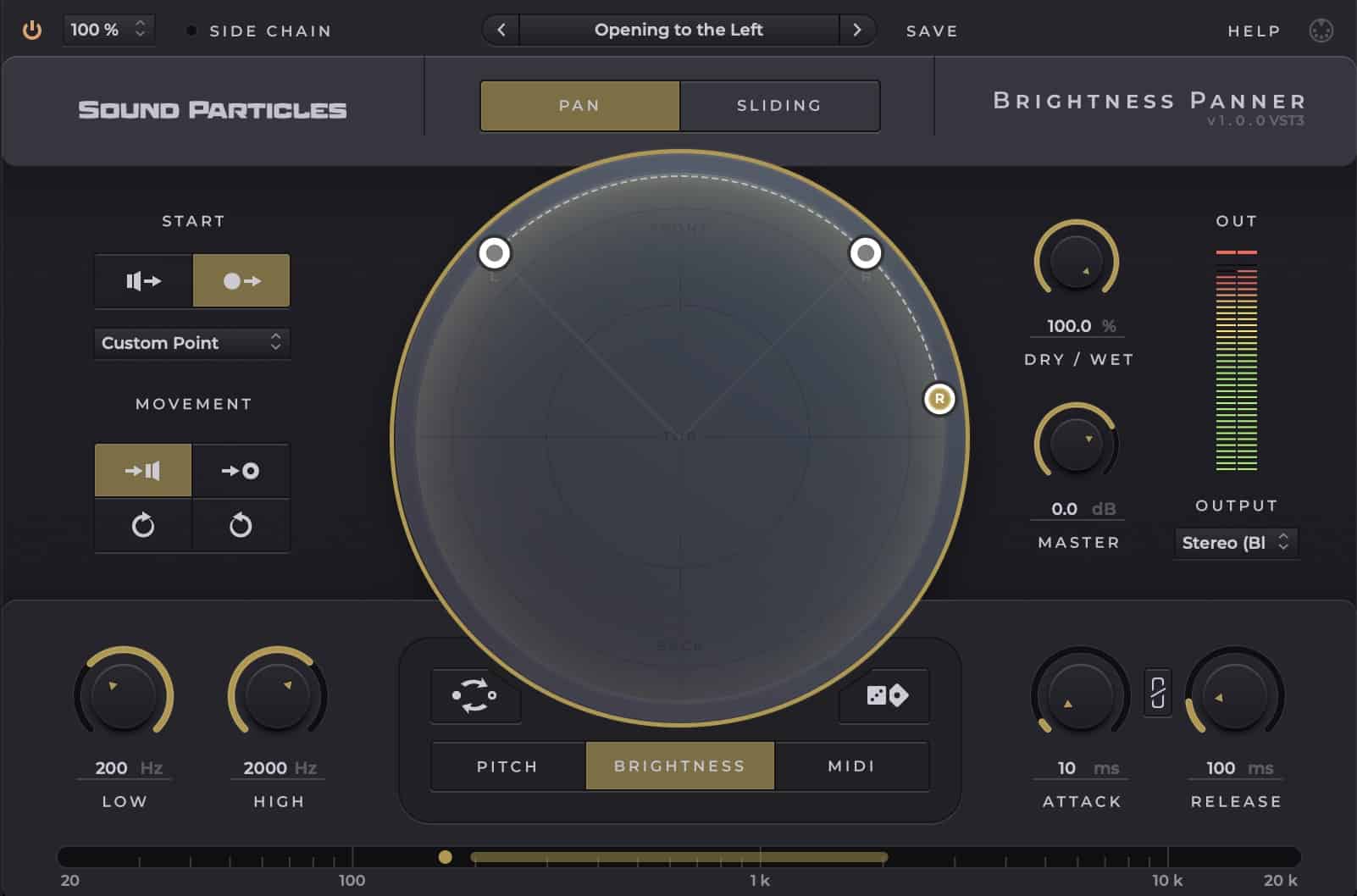 Brightness Panner Sound Design Plugin
Sound Particles, the software company that has been changing the paradigm of 3D audio software, is introducing another way to pan sounds with the release of a new plugin – the Brightness Panner. The Plugin allows you to use brightness, pitch or MIDI notes to control their movement automatically.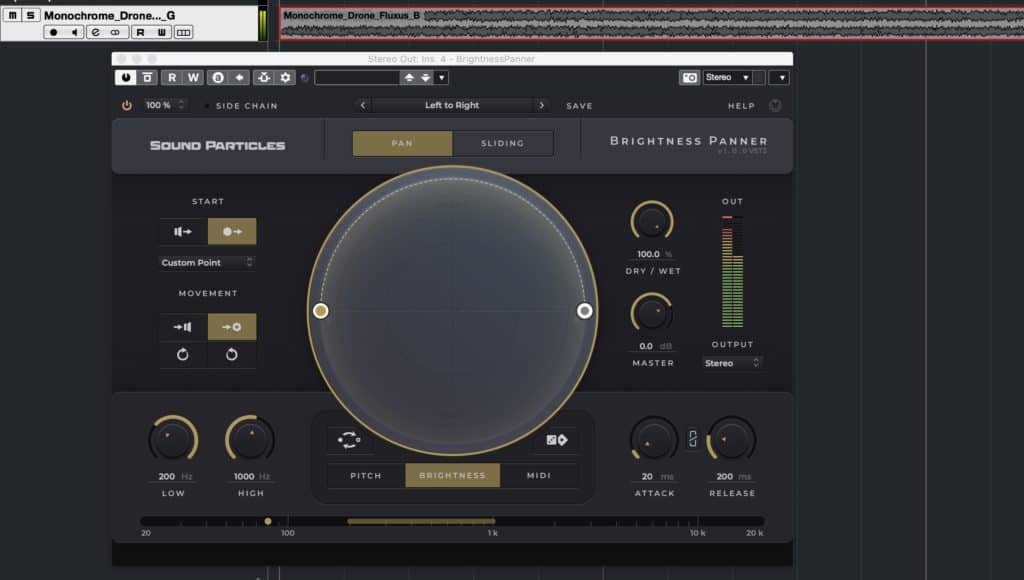 Brightness Panner is empowered to transform the way you use sound in space, enhancing your mixes by spreading sound around you. From traditional stereo to Ambisonics, from 5.1 to binaural, this plugin is a tool creative artists will want in their collection, from music to sound design and audio post-production. 
After the success of Energy Panner, which we released in January, it became clear that this idea of dynamic panning (changing panning through time) had a lot to offer.

Nuno Fonseca
---
Brightness Panner Features
Brightness Analysis – The plugin analyzes the spectrum of sounds to pan them in 3D
Pitch Analysis – The plugin identifies the pitch of sounds to pan them in 3D
MIDI Analysis – The plugin pans sounds in 3D based on MIDI notes
Stereo, Surround, Ambisonics, Immersive and Binaural Outputs – Use several output options based on virtual microphones technology
Dynamic Movement – Easily set how the sounds move, from custom points, speaker positions or to specific directions
Sidechain – Use external signals to control the effect of the plugin, instead of using the track's sound
Randomization – The randomize option outputs new results each time you click it
Frequency Controls Panning
Imagine panning being controlled by the pitch of music notes, the brightness of sounds or the MIDI notes you play. From music to audio post, Brightness Panner allows you to move sounds dynamically in a variety of reproduction formats — from stereo to surround 5.1 and 7.1, to Dolby Atmos 7.1.2, Ambisonics up to 3rd order, and Binaural.
Panning Mode
The Pan mode is essentially a normal end-to-end particle-based panning. This type of panning effect changes the position of the sound source between two points (start point -> endpoint) previously defined by you. Therefore, the greater the brightness or pitch shifts of the incoming signal, the greater the shift from the starting point to the endpoint.
Sliding Mode
Whenever the audio signal is within the frequency or pitch range, the sound source moves on a trajectory that you define. As opposed to pan mode, the sound source does not return to the starting point as soon as the signal falls outside that range. The sound source will freeze that position until the audio signal is back within the range again, leading to a new shift of the sound source in the dome space.
This unique audio plugin makes panning easier than ever, by applying movement to your sounds using Brightness analysis.
Pricing and Availability
Brightness Panner is available starting today – April 13th through the Sound Particles store and authorized resellers for a discounted price of $39 (plus applicable taxes) until April 25th, or as a bundle (with Energy Panner) for $59, and supports AAX (native), VST, VST3, AU, AUv3. 
Tutorial Energy Panner by Sound Particles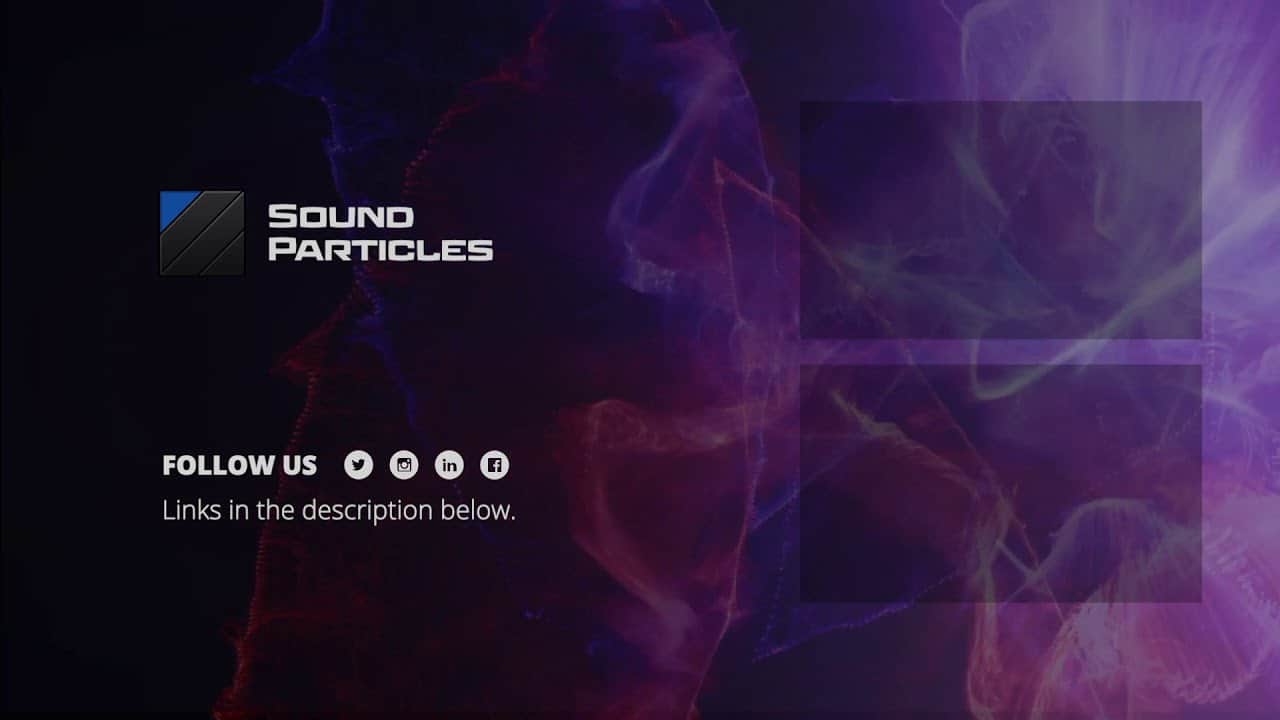 Energy Panner by Sound Particles
The plugin uses the intensity of a sound to control its movement automatically, providing any sound professional with a tool that combines dynamics with spatial definition, to modify and enhance mix elements, sound effects, and many more.
Sound Particles loves to explore sound and space. And yes, you can use traditional panners to move sounds around. Sound Particles are always trying to think about crazy ideas for new ways of handling space, and "Energy Panner" is one of those strange ideas – a panner controlled by the sound's intensity.
Energy Panner is available starting January 12th, 2021 through the Sound Particles store and authorized resellers for a discounted price of $39 (plus applicable taxes) until January 31st, 2021 and supports AAX (native), VST, VST3, AU, AUv3.
As an affiliate, we may earn a commission from qualifying purchases. We get commissions for purchases made through links on this website from Amazon and other third parties.
StrongMocha is a magazine for music producers, audio engineers, and sound designers. StrongMocha Magazine provides the latest industry news, reviews of gear and software, tutorials on recording techniques, and tips for mixing.