Plink 2 by Old Timer Review
 Plink 2  by Old Timer is excellent new library provides users with a luxury collection of 'plinky' sounds.
 Old Time did send a review copy with no strings attached.
Installation
You download the packages, and unpack the files in your preferred Kontakt Library location. The full version of Kontakt 5.8.0 or higher is required.
Sound
Plink 2 provides a wonderful selection of plinky sounds. To produce this instrument, Old Timer sampled a wide variety of origins, including classical and modern synths, selected guitars, a ukulele, a banjolele, a music box, toy instruments, a beaten-up piano plus 'found' sounds like kitchen glasses and a bicycle wheel.
Plink 2 includes:
A modular synth from Make Noise
Roland SH-09
Moog Little Phatty (Stage 1)
Buddhist Bells
Fender Mustang Bass
Fender Telecaster
Music Box
Tenor Ukulele
Kitchen Glasses
Bicycle Wheel
Banjolele
Ting
Piano 
The included sounds can be shaped with the on board FX tools or through the help of 3rd party effect plugins. I would recommend to try this route to create from this outstanding content even more unique tones.
These kind of special libraries add a specific spice to a composition and can be used in sound design as new unique sound sources.
User interface & Usability
Plink 2 introduces a redesigned UI, the interface created by Paul Lebküchner of Sound Aesthetics Sampling is simple to use.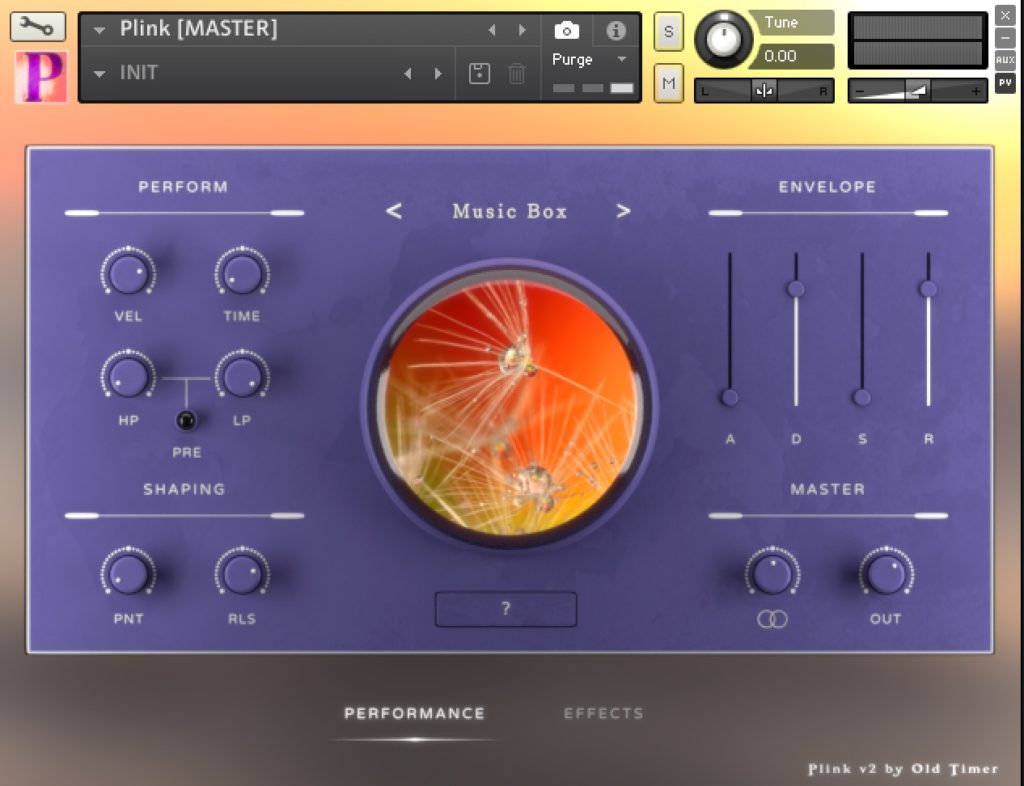 The effects included cover all basic needs, I would highly recommend to try your 3rd party toolset on top to further shape the sound.
Rating:  Five out of five stars
I love the sound of Plink 2, many of the acoustic sample instruments are hard to produce, but it is worth the effort as you hear clearly in this library. The approach of Old Timer production company and the sound of this library reminds me of Sound Dust. I look forward to Old Timer next releases covering similar great sounding virtual instrument. If the quality and tone continues on this level, we can look forward to some impressive and unique sound adventures.