FabFilter Pro-Q3 Plugin Review
Today we are reviewing the recently updated FabFilter Pro-Q 3. There are numerous EQ Plugins available these days, some emulating old hardware, some have a brand new concept to make your life as a mix engineer easier, and others copy the FabFilter look and feel. Now back to one of the original and industry standards: FabFilter's Pro-Q 3.
The Pro-Q 3 is an upgrade from the previous Pro-Q 2 in new and exciting ways. In addition to each of up to 24 EQ bands being either stereo, left, or right, you can now also designate mid or side on any or all of them. This allows for a more precise equalization of your tracks.
I was hesitant to change from my previous EQ plugin, but I'm happy that I did. Pro-Q 3 has completely revolutionized the way I mix. It's so simple to use and produces fantastic results.
The interface is also now resizable, so you can make it as big or small as you need it to be. Lastly, the Pro-Q 3 now comes with a spectrum analyzer, so you can see exactly what's going on with your sound. All of these new features make the Pro-Q 3 a must-have for anyone serious about its sound.
Whether you're a seasoned audio engineer or a bedroom producer, you know that EQ is one of the most important tools in your arsenal. And when it comes to EQ plugins, FabFilter's Pro-Q 3 is widely considered to be the gold standard. With its intuitive interface and powerful features, Pro-Q 3 makes it easy to get great-sounding results.
But what really sets Pro-Q 3 apart is some of its unique features, like mid/side mode and spectrum analyzer. Whether you're shaping individual tracks or crafting an entire mix, Pro-Q 3 is the EQ plugin you need.
The term EQ, or equalization, is used to describe the process of adjusting the balance of frequencies in an audio signal. While the concept of EQ dates back centuries, it was not until the early 20th century that electronic devices began to be commonplace in studios and live venues.
Today, EQs are an essential part of any audio setup, from home stereos to professional PA systems. While there are many different types of EQs available on the market, they all serve the same basic purpose: to help you get the best possible sound out of your system.
When it comes to choosing an EQ, there is no one-size-fits-all solution. The best EQ for your needs will depend on a number of factors,
EQs are such a personal matter. Many EQs we reviewed offer a difference mainly through coloring the tone. Almost a year ago we did review the Q2 version: FabFilter Pro-Q 2 – Equalizer Plug-In Review, we also did take a look at FabFilter Pro-L 2 – Limiter which I do recommend highly as well.
Besides all the different choices I would recommend using industry-standard plugins like Pro-Q3 by FabFilter and reaching out to EQ filter developed by Kush Audio, Brainworx, Acustica Audio, and others to add color and vibe. Existing FabFilter customers can purchase or upgrade to FabFilter Pro-Q 3 with very attractive discounts by logging into their online user account at www.fabfilter.com/myaccount
FabFilter developed many plugins which are considered not only by professionals as part of the best plugins for mixing and production. Pro-Q 2 is considered already a legendary EQ for the modern mixing world. FabFilter did send a review copy with no strings attached. FabFilter was founded in 2002 by Frederik Slijkerman and Floris Klinkert. The Company is based in Amsterdam, The Netherlands.
FabFilter Pro-Q3 – Installation
System requirements are Windows 10, 8, 7, Vista, or XP, and a VST 2/3 host or Pro Tools, or Mac OS X 10.8 or higher with Intel processor, and an Audio Units host, VST 2/3 host, or Pro Tools. Both 64-bit and 32-bit hosts are supported. The installer will copy the FabFilter Pro-Q 3 plug-in into the common VST, VST 3, AU (macOS only) and Pro Tools plug-in folders on your computer. The global plug-in folders in /Library/Audio/Plug-Ins are used on macOS.
FabFilter Pro-Q3 Review
FabFilter Pro-Q, which was first released in 2009, is renowned for its user-friendly design and high audio quality. With version 3, FabFilter takes Pro-Q to a new level with features like dynamic EQ, Dolby Atmos surround support up to 7.1.2 channels per band mid/side processing, and much more.
In this review, we'll take a closer look at the new features in Pro-Q 3 and see how they can help you get better sounding mixes.
Mid/Side Processing
Another new feature in Pro-Q 3 is mid/side processing. This allows you to apply EQ to the middle and sides of the stereo field independently. This can be useful for creating wide, open soundscapes or taming excessive stereo width.
Dolby Atmos Surround Support
Pro-Q 3 also adds support for Dolby Atmos surrounds sound up to 7.1.2 channels. This means that you can now use Pro-Q 3 to EQ your Dolby Atmos mixes directly in your DAW.
Auto Gain
With the new Auto Gain option, Pro-Q 3 can automatically compensate for any overall level changes that might occur when using the EQ in real-time, making it much easier to compare different settings. Simply click the Auto Gain button above the spectrum display, and Pro-Q 3 will do the rest.
Pro-Q 3 by FabFilter a wide range of features that a composer or a professional mix engineer requires: best-quality linear phase operation in addition to the zero latency and unique Natural Phase modes, smooth dynamic EQ, per-band mid/side processing, full surround support (up to Dolby Atmos 7.1.2), an intelligent solo feature, optional Auto Gain and a built-in, fully customizable spectrum analyzer. Uncommon features like Spectrum Grab, Full-Screen mode and EQ Match will speed up your mixing workflow.
Dynamic EQ mode
One of the most powerful new features in Pro-Q 3 is dynamic EQ. While standard EQ lets you boost or cut specific frequencies, dynamic EQ gives you the ability to set thresholds and ratios so that the EQ is only applied when the signal exceeds a certain level.
This can be useful for taming transient peaks, cleaning up the muddy-sounding low end, or even creating ducking effects. Dynamic EQ can also be used to automate EQ changes over time using the built-in envelope follower.
Pro-Q 3 adds the ability to switch any of its 24 bands to Dynamic EQ mode, with a simple, elegant workflow: just raise or lower the Dynamic Range ring around the Gain knob to apply smooth compression or expansion to that band.
An intelligent algorithm automatically chooses program-dependent attack, release, and knee settings, while the Threshold can be set automatically, according to the input signal level, or manually. And, of course, dynamic EQ bands continue to operate with perfect analog matching and support Linear Phase mode.
Other New Features
In addition to the new features mentioned above, Pro-Q 3 also includes a number of smaller improvements and bug fixes. These include a new spectrum grab mode, improved CPU performance, and support for HiDPI and Retina displays.
Pro-Q 3 adds to the previous Pro-Q 2 multitude of filter types with the all-new Flat Tilt shape, applying a flat tilting correction curve to the entire audible spectrum.
And for those occasions when even the super-steep 96dB/ octave roll-off slope isn't precise enough, the Low and High Cut filter types can now be set to Brickwall mode for the ultimate in top/bottom attenuation.
The brickwall mode in a sound attenuator is the ultimate in top/bottom attenuation. When this mode is selected, the unit will operate in a manner that will prevent any sound waves from passing through the unit.
This is accomplished by using a series of baffles that are placed at strategic locations within the unit. These baffles reflect and absorb the sound waves, preventing them from passing through to the other side. The result is a complete barrier to sound, making it an ideal choice for applications where complete noise reduction is desired.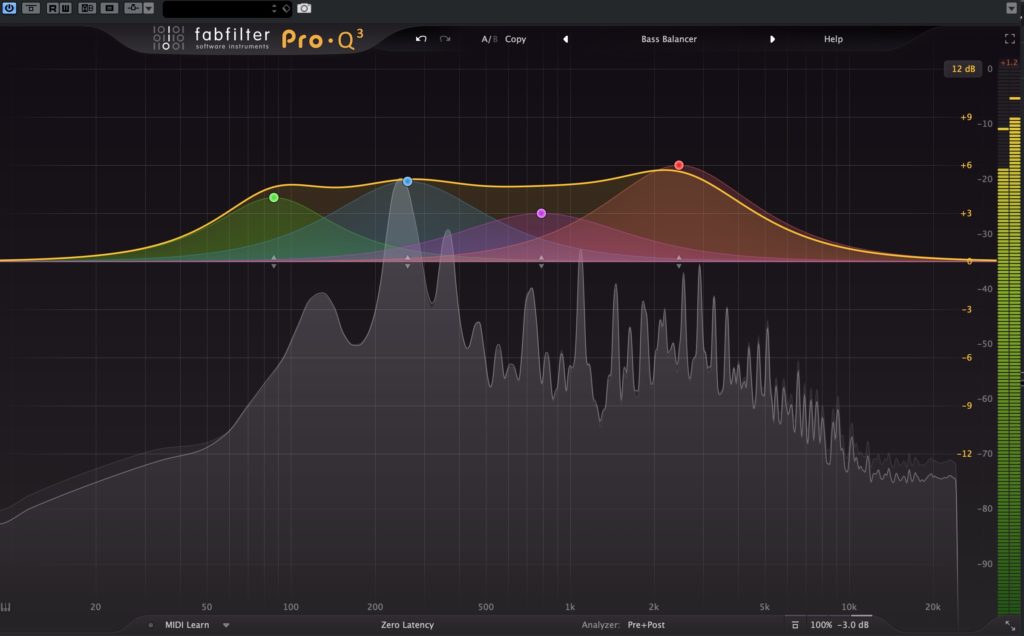 Pro-Q 3's spectrum analyzer makes it easier than ever to find and correct problem frequencies in the mix. Activate the new collision detection to view clashes between the source signal and the spectrum of any other Pro-Q 3 instance in the session, and get an instant handle on the most important peaks in Spectrum Grab mode with frequency/note labels.
Compared to Pro-Q 2 new features Pro-Q 3 are:
Optional Dynamic EQ mode for all bands (Bell and Shelf shapes), using any slope setting and with perfect analog matching
Ultra-steep 'Brickwall' slope setting for LP and HP filters
External spectrum visualization from any other Pro-Q 3 instance, including collision detection
Per-band mid/side or left/right processing, you can EQ the mid, side, left, or right signals separately
Flat Tilt filter shape, a flat tilting correction curve over the whole audible frequency spectrum
Pro-Q 3 Improvements
The previous incarnation, Pro-Q 2, is an obvious goto EQ for a great many sound engineers. If you have accumulated any sort of tool belt, then you likely have Pro-Q 2 handy as one of your first options.
The updated version brings with it some very impressive new features whilst retaining all of the aspects that made it so beloved in the first place. In this review, we'll be taking an in-depth look at what's new and improved in Pro-Q 3, and whether or not it's worth upgrading from Pro-Q 2.
To get started, let's take a look at the interface. One of the first things you'll notice is that it's been given a complete redesign. The new interface is large and in charge, making it easier than ever to see exactly what's going on with your EQ. All of the controls are still there, but they're now much more clearly laid out and easy to access. Another new addition is the ability to switch any of the 24 bands to Dynamic EQ mode. This is a great addition.
The Pro-Q 3 is a big upgrade from its predecessor. In addition to each of up to 24 EQ bands being either stereo, left, or right, you can now also designate mid or side on any or all of them. This is a really big deal because it means that you can target specific frequencies in the stereo field with surgical precision. Another great new feature is the ability to solo EQ bands.
This is incredibly useful for zeroing in on problem frequencies and hearing exactly how your changes are affecting the sound. Overall, the Pro-Q 3 is a massive upgrade from the previous version and well worth the investment.
In comparison to Pro-Q 2, the following are changes:
Gorgeous Retina interface with large interactive EQ display, multi-band selection and editing for maximum ease of use and efficiency
Filter shapes: Bell, Notch, High/Low Shelf, High/Low Cut, Band Pass, Tilt Shelf, Flat Tilt
EQ Match feature to automatically match the spectrum of another Pro-Q 3 instance or an external signal
Built-in spectrum analyzer with Pre-EQ, Post-EQ and external spectrum visualization, adjustable range, speed, resolution, tilt, freeze and collision detection
Spectrum Grab: just grab and adjust a peak in the real-time spectrum analyzer right away!
 Supports stereo, mono and surround channel layouts (up to Dolby Atmos 7.1.2)
MIDI Learn with an option to control the currently active band
Since its release, FabFilter Pro-Q 3.01 was released to address some issues found while testing and using the plugin. All issues that have been addressed can be found here.
FabFilter Pro-Q 3 – User interface & Usability
Filters from FabFilter are designed in the same manner as their other plugins, which is to say they're using an interface style that's recognizable across all of their products.
In many ways, the different types of compressors can be thought of as members of a family. They may have different names and slightly different functions, but they all work towards the common goal of reducing dynamic range. As such, becoming familiar with one type of compressor will make it easier to learn how the others work.
This is because the essential principles are the same, even if the specific details may vary. For example, all compressors have an input signal, a threshold, a ratio, and an output signal. The only difference is in how these elements are adjustable and what effect they have on the signal. As such, once you understand how one type of compressor works, you will be well on your way to understanding them all.
The earlier the second version is one of the most favorite EQ plugins in the box for professional engineers & producers. That lead position was achieved due to its look and feel and the genius Interface design that initiated many me-too products. Many other EQ Developers did follow the design lead and made their look similar to the FabFilter products.
Pro-Q 3 offers a FabFilter like and unique GUI which makes it very easy to shape the tone as needed. Every level from beginner to pro mixing engineers will be able to receive excellent results supported by this Interface. The EQ display fills the whole plug-in window and lets you easily create and adjust EQ bands.
I did see comments that Pro-Q 3 would be replacing iZotope Neutron.
Izotope's Neutron and Pro-Q 3 are two very different plugins. Pro-Q 3 is an EQplugin while Neutron is a mixing and mastering plugin. They are both great for their respective purposes, but I would not say that one is replacing the other.
Pro-Q 3 is more of a traditional EQ plugin with a few unique features, while Neutron is geared more towards mixing and mastering. I use both plugins in my workflow and they complement each other well.
If you're looking for an EQ plugin, then I would recommend Pro-Q 3. If you're looking for a plugin that will help you with mixing and mastering, then I would recommend Neutron. Both plugins work in coexistence.
Pro-Q3 is a perfect update to a universally embraced EQ processor. The Pro-Q 3 keeps its position as the leading EQ.
Conclusion
When it comes to digital EQ plugins, there are few that can rival the quality of FabFilter Pro-Q 3. This top-shelf plugin has been a mainstay in the industry for years, and its latest update includes some seriously impressive new features.
Firstly, the new 'dynamic' mode adds talk suppression and a real-time spectrum analyzer to the already impressive list of tools at your disposal.
Secondly, the updated interface makes it even easier to get great results, with a clear and concise display that keeps everything within reach. Lastly, the new 'match' function makes it a breeze to find the perfect EQ setting for any track, whether you're working with vocals, drums, or anything.
This is by far the finest EQ plugin I've ever used. It's helped me improve my mixes to a degree of clarity and exactness that I didn't believe was possible. Pro-Q 3 is a must-have item for any audio producer or engineer.
Rating:  Five out Of Five Stars
The results you can achieve with FabFilter Pro-Q 3 are sonically excellent. This EQ plugin delivers outstanding results while staying incredibly efficient with the CPU load. FabFilter's 3rd gen EQ plugin comes with essential and useful enhancements.
Pro-Q 3 has pushed the famous Pro-Q 2 from its leading position as the standard EQ plugin in many in-the-box music productions. Pro-Q 3 combines resulting in exceptional sound and ease of use through the intuitive Interface.
Pro-Q 3 is the latest release from FabFilter, and it is a powerful equalizer plugin that can be used in a variety of different ways. One of the most useful features is the ability to apply dynamic EQ to specific frequencies. This can be particularly helpful when trying to balance the levels of different instruments in a mix.
FabFilter Pro Q 3 is the ultimate EQ plug-in for shaping and sweetening your sound. The intuitive interface makes it easy to find what you need and when you need it, and the comprehensive feature set gives you total control over your frequencies.
The Frequency Collision feature helps reduce masking, while the flexible spectrum display with cross-plugin spectra lets you see how your EQ settings will affect other plugins. And with its clean sound quality, FabFilter Pro Q 3 is perfect for both mixing and mastering.
Another great feature is the sidechain input, which allows you to use an external signal to control the EQ. This can be very helpful for creating pumping effects or for taming rogue frequencies. Overall, Pro-Q 3 is a very versatile plugin that can be used in a variety of different ways to improve the sound of your tracks.
This EQ provides you with a high sound quality, many key features, and an impressive interface to do the job of mixing fast and intuitively.
This is without a doubt the finest EQ I've ever used. It's very adaptable and sounds fantastic on everything.