Walker by UVI Review
Walker is a complete and adaptable footstep foley tool for film, games, ads, and post-production. Walker was created to create realistic foley sounds quickly. UVI did send a review copy with no strings attached. Walker is not about Moonwalk; it is all about adding tension and dynamic to scenes.
Installation
After purchase you register a code with UVI and download the instrument, a quick iLok activation is needed. Walker runs in UVI Workstation version 3.0.3+, and Falcon version 1.6.2+
Sound
WALKER is a foley library, foley sounds are needed for movies when you need to add sounds that are not available for a scene. Any foley and post-production professional will need new sounds made by walking around in different spaces. Created on a library of over 25,000 samples, Walker lets you pick any blend of 3 different mic pairs (placed near and far), 6 types of shoes, 14 surfaces with ground effects and 8 varieties of clothing. With Walker, you are the Foley artist in post-production.
Realistic and customizable footstep sounds for film, video and post-production
Includes 6 shoe types, 14 surfaces with texture layers and 8 clothing materials
Optimized workflow with 100 presets organized by location
With the effect tool, you can perform steps in perfect sync with your movie source. To create an even more believable sound you want to adjust the volume of clothing, shoes, scuffing, floor and ground effects like creaking wood, dirt, leaves and branches, and water.
The sounds of legs brushing together and fabric movement during steps. Select from 8 material options including jeans, cotton, leather, leather with metal, polyester, raincoat, synthetic and tweed.
Six different shoe types can be selected – a few more I have myself: men's dress shoes, heels, work boots, trainers, boots and bare feet. Choose shoe squeak variations, adjust step volume, volume variation and pitch.

Foley sounds are definitively needed, so far when I did need such sounds, I did reach out to BoomLibrary or Film Riot/ Triune Sound. With this tool, I can enhance scenes with the much demanded sonic reality.
User interface & Usability
The Interface is fully designed to help a professional sound artist to produce foley sound. You pick a shoe, surface, pants fabric and some special sauce like EQ, compression and reverb. Then you hit the floor running or if required walking…
Some direct Tips and Tricks from UVI foley Experts
Learning to Walk
To use Walker, alternate between C2 and E2 keys, which are regular left and right footsteps
Between these two notes, the D2 plays a "Stop", which is when the foot rubs against the floor
B1 and F2 keys play "Scuff" which are less perfect footsteps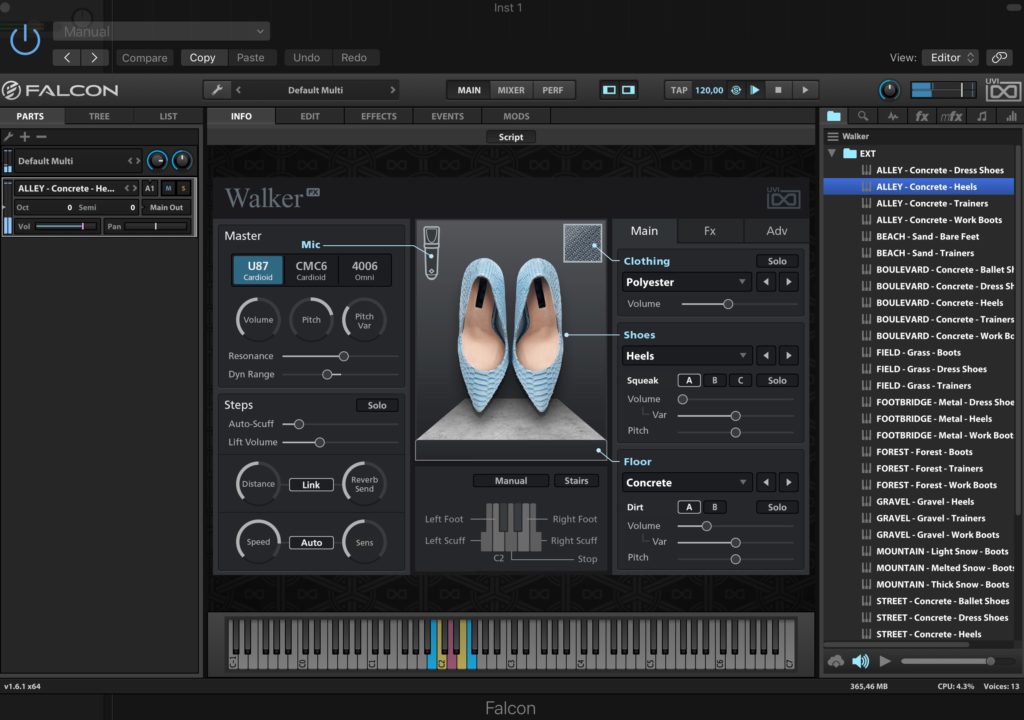 Blend Heel and Toe
Footsteps are composed of two samples played successively, called "Heel" and "Toe." If you want to bring these two sounds closer together for more realism, try increasing the Sens knob until Heel and Toe almost overlap when you play, and then, on the Adv page, lower the gain of either the Heel or Toe sound.
Distance
To match most of the scenes in movies, you will certainly have to turn the Distance more than halfway. Footsteps will naturally sound less in your face, with smoother transients and less presence. Your MIDI Modwheel is automatically assigned to the Distance knob which is convenient to change it very quickly and to make automation while you are recording.

Reverb
Concerning reverb, Walker uses a highly-optimized convolution-based reverb which will sound just right in most cases. You can tweak it in the Fx page. If you want to use another reverb in your DAW instead, unlink Distance and Reverb Send, and set the send value to zero.
Tweak the Footsteps in a Few Clicks
Starting from any preset, if you want to quickly modify how your footsteps sound:
Color: switch between the 3 microphones, change the pitch
Enveloppe: tweak the Resonance; shorter to have a little decay and a tight result, longer to be less chirurgical and more natural
Dynamic: the Compressor in the Fx page is simple but efficient, lower the Threshold and the dynamic is immediately contained
EQ is the Key
Don't hesitate to mess with the EQ in the Equalizer section, which is pre-reverb, and can drastically change your footsteps' sound. The second EQ, in the Reverb section, is post-reverb and it affects the feel of space.
Dynamic Range
If the character on-screen is thin or small, try to bring the Dyn Range slider to the left and increase the Pitch by a few semi-tones. On the contrary, if the character is more plump, bring the Dyn Range to the left and lower the Pitch.
Stairs Mode
The Stairs Mode simply inverts the Heel and Toe when you play, so that you hear the Toe then the Heel.
Rating:  Five out of five stars
Walker by UVI is a complete foley design tool that includes everything a professional foley artist needs to produce lifelike footstep and movement sounds. Walker was designed from end-to-end for a professional foley and sound-effects artist to meet the demanding tasks of the next job. It is a library for professionals.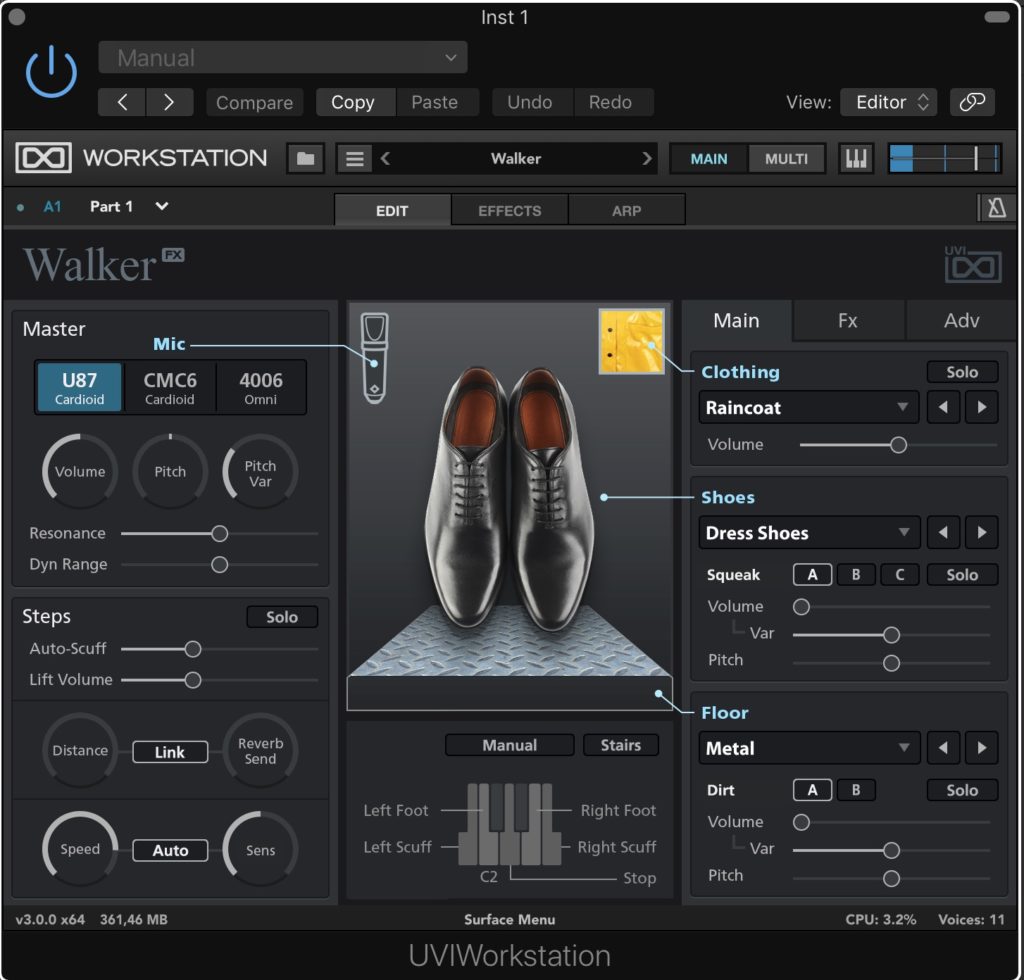 UVI's Walker is an amazing tool for sound production effects that you need in the post-production without spending money on building a foley studio.