If you have a story to tell, a podcast is a great way to share that with the world. People are always looking for good stories, and they're even more likely to listen when they can hear them in their ears as they commute home or do chores around the house. But how do you start with a podcast? It's not as hard as you might think to start a podcast. In this guide, we'll walk through every step: from brainstorming your show idea through making it live on iTunes and other platforms.
The first step to starting a podcast is to find out who your ideal listener is. This could include looking at the age, occupation, and social life of your ideal listener. This will help you decide the topic you want to discuss.
Choosing a Topic for A Podcast
Choosing a topic for your podcast is an important part of the podcasting process. This step should be based on your passion. For example, if you are passionate about running a fitness studio, you may choose to host a podcast on healthy eating. You may also consider hosting guest speakers or doing product reviews. Choosing a topic that will be popular with your target audience is crucial to the success of your podcast.
While there are a number of options for topics, you should keep in mind that good topics are those that are emotionally engaging and will leave your audience in awe. They should inspire hope, suspense or sadness in their listeners. You can also listen to popular podcasts to get an idea of what makes a good show. You will soon notice that great podcasts are driven by the passion and enthusiasm of the host.
Picking a topic for a podcast is not an easy task. Millions of podcasts cover the same topic and it's difficult to stand out among the crowd. It's crucial to find a differentiator that will set you apart from the other podcasts. There are many strategies and tips that can help you choose the right topic for your podcast. However, it is important to remember that you need to consider the level of expertise you have and the time you dedicate to your podcast.
Podcasting is a great way to get started if you are new to the hobby. You can then create episodes that are based on your passions and the interests of your listeners. Another option is to use a multi-media platform like Podcastle. Podcastle allows you to record high-quality audio interviews and offers AI-powered sound editing tools.
Pick a Topic or Theme
When picking a topic, it's important to remember that podcasts are an audio medium. You can't rely on visuals—you have to be able to talk about your topic and do it in a way that's entertaining for the listener. That means you should pick something that's interesting enough for people to want to listen.
It also helps if there's substance behind what you're talking about—if people can actually learn from what you say, or get some insight into their own lives (or other lives).
You might want your podcast to be educational, like a show about science or history; or maybe it'll just be entertainment-based, like an interview show with comedians; or somewhere in between, like a weekly chat with friends about pop culture topics.
Think About What Makes Your Podcast Special
The first step to starting a podcast is to think about what makes your podcast special.
What is the unique selling point of your podcast? Why should people listen to your podcast instead of any other one? What do you have to say that is different from other podcasts out there?
Choose a Co-Host
Choosing a co-host is one of the most important decisions you'll make when you start a podcast.
Fun to be around: You want someone who makes working together fun and easy. A good co-host will know how to keep things light and positive, as well as give constructive criticism when needed.
Trustworthy: Your partner must be someone you can trust at all times, both for their integrity and their abilities. You'll need them to have your back during interviews and other high-pressure situations; this person should also be able to work independently without constantly asking for guidance from you every step of the way (although asking questions from time to time is always okay).
Has the same goals as you: Make sure that your co-host has the same goals for your show before committing yourself fully into working with them—otherwise, it could end up being an awkward situation where neither of you are happy with how things are going down on air!
Works well with others: This point might seem obvious, but finding someone who gets along well with other people is essential if they spend hours each week recording together!
Decide on The Format of Your Show
You're ready to start a podcast, but you have some decisions to make. You need to decide on the format of your show. Do you want it to be a lighthearted chat show? Or would you rather have something more serious and in-depth? If so, how long will each episode be and what will it cover? Do you want the audience to be able to hear themselves talking or do they need background music for their voices?
These are all important questions that should be addressed before recording begins.
Choose the Equipment You'll Use
There are a lot of ways to get started with podcasting, and the equipment you use depends on how you want to record your show. If you're taking a DIY approach, it's pretty easy to find what you need: smartphones and tablets have built-in microphones that can easily record interviews, and digital voice recorders are also cheap. If you'd like something more professional-looking, though—or if you'd like to be able to cut out ambient noise from outside sources like fans or AC vents—then consider investing in an XLR microphone (which plugs directly into a computer), an audio mixer that lets you connect multiple devices at one time (like for recording live shows), or even a USB microphone (which can be used with just about any device). Once again, there are plenty of options out there!
As far as software goes: We recommend Hindenburg Journalist Pro because it's powerful yet easy enough for beginners—but if this is too much work for now then try using GarageBand instead!
Choose a Name and Artwork for Your Podcast
When picking a name, keep these things in mind:
It should be easy to spell and pronounce. People might misspell it on purpose or accidentally leave out a letter. If your podcast is called "The Podcast with Joe Smith," people might write down "Joe Smith Podcast" instead of typing in the full name of your podcast.
Your podcast's title should be unique and memorable so that listeners can find you easily when they search iTunes or Google Play Music. If someone has told you about another similar show before, don't use the same title; otherwise, listeners may get confused about which one they're listening to when checking out your show.
Try not to choose names that are already being used by other podcasts because this could cause confusion among listeners who are looking for new shows on their favorite platforms like iTunes or Stitcher Radio. You can check if another podcast already uses your chosen title by searching for it on Google Play Music (you'll need an account). Then try entering some keywords into the search field until results appear; see if any come up with similar titles as yours (if yes then its best not pick one). If no results are found then congratulations! That means no one else has beat you too it!
Choosing a name for your podcast
It is a crucial step in promoting your podcast online. It should reflect your podcast's tone and style. A strong brand name can help you attract new subscribers. You can also promote your podcast by using a personal name.
The most important thing to remember when choosing a podcast name is that it should be memorable. While it may be tempting to use an intriguing or creative name, remember that people may not remember it easily. You can find a memorable and catchy podcast name by using common words that listeners use in everyday conversations.
If you have an idea for a podcast about coffee, you can start with a simple word like coffee. However, you should check that this phrase is available and does not violate any trademark or copyright laws. Before choosing a podcast title, be sure to check that another podcast does not already use it.
If you find a name you love, you should check that it is available. You should avoid using a name already used by another podcast. If you find that a name is already being used, you can contact the show owner to ask if they would change the title. Otherwise, you should go back to the drawing board.
Choosing a Logo for Your Podcast
The first step in starting a podcast, is choosing a logo. You want your logo to be memorable and catchy, and it needs to be clear and simple. Ideally, it should also have distinct graphic elements that make it stand out from the crowd. Consider your audience when designing your podcast logo. Choose a design that speaks to them.
The logo should be versatile and age well. A logo that is dynamic and unique can also be useful in the future. It should also be easy enough to modify colors and create variations. Here are some tips to help you choose a podcast logo. Create a mockup design
First, choose the most appropriate size. Most podcasts are downloaded on phones, so make sure the logo is large enough to show up on large screens. This will give the podcast depth and texture. Also, make sure to choose a file format that is suitable for scalability. Your podcast logo will be visible on many devices by using a JPEG/PNG file.
Second, ask for outside input. Even though you may have been thinking about your podcast logo for a while, it can be very helpful to get outside input. Ask your friends, colleagues, or even social media users to give feedback on the artwork.
Set up An Account on A Podcast Hosting Site
You'll need a place to host your podcast, and there are many different sites that can do this. Many people choose Libsyn because it's inexpensive and easy to use. Check out some other options before you make your choice, though, because they all have different features and pros/cons.
The most important thing is that the site has good customer service—the last thing you want to deal with is having technical difficulties or getting stuck in the nitty-gritty of doing something yourself when you're just trying to launch your podcast!
It's Not as Hard as You Might Think to Start a Podcast
If you've never considered the idea of starting a podcast, it's time to reconsider. Podcasting is easier than ever. It's a great way to share your voice with the world and build your personal brand as well as make money.
That said, it does take some work, but nothing that can't be achieved in a few hours per week (or less). All you need is an idea for a show and some basic equipment:
A computer with microphone inputs or an external mic. If all else fails, just use Skype on your mobile phone!
A quiet place where no one will interrupt you while recording or editing (e.g., bedroom or basement).
Choose a Cadence to Use in Your Podcast
Establishing a strong relationship between your listeners and your podcast is crucial. Some podcasts publish new episodes daily, while others release a new episode every other week. It doesn't matter what podcast you are listening to, it is important to choose a cadence that suits your needs and builds trust. When choosing a podcast cadence, there are many factors to consider.
First, decide the frequency at which you will release your podcast. A weekly podcast is the best frequency. Otherwise, you can choose a daily cadence of two to three days. If you want to post more often, a monthly cadence is an option. Remember that podcast promotion is a long-term process and will take some time. Therefore, you should be patient when choosing a cadence.
You should also choose a cadence that is consistent with your brand's marketing strategy. Consider the buyer's journey and how your podcast can help you achieve your sales, marketing, and service goals. It is important to make sure your podcasts serve these goals so that you can achieve the best ROI possible.
Finally, make sure you choose a cadence to keep your listeners coming back for more. Your podcast's cadence will depend on the type of content that you are creating. A bonus episode may be an excellent option if you are promoting a new album or an upcoming event. A monthly cadence helps keep your listeners coming back for more.
Choosing a Social Media Profile for Your Podcast
There are many social media platforms that you can join to increase your podcast's exposure. It is important to choose the right social media platform for your podcast. You don't have to join them all at once. Instead, use the tips below to choose the right one. If you have more than one podcast, consider having separate social profiles for each of them.
Instagram – This platform is excellent for promoting your podcast. You can use the hashtag feature to group posts by specific topics. This makes it easy for you to reach a wider audience. You can also create your hashtag and share your guests' content using it. However, it is important to avoid overusing hashtags. Only use up to 15 hashtags per post. If you're going to use more than 15, make sure you mix different types of hashtags.
Selecting a Guest for Your Podcast
The creation of a podcast requires that you choose a guest. You want someone interested in your topic and can engage your audience. You should look for someone who is an expert in your field, and has a large following. This will help you build rapport with your guest and make the conversation more natural and exciting for both of you.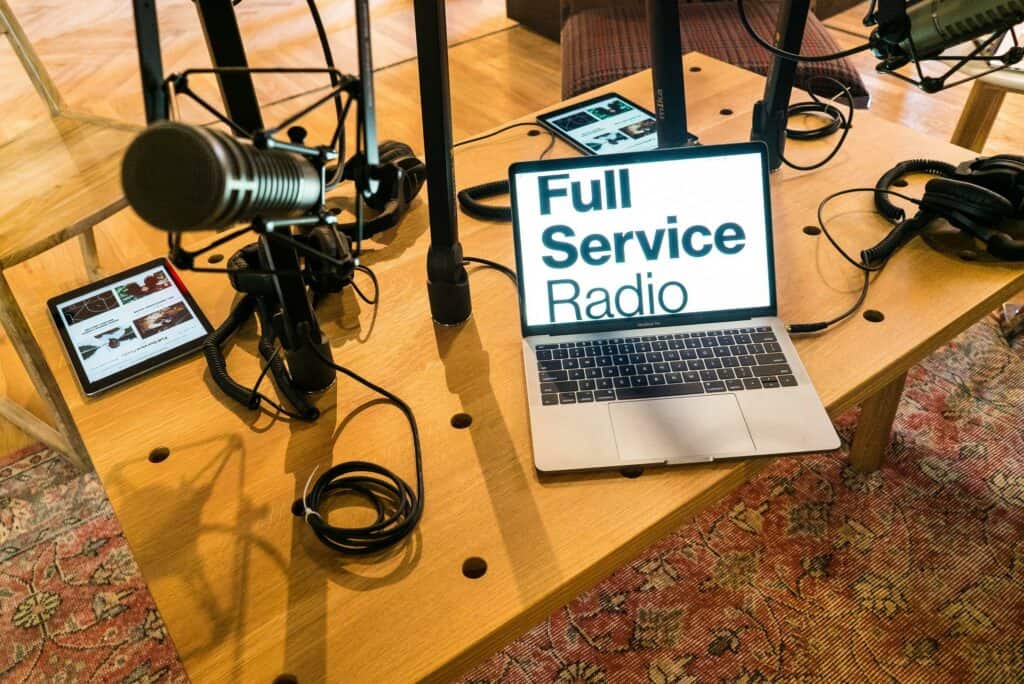 Another great place to find guests for your podcast is social media. For instance, you can join LinkedIn Groups. You can also post links to your self-published content in a group and network with other members. If your podcast is focused on a particular niche, you can ask members of the group for topic ideas and get in touch with them. This will allow you to build a relationship with potential guests, which could lead to a conversation that could become a guest on your podcast.
Before approaching a potential guest, make sure you've built a relationship with them through social media. Make it a point to read their blog and share it with your followers. They will appreciate your attention.
Conclusion
We hope we've given you some ideas for how to start a podcast. If you want to get started right away, here are some resources we recommend looking into: 6 (Not So) Easy Steps to Start a Podcast and our up to date articles about how to select the right microphone and other "stuff" you need.