Clarett 8Pre USB is Focusrite's USB Flagship Audio Interface
With the Clarett 8Pre USB, Focusrite introduced into the market an audio interface with USB support and extraordinary quality at an attractive price tag. We also did look at the Clarett 8PreX see for the full report Clarett 8PreX by Focusrite – a Thunderbolt Audio Interface Review.
The USB Interface Clarett 8Pre USB offers 18 inputs and 20 outputs. 8Pre USB is an audio interface, excellent for a semi-professional or professional studio. Focusrite did send a review unit with no strings attached.

The Clarett 8Pre USB as an audio interface connects microphones, instruments, line-level audio signals and digital audio signals to a MAC or PC through the computer's USB port. Dynamic inputs signals are routed to your DAW (Digital Audio Workstation) and the outputs from the DAW are configured as the unit's physical outputs.
In conjunction with the Focusrite Control application, you now have a highly versatile and professional solution for routing high-quality audio to and from your DAW. You can route and set levels, pull in the different features like AIR and define the type of the input.
Installation
On a MAC the installation is easy, you need to install the Focusrite software tool, reboot your MAC and the device works with your MAC computer. I did see the issue where the Focusrite software tool called Focusrite Control on my MAC did only see the device after a reboot.

Sound
Clarett 8Pre USB, one of Focusrite acknowledged USB audio interfaces including high-quality Clarett analog pre-amplifiers with the excellent AIR function.
Clarett 8Pre USB extends an outstanding sounding interface with eight mic preamps eight outputs. The unit supports a 118dB dynamic range, low noise, precision 24-bit/192kHz resolution and mic preamps with an analog Air effect. The used Preamps are fabulous and very clean and do not add any character. The unit offers low latency, you can only get a lower round trip with the Clarett 8PreX. While testing latency was never an issue.
Preamps
The preamp sounds incredible, why is that significant you ask? With other budget audio interfaces, you could have the issue that the preamps are less clear or they run into issues with increased gain. The sound quality of the high-end converters in this unit is absolutely surprisingly impressive. The quality of the stereo output of the audio interface is as good as anything I've heard. The quality of the converters on the Clarett is just amazing you can certainly hear it.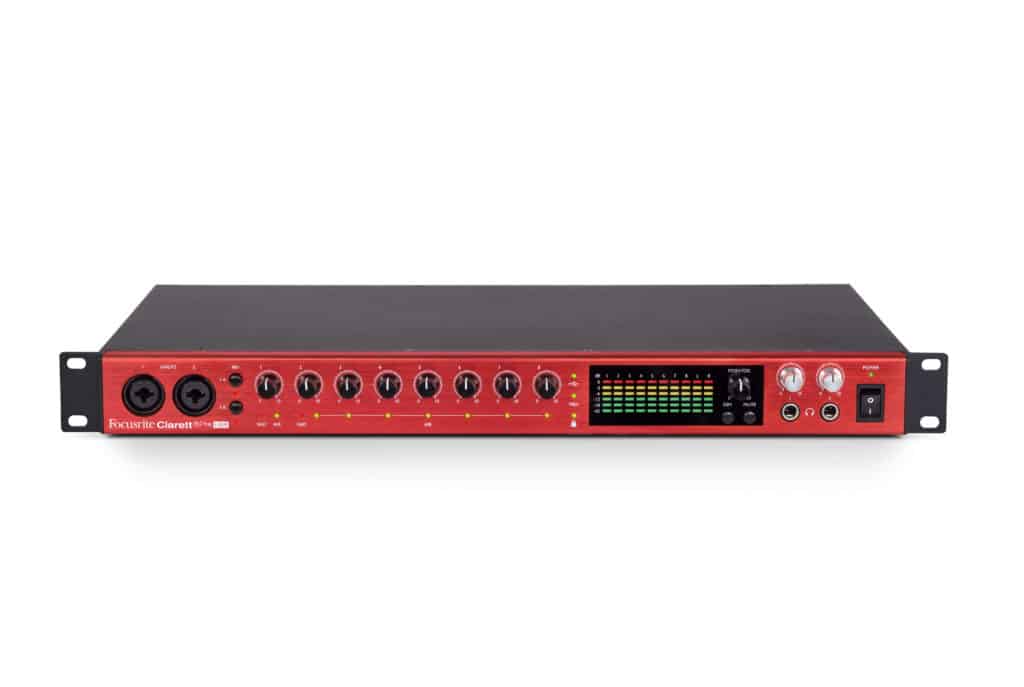 USB
USB support is a common interface standard for both Windows and MAC. USB is a so-called save bet when you are on Windows and do not have a Thunderbolt Interface. If you do have a Thunderbolt you should strongly consider Clarett 8PreX as an alternative model.
AIR
The AIR feature adds that Airy mid-high presence. Without AIR enabled, the preamps are clear and neutral. When you enable the AIR feature so you can truly hear the difference. You can enable AIR individually on each channel. Independently selectable on an input channel, AIR alters the pre-amp's frequency response to model the impedance and resonance characteristics of Focusrite's classic transformer-based ISA mic preamps.
Clock and Midi
You can easily synchronize Clarett 8Pre USB with other audio equipment in your studio. The device can work both as a slave to an external clock signal or as the master clock source. With the MIDI Interface, you can play in your DAW on your keyboard and route the MIDI signal to a vintage synth or directly into your Eurorack.
Future Proof and Support
When you buy an audio interface you need to be ready for the next years and OS releases to come. Focusrite has an excellent record in supporting Windows and MAC users over the years. MAC is less of an issue as you do not need special software like on Windows. The audio interface is built for professionals and shows that in the support from Focusrite.
Software Tool
I set up the signal routing with the included software tool on a MAC OS computer. Routing sound and signals are comfortable with the Focusrite software. If you do come from an audio interface with fewer inputs and outputs you change the way you process audio. As you do have access to plenty of I/Os you can permanently connect for example a compressor or other hardware units and just route when needed the sound through those units. I use different available inputs to capture dry and wet signals. For example, from Eurorack, Effect Pedals, and Synths. All recorded tracks could then be easier mixed before mastering. Audio like mics, instruments, audio signal, Eurorack or Pedals are recorded into your DAW and then played back from there through speakers and headphones.
Rating:  Five Out of Five Stars
Clarett 8Pre USB is the best value USB audio interface money can buy. This Audio Interface completely sounds transcendent, undoubtedly exceeding other interfaces in the same league. The audio quality of these preamps/converters is unmatched and for the price of the unit. When I enabled Air, it did add a bit of glow and vibe.

The Clarett 8PreX has become my new go-to audio interface in my studio. The device captures sounds from my Eurorack, AE Modular, DAW, Synths, and Pedals. I can easily route the sound through my hardware effects units when needed. When recording video the inputs are really needed as we tent to add mics on top. If you do prefer USB over Thunderbolt the Clarett 8Pre USB is the ideal alternative.