Arturia KeyStep Pro Review – MIDI & CV Command Center
Legacy (KeyStep & BeatStep Pro)
For years the KeyStep (midi controller keyboard) was one of the most visible midi controllers in released youtube videos. In various videos, we watched it just sits on the table when a product is shown. KeyStep used in combination with the BeatStep Pro has been used by many artists and producers. One drawback with this combo was that you need besides BeatStep Pro an additional KeyStep.
Now both controllers have been merged into KeyStep Pro a 37-key controller keyboard with a unified sequencer and extensive analog I/O section. No surprise that because of this combined new product and the excellent marketing programs from Arturia the KeyStep Pro is now one of the most shown devices on the side of YouTube.
KeyStep Pro
KeyStep Pro's beneficial characteristics are embedded aftertouch keys and the 4-track sequencer which is polyphonic. To drive your drums in your track you can also use a dedicated 16-track drum sequencer. The controller sits well in his place also due to his weight – much higher than I expected.
A Device That Wants to Connect
The Arturia KeyStep Pro is a 37-key MIDI controller and multi-channel polyphonic sequencer. All in a small footprint on your desk or close to your semi-modular, AE Modular, or Eurorack rack. The device will empower musicians to take full control of their modular rigs, outboard synths, and software studio all at the same time.
The 4 autonomous polyphonic sequencer tracks give you full control over your instruments, and Track 1 can also operate as a 16-part integrated drum sequencer. KeyStep Pro is amazingly intuitive has exceptional connectivity, and helps artists to perform.
This MIDI/CV controller wants to be the glue for your modular, synths, and DAW-based instruments. If you want to use the KeyStep Pro with your DAW you can sequence and arpeggiate instruments in Kontakt, Falcon, and other Sampler or Synths. As you already guessed KeyStep Pro has an extensive amount of applications.
KeyStep Pro offers 4 independent polyphonic sequencer tracks, an integrated drum sequencer, a 37 key velocity-sensitive keyboard with aftertouch, and CV, MIDI, Gate, and Clock connections.
KeyStep Pro is key when performing using semi-modular synths like Moog's DFAM, Mother-32 & Subharmonicon, Behringer K-2, or modular systems like AE Modular, and Eurorack. As you can see from this small selection of supported synthesize & hardware it shows that the KeyStep Pro intends to include as many different connections to your gear as possible.
Each synth, module, or device can be performed straight by the keyboard or managed by one of the four sequencers/arpeggiators. Hardware can be managed through USB, MIDI or CV, and Gate outputs.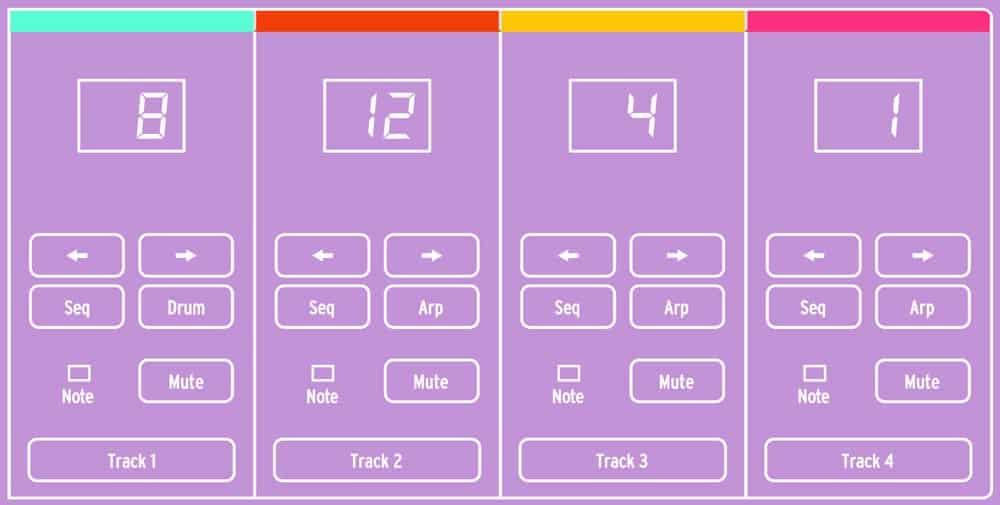 Each of its four tracks can output through USB, MIDI or CV/Gate concurrently. Every track produces control voltage (CV) outputs for Pitch, Gate, and an additional "modulation" CV output that allows you to control velocity, filter cutoff, or any other parameter of your choosing. One track of KeyStep Pro triggers a drum sequencer with 8 separate CV gate outputs that you can use with analog drum machines or your modular synthesizer.
Keystep Pro Performance Controls
TRACKS- 4 independent sequencers, controlling whatever synth, module, or drum machine you want.
PATTERNS – 16 patterns per track. Each sequencer pattern can be up to 64 steps long and contain 16 notes per step.
CHAINS – Link up to 16 patterns together to create whole songs or sections of your set.
SCENES – Snapshots of all the sequences within a pattern, letting you instantly switch between sets of sequences.
PROJECTS – Everything in one place. Load, duplicate, tweak, edit, and save for later in its onboard memory.
Keystep Pro Features
37 note slim keys, velocity and aftertouch sensitive

LED above each key for efficient visual feedback

Four track step sequencer

16 step buttons, up to 64 steps per sequence
Up to 16 notes of polyphony per step

Melodic sequencer

Real-Time recording, step recording, step editing
Pitch, velocity, gate length, time shift and probability for each note
Scale quantization with user scales
Polyphonic CV outputs

Drum sequencer

24 part drum sequencer
Polyrhythm

Performance-oriented sequencer

Forward and two random playing modes
Pattern randomization
Quantized or unquantized recording
Looper

Arpeggiator

7 arpeggiator modes, 5 octave range

Chord mode
Controller mode

Use the 5 encoders to send CCs
Automate the CCs

Crisp OLED display
4x (CV, Gate, Mod) outputs + 8 drum gate outputs
1 MIDI in, 2 MIDI out, USB, Clock synchronization
Metronome with included speaker and line output
Sustain pedal input

Made for Professionals and Semi-Professional Artists
Looking back at my own experience when I use the BeatStep Pro or the enhanced features of the KeyStep and how powerful the KeyStep Pro is I would recommend this controller to anyone who has used sequencer, MIDI channels, or CV in the past. The BeatStep Pro was made to be performed by an artist that has experience with similar devices.
I think that Keystep Pro is one of the best controllers for additional hardware synths artists and professionals you can obtain today. If you know what CV and MIDI are all about you get access to an impressive sequencer, Keys with aftertouch, plus excellent connectivity with your hardware Synth, AE Modular, and Eurorack. If you want to use BeatStep Pro for your DAW only, I would rather look at a full-size keys keyboard like the KeyLab 88 MKII.
Updating the KeyStep Pro Firmware
Arturia is adding new features that are requested by the community and addressing bugs with the release of the new firmware. You can easily update the keyboard by downloading the firmware and with the help of the Midi Control Center tool, you update the keyboard with ease.
The steps to update the firmware are easy to follow:
Connect your KeyStep Pro to your computer via the USB connection. Make sure not to use a USB hub.
Launch the MIDI Control Center.
If it is not immediately displayed, select the KeyStep Pro in the "Device" drop-down list in the top-left corner.
The firmware section (just underneath) indicates the current firmware version and, if you are connected to the internet, the latest firmware available.
While your MAC / PC is connected to the Internet: Click on the button "Download latest". The MIDI Control Center will automatically download the latest firmware version.
After your validation the firmware installation will start.
You may have already guessed that I do like the Keystep Pro, my main use for it will be with modular systems like my own AE Modular, and Eurorack. Sometimes with my semi-modular synths as my DFAM, Mother-32 & Subharmonicon, Behringer K-2. I will perform with it as a sequencer drum and use the keyboard to set scale of chords and tones playing in modular. The 37 mini keys with touch response and aftertouch are perfect for that. As it's placed will be with the hardware and outside the box I will not use it with my DAW where I prefer full-size keys.
Rating:  Five Out of Five Stars
With the new KeyStep Pro Midi controller Arturia combines the most beneficial features of the KeyStep with a BeatStep Pro in a persuasive controller with an excellent sequencer for CV modules or midi synths. I hope for a future release with full-size keys.
The KeyStep Pro is an excellent 64-steps sequencer supporting CV and MIDI, a drum sequencer. Key benefits for this still smaller keyboard and MIDI/CV controller is the capability to manage hardware synths, modules, effects, and drum machines with advanced features such as Aftertouch, and portability at an attractive price point.
The Keystep Pro is excellent for your performance in your studio and as well as for playing live also in an online performance on YouTube or other platforms.