BYOME Review – Build Your Own Modular Effect by Unfiltered Audio
BYOME ("Build Your Own Modular Effect") Review
BYOME is Unfiltered Audio most energetic effect plugin yet. The BYOME plugin effect got a complete UI refresh.  You can use a so-called cell as an individual effect and combine them to build your own modular effect.
BYOME is a modular effects plugin that includes over 40 effect modules that include reverbs, delays, distortions, dynamics, filters, granular, mixing, and modulation. Unfiltered Audio did send a review copy with no strings attached.
Installation
The easiest way to install this plugin is to use the Plugin Alliance Installation Manager. As other companies Plugin Alliance has come to a point where installation of all their own products has become easy for everyone.
Sound
BYOME is a modular multi-effects Plug-in which has a UI to support an easy effect compilation or you in researching new effect combination.  With BYOME you can jump on the hype of modular without spending all that money for modular modules and fighting than with figuring out what they do when you install them one by one.
BYOME modulation options and combinations are supported by 40 effect modules that are included. Those effects crossing Delays, Distortions, Dynamics, Filters, Granular, Mixing, Modulation, Gate, Spectral Follower, Dynamics Effects, Follower Modulators, Reverbs and more.
To sum it up many known effects, new effects and not so common effects are available for you to play with. All effects are descriped in the available manual here.
I did start to go through many of the over 400 presets to get an understanding of what the developed included as their showcases of BYOME. 
Ivo Ivanov of Glitchmachines has contributed 70 presets for the production of futuristic drums and percussion. The Glitchmachines preset series s multiple modulation scenarios with great performance macros, skillfully illuminating the plugin's considerable depth, streamlined interface, and broad flexibility. Don't forget click the dice icon to randomize the loaded preset.
Toby Pitman was in charge of creating 150 of the factory presets. Mathias Brüssel, Richard Devine, Empty Vessel, ignatius, and Peter "Glaca" Mohamed have been all contributing to the remaining list of excellent presets.
Those presets sound interesting and whatever your personal taste look like you find some that you like. Several Artists have been making BYOME presets, which is a great sign and speaks to the quality of this effect monster.
Preset Expansion
Speaking of presets there are already commercial preset expansions available.  Pro Studio Rack for Unfiltered Audio BYOME by Synth-Presets.com is a compelling collection of 150+ effects, all programmed and designed to produce a better level of production to your music.
The collection includes a broad range of effects from New York style compression to highly complex, automated effect chains. Pro Studio Rack allows for immediate, professional studio quality production.
Synergy for Unfiltered Audio BYOME
Synergy is another commercial collection of BYOME 64 presets in a variety of styles: subtly dusty and wonky to dirty and saturated, from claustrophobic to massive modulated lushness. Synergy is produced by Empty Vessel.

Synergy (by Empty Vessel ) includes:
Ambiance – huge warm lush spaces, pitch-shifted grainy dusty rooms, endless droning pads, faulty 80s rack reverbs.
Dust – subtle wobbliness and dust to circuit bent digital artifacts, tired radios, dictaphones and worn out rental VHS cassettes.
Echo – tape delays, digital delays, nice, not nice, crackly, warm, springy
Glitch – looper pedals with minds of their own, random ghosts in the machine, drum loop choppers and more.
RitmiK – tempo-synced for your listening pleasure, ducking filters, trippy loops, sequenced madness, syncronized niceness.
Synergy by Empty Vessel makes use of the Macro controls at the bottom left of the interface. Linked to the most usefully tweakable controls in the effects modules these vastly expand the range of sounds available from each preset. Control the amount of glitch and dust, the bit crushing, the tape saturation, the size of the huge reverb, the feedback and wear on the tape delay and…the Globbiness.
Modulation Effect Machine
BYOME utilizes the companies modulation system. In this system, you can instantly patch anything from simple parameter changes to complex and even self-evolving systems.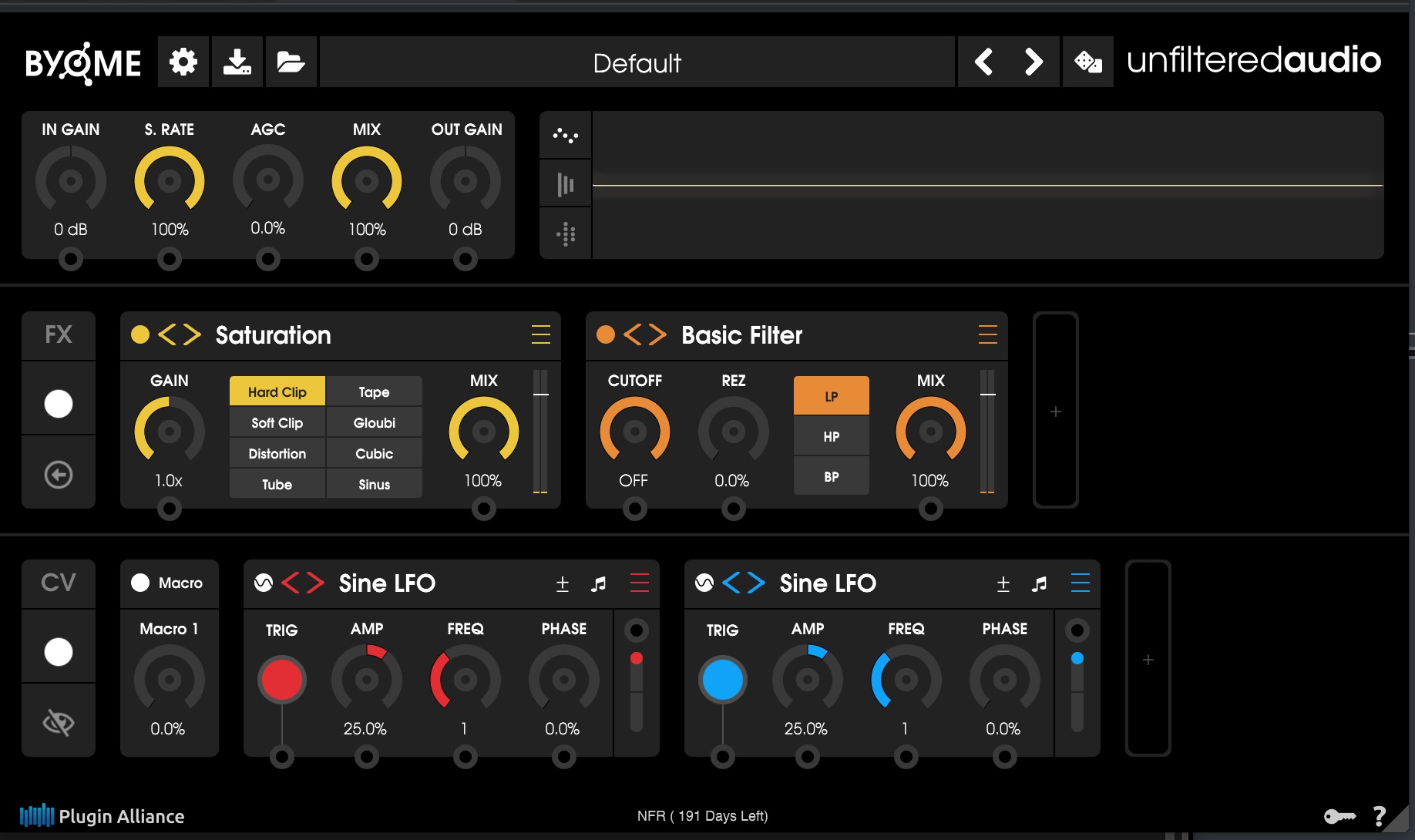 You can use many available modulators like LFOs: sine/saw/tri/square, sample and hold noise, input follower, meta control, step sequencer, ROLI LightPad, chaos, gate sequencer, ADSR, and more. The briefly listed modulators may overwhelm you, but the Interface makes it easy to experiment with many of the available options, try it out to see what your result is.
BYOME Features:
Over 40 Effect Cells to choose from
Over 400 presets, including over 200 artist presets from Glitchmachines, Richard Devine, and ignatius.
Many new Modulators to choose from, including Spectral Follower and Probability Gate.
Supports external sidechain signals for Dynamics Effects and Follower Modulators.
Presets for individual Effects and Modulators.
Per-section, per-Effect, and per-Modulator randomization
User interface & Usability
The plugin has a very intuitive layout which assists you to create new sounds using the different tools available in the effect. You should start with the presets or interconnect the cells and build personal series to see how it turns out. There are 40 effect modules to support you on your journey into sound design.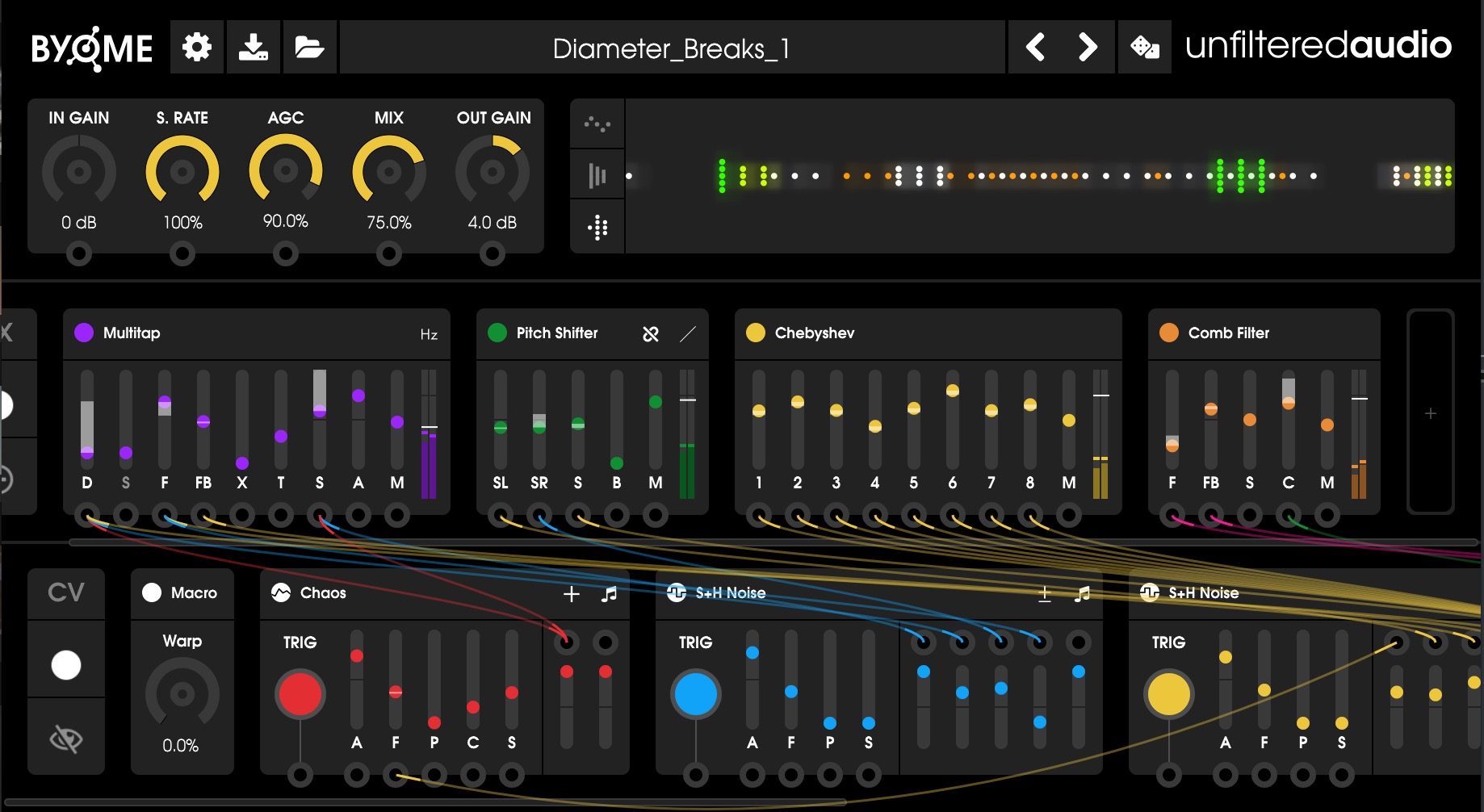 You can tell that behind the easy to use Interface the developer Michael and Josh have designed their multi-effect to this day. I did hear that the codebase was larger than all their previous plugins combined.
Rating:  Five out of five stars
BYOME is an modular sound design FX toolbox to generate effects that wow the audience. BYOME is very easy to use and intuitive to configure, you can create specific effects quickly. Instead of investing in modular I would start with this software emulation in your DAW. Get some experiences first in (cheaper) software and move if needed to modular later.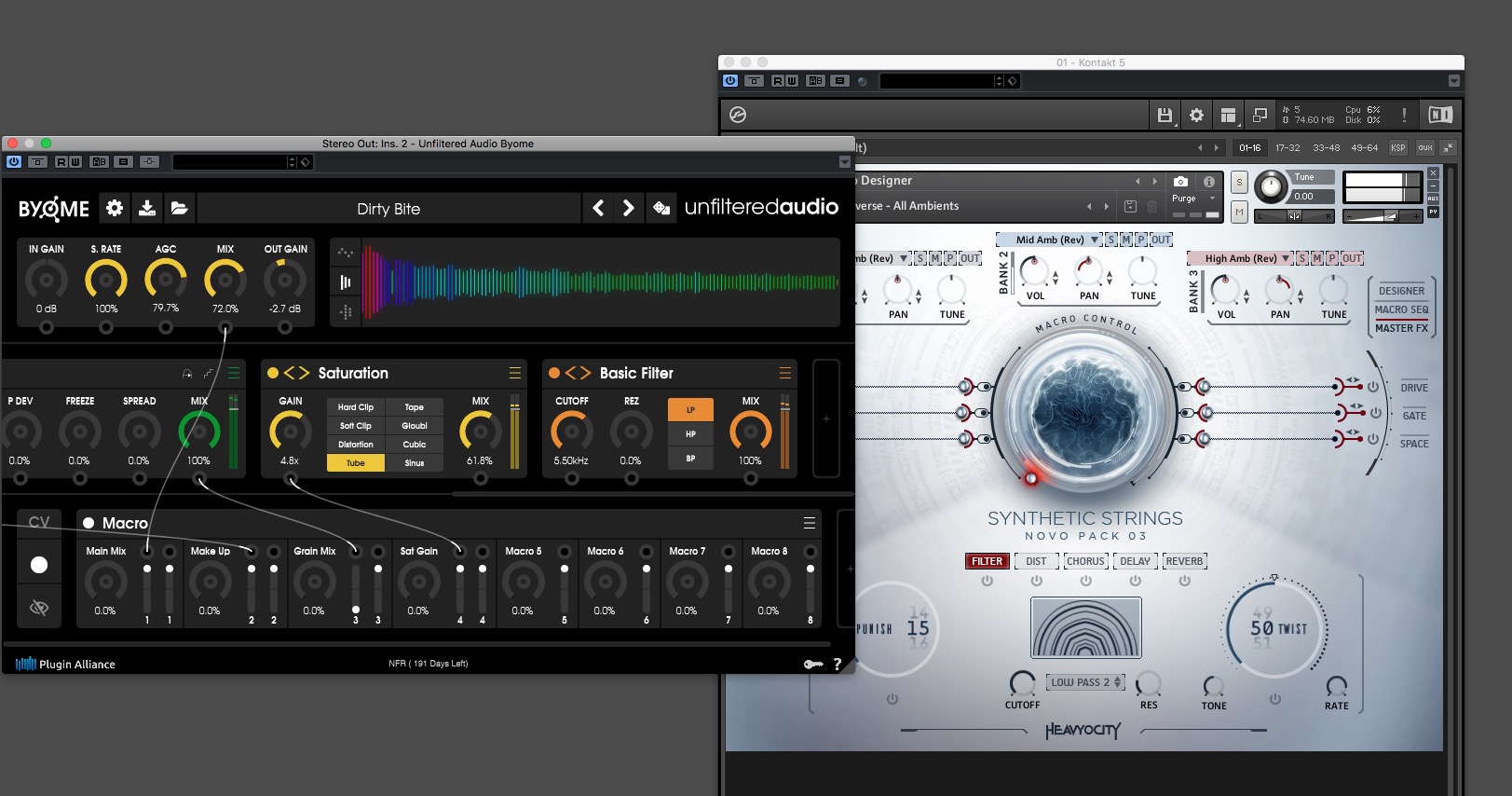 The effects you create can sound unusual, uncommon, or pleasing. They sound amazing and musical. Use the many included presets as suggestions and develop and change them further to your taste. BYOME is one seriously beautiful multi-effect plugin.
Feel the Bass with Unfiltered Audio Bass-Mint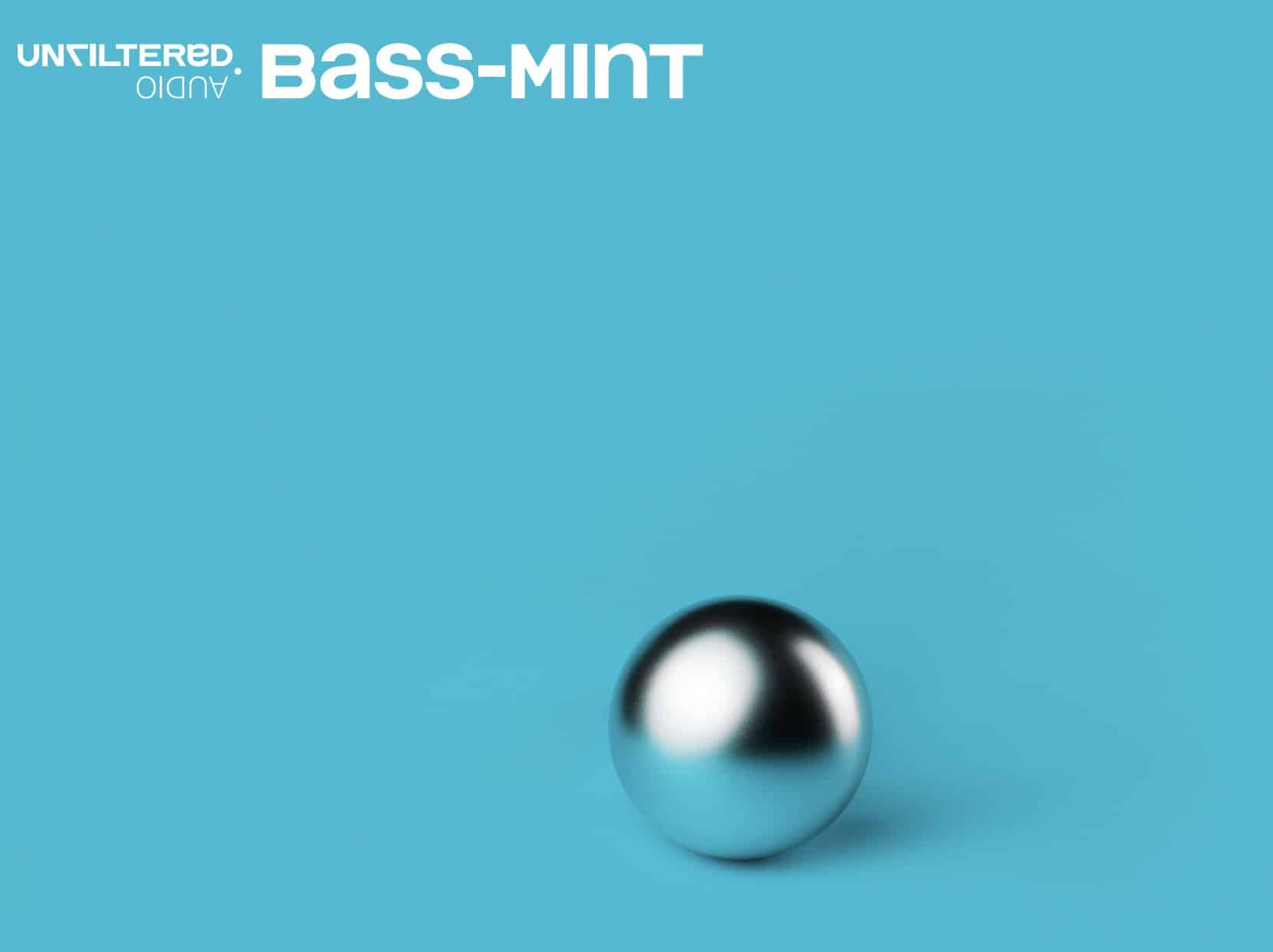 Unfiltered Audio Bass-Mint
Plugin Alliance, supporting all major plugin formats and uniting some of the best-known international audio companies under one virtual roof, is proud to announce availability of Unfiltered Audio Bass-Mint — an innovative new low-frequency enhancement tool designed to rapidly improve the bottom end of individual tracks, stems, and even entire mixes.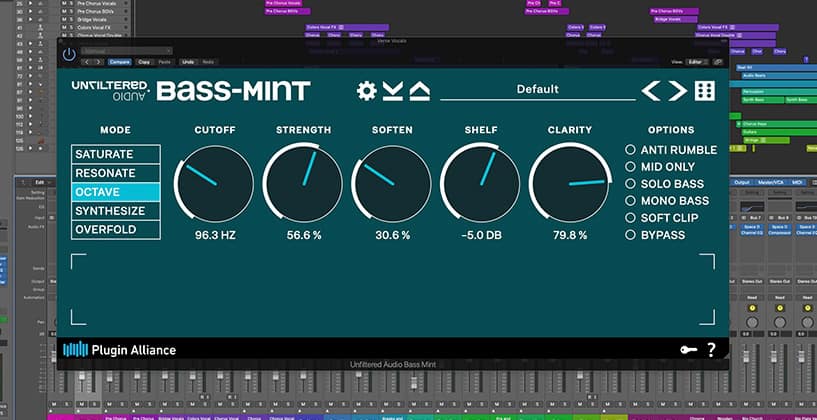 Multiband enhancement for separately processing lower and upper frequencies
5 carefully-tuned bass processing modes: Saturate, Resonate, Octave, Synthesize, and Overfold
Minimalist layout with 5 simple, intuitive knobs for dialing in ideal sounds
6 additional toggles to automatically engage popular low end mixing tricks
Includes one of the most popular saturation algorithms from Unfiltered Audio's Dent
Instant feedback from onboard Visualizer to see real-time spectral change
Unfiltered Audio Bass-Mint's musical heartbeats to the tune of its simple frequency splitter with an adjustable cutoff, separating the low band from the high band to deploy different types of processing on each. From there, each of the five main (SATURATE, RESONATE, OCTAVE, SYNTHESIZE, and OVERFOLD) modes — each accessing five simple, intuitive (CUTOFF, STRENGTH, SOFTEN, SHELF, and CLARITY) knobs for dialing in ideal sounds — offer new and exciting ways to tweak those high and low parts of the signal through a remarkably simple, creative, and intuitive workflow. With further control provided via the six additional (ANTI RUMBLE, MID ONLY, SOLO BASS, MONO BASS, SOFT CLIP, and BYPASS) toggle OPTIONS on the right side of the plugin GUI (Graphical User Interface), applying essential bass processing techniques are only the flip of an appropriate switch away!
It is also worth noting that Unfiltered Audio Bass-Mint makes use of one of the most popular saturation algorithms from its Southern Californian creator's Dent, a duly different distortion/wave-shaping plugin par excellence, while providing users with instant feedback from its onscreen Visualizer showing real-time spectral change.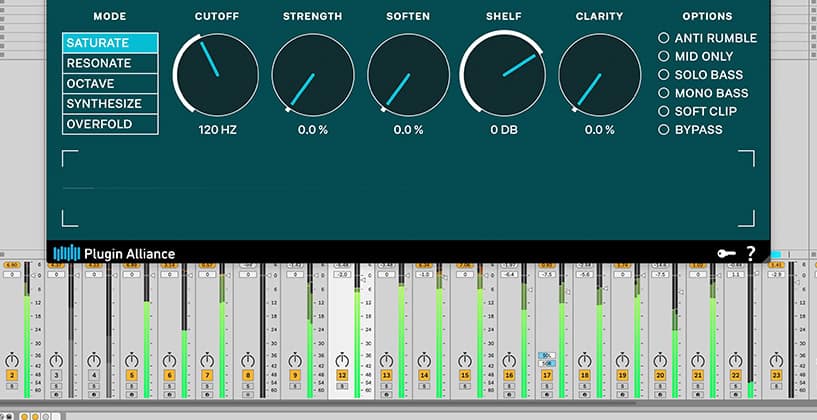 Ultimately, Unfiltered Audio Bass-Mint is the only plugin on the market that offers such a diverse control set for low-end enhancement and low- end frequency management alike. Spanning subtle enhancement of low-end frequencies to totally reshaping the frequency spectrum from the subs on up, truly wild things are possible with this plugin! Whether wishing to really mess things up for super-dirty-sounding bass or simply bringing kicks and bass into better balance, Bass-Mint can practically do anything anyone would want to do to their lows.
Pricing and Availability
Unfiltered Audio Bass-Mint is available for purchase (as an AAX Native-, AU-, VST2-, and VST3-supporting effect plugin for macOS 10.11 through 10.15 and Windows 7 through 10) at an attractive introductory price of $129.99 USD until November 8, 2020 — rising thereafter to an MSRP (Manufacturer's Suggested Retail Price) of $149.00 USD — from here.
A fully-functional, 14-day trial of Unfiltered Audio Bass-Mint is available to anyone registering for a free Plugin Alliance account here.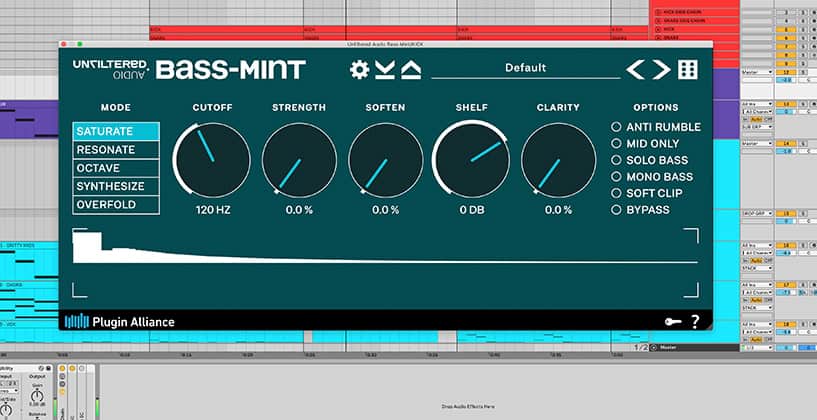 Unfiltered Audio Bass-Mint is included in Plugin Alliance's monthly MEGA Bundle and annual MEGA Bundle subscription services, its monthly MIX & MASTER Bundle and annual MIX & MASTER Bundle subscription services, and also its monthly Unfiltered Audio Bundle subscription service at no extra cost!
Note that the proprietary Plugin Alliance Installation Manager means users can select, download, and install only the products and formats needed for their system.
LION – Unfiltered Audio's First Synthesizer!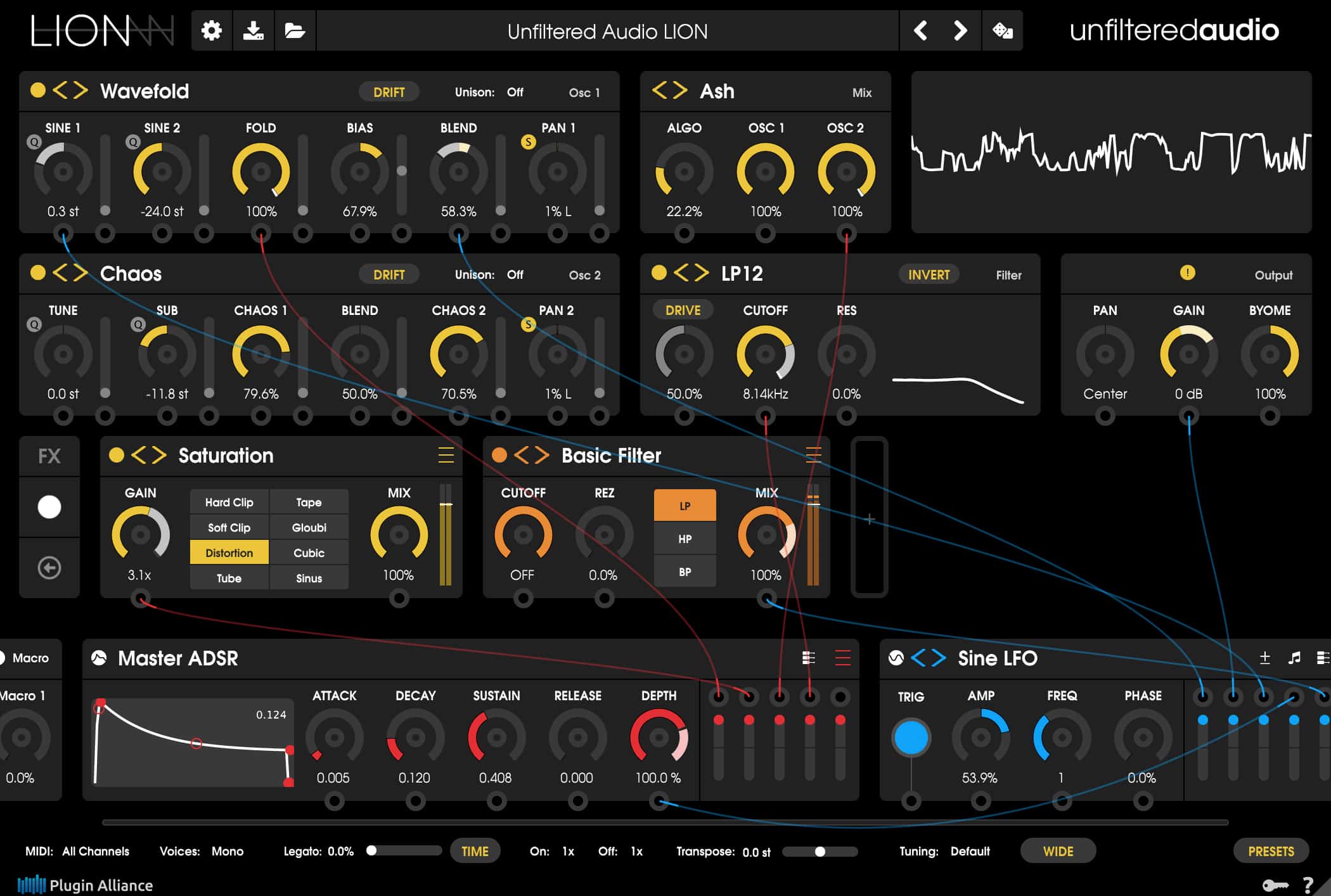 LION Synthesizer by Unfiltered Audio
LION is a digital synth and includes all the outstanding FX modules, modulation capabilities and intelligent technology we've come to learn & love from Unfiltered Audio plugins. This synthesizer wants to do only scream and roar.
Subsequent progressing some of the most innovative and forward-thinking audio processing tools in the world of plugins, Unfiltered Audio is reaching for new heights with their groundbreaking first synthesizer. LION is an extraordinarily deep synth that features an easy-to-use interface with everything you need for quick patching, endless experimentation, and intuitive sound design.
With the cutting- edge Californian company's groundbreaking first foray into the wonderful world of software synthesizers similarly scaling new heights, it is set to become the King of the synthesis jungle! LION is an extremely versatile synthesizer with a very simple signal path, putting two oscillators through a mixer and running them through a filter. This software synth is much like a traditional subtractive synthesizer. LION is far from traditional in its exotic execution, however, effectively encouraging endless experimentation in typical Unfiltered Audio innovative and forward-thinking fashion.
LION's Architecture
For below LION's hood hides a dual-oscillator architecture with each oscillator featuring 26 modes, ranging from familiar classics to unique oscillators found nowhere else — pick and choose from FM (Frequency Modulation) synthesis, subtractive or additive waveforms, 'super' oscillator stacks, microsound, noise, or variations on each! All algorithms have been specifically designed for deep modulation. Moreover, each oscillator engine features an optional Stereo mode, whereby WIDE images are available at the synthesis level. LION lets users thereafter take advantage of its deep Unison manipulation of every parameter and (optional) tuning DRIFT for creating rich, full, and lush sounds using the oscillators alone — and all before starting to reach for any external effects!
LION is also rather unique in the way that it turns oscillator mixing into another opportunity for creative synthesis since the Mix(er) offers distinct modes for combining the two oscillators (OSC 1 and OSC 2) in ways not seen in any other synthesizer! The default algorithm (ALGO) acts as a standard crossfader while more experimental modes all create non-standard relationships between the two oscillators themselves. These include: Bitter (bitwise operations are applied to the oscillators); Ash (various sample-and-hold algorithms are applied to the oscillators); Ring Mod (the two oscillators are ring-modulated together); Min-Max (amplitudes of the two oscillators are analyzed and the minimum and maximum values are found between the two with the mixer then crossfading between them); Terrain (a series of wave terrains are created that are then navigated by the two oscillators); and Compare (comparisons are found between the two oscillators). Obviously all lead to truly stunning sounds!
Integrated Modulation System
Still better, Unfiltered Audio's acclaimed modulation system is integrated into LION, but better than ever! It includes a massive MIDI Input modulator that translates playing into numerous opportunities for deep expression — users can control the filter CUTOFF knob with the last MIDI note value or modulate the oscillators' timbre through V (velocity) control, for instance. Indeed, full MPE (MIDI Polyphonic Expression) support permits using ROLI Seaboard or Sensel Morph next-generation MIDI controllers for phenomenal per-voice articulation!
User Interface
LION lends itself to creatively crafting powerful sounds that feel as though they were produced by a colossal chain of plugins, tabs, and automation — and all from within its innovative single-screen GUI (Graphical User Interface) with clear, intuitive controls. Clearly, time is better spent focusing from the outset on the musical job at hand by harnessing LION's king-sized sonic complexity and versatility, rather than resorting to watching time-consuming tutorials to learn the intricacies and hidden features of a badly-executed synth — software-based or otherwise.
Internal LION Effects
Other soft synths may well only provide a small library of forgettable effects almost as an afterthought, yet LION lets users ditch the need for external effect plugins, should they wish, with Unfiltered Audio's already-legendary BYOME effect row also integrated as a flexible library of over 40 modulatable effects. LION's synthesis engines and BYOME processing engine all have access to the same modulation sources, so users can create complete presets with detailed effect chains that react to their playing.
LION Features
Over 20 unique oscillator modes, each with an optional, unique stereo algorithm
Per-voice modulation
Eight unique mixing algorithms for smashing together two oscillators
A complete BYOME row for unlimited, modular effect processing
Intuitive UX through carefully crafted single-page design (No Tabs!)
Modulatable unison depth for every oscillator control
A new tag-based preset browser
Full MPE support with modular routing
Full microtuning support (via TUN files)
John 'Skippy' Lehmkuhl aka PlugInGuru Overview
Watch an informative, in-depth video overview of Unfiltered Audio's LION by professional sound designer and programmer John 'Skippy' Lehmkuhl (PlugInGuru). John created presets that are in the shipping LION product.
LION Presets
Possibilities are truly endless — enter LION's fruitful factory library of nearly 600 presets spanning many musical genres and styles to hear how powerful the King of the synthesis jungle is in action! Ask award-winning composer, musician, technologist, and creator BT. After all, he has become well versed in LION, having already attended a successful 'synth tasting' event hosted by Plugin Alliance at Sphere Studios in North Hollywood earlier this year, where a prerelease was showcased to industry insiders and fellow electronica luminaries like Paul Haslinger (ex-Tangerine Dream) and Tom Holkenborg (a.k.a. Junkie XL) to critical acclaim. All three talented musicians happen to be also award-winning modern music-to-picture scoring specialists, so surely know somewhat more than a thing or two about standout synthesized sound between the three of them!
Availability and Pricing
Unfiltered Audio's LION is available for purchase — as an AAX Native-, AU-, VST2-, and VST3-supporting Virtual Instrument plugin for MacOS (10.9 through 10.14) and Windows (7 through 10) — exclusively from distribution partner Plugin Alliance for an introductory price of $169.00 USD until September 30, 2019, rising to an MSRP of $199.00 USD thereafter — from here. Unfiltered Audio LION is included in Plugin Alliance's new MEGA Bundle and Unfiltered Audio Bundle monthly — and annual — subscriptions at no extra cost!
Unfiltered Audio Released TRIAD – BYOME on Steroids. An Advanced Multi-Band Processor
TRIAD builds on the success of BYOME, Unfiltered Audio is at it again with their latest creation, Triad. With the ability to split up the signal into three bands and apply BYOME effects to each band individually, this three-headed beast will put the rest of your plugins to shame. BYOME is Unfiltered Audio most energetic effect yet. You can use a so-called cell as an individual effect and combine them to build your own modular effect. TRIAD does load your BYOME presets.
Some say that good things come in threes. TRIAD literally lives up to that saying — in name and nature. Why? Well, with an ability to split an audio signal into three bands and apply BYOME effects — themselves tapping into Unfiltered Audio's abundant MOD (modulation) control choices via virtual cables (conceptually similar to establishing all the connections between the separate modules on a modular synth system with patch cables to generate tones and sound effects) — to each band individually, this three-pronged approach to multi-band processing par excellence easily has what it takes to stand out from the sound of the crowd.
Presets fit for Unfiltered Audio's latest and greatest creation have been carefully crafted by acclaimed artists and world-class sound designers to showcase its individualistic capabilities, covering functional frequency splitting to putting it through its innovative paces as the most advanced multiband processing plugin around.
TRIAD truly advances the phenomenal possibilities of its single-band BYOME predecessor by bringing a new level of control to the myriad of onboard effects. Essentially, then, it is a three-band frequency splitter capable of processing the LOW, MID, and HIGH-frequency bands with different effect rows, consisting of 40 effect cells arranged into eight categories; each effect cell can be expanded and added to. These range from multi-band compression to frequency-dependent reverb, complex distortions to intricate delays, plus pitch shifting and an array of modulation-based effects — all of this and much more besides are a breeze to set up and control.
TRIAD Details
Flat-Sum Frequency Splitter with adjustable per-band gain automatically routed to multiple BYOME effect rows
Mid-Side, Left-Right, and Parallel modes are also included for maximum effect routing possibilities
Quick workflow features: permutate, per-row load/save/copy/paste, and an interactive visualizer
Dynamic Spectral Snap feature allows automatic frequency cutoff balancing- the first such effect in the industry
Individual low/mid/high band outputs are available in most DAWs, meaning that Triad can be used as a fully routable splitter
Variable slope allows you to change from smooth band transitions to razor sharp cutoffs (12dB to 72dB per octave)
Loads all BYOME presets
Readily refrain from using any of the effects — easier said than done, admittedly — and TRIAD can be used as a 'flat-sum' frequency splitter with adjustable cutoff points, guided by a first-rate FFS (Fast Fourier Transform) visualizer that displays the signal and allows for precise control over the band amplitudes and cutoffs on the fly. Furthermore, the DYNAMIC SPECTRAL SNAP feature allows automatic frequency cutoff balancing — an industry first, while well-crafted tools like Auto Cutoff and Unity Gain will keep the frequency distribution balanced between the bands, or even adjust the amplitude ratio without any overall volume change. Critical listening required? Simply solo or mute any of the individual bands with one click.
Changing the frequency splitting into a number of other multi-band processors — namely, 2-Band, 3x Parallel, 2x Parallel, Mid-Side, and Left-Right — maximizes effect routing possibilities. Many modes have a flexible Pre/Post row that can quickly swap positions from the start of the chain to the end, turning the tables on patches for facilitating speedy sound design workflows. With that thought in mind, TRIAD features a unique Permutation engine that rotates the function of each active band. Put it this way: what, for instance, if a user had an amazing delay set up on the MID frequency band, but would rather hear it instead applied to the HIGH-frequency band? Then their wish becomes TRIAD's command by clicking on the Permutation arrows to hear it exactly as they wanted — without destroying the rest of their preset.
TRIAD takes Unfiltered Audio's Build Your Own Modular Effect technology to new heights, combining state-of-the-art processing, versatile modulation, dozens of powerful effects, and a limitless multi-band workflow with all the power of BYONE — but now in three dimensions. Discerning sound designers and artists alike should seriously consider checking out TRIAD today, traveling to sonic vistas that they have hitherto heard only in their dreams.
As an affiliate, we may earn a commission from qualifying purchases. We get commissions for purchases made through links on this website from Amazon and other third parties.
StrongMocha is a magazine for music producers, audio engineers, and sound designers. StrongMocha Magazine provides the latest industry news, reviews of gear and software, tutorials on recording techniques, and tips for mixing.