Litote Review – a Granular Exploration Box by Inear Display
Litote review a granular exploration box by Inear Display. Litote by Inear Display is a granular audio effects plugin. In the family of granular effect plugins, Litote is one of a very special kind. Inear Display did send a review copy with no strings attached. If you are into Eurorack you know a leading Granular Eurorack Module called Clouds or Beads by Mutable Instruments.
Litote by Inear Display Review
Litote is an audio effect plugin that can transform any sound into a dramatic texture. It features four audio engines which can be combined using an XY pad to create a wide range of variations.
The plugin can be used to add depth and dimension to any sound, making it perfect for creating atmospheric soundscapes. Litote can also generate rhythmic textures, making it a versatile tool for both producers and DJs.
Whether you're looking to add atmosphere to your tracks or create pulsing rhythms, Litote is an essential tool for your audio production arsenal.
Litote transforms sound into a moving and cinematic texture. Litote is a granular synthesizer. A granular synthesizer wants to granular synthesis carries your vibrations to the complex atmosphere. When you feed audio content into the Litotote effect it is shattered down into tiny particles and ultimately reassembled in a completely changed form. 
The Litote Engine Editor is a powerful tool that gives you complete control over the textures that are generated by the engine. By default, the engine creates textures using a smart randomizer, but you can also tweak the parameters to create your own unique textures.
The editor provides a variety of different options for generating textures, and you can also import your own images to use as templates. If you're not satisfied with the results of the randomizer, you can always go back and tweak the parameters to get the perfect texture. Whether you're looking for instant gratification or endless possibilities, the Litote Engine Editor is sure to please.
Professional Sound Designers Need Litote
The outcome of Litote is extremely driven by what you inject into Litote. The setting you dial in will sound different on every sound. Litote is producing with the randomized buttons distinct sounds. Some included secret sauce or algorithms that tried to prevent annoying sounds. The effect plugin is automatically driving the result through the specific parameters.
For a professional sound designer, or a composer looking for a quick win when generating unique textures, this effect plug-in is an excellent buy. The granular synthesis effect produces truly innovative drones, pads, and sometimes synthesizer sounds. Just try different audio content and watch the results, and keep experimenting you will be overwhelmed in a good way.
One of the most fascinating things about music is the way it can change and evolve over time. With the right tools, a musician can take a simple melody and transform it into something completely new and unexpected.
This is exactly what Litote is designed to do. Using a granular synthesis engine, Litote can break down any sound into its constituent parts and then recombine those parts in novel ways.
In trajectory mode, Litote will automatically generate new sounds by moving through the space of all possible sound combinations. As a result, each performance is guaranteed to be totally unique. Whether you're a seasoned musician or a complete novice, Litote is sure to produce some truly fascinating soundscapes.
Competition
Recently Portal by Output at a much higher price point was launched, I would recommend going for the demo and seeing which suits you better. Litote at the lower price range will most of the time be suctioned as your granular synthesis effect. Moving into the price range of Portal you have other products to consider which we will also cover soon in a review.
Litote Features
4 Audio Processing Engines
Audio Processing based on a mix of Granulators, Resonators and Diffusion Delays
Interpolation of the 4 Engines Outputs using an XY Pad
Edit Individual Engine Parameters
Lock Left and Right Channels to use the same settings or use separate settings for each channel
Trajectory Mode to automatically control the XY pad Position
Ability to control the Trajectory X and Y Ranges and Speeds
XY pad Position available as Automatable Parameters in the host
Input and Processed signals Amplitude controls
Dry/Wet Mix Control
Global Sound Randomizer
Trajectory Randomizer
Option to set a new Seed for the Randomizers
Audio Output Visualizer
MIDI Learn for the pad X and Y parameters
MIDI Program Change support
10 factory presets
Cross-Platform presets
User interface & Usability
The user interface of the granular effect Litote looks clean and tidy. There is not much to regulate. 
Rating: Five Out of Five Stars
Litote is at this price level the king of very horrifying or encouraging textures in the background and as a bed for a score. This effect plugin helps greatly on the different tasks of sound design. 
Antagone by Inear Display Released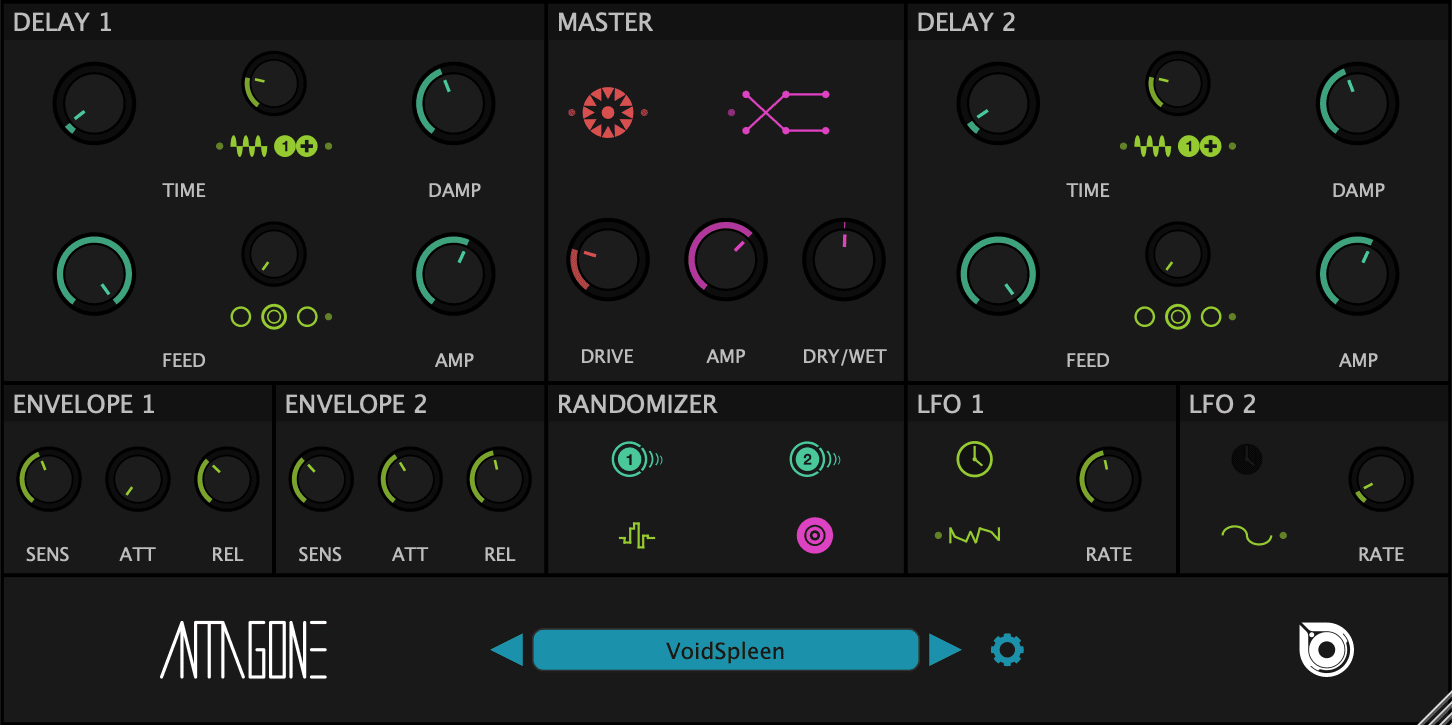 Antagone by Inear Display Released
Inear Display released Antagone by with free crossgrade for Bucephal registered users.
Antagone is a dual delay plugin designed to turn incoming sounds into glitchy chaos. This is a complete rewrite of the now discontinued Bucephal plugin we released in 2012. While all the audio processing has been rewritten from scratch (and a few features added such as damping filters in the delay feedback paths), Antagone tries to stay close to the original Bucephal effect. Geared towards sound design, Antagone packs several modulators, various mixing combinations for the delay lines, multiple saturation options for the output signal as well as a flexible randomizer section.
Antagone Features
2 Delay Lines with Modulation Inputs
Damping of the Delay Feedback Signal
6 Mix Modes to combine the outputs of the Delay Lines
4 Distortion Types for the Plugin Output
2 Envelope Follower Modulation Sources
2 LFO Modulation Sources
Optional Host Clock Sync for the LFO Rate
Processed signal Amplitude control
Dry/Wet Control
Flexible Randomizer Section
14 factory presets
Resizable User Interface
Cross-Platform presets
As an affiliate, we may earn a commission from qualifying purchases. We get commissions for purchases made through links on this website from Amazon and other third parties.
StrongMocha is a magazine for music producers, audio engineers, and sound designers. StrongMocha Magazine provides the latest industry news, reviews of gear and software, tutorials on recording techniques, and tips for mixing.