Twenty Twelve – The Unfinished 10th Anniversary: 900+ Soundset for Absynth, Massive & More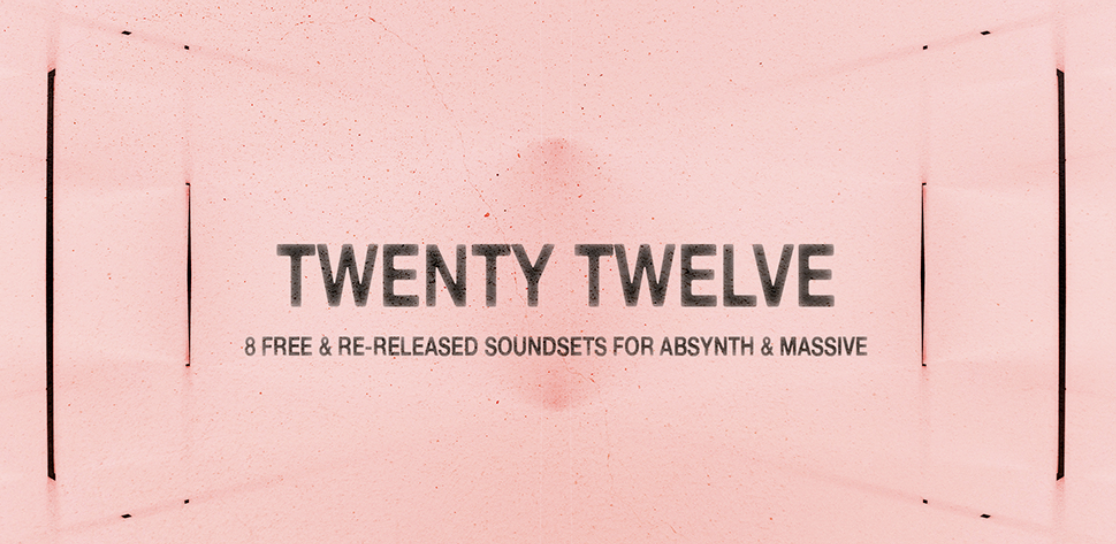 Matt (The Unfinished) began his career as The Unfinished in 2012. Matt has decided to make the eight soundsets he released that year available for download to begin my tenth-anniversary celebrations.
The Unfinished 10th Anniversary
Time flies! In honor of the 10th anniversary, The Unfinished, is releasing a new collection of soundsets for Absynth, Massive and more. This collection is called Twenty Twelve – The Unfinished 10th Anniversary. It includes Absynth Geometron, Absynth Heliopolis, Absynth Metatron, Massive Ammunition, Massive Darkscore I, Massive Darkscore II, Massive Darkscore III, and Massive Stratosphere. There are over 900 sounds in the collection! We hope you enjoy them.
The soundsets that inspired Matt's first forays into bespoke programming, as well as providing him the confidence to leave his job, move to London to live with Matt's then-girlfriend (now wife), and begin this whole mad journey, are all extremely dear to him.
Synth Absynth
The Synth Absynth was initially created by Brian Clevinger for the Mac-Os platform and released as an Internet download by Rhizomatic Software in Paris in October 2000. The original Absynth version already included the essential characteristics that characterize today's design.
Clevinger began his career as a musician and sound designer at Native Instrument's then-independent developer studio. He collaborated on the creation of several iconic synthesizers, including Massive and Kontakt. In 2001, he joined Native Instruments to form the company that would become NI Collective in 2008. Since then, he has remained the lead developer.
Twenty Twelve for Free
The price of the Absynth Complete and Massive Bundle by The Unfinished has been lowered. TWENTY TWELVE is available for free.
The Massive Bundle

The Massive Bundle is a collection of all of The Unfinished past Massive soundsets: Polaris, Omicron, Darkscore I, Darkscore II, Stratosphere, Darkscore III, Ammunition, Transcience, and Darkscore IV. Over 1,450 high-quality Massive sounds are included in this sound pack. Hybrid film scoring, deep and atmospheric dubstep, and all forms of electronica are catered to.
The Absynth Complete Bundle
The Absynth Complete package contains all of The Unfinished Absynth sound sets: Nostromo, Obsidian, Doomsday, and the discontinued Metaspace, Heliopolis, and Geometron. Over 750 synth patches are included, suitable for big wide ambient sound design, subtle and dynamic film music, as well as clever and emotive downtempo electronica.
Native Instruments Launches Summer of Sound Sales
Native Instruments Summer of Sound Sales Special
Many composer are waiting for this special summer sale to update to the latest Komplet Edition, now is the time! 50% off KOMPLETE 13 updates and upgrades, selected hardware and software bundles, plus half-price upgrades until June 30.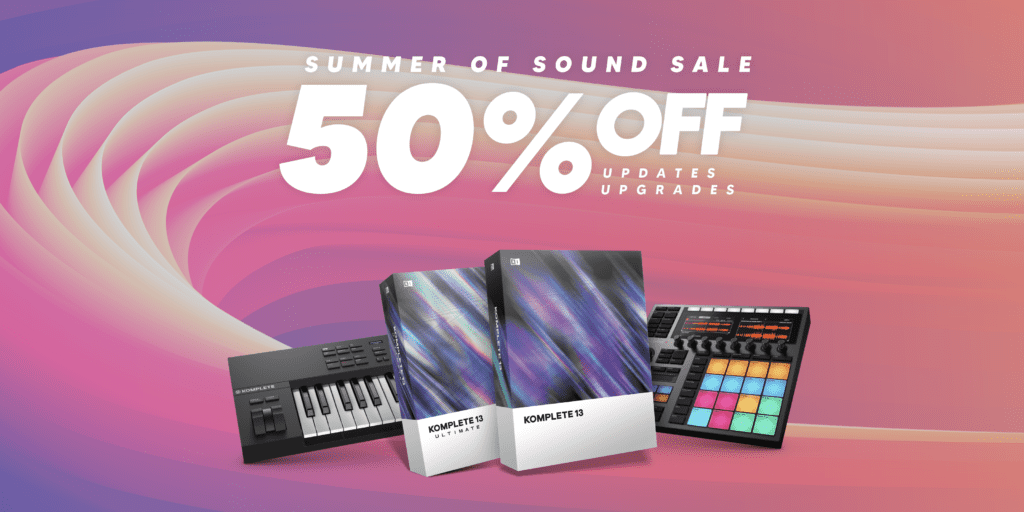 Native Instruments today kicks off its annual Summer of Sound sales special, with 50% off updates and upgrades to KOMPLETE 13 collections, individual instruments and effects, TRAKTOR PRO 3, and MASCHINE software. The offer also includes hardware bundle deals, allowing new users to save up to 499.50 USD / 59400 JPY / 449.50 GBP / 499,50 EUR / 3899.50 CNY / 524 CHF / 649 CAD / 699.50 AUD by pairing Native hardware with hand-picked software collections.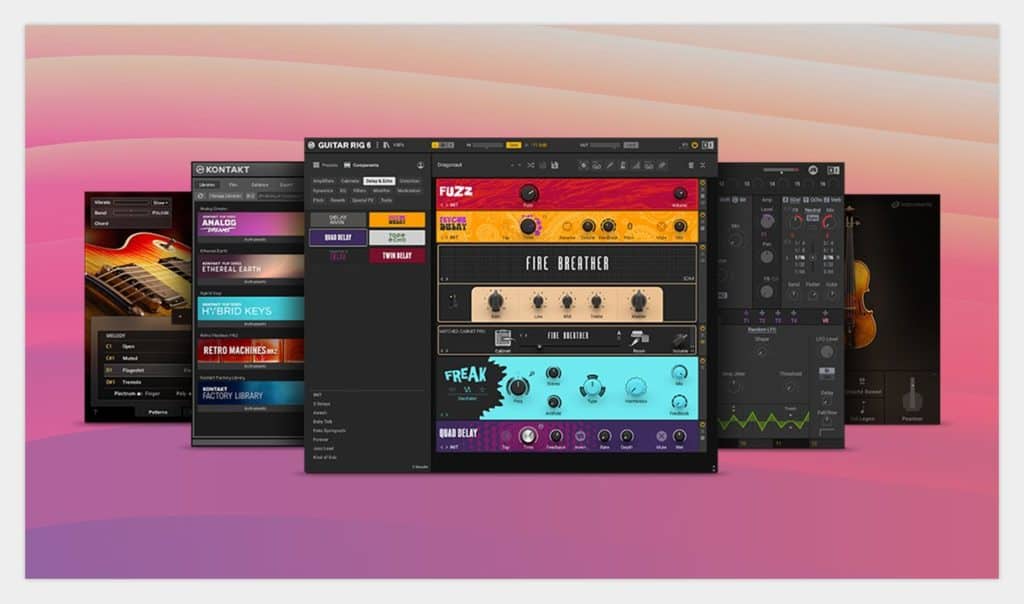 For existing KOMPLETE users, Summer of Sound is the best time to step up to the latest edition or upgrade to a larger collection. KOMPLETE 13 is the biggest edition yet, with four curated bundles of instruments, effects, sounds, and Expansions catered to every production workflow. During the promotion, users save 50% on all update/upgrade paths available to them (visible by logging into the My KOMPLETE Offers page).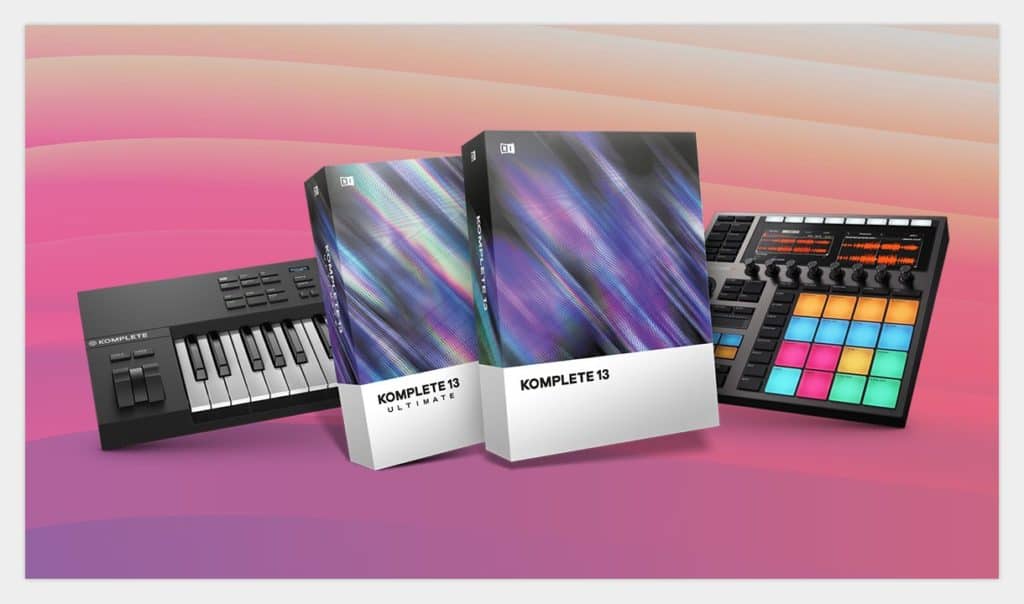 For those who don't yet own KOMPLETE, the special includes deals on hardware/software bundles, combining MASCHINE production systems, KOMPLETE KONTROL keyboards, and KOMPLETE AUDIO interfaces with software upgrades at discounts of up to 499.50 USD / 59400 JPY / 449.50 GBP / 499,50 EUR / 3899.50 CNY / 524 CHF / 649 CAD / 699.50 AUD. The full range of bundles on offer can be found here.
Upgrades and updates to the latest versions of all individual KOMPLETE instruments and effects are also half-price for the duration of Summer of Sound. This includes updates to industry-standard sampling platform KONTAKT 6 and upgrades to full versions of the free products contained in KOMPLETE START.
Owners of the original MASSIVE synth are also eligible to crossgrade to MASSIVE X for half price. Summer of Sound also includes a limited MASSIVE X crossgrade bundle for 99.50 USD / 13400 JPY / 89.50 GBP / 99,50 EUR / 799.50 CNY / 104.50 CHF / 129.50 CAD / 149.50 AUD that includes 10 MASSIVE X Expansions.
The MASCHINE 2 software update and upgrade from MASCHINE Essentials to the full factory library is also 50% off.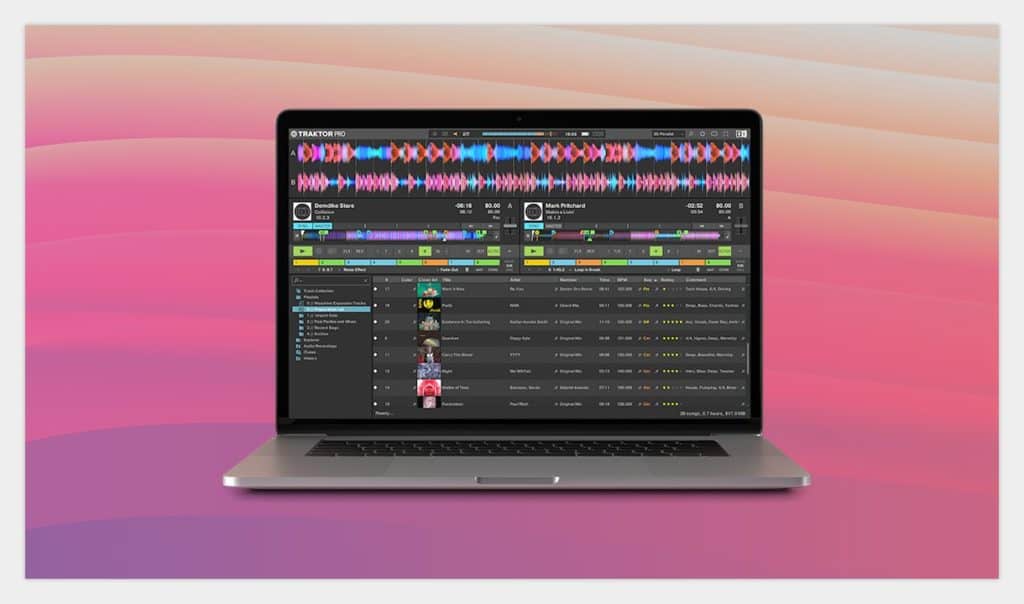 Finally, TRAKTOR PRO 3 updates for existing users of TRAKTOR desktop software are just 24.50 USD / 3300 JPY / 22.00 GBP / 24,50 EUR / 189.50 CNY / 24.50 CHF / 34.50 CAD / 39.50 AUD.
About Native Instruments
For more than 20 years, Native Instruments has been at the heart of musical innovation. We've created communities, pushed technological boundaries, and opened new creative horizons for amateurs and professionals alike. Today, driven by our mission to make music creation more inclusive and accessible, Native hardware, software, and digital services provide fully-integrated solutions for musicians, producers, and DJs of all genres and levels of experience.
Pricing and Availability
Summer of Sound begins now and runs until June 30, 2021. The Summer of Sound special offer is valid until June 30, 2021, at the Native Instruments Online Shop and at participating retailers worldwide while supplies last.
The Unfinished Summer Sale 2020 – 40% off!
The Unfinished Summer Sale 2020 – 40% off!
The Unfinished launched its Summer Sale, almost everything is 40% off.
Just use the discount code THREESCOOPSPLEASE to get some fresh, new, cinematic, and electronic noises at bargain prices. Almost everything in the sale available at 40% off. The only items not in the Summer Sale are my most recent releases: RePro-1 Substrata, RePro Bundle and Omnisphere Colossus IV. The Summer Sale runs from July 17th to the 31st 2020.
Humankind – Raising Money for Charity by The Unfinished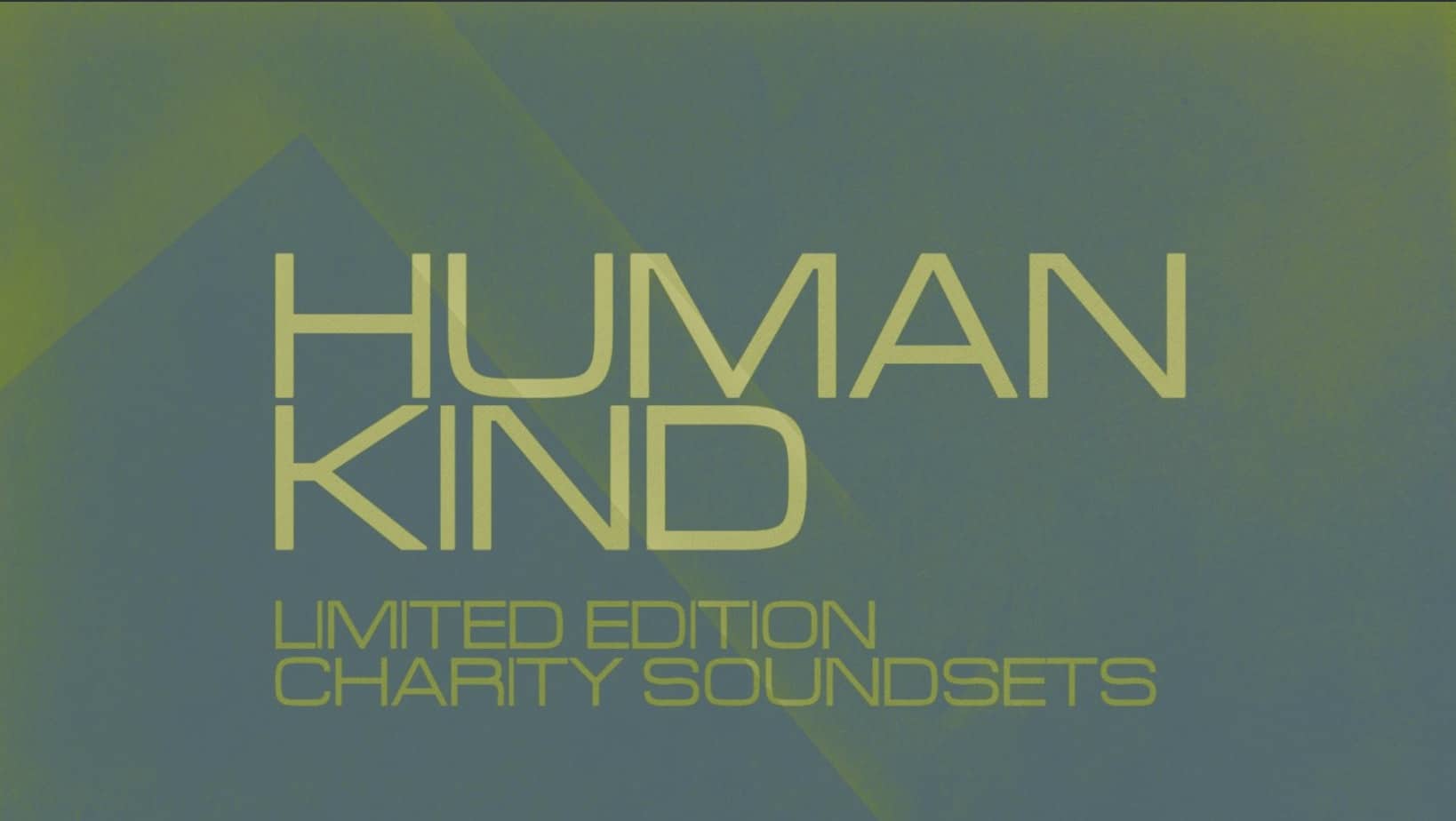 Humankind – Raising Money for Charity by The Unfinished
The Unfinished decided to come back by re-releasing their Humankind project – a series of limited-edition synth soundsets, raising money for charity.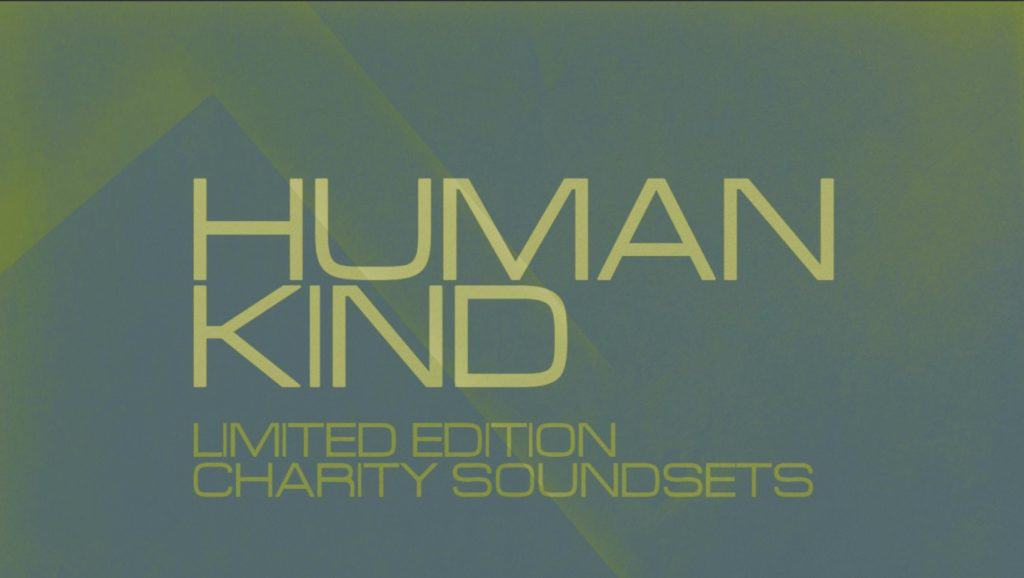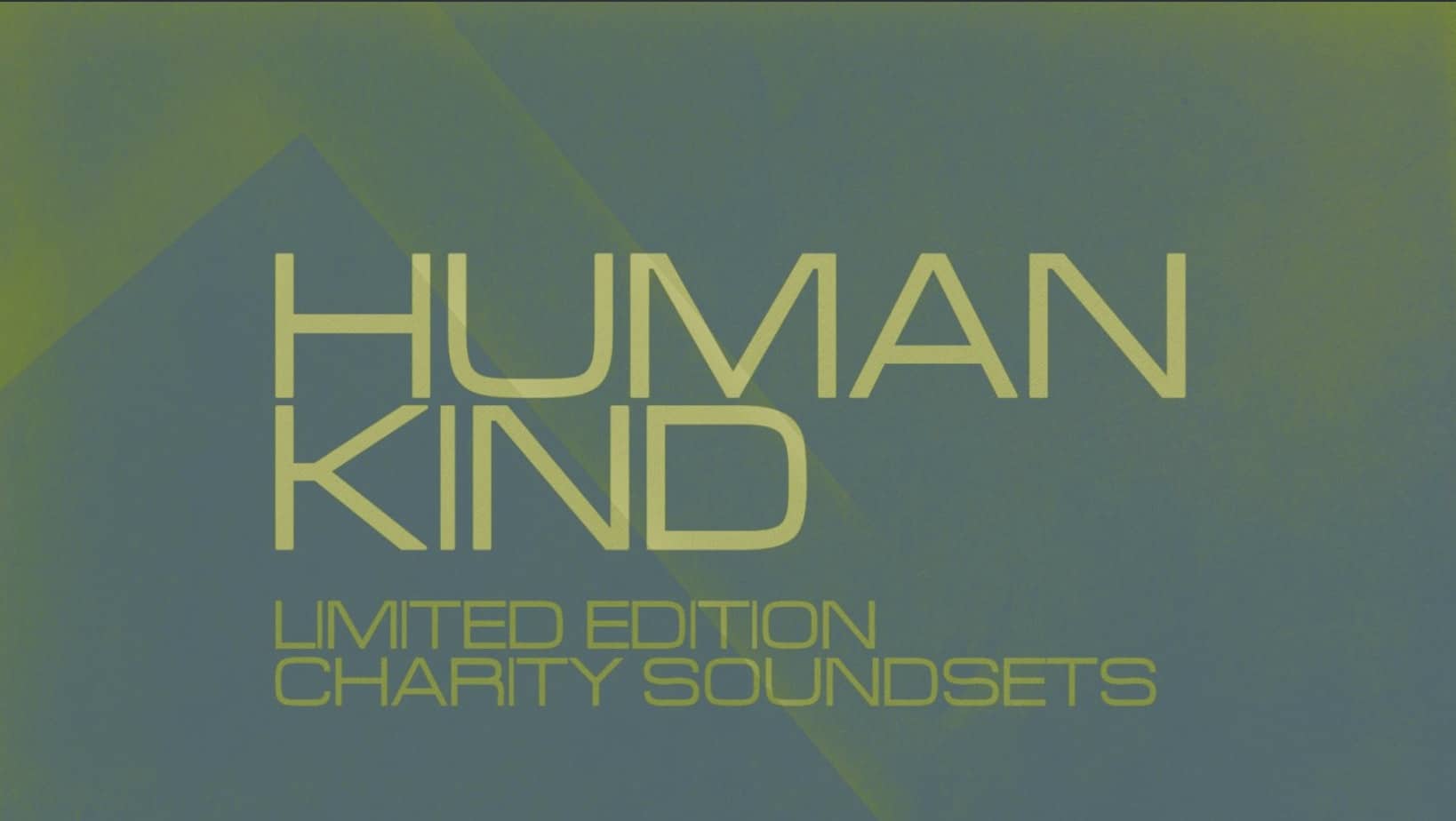 The Humankind project soundsets will only be available to purchase for four weeks (24th April to 22nd May 2020).
The existing eight soundsets (Absynth, Bazille, Diva, Massive, Omnisphere, Trilian, Zebra2 and ZebraHZ) are being re-released, plus The Unfinished created four brand new ones for RePro-1, RePro-5, The Legend, and Uno LX.
Each soundset contains 64 patches and 50% of all the proceeds will be going to the marvellous Trussell Trust, a British charity that helps provide emergency food and support to the most vulnerable people in society.
You can also find the walkthrough videos and demo tracks for the other eight Humankind soundsets on my YouTube and Soundcloud accounts, as well as the individual product pages when they go live on Friday.
Each individual Humankind soundset will be available for £9.99 +VAT. There will also be a bundle of the four new Humankind 2020 soundsets for £29.99 +VAT, and also a complete Humankind Bundle of all 12 soundsets for £89.99 +VAT.

As an affiliate, we may earn a commission from qualifying purchases. We get commissions for purchases made through links on this website from Amazon and other third parties.
StrongMocha is a magazine for music producers, audio engineers, and sound designers. StrongMocha Magazine provides the latest industry news, reviews of gear and software, tutorials on recording techniques, and tips for mixing.