Sample Logic has done it again with their newest pad instrument, GENESIS. This powerful tool makes it easy to create lush pads that sound great and are perfect for any style of music production. With its vast number of sounds and FX chains, you can create unique instruments that come to life with just a few clicks. The streamlined design process makes getting the sounds you want easy without spending hours editing and processing samples. So if you're looking for an easy way to create amazing-sounding pads, look no further than GENESIS!
As any composer knows, the sound is essential to creating a successful composition. The right mix of instruments can make all the difference between a piece that falls flat and one that comes to life. For this reason, many composers turn to software like GENESIS when looking for rich and unique sounds.
GENESIS is focused solely on the art of creating pads and offers limitless combinations of sounds, FX, and animations. As a result, it is the perfect tool for composers who want to add an extra layer of depth and richness to their music. With GENESIS, the sky is the limit when creating unique and inspiring sounds.
GENESIS
The GENESIS is a powerful new sound design tool that gives you endless possibilities for creating unique sounds. With over 540 sound sources and presets, it has everything you need to start making music immediately. The 13 GB of sample content is high quality and can be easily manipulated to create any sound you can imagine. The tag-based preset browsing system makes finding the right sound easy, and the advanced waveform window lets you control how your samples are played back.
The dual-core sound morphing engine allows you to change the sound of your pieces in real time, and the infinite randomization engine ensures that you'll always have new ideas to explore. The hot-swappable FX chain technology lets you add effects and modulations to your sounds, and the FX animators and LFOs make it easy to create tempo-synced sounds that keep your listeners engaged.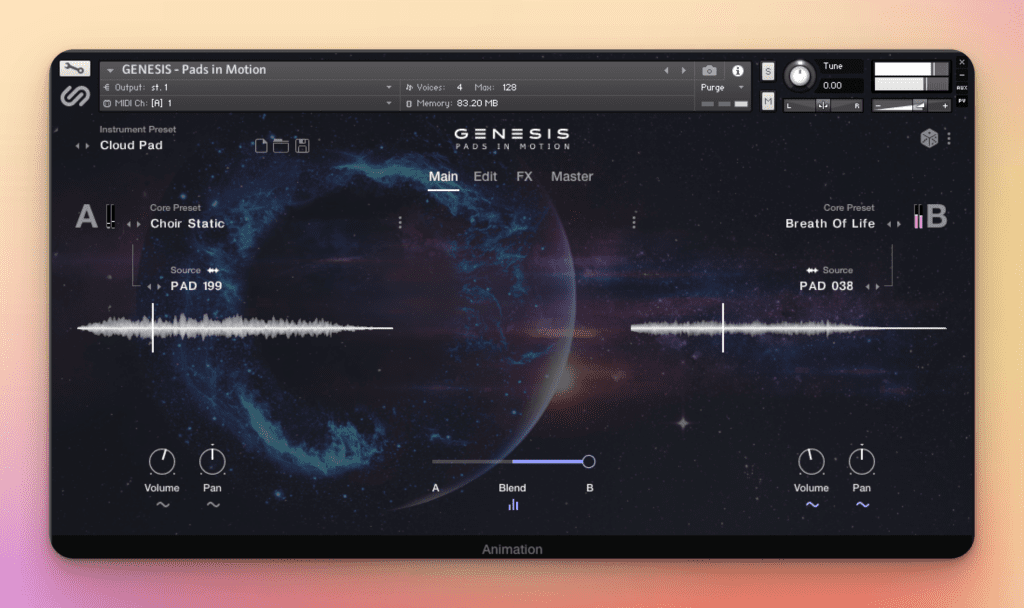 A Multitude of Sonic Timbres
The long-awaited GENESIS sound library is finally here and does not disappoint. This collection of genuinely useable and musical sound sources spans a multitude of sonic timbres, from multi-sampled instruments to boundary-busting organic textures. The Sample Logic design team has spent countless hours researching and developing to push the playback engine to the max, and the results are truly incredible.
Create Custom Pads
The GENESIS engine is a powerful tool that allows you to create custom pads that are truly inspiring. With it, you can create rich orchestral ensembles, blissful moonscapes, otherworldly synths, and incredible sound-designed ambiances. You can also inject motion into your sounds with animations and never-ending variables. Pads are the foundation of great music productions, so let GENESIS motivate and inspire you. With its vast array of features and capabilities, the GENESIS engine will surely bring your music production to the next level.
Composer Need Rich and Unique Pads 
When it comes to composing music, the pads you use can make all the difference. Sure, you can get by with your software's default sounds, but where's the fun in that? With a little effort, you can find or create rich and unique pads to help bring your compositions to life. The best places have a wide range of timbres and textures, so don't be afraid to experiment. You may be surprised at what you can come up with. So get out there and start creating some beautiful music!
At first glance, the new GENESIS sound library from Sample Logic might seem like just another collection of organic textures. But upon closer inspection, it becomes clear that this library is anything but ordinary. The collection features a unique combination of wind & string ensembles, vocals, keyboards, and synths. But that's just the beginning. The Sample Logic design team has spent countless hours researching and developing to push the playback engine to the max. As a result, GENESIS is capable of producing truly unique sounds. So if you're looking for something extraordinary, check out GENESIS. You won't be disappointed.
The full paid version of Kontakt, version 6.7.1 or higher. It will not work in the free Kontakt Player! The Screenshots were taken with Kontakt 7.