PDQ Bass (Pretty Darn Quick Bass) is a new bass guitar library for Kontakt 5.8 and above (FULL VERSION). PDQ Bass is the answer for when you just need a consistent bass sound fast and sounding great. The library comes with a DI and a Processed version.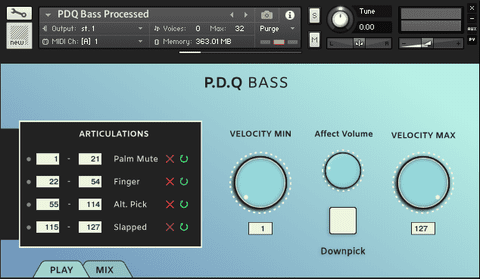 It's designed primarily for aggressive music, but versatile and insanely fast to program with. It uses Velocity to control articulations, which can be modified however you like. PDQ is the result of me needing a super fast, intuitive and nice-sounding bass-guitar library.
PDQ Bass Features
Non-Repeating Round Robin Algorithm.
Alternate Picking engine with Force Downpick setting.
MIDI Velocity Compression sliders.
Velocity-Controlled Articulations.
F1-E5 Range
DI and Processed versions.Articulation Purge and Reload.Mix Page with Compression and EQ.
Automatable Interface.
PDQ Bass is a bass guitar library designed to help producers, composers and songwriters quickly lay down an aggressive bass track for songwriting or demo purposes.
 Pretty Darn Quick Bass combines traditional sampling methods with physical modeling techniques to extend the range of the recorded instrument. It does not use key switches, nor does it include every articulation and nuance found in more solo-focussed bass guitar libraries, PDQ Bass only includes what it needs for fast writing.
Pricing and Availability
PDQ Bass is available now at an introduction price.